Eight Sleep Adds Artificial Intelligence to Mattress to Track your Sleep
Is your mattress smart? Does it help motivate you and give you information to help you sleep? Eight mattress is the leader is smart mattresses.
Note: Unbox Mattress may receive a small commission for any purchases you make after following one of our links.
Today Eight announced a unique feature to go with the Eight smart mattress – an A1 powered sleep coach! The Eight Sleep Coach will use a vast database of information collected to offer personalized sleep coaching.
[su_button url="https://www.unboxmattress.com/eight" target="blank" background="#a62def" size="9″ icon="icon: arrow-circle-o-right" rel="nofollow"]Visit Official Website[/su_button]
The Sleep Coach uses AI to identify what is wrong with your sleep and gives information so you can improve. This is in addition to what Eight already does: track your sleep, warm your bed and it also has a smart alarm. It works with smart home devices such as Amazon Alexa, Hue smart lights, and Nest.
The Sleep Coach uses data from their customers and the company says they will use data from over 2.5 million nights of sleep data that has been tracked to date. "Eight's neural network uses this data to build real-time benchmarks of individuals' sleep based on their personal patterns and other key indicators such as their gender, age, and location, with the goal of providing direction to improving their sleep."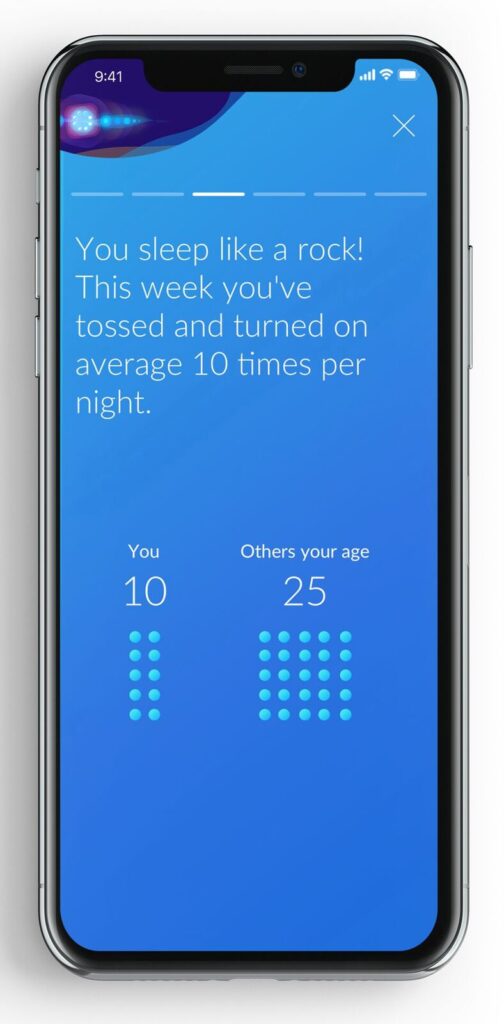 Eight has always been focused on sleep and say that this is a way to help fight sleep deprivation. "Sleep deprivation is costing the US economy 400 billion dollars each year. The AI-powered Sleep Coach is our answer to this," said Matteo Franceschetti, CEO and Co-Founder, Eight.
Some of the info you'll get from The Sleep Coach:
How much sleep you got the night before and how it compares to your average for the month.
How much you've tossed and turned and how that compares to people your age.
How long it took you to fall asleep and what's average for your age/gender.
How fast you got out of bed after waking and how it compares to people who live near you.
What days you sleep best.
Percent of REM sleep and what's considered most healthy.
The Eight Smart Mattress, tracks over 15 factors of sleep including:
heart rate
breathing rate
deep and light sleep
time slept
tossing and turning
Eight's mission is to help people understand how their health is affected by how they sleep, and how improvements in their sleep can ultimately improve the way they live.
[su_button url="https://archive.unboxmattress.com/eight" target="blank" background="#a62def" size="9″ icon="icon: bed" rel="nofollow"]Compare Eight Mattresses[/su_button]
With over 200 billion data points collected to date, the company is working to create the largest sleep database in the world. Last year Eight collected and processed 500 terabytes of data from over 20,000 people. They executed over 200,000 sleep-related smart home actions, and warmed up beds for over 1 million hours.
The Eight app is free to download, and must be used with an Eight Smart Mattress which starts at $699. The Sleep Coach is free for customers.