Mattress Stores Closing & Opening – Sleep Industry News August 2018
As this mattress industry news roundup shows, there continues to be more blurred lines between traditional mattress retailers and newer startup boxed brands.
Unbox Mattress may earn a commission from purchases referred by this site.
Mattress Firm to Close Locations While Casper Seeks to Open More

Just as Mattress Firm is poised to close 175 stores in 2018, Casper says they plan to open 200 stores (they already have a location in New York City and a napping store that charges $25 for some midday shut eye).
Mattress Firm is the largest specialty mattress retailer in the US and has over 3,500 stores. Casper is also eyeing a possible IPO in 2019.
Many Mattress Firm locations already sell the Purple mattress and other Purple products.
Serta to Merge with Tuft & Needle
Boxed brands open retail stores, retail brands come out with box beds and now a classic mattress brand is merging with a startup. Serta, the largest mattress manufacturer in the world, announced they will merge with online startup Tuft & Needle. In addition to Serta, they also manufacture Beautyrest and Tomorrow (a boxed brand) and supplies beds to Mattress Firm.
While most put online market share at around 11% the segment is growing faster than traditional brands.
Helix redesigns mattresses
In early August Helix announced a redesign of their mattress. Rather than letting a customer customize one mattress, Helix has come out with a whopping 9 options! To help you choose, take the sleep quiz to guide you to the right one for you. The beds also have a new look and have more foam between you and the springs than the original model. They still have the split option so 2 sleepers can get a mattress with different firmness levels on either side of the bed.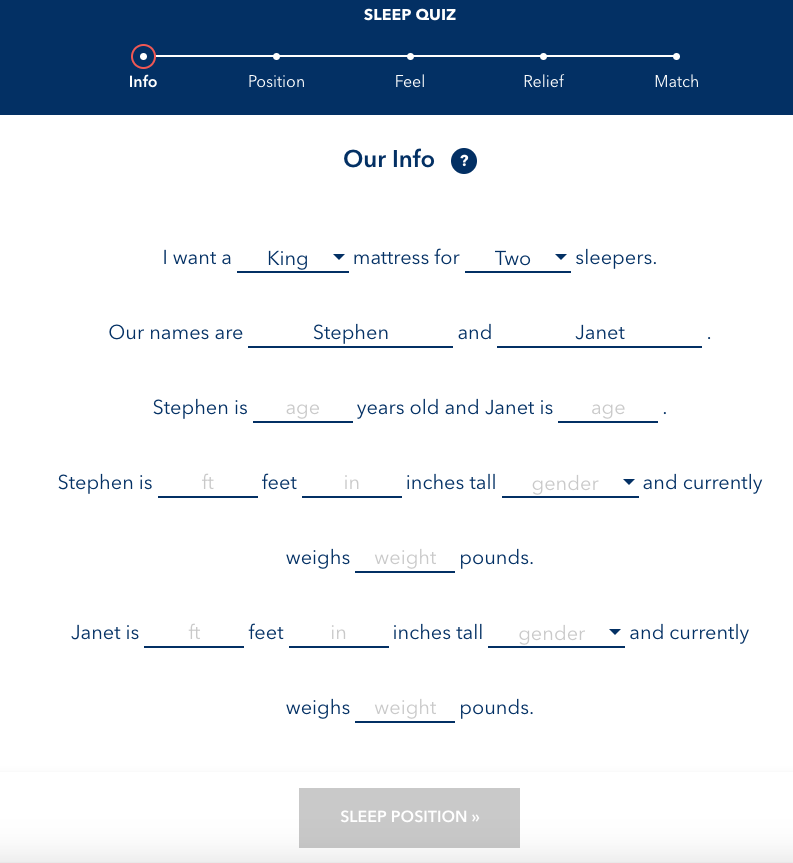 Zinus Expands to Furniture – Now Sells Couches
Zinus brand is known for low cost boxed mattress options. Sticking with their value brand, a loveseat starts at only $274. It makes us wonder, in the future will more of the boxed brands sell furniture?
Brooklyn Bedding Introduces New Models
Mattress Retailer Brooklyn Bedding is expanding their offline brands to include 6 new beds. One is called the Titan and it's created especially for bigger/taller customers. This follows the supersize bed trend we're seeing more often.
Disney Opens Sleep Shop
You know sleep is trendy when Disney is selling it. The company announced a new "Sleep Shop," which is basically pajamas and sleep related products all grouped together (not a new mattress store). They're also collaborating with a certified pediatric sleep coach who gives sleep tips to parents.
This month the company debuted a "Sleep Shop Hotline" which is a toll-free number with 5 pre-recorded messages from classic Disney characters. The hotline ended August 31st.
Mattress Companies Buy Up Mattress Review Sites
In a super-competitive online bed environment, many brands are looking for ways to expand their market share. Yes, they need traffic. And who has traffic? Mattress review sites. Over the past year, starting with Sleepopolis being indirectly purchased by Casper, other boxed brands have followed.
If you can't beat em, join em!
Brooklyn Bedding bought Honest Mattress Reviews, previously owned by Ryan Mohan who worked for Ghostbed.
Leesa Sleep invested in the Mattress Advisor mattress review site.
While they maintain they're still objective it's likely find high reviews for the site's sponsor.
Eight Sleep Studies Restless Leg Syndrome
Eight Sleep recently partnered with Dr. Brian Koo, director of the Yale Center for Restless Legs Syndrome (RLS) and member of Eight's Scientific Advisory Board, to conduct an RLS study among participants who own the Eight smart mattress.
Like Helix, Eight now offers a split firmness option.
Share Your Mattress News with Us
Have bedding industry news to share about new products or goings on? Make sure to send it to us for next month's roundup: Contact Us.
Read more sleep industry news here.