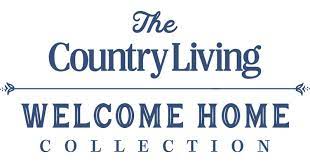 The McKinney mattress is new and part of the Sleep Country Living Welcome Home Collection from Country Living Magazine. Country Living is a lifestyle brand that has been around for over 40 years. The style of their new mattress collection invokes a timelessness and the feel of living in a cottage in the country.
Country Living Mattresses are made in the USA especially for the Country Living brand with a mattress company that's been making mattresses for over 25 years.
Country Living is an American lifestyle and home magazine published by the Hearst Corporation since 1978. The monthly magazine focuses on food, home renovation, home decor, DIY and lifestyle. Editor, Rachel Hardage Barrett said:
"Nothing beats a good night's sleep in the country, and we're thrilled to offer that relaxed, reinvigorating spirit to readers nationwide, regardless of geography. Our most discerning, nap-enthusiast editors put a great deal of thought into every detail, from the quilted tops to the ticking stripe detailing, meaning you can rest assured there's no better way to hit the hay."
If The Pioneer Woman (Ree Drummond) had her own mattress, it would be this one!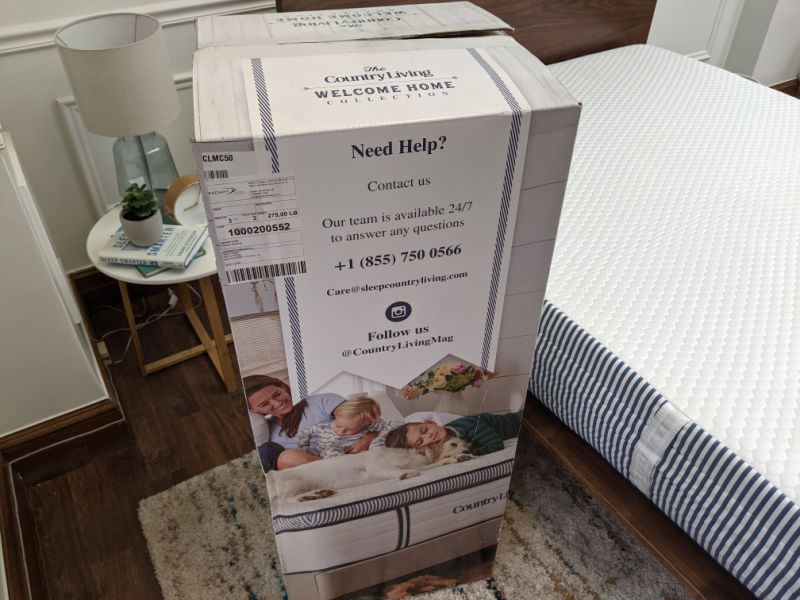 [su_button url="https://archive.unboxmattress.com/mckinney-mattress" target="blank" size="15″ icon="icon: bed" icon_color="#ffffff" rel="nofollow"]Take 20% Off[/su_button]
McKinney Unboxing \ 1st Impression
How long does it take to expand?
Did it have a scent or new mattress smell?
The first thing you will do when you get your Country Living mattress is bring it to the room you will open it in. Once you are ready to open it you can use the cutter that's inside of the box. Be careful not to cut the fabric.
As it starts opening, it will expand quickly. It had a slight "new mattress smell". The Mckinney mattress is made in the USA and they don't roll it until ordered. It's not rolled up very long, which helps with minimize off gassing.
I had it in my mattress studio and it didn't smell but sometimes I open the door in this room and I could smell it at first. After a full week I didn't notice any smell (the room it's in isn't very well ventilated).
This and more questions answered in our YouTube McKinney Mattress unboxing video.
[su_youtube url="https://youtu.be/mceUuBcOD98″ title="McKinney Mattress Unboxing Video"]

Country Living McKinney Mattress Review
We're specifically looking at the all foam McKinney Mattress which is all foam and 12 inches deep. A queen size McKinney was sent to us for review and we may earn a commission (and you may get better sleep) when you shop through our links.
Beautiful detailing and relaxed luxury style
Made In USA
18-Month Home Trial
Free Shipping And Returns
Lifetime Warranty
If you want to check out the McKinney, Save 20% OFF with our link.
Country Living is a premium luxury mattress at an affordable price. Country Living Magazine, "Welcome Home", Mattress Collection with 3 mattresses, including the McKinney. This is the only all foam mattress in the collection and it's the lowest priced.
Made in the USA and with gorgeous detailing, you'll sleep like a cottage in the country with the windows open and a slight breeze.
[su_youtube url="https://youtu.be/XrAgqfoCbmk" title="McKinney Mattress Review Video"]
Mattresses in the Country Living Mattress collection
There are 3 mattresses in the collection, all different thicknesses. Two are hybrids and one is all foam.
12″ All Foam McKinney Mattress (this one) in medium firm
14″ Hybrid with Firm, medium or soft options, Hudson Mattress
16″ Premium hybrid in firm, medium or soft options, Napa Mattress
McKinney Mattress Layers
The McKinney has 4 layers of memory foam, including gel memory foam and a higher density foam base layer on the bottom. Gel and copper have been added to different layers of the memory foam to prevent it from sleeping too warm.
3" Copper Infused memory foam
1" Gel Memory Foam
8" Foam Core this is a more firm layer
It's so beautiful. This is a beautiful mattress and it feels luxurious, like splurging on yourself! It's not expensive for what you get, but it's more than basic mattresses that will maybe get you 5 years before you're ready to mattress shop again.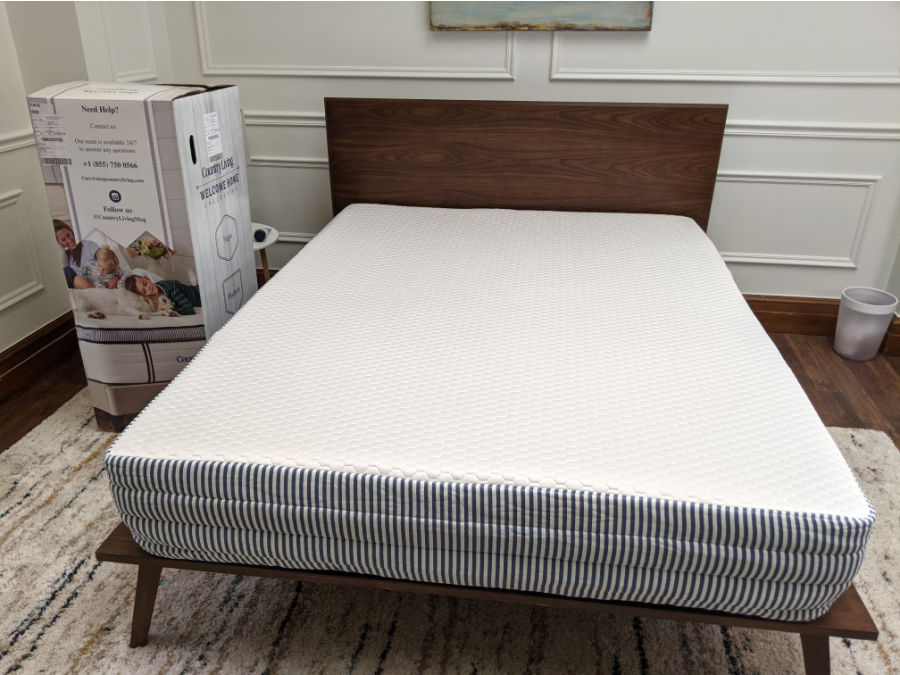 McKinney Mattress Cover
The cover features a smooth white honeycomb pattern with a slightly silky feel. It's a quilted cover that isn't removable and as always you should get a waterproof mattress protector (I love Coop Home Goods). It feels cooler to the touch.
Mattress Sides
The sides are blue striped and the look is reminiscent of covers of real feather pillows. This is called ticking stripe. Ticking fabrics have been around for over 1000 years and are perfect for a country cottage look.
Long ago, ticking fabric was used to cover mattresses and pillows to prevent straw or feathers from poking out. There are 2 handles on each side to help you move the mattress on the frame. The attention to detail with the white suede in the center of the handles (it almost looks like ribbon) is another touch that you'll appreciate. There's also dark blue piping along the bottom.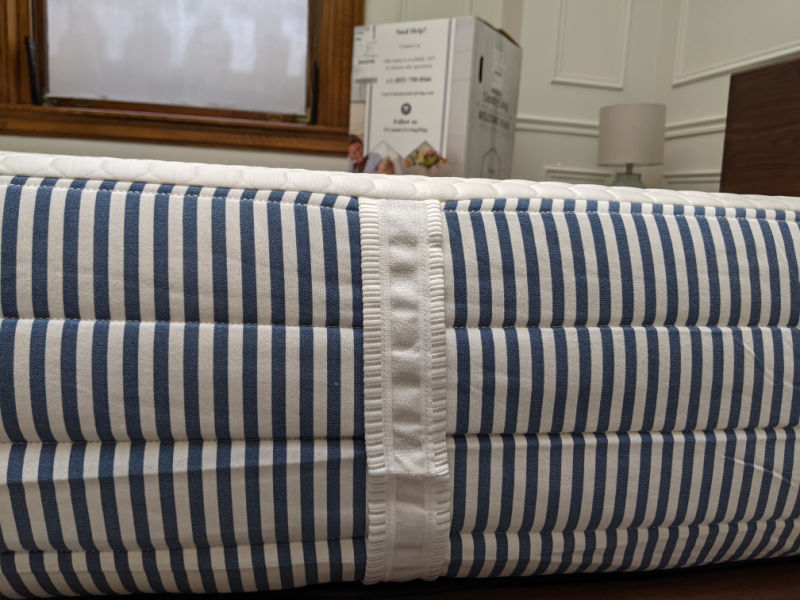 McKinney Mattress Firmness
Because the comfort layer (top layer) is 3 inches of memory foam, you will see an indention where you sit or sleep. It took a few seconds after sitting on the bed or lying down for a while for the indention to come back up. So if you want to sink in more, you'll like this feel. It molds to your body. It's soft and comfortable. I felt it had good support. 
Price
Price for a queen at the time of this review is just over $1000, which is a good value for the quality, thickness and extra detailing. This is for someone who cares about aesthetics as well as comfort. It's a beautiful mattress that seems made for a woman with good taste and who is willing to pay for quality.
Check our link for the current McKinney price.
Who Will Like The McKinney Mattress?
Love to feel spoiled and yet don't want to pay thousands for your mattress.
Like a softer feel but not so much that you feel stuck in the mattress and unable to move around.
Want a medium softness feel that is supportive and offers good pressure relief.
A nice quilted cover with a country ticking side panel and suede handles.
Someone who needs a lot of time to decide if a mattress is right for you. You get a long 18 months, so you'll know for sure.
Who May Not Like The McKinney Mattress
Prefer a thinner mattress
Want a hybrid feel and construction (the other two mattresses in the collection are hybrids)
Like to really sink into and feel hugged by your mattress – in that case you should choose the Hudson or Napa in soft.
Anyone looking for a cheap mattress.
What I Liked About the McKinney Mattress
I like that the McKinney mattress is made in the USA. Being made outside of the US isn't a deal breaker to me, but I often notice more odor and lower quality foams being used.  Love the styling of it and that it has handles (especially helpful if you have a platform bed).
This mattress is medium firm, which is my preference, but it's a bit soft for me. I would choose the hybrid version, in medium. It's called The Hudson mattress. I prefer hybrids overall.
What I Didn't Like about the McKinney Mattress
This is a minor detail but I don't like the silky top on the cover. I find it too slippery and want my sheets to stay on. The sides are made from cotton though, so I know they'll hold. I would like it if I knew the density of the foam used. Most don't give that information but it helps you know the durability of the mattress.
COUNTRY LIVING CUSTOMER REVIEWS
Best Bed Frame for the McKinney Mattress?
This mattress will work on any solid surface. A wood frame, foundation, box spring, slats, the floor or an adjustable base will work. Essentially you just want to make sure whatever you're using the mattress on is flat. I picture a white 4 poster bed or modern look. At this time, Country Living doesn't sell frames, sheets, pillows or other bedding products to go with your mattress. Coop Home Goods is a favorite for their adjustable shredded memory foam pillows. For a duvet, I love Slumbercloud.
There's also a changing but country bedding on Zulily or bed frames here. It's shown on this Wayfair platform bed frame.
The McKinney will work on an adjustable base as well. This model and the Hudson will be best. The Napa is likely too thick for an adjustable base because it's so thick and can't bend as well.
Country Living McKinney Price with Our Discount Link and Coupon Code
SIZE | PRICE
Twin $799
Twin XL $849
Full $999
Queen $1099
King $1249
Cal King $1249
Take 20% OFF WITH WITH OUR LINK
Shipping – free shipping, it arrives compressed in a box generally in 5-10 business days.