Unbox Mattress Industry News Vacuumopolis Edition May 2018
Now for our monthly installment of bedding industry news. This roundup is for May, 2018, one of the top selling mattress months of the year (see our roundup of Memorial Day mattress deals).
Unbox Mattress is a business and may earn a commission from purchases referred by this site. Thanks for your support.
Vacuumopolis
If you didn't know Derek Hale of Sleepopolis sold his website to Casper (indirectly) and has now turned to reviewing another product for the home: vacuums. His site, Modern Castle, has both a website and YouTube channel.
Casper Human Mattress
Speaking of Casper, we had a chuckle when basketball superstar Dwight Howard of the NBA team the Charlotte Hornets was dubbed the Human Casper Mattress by a writer at the Urban Daddy website. Were not really sure what that means but you can check it out here. Please comment below if you have a guess!
Mattress, Pillows, and Bases, oh my!
Nolah just introduced a new mattress, pillows and adjustable bases. Their existing Nolah Mattress is now called the Nolah Original 10″ mattress and the new 12″ is the Nolah Signature 12″ mattress. The two new pillows are the Nolah AirFoam™ pillow and the Nolah AirFiber™ pillow.
MyPillow Breaks World's Record for World's Biggest Pillow Fight
MyPillow donated over 70,000 MyPillows to attendees at a large Minneapolis Christian evangelism event so they could all clobber each other with a pillow. Great way to get out your frustrations but it would probably be better if they invited liberals to the fight!
The massive pillow fight made the Guinness Book of World Records with an official count of 7,681. This isn't MyPillow's first win though – they set a record in 2015, with 6,261 people threw pillows at each other at a St. Paul Saints game. How American! Source
Purple Mattress Adds Beds to 30 Chicago Mattress Firm Stores
Purple is expanding its offline presence by selling mattresses in 30 Chicago-area Mattress Firm stores. They plan to open at Mattress Firm locations in Phoenix and the Bay Area next.
They also lost their CEO, are searching for a new one, and announced their fourth quarter earnings report.
Helix's New Sheets Come with a 100 Night Sleep Trial
Helix's new sheets are made of a rich soft cotton-polyester blend with a two-sided sateen weave for comfort with breathability. They feature a high 600 thread count for that luxury feeling and wrinkle resistant material for convenience. The sheets are available in White and Slate (grey). 3 year warranty. A set of queen sheets retails for $125.
Nest Bedding Opens New Location in Studio City California
The trend is for boxed mattresses and offline mattress showrooms or stores to blend together. More boxed companies have locations and more traditional brands have boxed mattresses. Nest Bedding has several retail locations that now includes Studio City, California (aka, Los Angeles).
Isn't this showroom pretty? It certainly doesn't look like the typical mattress store!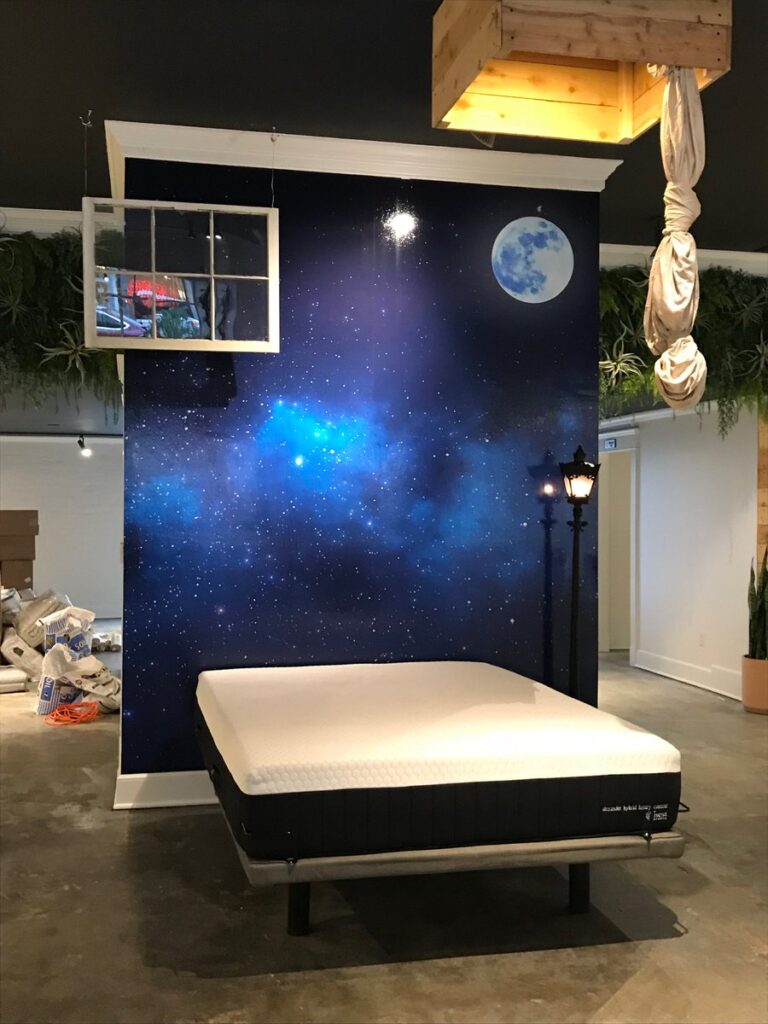 Leesa Sells Reaches 300,000 Mattresses Sold Milestone, Donates Over 20,000
Leesa Sleep announced that they've sold more than 300,000 mattresses since its launch just three years ago. They've also donated 26,000 mattresses donated to-date. Read the press release here.
Share Your Mattress News with Us
Have bedding industry news to share about new products or goings on? Make sure to send it to us for next month's roundup: Contact Us.