New Mattress Protectors from Eight Sleep and Newton Baby
This is the week of new mattress protectors! Both Eight mattress and Newton baby mattress came out with new mattress protectors. We always recommend that you use a mattress protector with your bed. Don't sleep on your mattress until you do.
Spills, stains, tears and other damage is inevitable, affecting things like allergies, resell value (should you decide to resell your mattress) and longevity of your mattress. Your mattress starts wearing down as soon as skin cells or sweat reaches the inside. After that bacteria starts to break down the foam or material. Newton has no foam and is the least likely to break down (plus it's entirely washable), but a waterproof cover means less laundry for parents.
Think of a mattress protector like insurance for your mattress.
Note: Unbox Mattress has affiliate relationships and may earn a small commission on any sales and allows us to continue to publish bedding industry news and reviews.
The Newton Baby Crib Mattress Pad
After a successfully funded Kickstarter campaign which raised $27,11 this April, the company that introduced the unique, breathable Newton crib mattress debuted a new crib mattress pad. Like the mattress, the mattress pad is also breathable.
Size: 28" x 52" and 3/8″ thickness.
Waterproof.
Made from 100% polyester for easy cleaning with a soft waterproof TPU liner, or thermoplastic polyurethane layer, a waterproof layer that uses a heat bonded lamination process to a plush fabric material that is used most often in cloth diapering. Non toxic.
The crib mattress cover goes right over the quilted mattress cover. The sides are stretchy.
Lifetime manufacturer's warranty. That means if it's damaged in the course of ordinary use, they will provide a new one at no cost to you.
"With a half an inch of air circulation on the surface of the mattress, the baby will sleep safer, cleaner, and more comfortably. Hypoallergenic and proven in independent testing to reduce the risk of suffocation."
The company's aim is to provide safer, healthier sleep for babies.
Price: $69.99
[su_button url="https://shareasale.com/r.cfm?b=1189414&u=157133&m=72395&urllink=&afftrack=" target="blank" background="#a62def" size="9″ icon="icon: bed" rel="nofollow"]Visit Website[/su_button]
Eight Mattress Protector
Eight also introduced a new mattress protector made to go under the Smart Cover to make your mattress last longer. It's already a hit and has almost sold out in its first few days.
This is Eight's first ever mattress protector.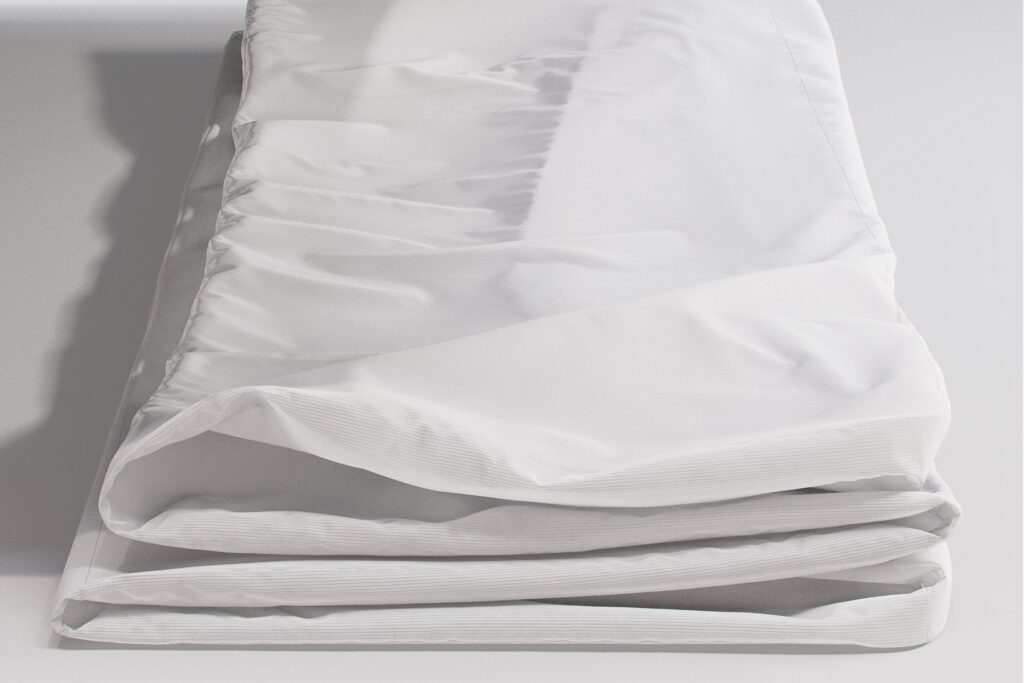 3-sided mattress protector that covers the top of the bed and the sides (not the bottom).

Shields from liquids, bacteria, dust mites, pollen, and mold.
Made with 100% Tencel
Made with hypoallergenic Construction for cool sleep to make your bed last longer.
Quiet –

the material almost feels like a sturdy thick t-shirt.

Fits any mattress.
Free shipping and returns.
Waterproof.
Price: $95.00 for a queen.
[su_button url="https://www.unboxmattress.com/eight" target="blank" background="#a62def" size="9″ icon="icon: bed" rel="nofollow"]I Need One[/su_button]