Purple Powerbase Review: Best for Bad Backs
Hello Unboxers, today we're talking about adjustable beds with our Purple Powerbase review. We received the Powerbase to review, the mattress is ours. We're affiliates of Purple and may make a commission on purchases.
Purple Powerbase is an adjustable base made especially for Purple brand mattresses (made especially for Purple, by Reverie). It's a full-featured adjustable base that's both therapeutic, relaxing and easy to use. We think an adjustable base is the a great choice for anyone who suffers from back pain that makes it difficult to sleep.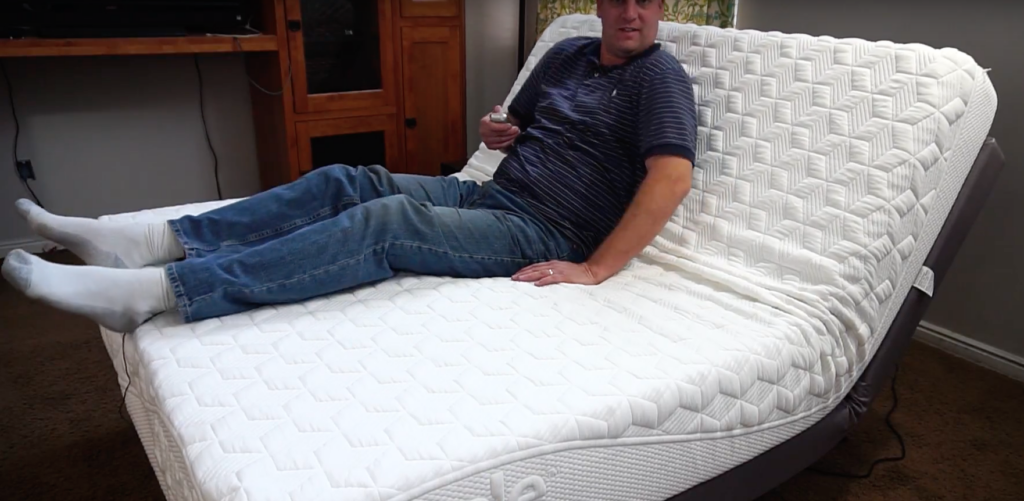 Purple Powerbase Review
No more Restless nights
My neck, back and feet feels good. Wait , Who am I kidding, my entire body feels great and well rested now. No more awkward ways of sitting up in bed to read a good book to relax, this is the best decision I have made for me and my family.
The Purple Powerbase can change your sleep patterns and sleep habits so you sleep so much better and wake up refreshed.
The Purple Mattress with the Powerbase is a lifestyle change. That's what's amazing about this. They're great for reading in bed, on your phone, on your laptop, and you can be upright or even watch TV. Then when you're ready to go to sleep, relax back down and go right to sleep. So it's really a lifestyle product as well as a theraupetic one.
Our customers absolutely love it. They appreciate that lifestyle change, and that they have a different experience than just going to bed and trying to get to sleep. They enjoy the features of it. The Purple Mattress is fantastic because it's both soft and firm. So, the top few inches made of the purple gel compresses easily. So you immediately just sink into the mattress, and then you hit the layers of foam that provide the support and firmness.
In the video we show the original Purple mattress with the adjustable base. However, now Purple now has 3 new hybrid mattresses. We think they're even better than the original. The Powerbase works with all Purple brand beds. Read our Purple3 Review Here.
link not working
Features of the Purple Powerbase
Wireless remote
Raise your head or feet with a press of a button. The zero gravity button (which is a preset) puts you in the most weightless position possible. The anti-snore button raises your head up about six degrees.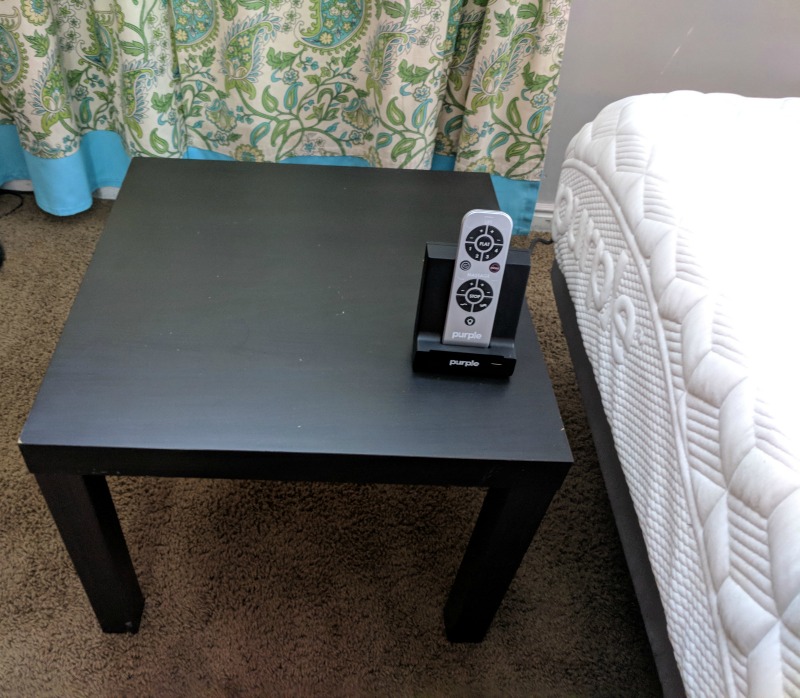 4 Presets
You can use the preset buttons to record your own configuration of the Powerbase. There are 4 modes. Another button turns on the light that's underneath the Powerbase. So, if you get up in the night, use the restroom, come back, there's a little glow underneath the bed so you can see where you're going. It prevents you from banging your shins against the bed or waking someone up, yet it's not bright enough to disturb your sleep.
Zero Gravity
The purpose of the zero G or zero gravity, as developed by NASA, for the most comfortable position to take stress off of your joints and low back, and it's a comfortable position for sleeping or just relaxing. The other feature that's fantastic is the massage. It has multi speeds and you can do head and foot both or just head or just foot, It's also on a timer. So, once you've relaxed thoroughly and fallen asleep it will automatically turn off, so it's not just shaking you all night long. That's such a great feature!

Go Back to Flat Button
Then, there's a button that says "Flat," that you can push to return to the flat bed position. You must press and hold it and that's so you don't accidentally go flat when you got it where you want. And you'll go all the way back down, and it turns off the massage. So, once you're ready to go to sleep you just press "Flat" and you're done.
USB Ports
The cradle for the remote control has a USB port for plugging in or charging your phone or other USB devices. On the back are two AC outlets, which is very convenient. Some power beds have those features on the frame itself.
There's also an app however, as of this writing it's only available in iOS.
Massage
The massage is divided into head and foot massage, with different speeds you can choose.
Purple Powerbase with the Purple Mattress
The Purple Mattress is perfect for the Purple Powerbase, because the Purple Mattress is quite flexible with the gel and floppy is another term used to describe it, that it contours easily to the Powerbase in any position that you could put it in.
Powerbase Sizes
The sizes it comes in are Twin, Queen, and Split King. Split King is two separate beds that can control either a king mattress or a split king mattress where you have two separate mattresses.
There's one control for each spouse. It's a fantastic feature, and if you want single control the two sides can be linked together for one king mattress.

Purple Adjustable Bed Prices
So, for a Twin XL frame Powerbase, it's $1,399. For Queen Powerbase, which is what we've been showing, is $1,499. The Split King, which is two Twin XL bases, is $2,798.
They do specials often for, if you get a mattress with your bed you get some money off and save some money.
Purple Powerbase Warranty and Trial Period
The Powerbase does come with a 20-year warranty, but just like the mattress, there is not a trial period or returns. It comes in a box and must be assembled. It's heavy and would be very expensive or near impossible to send back.
1 Year Parts & Labor
2 Year Motor Warranty
5 Year Coverage for Parts only
20-Year Limited Warranty
link not working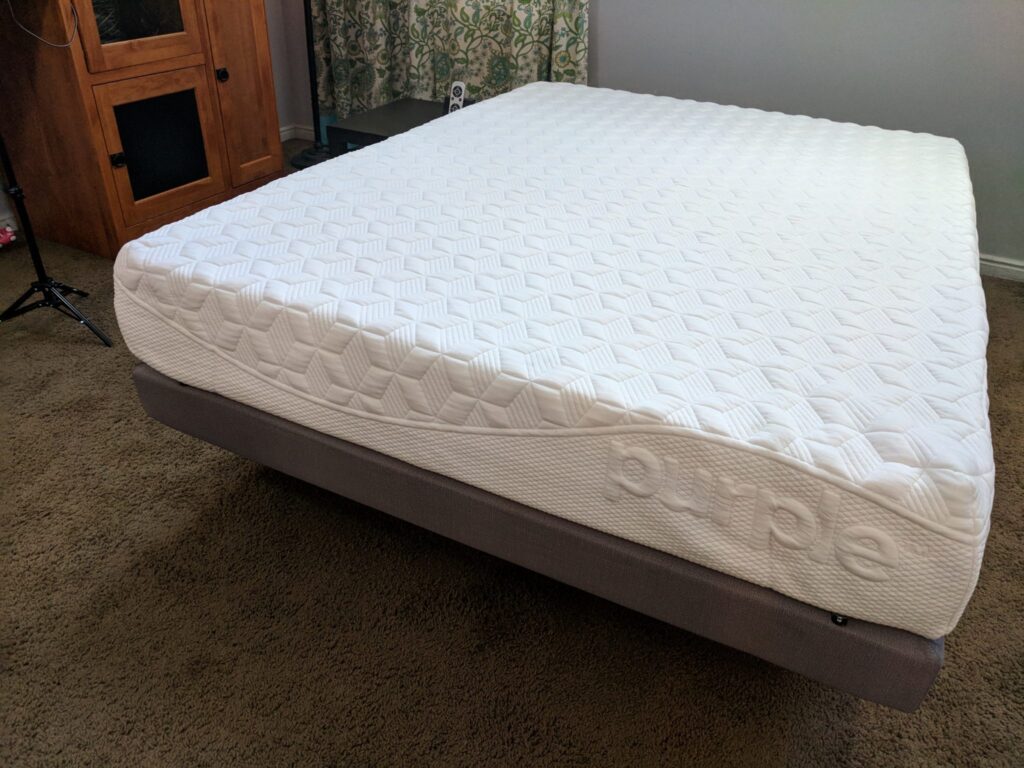 Purple Mattress is Perfect for People with Bad Backs
If you lift a lot of things or have back pain for other reasons, the Purple Mattress and Powerbase takes the pressure off your back. It's one of the only mattresses that doesn't cause our reviewer more back pain. You won't wake up in the morning sore and needing to stretch. It can make a big difference and a big impact on you sleep and how well you sleep.
This bed helps so much!
"The purple mattress and power base have really helped my sleeping a ton. I suffer from 3 spinal deformities and a degenerative spinal disease so getting a solid sleep without much pain is nearly impossible. After the first 2 days(it takes a bit to get used to a soft yet firm feeling mattress that doesn't sink) I found myself getting better sleep with a lot less pain and feeling more rested. I highly suggest this bed to anyone who suffers from back pain or wants a quality bed with a quality mattress."
And recently we got this comment on our YouTube review of the Purple Powerbase + Purple4 Mattress:
"I have horrible spine issues 5 levels fused in my neck and 3 in lower back. I'm looking to buy a mattress with adjustable base and I'm wondering how big of a difference is the 3 & 4? I would like saving the $500 but if it's significantly better than I will spend it."

A month later she followed up with this comment:

"I got my purple 4 with adjustable base…and it's super comfy! It feels totally different than any bed I have ever laid on."
Shoulder Pain
You'll love how the Powerbase helps your shoulder issues…
Love my bed
I have had shoulder issues and pain for the last year. I finally went to my orthopedic doctor and the first question he asked me was "How old is your mattress". Apparently having a 10 year old mattress is not a good idea. So I did a ton of research online and found Purple and I'm so grateful I did! My shoulder pain has gone away and the mattress is just so comfortable. I will say however, I bought the Powerbase with it and I really think that has made a huge difference. Being able to raise the head rest has also helped greatly. Also love how I can make the bed a second office!!
Snoring Solution
An adjustable bed like Purple's can help you stop snoring. Perhaps you've tried things like mouthpieces or headgear to stop your snoring. They don't look so good on and don't always work. However, just raising your head slightly (6 degrees higher so your head is higher than the rest of your body) can open your airways, help you breath and prevent snoring for a lot of people. When you stop snoring you experience better sleep (and so does anyone who sleeps with or near you).
Acid Reflux and Sleep Apnea
Now, it also helps with these, for a lot of people, like acid reflux and sleep apnea, which are major problems and affect people's sleep.
Purple Powerbase Question/Answers
Please leave questions in the comments and we will add them here.
Does the Powerbase work with the new Purple mattresses?
Yes, the powerbase works with all of the Purple mattresses, including the original, the Purple 2, Purple 3 and Purple 4 mattresses.
How do I use a headboard or footboard with the Purple Powerbase?
You can attach a headboard to your wall or purchase one with brackets. Since the Powerbase is made by Reverie you can call their customer support to order the parts you need.
The powerbase can drop into any bed frame as long as it doesn't have a bar or slats in the middle (the slats must be removable). Zinus makes many styles of platform beds which will work with the powerbase. As long as the PowerBase fits inside it (most will) it will work fine.
Just like this Purple platform base is floating inside of the bed frame, you can drop a Purple adjustable bed inside the frame.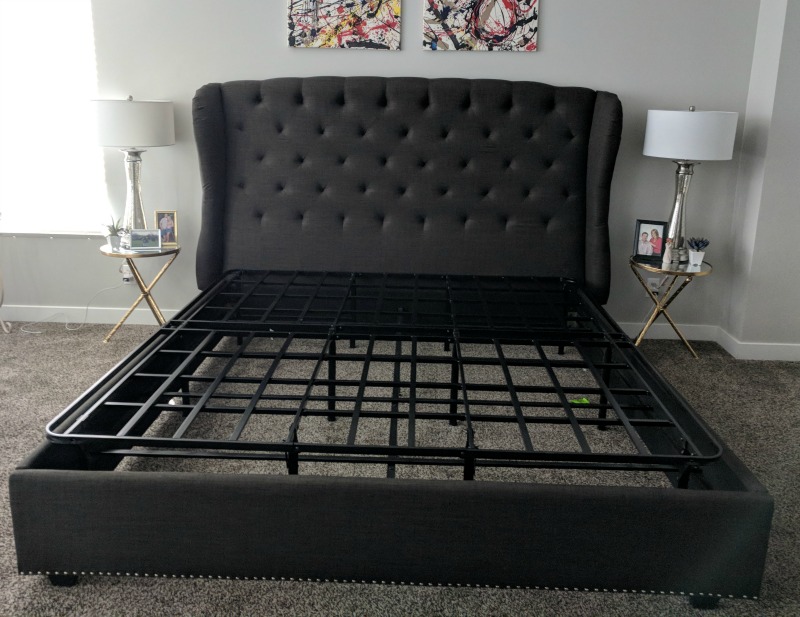 How does the Powerbase feel?
It holds you in such a way that your lower back has support while your butt as somehow disappeared into the purple like those delicate eggs in the commercial.
Is there an Android version of the Purple Powerbase app?
Not yet. Right now it's only available for the iPhone. Purple also plans to add a way to save preferred positions on the app.
Can I launch my spouse out of bed with the push of a button?
You wish!
Is there financing for the Powerbase?
Yes, Purple Powerbase can be purchased at checkout with Affirm. That means you get it now but pay a monthly payment. If you have good credit you can get 6 months interest free (the credit score required isn't listed, but they perform a quick credit check when you buy). That way you can get your mattress and the Powerbase now and pay as you go.
Are there special sheets required for the Powerbase?
The Purple brand sheets work with the Powerbase – as do most sheets. However, since your mattress is going to move a lot it's nice to have sheets that won't pop off on the corners and that stay put. Purple's sheets are SUPER silky and stretchy, plus have a nice warranty. We like jersey knit sheets like this too.
Does Purple make a regular king adjustable frame?
The split king frame IS a king frame. They operate separately for a split king (with 2 twin XL mattresses) or you can lock the two sides together so it doesn't move independently for a regular king adjustable bed. What exactly is Resonant-Frequency Massage?The massage works in a circular motion, not a traditional pattern. I have the purple Power base with the massage I don't know what it is but it is awesome very relaxing soon as it stops it has a timer on it and want to start it again it's very relaxing fell asleep to it every night so far since we've owned it can't go wrong with the purple Power base.
Should I get the split king or regular king mattresses?
We recommend one king size mattress if you're sleeping with someone else. Why? There's a gap in the middle which can cause problems.
My wife and I replaced our king bed with 2 double twins to achieve the same size bed as our king and provide independent settings from the powerbase for each side. This was a mistake. I wish we had just got a king bed. I hate the gap in the middle and the beds tend to slide apart when blankets and pillows get pushed between them. You can also drop a cell phone or a remote through it and have to fish it out from under the beds.Will the purple mattress will work on the Sleep Number power base I already own?Yes, the Purple bed will work an any adjustable base.
If you'd like to check out more and learn more please go to our affiliate link at Unboxmattress/powerbase.