Saatva to Debut Super Bowl Ad to Guide you to Sleep Heaven
Saatva, an affordable luxury mattress brand, is airing their first Super Bowl commercial. The lighthearted commercial pokes fun at traditional mattress shopping gimmicks and focuses on sleep enlightenment.
It begins with a couple who types, "best mattress" into a search engine. Immediately a real guide appears who takes them on a journey to show them all of the frightening scenes depicting their various options.
"This is enlightenment?," the woman asks after they stop at a floor where online coupons and sales are being pitched by unscrupulous-looking mattress reviewers. "No, these are search results, the bellhop says. "You can get lost in here real quick if you don't know what you're looking for."
Though the ad has been on YouTube since September, a clip from it is airing during the 2019 Super Bowl. The ad already has over 9 million views.
Note: we may earn a commission if you shop through our links.
Saatva Super Bowl Ad
Is this the first online brand to air a Super Bowl ad? Here's an extended version of Saatva's fun ad…watch for the actual ad during the game.
In the video, hotel bellhop is a "Sleep Guide" who helps people navigate the chaos of buying a mattress online. They stop at a mattress store too (it's pretty funny). At the end they get to "mattress buying nirvana," which looks like a fun beach vacation but the beach has mattresses instead of lounge chairs.
They are also giving away 5 luxury sleep sanctuaries (read: a suite of Saatva products). Learn more about that below.
Saatva Giveaway
Saatva is giving away a luxury sleep sanctuary to five lucky winners as part of their promotion. The sanctuary's value is at over $2,000.
Winners get a Saatva luxury innerspring mattress (any size), a Saatva Dreams luxury organic cotton sheet set, and a Saatva Dreams pillow.
Click to go enter the giveaway: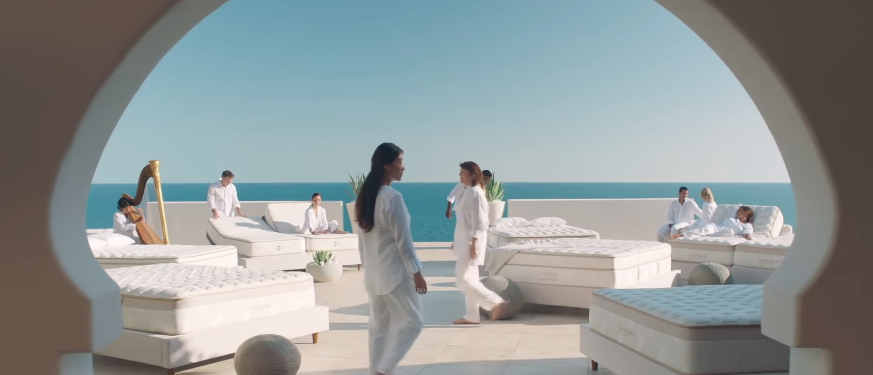 One thing that sets Saatva apart from other online mattresses is they offer free white glove delivery and free mattress removal of your old mattress.
When it comes to ordering a mattress online, Saatva gives you a lot of choices. Choose from 3 comfort levels – a plush pillow top (a 3/10 on firmness), a middle (5-6), and a firm mattresses (8/10). You can also choose between 11.5″ or 14.5″ deep.
The queen 11.5″ is just over $1,000 – affordable as claimed. Though the process is a bit cumbersome compared to other mattress companies (not heaven), they have several options to choose from and are known for their excellent customer service.