Neat Water Heated Mattress Pad Review
Sleep cold? If you've tried to sleep in a cold room, you know how it can keep you awake. Or, maybe you sleep with someone who prefers the bed cooler, like a menopausal woman having hot flashes can freeze you out trying to get comfortable, and you need to warm up; the Neat Water Heated Mattress Pad, also called the Neat Aquapad, is the perfect product for you.

Get Big Savings on your Heating Bill
The Neat Water Heated Mattress Pad can help you save money by heating only your bed and not the whole house or room. Plus, it's great for winter or if others in your home keep the A/C on or the room is too cool for you to sleep comfortably. 
Neat Water Heated Mattress Pad Review
Neat graciously sent us a king-size (demo is on a queen-size bed) heated mattress pad for review. It came in a grey box along with a brochure and a quick installation guide inside.
What is the Neat Aquapad Pad?
The Neat Aquapad is a new mattress heater that goes on your mattress to keep you warm while you sleep. And it's similar to the Chilipad, except it warms the bed (it's not cooling like a Chilipad). 
How Hot does it Get?
It is a good alternative to an electric blanket because it's more precise. You can set the heating pad's temperature from 50 F up to 149 F. And since it heats with water, it has a gentle warmth, and it won't burn.
How does it work?
The Neat Aquapad heats water that's distributed in small plastic tubes. And the tubes connect to a small heater that brings cooler water in, heats it, and cycles through the mattress pad. Unlike an electric heating pad, there are no wires inside the pad.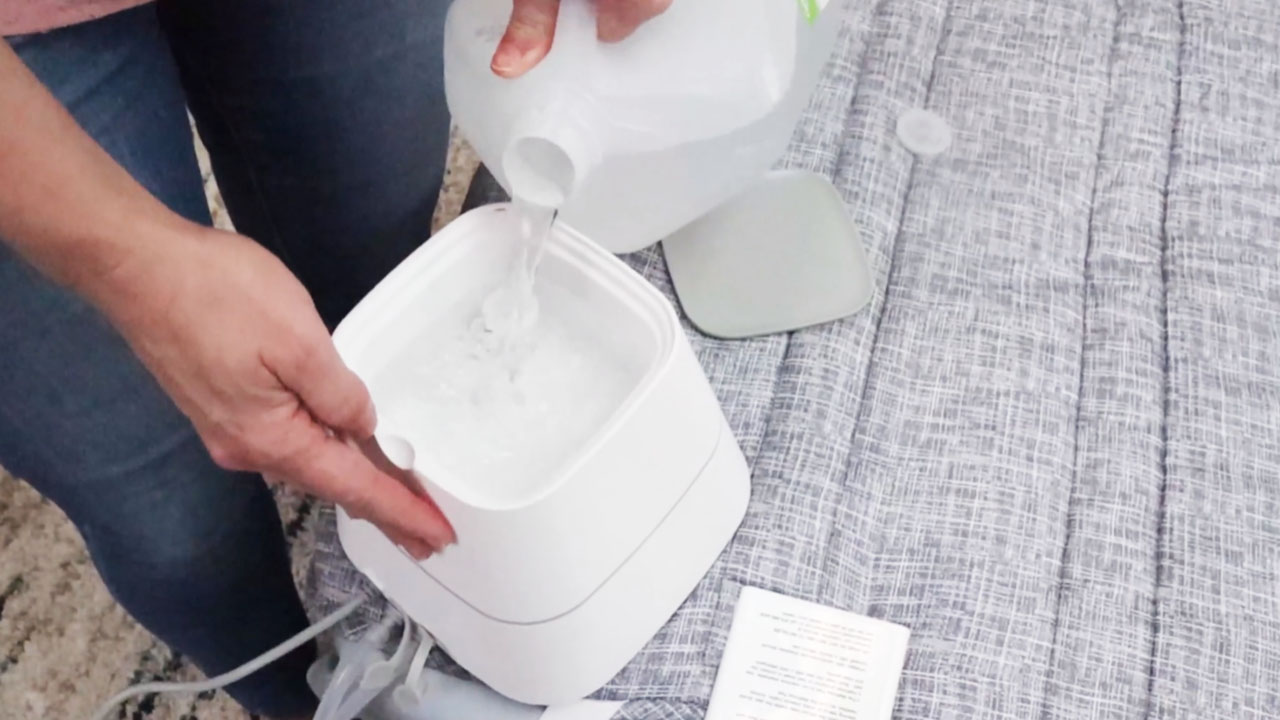 Here's a quick guide on how to use the Neat Aquapad.
Connect the tubes to the heater.
Fill the reservoir with distilled water.
Turn it on and set to the desired temperature. It will stop if the water drops below a minimum level.
Unlike electric-heated mattress pads, you won't have to worry about overheating. It shuts off automatically if it is getting too warm. And, if the room temperature is too cold (risk of freezing), it also turns off. There's a child lock, so little hands cannot change the settings.
Unique Feature
The mattress pad is self-cleaning with a sterilization mode to create max heat for 2 hours.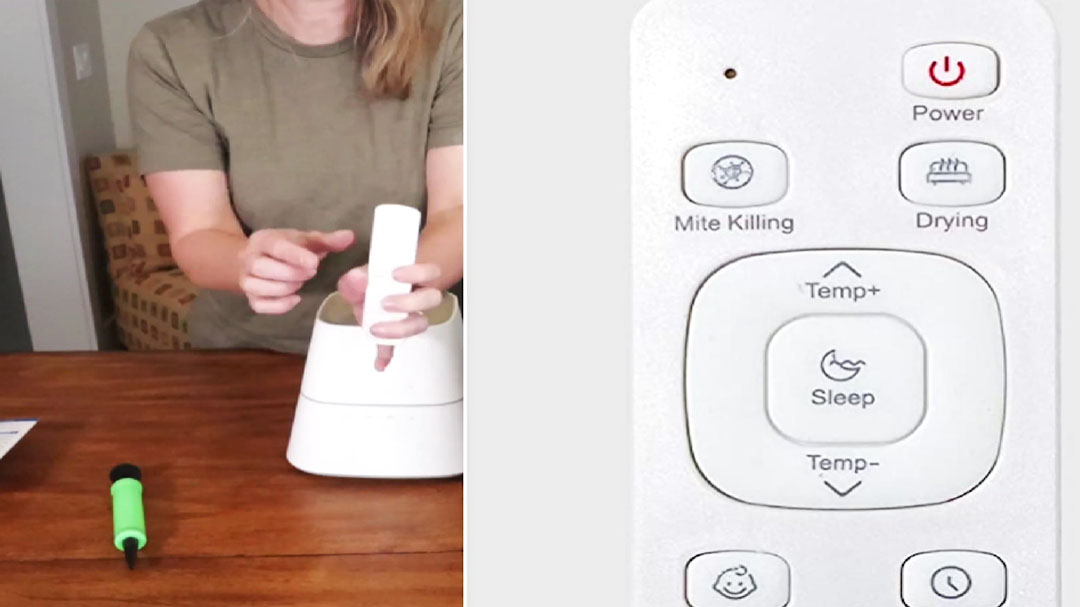 What does it come with?
A bed heater that holds water and has controls (touchpad)
A remote control
The mattress pad with elastic on each corner to hold it on the bed
What size should I get?
The Neat Water Heated Mattress Pad comes in 4 sizes:
Twin / Single / Twin XL
Full / Double
Queen
King / Cal King
There are no dual controls on the heated pad. So, if you want to heat half of a king-size mattress, get a twin XL and put it on one side of the bed. Otherwise, choose the size of your mattress.
What's the warranty?
It comes with a 5-year warranty.
How much does it cost?
At the time of this review, the Neat Aquapad prices are:
| Size | Price |
| --- | --- |
| Twin / Single / Twin XL | $229 |
| Full / Double | $249 |
| Queen | Check Amazon |
| King / Cal King $289 | $289 |
They sell out on Amazon fast, so don't wait to buy if you see sizes other than a king or Cal king.
How is the Neat Aquapad different from a heated mattress pad?
You may wonder what the difference is between the Aquapad and an electric blanket that goes on top of you as you sleep or the heated mattress pad, which you sleep on top of.
No wires inside instead uses small plastic tubes to distribute water
Heats gently with warmed water and won't burn
Fits over the mattress, corner straps anchor it down, and you sleep on it, not under it.
Attractive design that looks nice on the bed
Remote control to operate or operate it on the bed heater
Eliminates the risk of fire or overheating, and it also prevents Electromagnetic Field (EMF) radiation which is a major concern with an old-fashioned electric mattress pad
QUIET AirQuiet technology enables <20db noise level, it is even quieter than your whisper.
15 smart features, including temp. controlled digital heating, child lock, anti-freeze, auto shut-off, sleep mode, and more. Circulated warm water provides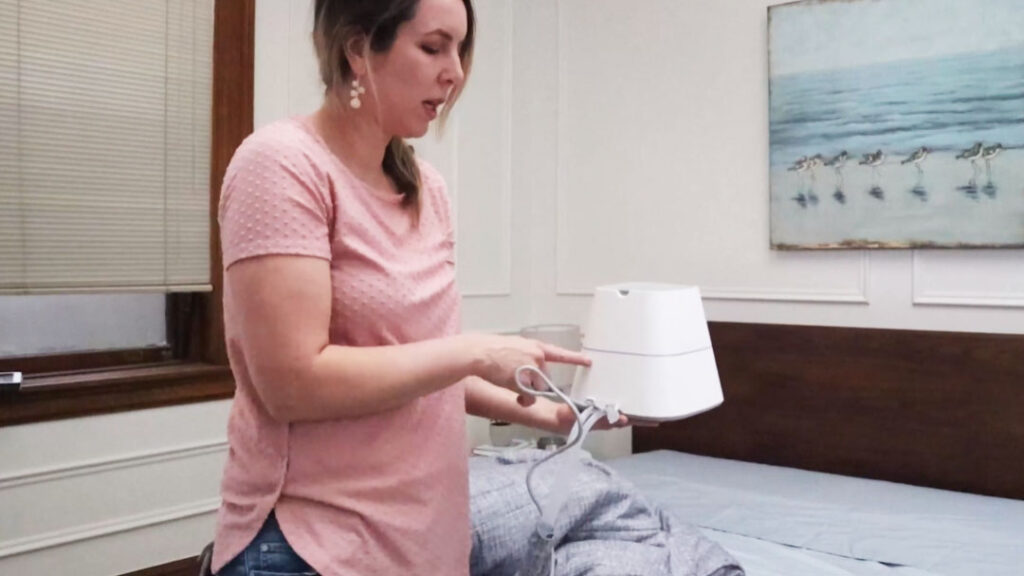 Where to put?
The Neat heated mattress pad goes under your fitted sheet.
What We Thought
Even at 149 degrees, it didn't feel too warm to the touch, so I was worried it wouldn't keep me warm enough in the winter. However, it heats slowly when you combine it with your body temperature and any blanket or duvet, it is plenty warm. You can operate it with the remote or the heating unit. However, it would be hard to reach the heating unit from the bed since it connects at the foot of the bed. So we advise that you keep the remote on your nightstand.
PROS
Small profile with an attractive design that will look nice in any bedroom. The heater fits on a nightstand or under the bed.
So quiet you can barely hear it
Nice gentle even heat
Lots of safety features, including auto shut off
Can be programmed to go on 
Can set the temperature (more precise)
Good value compared to other similar options
Healthier than electrical wires
CONS
Wish that the light turned on the heating unit turned off completely instead of just dimmed
Takes some time to heat up (but you can use the timer to pre-heat before getting into bed)
You may be able to feel the tubes. However, you can put a blanket over it. I got used to it right away and didn't notice.
Not washable (need to put a waterproof mattress protector over it and your mattress, then a fitted sheet)
The lid on the heater doesn't fit securely and can knock over, spilling water.
So, in conclusion, there are a few drawbacks to having water, but there are also a lot of positives. The best part is how comfortable and warm you'll be! If you sleep cold, you'll love it!
We appreciate hearing your thought and ideas. Please leave us your comments below.