Avenco Mattress Topper Review – Budget Friendly Top Pick
Avenco Memory Foam Mattress Toppers come in 2, 3, or 4″ thickness with a quality cotton cover. It's reversible with a medium firm and softer side. We reviewed a king-size 4-inch mattress topper.
The Avenco Mattress Topper is a bestselling mattress topper on Amazon. But should you buy it? And if so, should you buy it from Amazon? I'll tell you exactly what to expect and about a coupon that makes this mattress topper a total steal. I really couldn't believe the price for what you got!
Who's going to like this mattress topper? Well, the most significant selling point is the price. It's a value-priced mattress topper with extra features.
So, thanks to Avenco for sending this 4″ King-size mattress topper so I could share it with you. And there's a link below to see it on their website or on Amazon. Both offer free shipping, but it's cheaper on their website. It's a similar price, but I prefer to buy directly from the company. It's easier if you need to return it or have a warranty issue.
Avenco Mattress Topper Review
We reviewed the 4 Inch King Size Mattress Topper with a removable cover.
Let's talk about what you get with this budget mattress topper. Actually, it's a lot, especially for the price.
Why Get a Mattress Topper?
You may want to use the mattress topper in an RV because they have crappy mattresses. It can add height or extra cushioning to a mattress. Also, it's helpful if you want to sleep on the floor or even camping.
But most people use it to extend the life of their mattress or make a too-firm bed a bit softer. You can switch the topper out instead of buying a whole new mattress.
Sizes
It comes in twin, twin XL, full, queen, king, and California king. These sizes are subject to ±0.5 Inches difference from the published dimensions.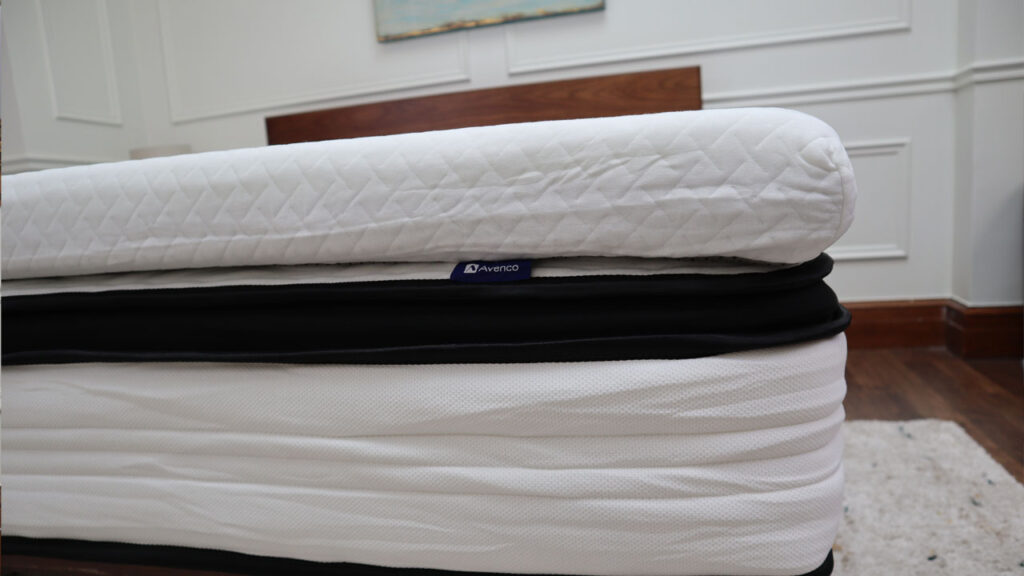 Thickness & Layers
The Avenco mattress topper comes in 2″, 3″, or 4″. The 4″ mattress topper is pretty thick. And here are its layers:
Removable and washable cover
2″ Gel infused memory foam (plush)
2″ Charcoal bamboo foam (medium)
Firmness/Hand Test
It is a medium firm on one side and a softer feel on the other.
Price
This is where the Avenco mattress topper shines: It's so budget-friendly and cheap but not cheaply made.
If you buy it on Amazon, you're looking at $211, and I recommend checking their reviews. If you want more, it has a 10% off coupon. However, buy it at the Avenco website using our link and clip the 30% off coupon making it just $160! Prices can change, though, so be sure to use our link to check the current price. 
Shipping
Avenco offers free shipping in the contiguous United States.
Sleep Trial & Warranty
The sleep trial is just the return policy. You get 100 nights to test it out and return it for a full refund if you aren't happy with it. Plus, a 10-year warranty. Again, pretty generous for the price.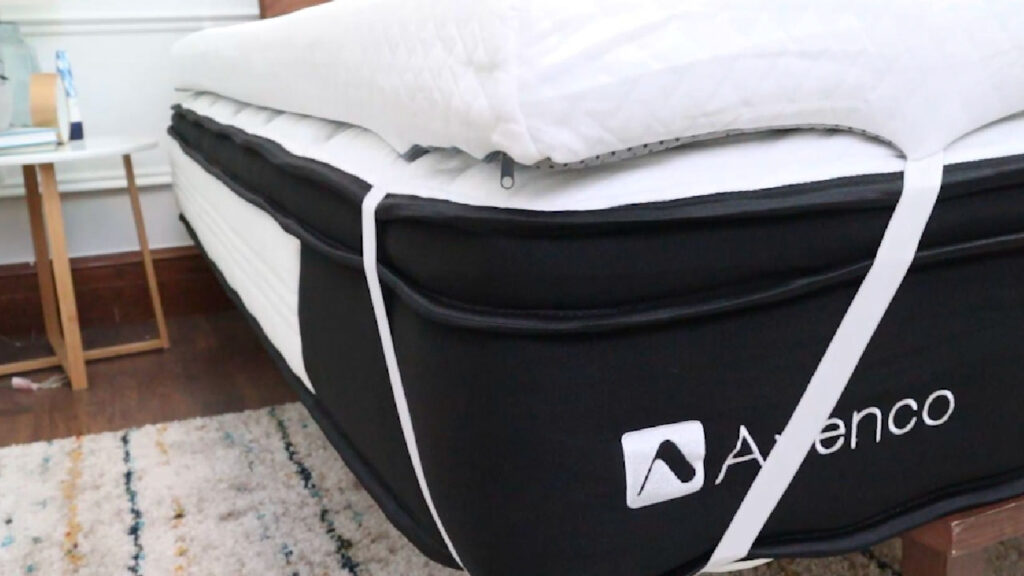 Here's what you get (that I often don't see at this price point)
It has a cover, and it's good quality, thicker, and not some cheaper thin material that will rip. Usually, with this cheap, you're not getting a cover at all, which leaves your topper more vulnerable to getting torn or stained. 
It also has a zipper, so you can remove the cover and spot treat or wash it if necessary. Again, an extra feature that I don't usually see on a cheaper mattress topper. 
Features straps on the corners to help anchor it on the mattress, which is important, so it doesn't slide everywhere. There are anti-slip dots on the bottom too. 
Plus, it's so thick — not all mattress toppers come in a 4" thick option.
Which mattress topper thickness should you get?
The answer depends on how you weigh or what your goal is. If you're a lighter person, 2 inches may be enough and save you some money, but it won't make a big difference in the feel. You'll need to go to 3″ or 4" to feel a change. I think a 4" mattress topper adds a more luxurious feel. However, if you weigh more, you'll sink in further, so you'll want to spring for the 3″ or 4," or you may have to replace it more often.
Just be sure to account for the height of the mattress, bed frame, and box springs. It could get too high, and you might need a ladder to get into bed if you put it on top of a mattress and box spring. It may be too high for pets to get on and off of.
Generally speaking, a 10″ or thinner mattress is ideal; then you're at 14″, then add another 8-10″ of box spring, plus the height of your frame.
And, of course, if you put it on a platform bed frame like this, you won't need box springs.
Just be aware that the corner straps aren't adjustable. They barely fit on a 10″ thick mattress. It doesn't mean you can't use it on a thicker mattress, you may have to put a mattress protector and fitted sheet over it to help secure it onto the bed.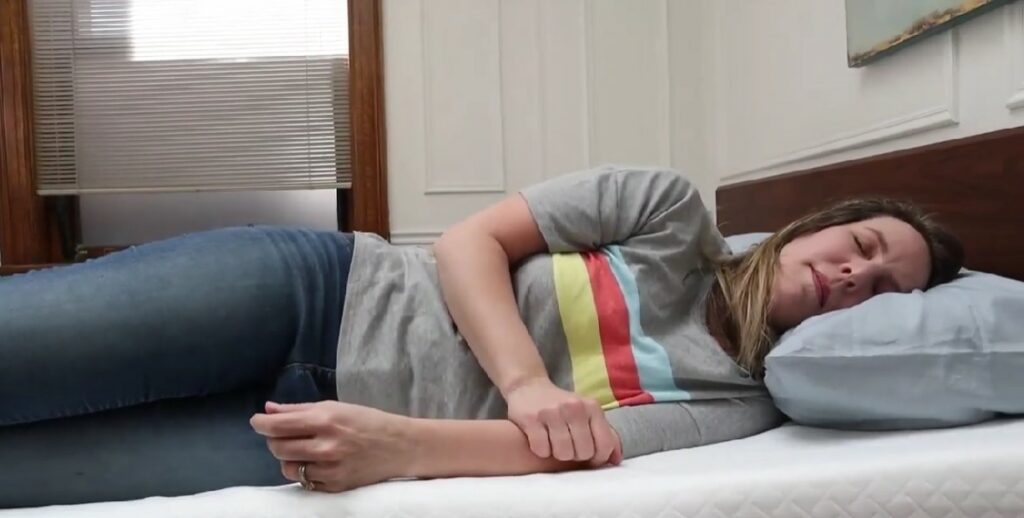 What Kind of Sleeper will Like the Avenco Mattress Topper?
The Avenco 4″ mattress topper is suitable for all types of sleepers. It fits your body curve by distributing your body's weight evenly to be shaped into the natural line of the sleepers. The foam mattress topper suits side/back/stomach sleepers.
Your mattress topper can make a big difference in your sleep quality. If this helped you, please share it with cheapskates you know. Use our link if you want a budget-friendly mattress.