Casper Down Alternative Duvet Review
Casper Sleep, also known as Casper, released a Down Alternative Duvet. It is made with recycled water bottles. The duvet shell is made with 100% TENCEL™ Lyocell — a highly breathable, durable fiber made of sustainably sourced wood pulp.

Headquartered in New York, Casper is one of the first major companies to manufacture direct-to-consumer mattresses. Aside from mattresses, they also added pillows, bed frames, and various types of bedding, including duvets.
They sent a queen-size duvet for review. What's a down alternative duvet? It means that they don't use down, which is made from the soft undercoat of ducks or geese. While it's very soft and luxurious, some people are allergic to down. Down isn't usually machine washable. Alternative materials include naturally hypoallergenic materials like cotton, rayon, or synthetic fibers. The best part is you can find duvets like this made with recycled material.
Casper Down Alternative Duvet Review
Watch the video below to see the Casper Down Alternative duvet – how it comes and how it sleeps.
The Casper down alternative duvet comes in a box, and it has a little "c" logo on it. My first impressions are how cool to the touch the fabric feels and how fluffy and light it is. It is dreamy and cloud-like.
Off Gassing? There's a slight smell but not enough to last for long.
Casper Duvet Size Options
Casper duvets come in 3 sizes:
Twin/Twin XL – 74″ x 98″
Full/Queen – 95″ x 98″
King/CAL King – 111″ x 98″
Types of Casper Duvets
They have 3 options that have unique styles for different kinds of sleepers. Also, choose from mid or lightweight options. If you sleep warm, get the lightweight. This review is of the midweight version. You can choose this for all Casper's duvets.
The Down Alternative is made with the planet in mind. Whenever a duvet or comforter has recycled water bottles, I worry about HEAT. However, that's not the case with this one!
On the scale of being cooler or sleeping warm, if you get really cold, even in the spring or summer, we recommend you get the down. On the other hand, the humidity-fighting duvet is the warmest one because it wicks moisture away from your body.
In actual weight, the down alternative is the heaviest. It's not as fluffy as down, but it is breathable because of its Tencel cover. It is also best for ethically-minded users.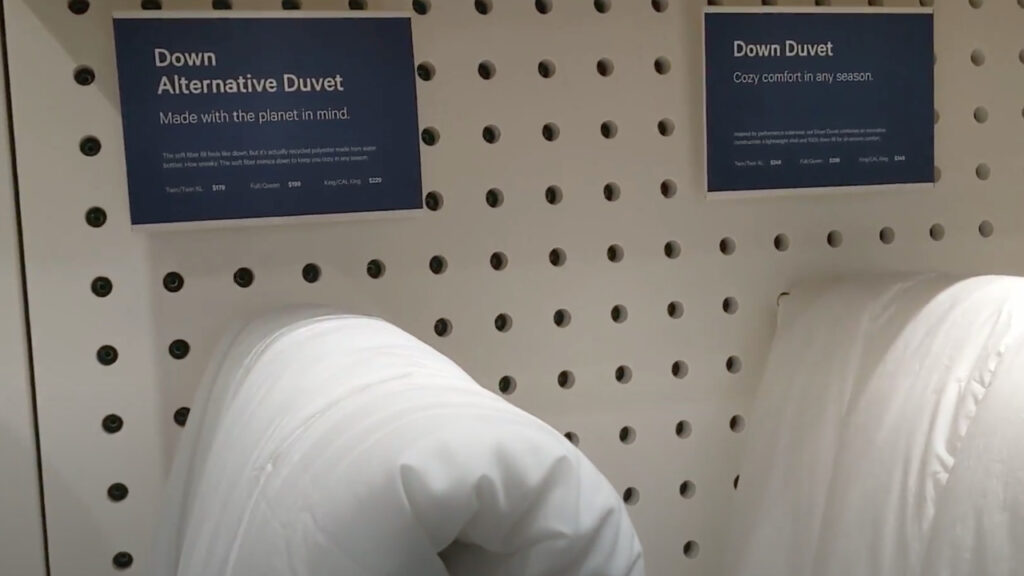 The Casper down alternative duvet has a different measurement for fill power compared to the down duvets, but the feel is similar. Both are very soft and fluffy.
You may also want to watch our Casper Mattress Store Tour.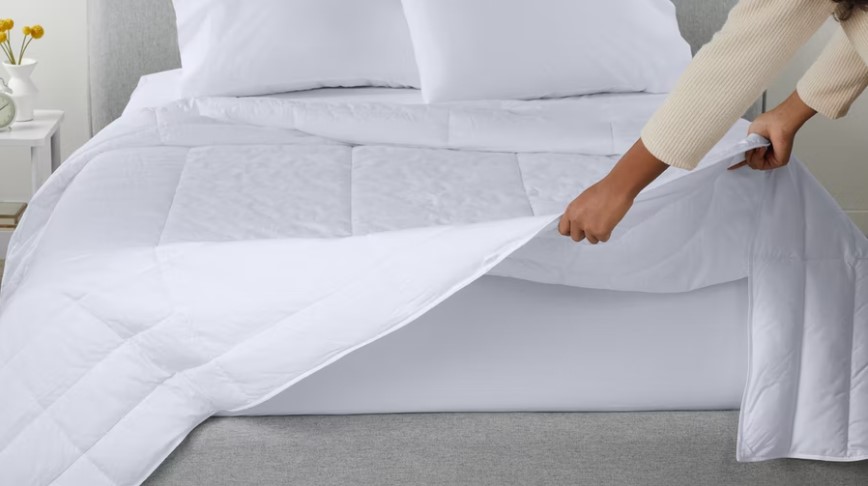 Cost of a Down Alternative Duvet
At the time of the review, the price of a Down Alternative Duvet starts at $199. Since it's less costly to produce, it is the most affordable among Casper's duvet product lines. For current prices and promos, use this link.
Shipping & Returns
It has free shipping and free returns in the US and Canada. And also, it has a 30-night risk-free trial, so if you don't like it in the first 30 days, you can return it for a full refund.
Care Instructions
The duvet can be machine-washed in a large front-load machine in cold water on a gentle cycle. Then, tumble dry low and remove promptly. Do not bleach, iron, or dry clean.
Did I like it?
I had a chance to sleep on the Casper duvet, and it did not sleep too hot or warm. It was temperature neutral, and I enjoyed it. I didn't get cold, but if you are a hot sleeper, it would be a good choice.
Any questions? Leave them in the comments below, and I hope this helps you make the best decision on a new duvet.