Nestled Latex Mattress Topper Review (Top Selling Mattress Topper on Amazon)

We recently tested the Nestled latex mattress topper to address a problem: a mattress that is too firm. So we looked for a solution to make the mattress softer without adding warmth, which is what happens with a lot of memory foam toppers. Natural materials like latex tend to be more breathable than foam or memory foam.
We may earn a commission when you shop through our links and you may get better sleep.
Nestled
Latex Mattress Topper Review
Nestled Natural Latex Topper is made by Take Ten and you can buy it on Amazon, here. Or, if you prefer, you can buy one on Naturally Nestled's website. They also offer free shipping and the site's much easier to navigate.
Nestled is our first choice for a budget priced natural latex mattress topper because it's natural latex with the unique properties that they have. It also comes with a cotton cover included and gets very high ratings. Nestled latex toppers a bestseller on Amazon which means it outsells other brands (they sell A LOT of mattress toppers). There are almost 4,000 reviews.
You may be concerned about the chemicals in your mattress or bedding. Here are some of the certifications the organic Nestled natural latex mattress topper has:
GOLS Certified Organic

USDA Certified Organic

Carbon Neutral Certified

OEKO-TEX 100 Certified
What is the Difference Between Latex and Natural Latex?
There are factory made latex products that are made with petroleum which are more consistent but they don't have the same properties as natural latex. It can also make the latex less breathable (sleep hot).
Natural latex is not manufactured. It's made from the sap of a tree (the hevea brasiliensis tree) and is poured into molds. You'll see holes created by the mold in the latex. This means the product won't be perfect like a factory made product.
Natural latex can be heavy and is sometimes mixed with foams to lighten it or give it other properties.
Natural latex has these benefits:
Naturally Antimicrobial
Naturally Dust Mite Resistant
Naturally Mold & Mildew Resistant
When unboxing this topper, it looked uneven at first, but it got to its full height.
Are Latex Mattress Toppers Hot?
We were given this latex topper for review and the first time we got a 2 inch thick topper in soft. It wasn't enough to soften the firm mattress. So next we got a 3 inch soft and it was a lot better. It changed the feel of the mattress enough so that we could keep it and not have to get a whole new mattress.
We got a queen size, organic natural latex mattress topper. Nestled is made with 100% natural dunlop latex without any gel, foam or fillers.
What is the Nestled Topper Made Of?
Nestled is transparent about the materials they use. This one is:
Soft Firmness

20 ILD / D65

4.0 lb Density
Are Latex Mattress Toppers any Good?
Like any product, your satisfaction depends on why you need the product. Most people buy a latex mattress topper because they want to change the feel of their mattress or get longer life out of it. You can make a mattress that's too firm for you, feel softer. Or, a soft mattress feel more firm. Latex mattress toppers are good because they won't sink in and get hot like foams do. So if you sleep warm, latex mattress toppers are a great solution.
It will have a different feel than memory foam and people describe it as more bouncy. When you press down in it, it comes back up faster, rather than leaving the imprint of your hand or body for several seconds. Over time, those imprints can leave permanent indents.
The advantage of natural latex is that it doesn't off-gas toxic compounds. In addition, it's naturally anti-microbial and dust mite resistant. So a latex topper creates healthy barrier between you and the foams in your bed.
Nestled Mattress Topper Sleep Trial and Warranty

You have a 30 day trial and Nestled will cover the return shipping charges within the 30 day trial period for undamaged returns. To make sure your topper isn't damaged, get a mattress protector like Coop brand and put it over your topper and mattress. To keep it clean don't sleep on this topper until you have it covered with a waterproof mattress protector. Bonus: it also protects your mattress.
Nestled natural latex toppers have a 5 year warranty. This Limited Warranty does NOT cover the following: Damage to the product due to improper handling of the mattress or from burns, spills, body fluids, etc.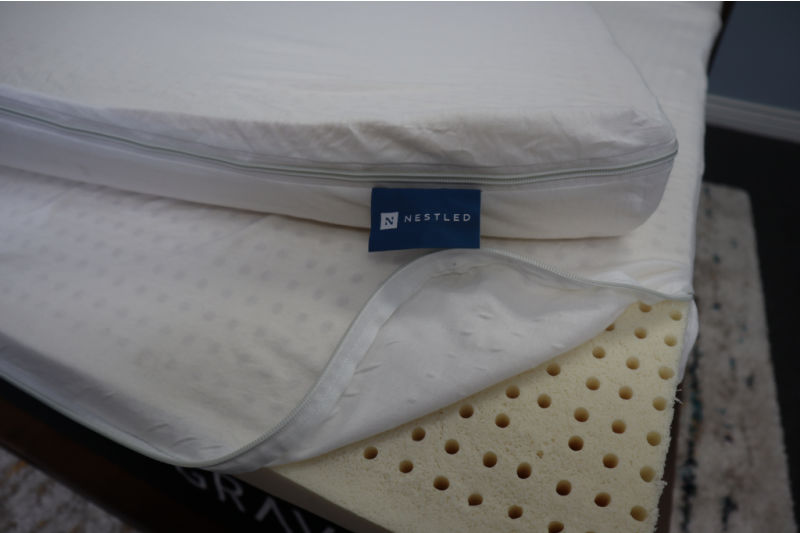 Price for a queen: just over $238 at time of writing, which is amazing for a value priced organic latex mattress topper. You can save by opting out of the organic cover. Check current price.
We recommend, if you have the budget, instead of opting out of the cover, add the knit cover or the quilted cover with wool. These aren't options on Amazon (find them here) but as you can see the cover is very lightweight, even see through. The quilted cover will even out any small inconsistencies that may come with this natural product. And it will add some additional cushion to your bed.
Is Natural Latex Safe?
If you're looking for a more nontoxic mattress topper or living, natural latex is an excellent choice. It is not treated with harmful chemicals such as pesticides or formaldehyde. However, it's not safe for everyone. Some people have an allergy to latex, so it won't be a safe choice for them.
Is Latex Better than Memory Foam?

Latex has a unique feel that's not like memory foam. You don't sink into it as much. As far as the feel of latex compared to memory foam, it's matter of preference. You won't feel that hugged feeling that you get from memory foam.
How Thick Should a Latex Mattress Topper be?
Nestled latex toppers come in two thicknesses; 2 inch or 3 inches. Back sleepers will probably be ok with a 2 inch but side sleepers concentrate more weight on their shoulders and hips. We need more cushion. So we'd get a 3 inch. Your weight also affects what to choose. This guide is helpful: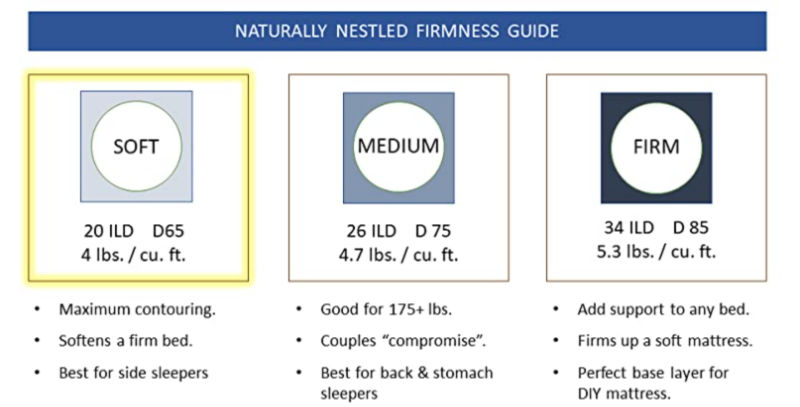 Latex comes in different densities. Nestled offers 3 densities: soft, medium or firm. Most commonly people use soft or medium to soften a mattress.
A firm density is ideal if you are trying to fix a sagging mattress and you want to get a few more years a life out of it. Note that it will still take some of the shape of the sag but it will at least give you quite a bit more support.
Why Buy a Latex Mattress Topper with a Cover

One thing that we liked about Nestled is that you get a cotton cover included with your latex topper. This is important. We recommend that you get a mattress topper with a cover to protect the latex from tearing and breaking off. Some mattress toppers charge extra for a cover but Nestled doesn't (unless you get an upgraded one).
The cover was pretty thin but has a zipper so you can remove it. You'll get a more substantial cover with on their website, here.