Allswell's New Firm Mattress in a Box | The Brick
With a name like The Brick, it better be firm!
Allswell Home just launched their new mattress. It's a firm mattress in a box called THE BRICK! Stay asleep with individually-wrapped coils, which help minimize motion transfer. Great edge support. The top 1″ layer of copper-infused memory foam provides helps move heat away from the body for cooler sleep.
We may earn a commission when you shop through our links, and you may get better sleep.
Firm Mattress in a Box
When mattresses in a box were new, the only options were all foam mattresses. Most were medium firm to soft to appeal to most people and to keep costs (including shipping costs) down.
Today, you can get hybrids (mattresses with coils/springs) in a box, thicker mattresses in a box (12″ and up), and firm mattresses. With the Brick, you have 3 inches of foam above the springs.
The Brick is a firm hybrid mattress with the following features:
• High-performance memory foams with cooling benefits of copper
• Advanced cooling gel swirl foam
• A firmer top layer of foam
• 2″ layer of high-density foam
• 12" tall
• 5.5 to 7.5 out of 10 for firmness

Allswell Coupon Code
For a limited time only, take 20% off Bedding & Decor at Allswell Home, with code REFRESH20 at checkout until Sunday, March 7, 2021, at 11:59 pm PST. Now is a good time to buy a mattress because prices are projected to rise due to higher costs associated with higher expenses for products.
Price for a queen at the time of writing is $645.
Shipping
Free Ground Shipping Over $35 to the 48 contiguous United States & DC, with the exception of California. Expedited 2-day delivery options are available.
Sleep Trial and Returns
100-Night Risk-Free Trial and 30-day returns (Limited to one return per household per year; excludes crib mattresses)
Warranty
10-Year Limited Warranty
Financing
Need a new mattress right away but want to pay as you go? Get financing as Low As 0% APR Financing with Affirm.
Besides mattresses, toppers, sheets, and pillows, Allswell Home has robes, slippers, home decor, and bedding.
Firmness is subjective
One person's medium firm will feel like a board to another person. Someone who sleeps hot will heat up memory foam with body heat over time, which makes it feel softer than it will to others. Memory foam feels harder when it's cold and feels softer with heat, so if you're looking for a firmer feel, choose a mattress with less memory foam or one that has gel inside.
When I worked in the mattress industry, people returned the same mattress. One person said it because it was too firm. Another person said it was too soft.
Customer Reviews
This mattress is amazing!! It arrived all folded and compacted vacuum sealed and I was thinking why is it so thin it can't be comfortable… I was 100% wrong the mattress grew as I unpacked it and it was thick and plush.. firm and extremely comfortable… had it for over 2 months now and it's still and comfortable and helps me sleep better… am truly amazing mattress highly recommend!!
Love that mattress is firm firm firm. When it says firm, it is firm. It still has cushion but still maintains its' firmness. Another plus is that the mattress has depth to it and sits up high. Firm and depth makes this mattress a winner.
I got this mattress and upon first impression I thought it wouldn't work for me because it felt relatively firm and I have a curvy body type. After sleeping on the mattress for a week I realized it actually did well with my body. I didn't experience any back pain like I usually do with firmer mattresses and in fact I slept well. Very pleasantly surprised by this mattress!
Q&A
What is a firm mattress?
It's one that doesn't have a ton of give. If you press your hand on it, the materials won't press down easily like foam typically will. Regarding construction, thinner layers of memory foam and fewer layers between you and the springs help create a more firm mattress.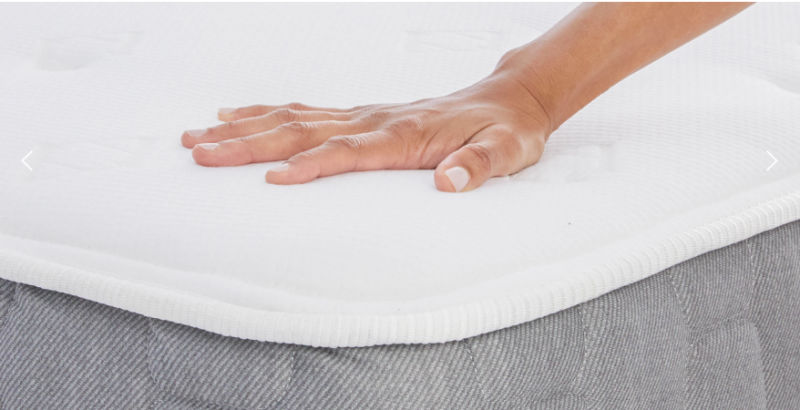 Who Needs a Firm Mattress?
You may need or prefer a firmer mattress if you are a
Back sleeper
Stomach sleeper
Are a heavier weight
Back sleepers need more firm support to keep their spine in alignment because if your mattress compresses along the heavier parts of your body, it can make your body sink in more there. This can lead to back pain.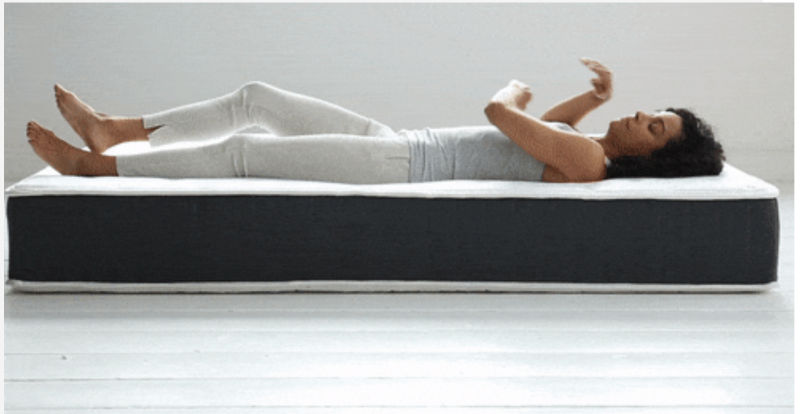 If you're a stomach sleeper, you must keep your hips and stomach from sinking too far into the mattress. If you sink in more on those places than others, your spine won't be aligned.
Hybrid mattresses are the best types of mattresses if you're heavier. A softer mattress will sink in more and compress. Over time the mattress can wear out. You'll see dives from where you sleep. Coils offer more structural support. People who are lighter weight won't press into the mattress as deeply, so a softer mattress will feel more firm to them.
Side sleepers usually need more sinking in and cushioning on their hips and shoulders because your weight is concentrated on those areas. If your mattress is too firm, it can create shoulder and hip pain.
Most lighter sleepers need a more plush
mattress
in
the
2-5/10 range on
the firmness
scale. If you weigh between 130 and 230lbs you probably need a medium-
firm mattress
(
4-6/10 range). For those 250lbs or heavier, pick a mattress in the 7-10 range.
Does Body Weight Affect Mattress?
Yes, your weight affects how a mattress feels to you. Someone who weighs 250lbs, for example, will find a mattress much feels much softer than someone who weighs 150lbs. That's because additional weight puts more pressure on the materials, causing them to give or sink in more.
Can you get a firm mattress in a box?
Yes, in addition to The Brick, there are several options for someone who wants a firm mattress in a box.
Is firm mattress better for back?
Generally speaking, a firm mattress offers more support for your back. A firm mattress keeps your lower back from collapsing or bowing as your shoulders, hips, and stomach sink in more than lighter parts of your body.
Which mattress in a box is the firmest?
Besides The Brick, here are firmer mattresses in a box:
So the most firm on our list is The Plank. If you sleep with someone who prefers a different firmness, check out this mattress with different firmness on each side.