Is the Purple Mattress Really That Good? We Break it Down
A lot of people ask us about the Purple mattress and want to know – Is the Purple mattress really that good? Is it worth all the hype? To us, YES, it really is that good! But we must qualify our review. Keep reading for the must-know facts about Purple beds to help you decide if it's best for you.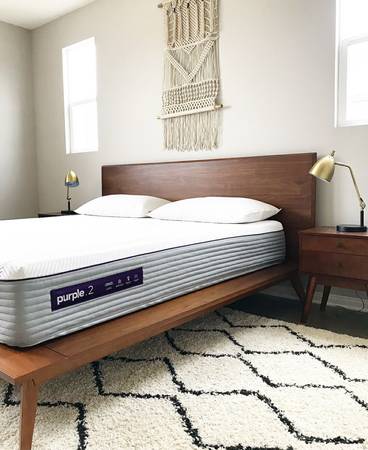 We analyzed Purple Mattress Reviews on Amazon – Here are our findings
Of the 1 star reviews, several were hearsay "My cousin said this…","I read a report that said …". Several mentioned the 'white powder' that has been claimed to be bad for you – even though the material used on purple mattresses has been used in hospital grade beds for the past 20 years and the material is food grade. There is bias on both sides.
Back Sleepers
50% reported relief of back pain
1 reported the mattress not being firm enough
Stomach Sleepers
100% positive reviews
Side Sleeper
44% reported pain relief
1 review reported the mattress being too firm
Overall
92% positive reviews
FIRMNESS
Everyone has a unique sleeping style and preference. We've learned that one person's firm is another person's too soft. Generally speaking, Purple is in the middle, maybe towards the firm side.
MEMORY FOAM
The best question to ask is, do you want your mattress to sink in and feel enveloped by it some? If you love that classic memory foam feel for your bed, Purple won't be the best fit for you. It has no memory foam. You don't sink in very much at all.
WHAT DOES IT FEEL LIKE TO SLEEP ON PURPLE?
All Purple mattresses have the comfort grid that you can sort of feel it through the cover (but you'll stop noticing after a few nights). Overall though the mattress collapses around your shoulders and hips but not everywhere else. Hence, the famous egg test. With a Purple mattress, you can press an egg down onto the mattress and it will be absorbed inside rather than break. Other beds have a solid top layer and the egg pressed onto it would break.
Because your movement is more isolated rather than all of your body sinking in, you can feel a little bit like you're suspended on the mattress – floating almost.
DOES IT SLEEP COOL?
Purple truly does sleep cool because the grid and design allow for airflow. It's not a solid surface. All those notches and designs mattress manufacturers use don't compare to simply having open cells where air can easily pass through. Consumer Reports agrees and named Purple a top pick in their tests. It won't sleep warm.
HOW IS THE MOTION TRANSFER?
We think Purple has exceptional properties for couples who keep each other awake because they shift around and move at night (or get in/out of bed). You're not going to feel it as much with Purple because the flexible comfort grid is like a shock absorber that prevents movement from travelling through the bed. This is a favorite feature of people who love this bed or pet owners who don't being woken up at night when their beloved pet moves around.
WHAT ABOUT BODY IMPRESSIONS?
Purple is a fairly new company still and it's tough to know. However, we have no body impressions at all after 3 years. This is with 2 people sleeping on Purple, one being over 230 lbs and 6 feet 4 inches tall. The other is around 150 lbs. and 5 feet 8 inches tall.
HOW LONG WILL IT LAST?
Again, that's tough to predict but you'll spend a lot less on a Purple mattress than comparable brands so you can afford to replace it more often as needed.
Previously the company made the gel used in their mattresses for other applications (in shoes, golf bags, backpacks, etc) and it held up extremely well. So we have reason to believe that a Purple bed will hold up too. Eventually everything breaks down but we hope to get 10 or more years from ours.
HOW DOES CONSUMER REPORTS RATE PURPLE?
Purple (this is for the original) was rated in the top 10 of foam beds. Honestly, we would rate it much higher.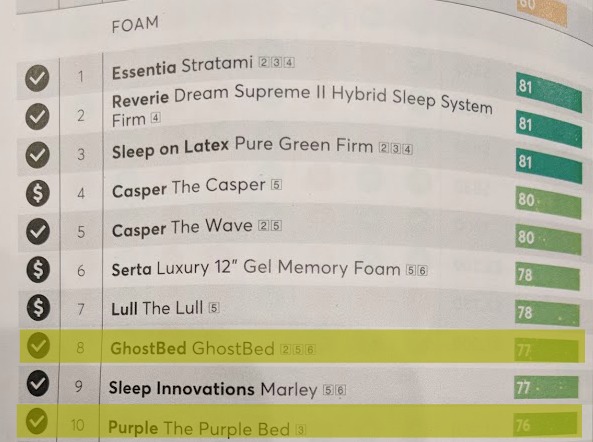 WILL I LIKE PURPLE MATTRESS?
Just like the commercial says, if you don't want to sink in and overheat while you sleep, you'll probably like Purple. If you have back pain and other issues like that, Purple is extremely comfortable. If you wake up your partner or if your pet wakes you up at night, you'll like Purple. The cover zips off and you can wash it (though we highly recommend a mattress protector).
Purple has the original mattress that's 9.5 inches high and the newer models that vary by which you choose. The newer ones have springs but the original ones don't.
If you try a Purple you have 100 days to decide what you think. Unless you're in pain, give it at least a month. It's a unique feel and it may take some time adjusting to it. If you're anything like us, you will adjust and end up loving it. If not, they'll have someone pick it up or you can donate it to charity for a full refund.