Is the Newton Crib Mattress Safe?

If you're looking for a safe baby mattress, be sure to consider the Newton Crib Mattress. If your baby is a face sleeper, you need to check out this mattress.
Parents stress about if their newborn is breathing because they sleep so deeply and quietly. It can be hard to tell for sure. We put our ears to their mouths to ensure we could hear their breath. Breath is everything.
Newton Baby mattress gives parents peace of mind. So many parents want to know…
Is the Newton Crib Mattress Safe?
Yes, Newton Baby is safe. In fact, it's one of the safest crib mattresses for 3 reasons:
Breathable mattress lowers the risk of suffocation. The inside is made of 90% air, so you can breathe through the entire mattress – even the waterproof version. I tested this with a fan under the mattress and features on the cover.
Washable inside and out. You can put this mattress in the shower. The inside AND the outside of the mattress can be washed. So you can wash out anything harmful or messy that spills on or gets inside the mattress.
Missing harmful chemicals commonly used in baby mattresses. No polyurethane foam (loaded with chemicals), toxic fire-retardant chemicals, or vinyl (PVC) that contains phthalates.
Keep reading as we go more in-depth on each point. There is one reason you may not like this mattress, but I'll tell you why I still think it's worth it.
If you decide you want a Newton baby mattress, be sure to use our code UNBOX to save $50. Also, I wouldn't recommend buying the Newton on Amazon for reasons I'll get into.
We may earn a commission when you shop through our links, and you may sleep better.
Should I Buy a Newton Mattress on Amazon?
Here's why I wouldn't buy a Newton mattress on Amazon: you don't get the 100-day sleep trial. Instead, it's Amazon's, which I believe is 30 days.
Also, I don't like how you can't always trust the authenticity of products purchased on Amazon (I bought an unsafe trampoline on Amazon made of such cheap metal that I had to throw it away because it was dangerous for my kid to jump on). It was advertised under a MADE in the USA brand name, yet it was a cheap knockoff.
I've gotten 2 Newton baby mattresses directly from Newton. There was no smell on either one. I'm HIGHLY sensitive to mattress smells because some off-gassing gives me a headache and runny eyes.
So I mention when there's a smell whenever I review a mattress. It's important to know that detail. While other reviewers say they could wash the mattress and the smell was gone, I could be wrong in my small sample size of 2.
If you want to see the tests, I did on Newton Baby and what I thought, see my full Newton Baby Mattress Review.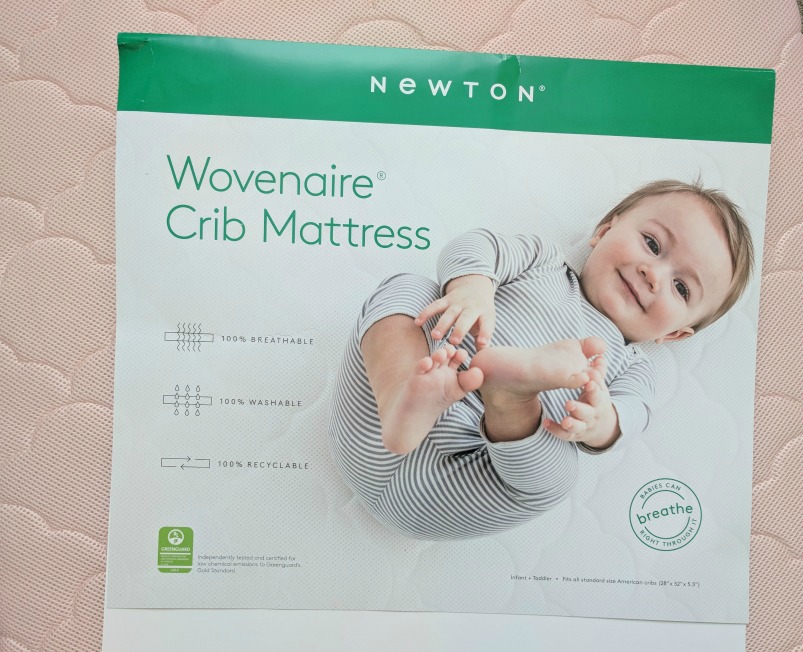 More about Newton Baby Mattress Safety
Keep reading to the end to find out the #1 best reason to get this mattress…
#3: Washable Baby Mattress – Inside and Out!
Most baby mattresses don't have a removable cover. So there's no way to put it in the washing machine if there's a mess to clean up. But Newton Baby has a cover that zips on and off for easy cleaning.
But that's not the only thing – you can wash the inside of the mattress too! Simply remove the cover and spray the mattress core in the shower, bathtub, or outside with a hose. Then you'll know it's clean and can control what goes on it.
Clean off the dust, dead skin cells, or whatever else might be inside that mattress (like that massive blowout you need to clean up after).
We've never seen anything like it!
#2: No Harmful Chemicals Usually Found in Crib Mattresses
Infants spend 50-60% of their day sleeping (and it seems like a lot of the night awake!), so they spend a lot of time on their mattress.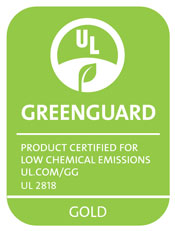 The Newton crib mattress contains no foam, latex, or adhesives. It's Greenguard Gold Certified, which means no off-gassing, toxic chemicals, or allergens. We didn't smell anything at all from the mattress. The cover had a slight smell, but it wasn't bothersome at all, not like the typical off-gassing smell.
Newton mattresses, covers, and pads are all Greenguard Gold Certified.
Here's why that's so important. According to research reported in Environmental Science and Technology,
New crib mattresses release about four times as many VOCs as old crib mattresses.
Body heat increases emissions.
Chemical emissions are strongest in the sleeping infant's immediate breathing zone.
Nontoxic Materials
No toxic fire-retardant chemicals are used. Instead, they use natural phosphates as a fire barrier, most commonly known as salt. Newer models have an extra zippered layer which is an all-natural fire barrier made from wood pulp. It's a thinner beige material.
No vinyl is used, not even on Newton Baby's waterproof cover and mattress pad. It may cost more, but it's worth it to me. Especially when vinyl usually tears and is no longer sanitary or waterproof.
Chemicals in a crib mattress are not typically disclosed by manufacturers. Infants are considered highly susceptible to the adverse health effects of exposure to indoor air pollutants.
There are so many harmful chemicals used in baby mattresses, and we're glad Newton doesn't use health-harming chemicals. They created a safer mattress that you can feel good about!
We have enough things to worry about as new parents – and a baby mattress shouldn't be one of them!
So what IS in this mattress made of? Mostly AIR! It's 90% air and 10% food-grade polymer. Seriously, that's it! The composition of this mattress has another huge benefit we'll detail in the next section.
#1: Your Baby Can Breath through the Mattress AND Bedding
Regular baby mattresses are covered in plastic that has chemicals, can easily tear, and that wears out fast. Plus, you can't easily breathe through the plastic layer.
The Newton is different. It's breathable. That means if your baby ever ends up face down, the mattress and cover are 100% breathable, greatly reducing the risk of suffocation. This is just brilliant. It gives peace of mind and is unlike anything we've ever seen before.
Instead of worrying about your baby overheating (which may be a contributing factor to SIDS), you can rest knowing they can breathe through and get airflow.
The mattress, cover, waterproof cover, and sheets are breathable. I even put the cover on a vinyl-covered mattress, and I could breathe just fine because the cover had airspace in it. It's crazy that even waterproof products don't block airflow. They're soft and like a felt material, not vinyl.
How to Wash a Newton Baby Mattress
As I said, your mattress is washable. Here are the care instructions on the label: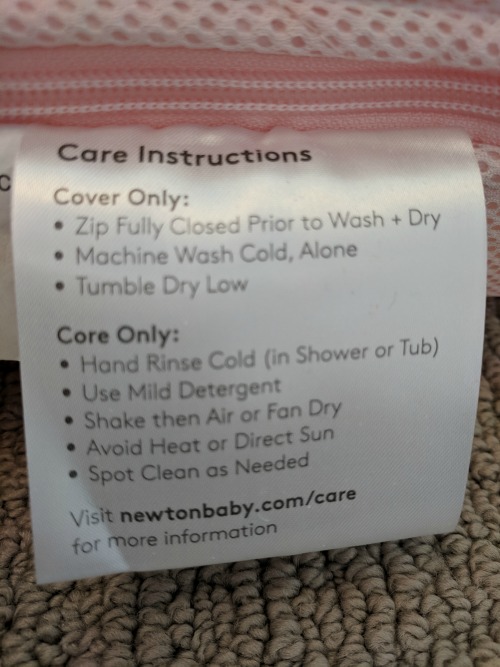 I'm a big fan of nontoxic mattresses in general, especially those with polymer inside (like the Purple mattress) and now the Newton Baby Mattress.
This baby mattress is remarkably supportive, though, and won't collapse. It compresses and comes back up again.
Note: The cover is pretty and well-constructed, but it's not soft. It's a little bit scratchy and may not be the most comfortable against baby's skin. That's why we highly recommend purchasing breathable crib sheets for this bed.
BONUS REASON: Reusable and Recyclable
The Newton baby mattress is made to last through the toddler years and can be handed down to the next child or a friend. That makes it reusable, unlike some baby mattresses, which are totally destroyed after one kid.
This mattress is made to be durable. Plus, it's recyclable, so you won't need to toss it after one or two babies' use.
To recycle your Newton Baby Mattress, you can either find a recycling facility near you, or they will send you to return packaging and arrange to recycle it for you.
The fact that this mattress is reusable and recyclable isn't the most amazing thing about the Newton baby mattress…