Miracle Sheets Sale – Stop Sheets from Stinking (for Less)
Miracle Brand premium sheets are made with all-natural silver that is said to kill 99.9% of bacteria. The addition of silver helps fight germs and keep odors away to keep your sheets stink-free for longer. In addition to sheets, Miracle has towels and other bedding, all with the same unique benefits.
We have tested Miracle Sheets (they have towels, too) and found them to be of excellent quality. Miracle Sheets are made of thicker cotton that feels wonderful on your skin. Additionally, they're perfect for germaphobes!
Free Shipping and take $10 off Miracle Brand premium sheets
However, the price tag is on the higher end. They should last a lot longer because of the quality and be more durable (perfect if you're someone who gets holes in your sheets).
Make sure to take advantage of the latest Miracle Sheets sale by using our links. We update this page with the latest sales or check the Miracle Sheets website here. Sometimes Miracle will add additional limited-time savings onto their sales.
You can always expect FREE SHIPPING and RETURNS and a 30-day trial period. Also, a limited 5-year warranty.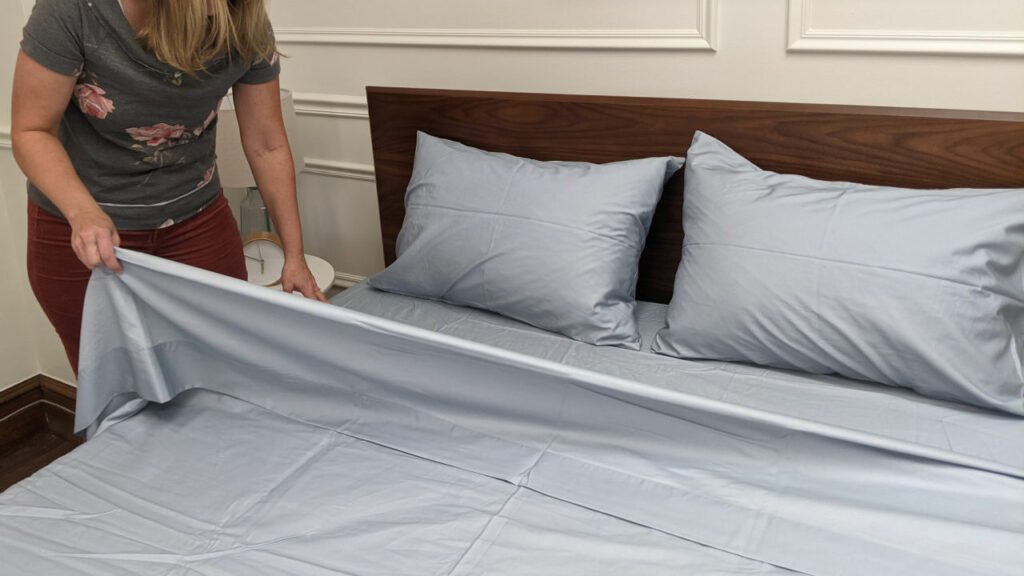 Miracle Sheets Sale
April 2022 offer: Free Shipping and take $10 off Miracle Brand premium sheets

Use our link to get Free Shipping and $10 off orders of $150+. No code is needed. Good on Miracle Brand premium sheets made with all-natural silver that kills 99.9% bacteria. Helps fight germs and keep odors away.
Choose from The Signature 350-thread-count sheets or the Extra Luxe Sheets, which are 500-thread count. Both contain all-natural silver. The thread count is used to determine the quality and not the thickness of the sheets. The high thread count means they're softer than traditional bed sheets.
Save 33% with the Miracle Brand Home Bundle Infused with natural silver
Miracle Brand's anti-bacterial linens have earned a 4.7+ star rating and rave reviews from The Today Show, People.com, RealSimple.com, Tuck.com, Business Insider, and many more publications.
If you're tired of filthy sheets, musty towels, and having to wash your sheets so often, you may need a Miracle.

What's the Miracle? Premium, anti-bacterial linens made with pure, natural silver. Pure nature silver prevents the growth of bacteria – by twisting our silver fibers with 100% long-staple cotton, Miracle linens eliminate bacterial growth while remaining soft & absorbent.
The sheets are made with natural cotton and sleep cooler. Regular sheets must be washed weekly. However, doing so on a regular basis can be time-consuming for most people and wears out the fabric faster too. Antibacterial bed sheets from Miracle can be washed 3x times less frequently than traditional sheets, all while helping you save time and keeping you clean!
Miracle Sheets Unboxing Video
If you want to see Miracle Sheets in action, check out our unboxing video.