Miracle Sheets Silver-Infused to Resist Bacteria, Dirt and Germs
Why are quality bed sheets important? Are there bacteria growing in your bed? Are you tired of filthy sheets, musty towels, and frequent laundry? We have the solution! 
Premium, anti-bacterial linens made with pure, natural silver. Miracle linens eliminate bacterial growth while remaining soft and absorbent.
Miracle Brand has grown in name recognition and earned a 4.7+ star rating. With rave reviews from The Today Show, People.com, RealSimple.com, Business Insider, and many more of the largest press outlets online, it is no wonder customers love the Miracle life.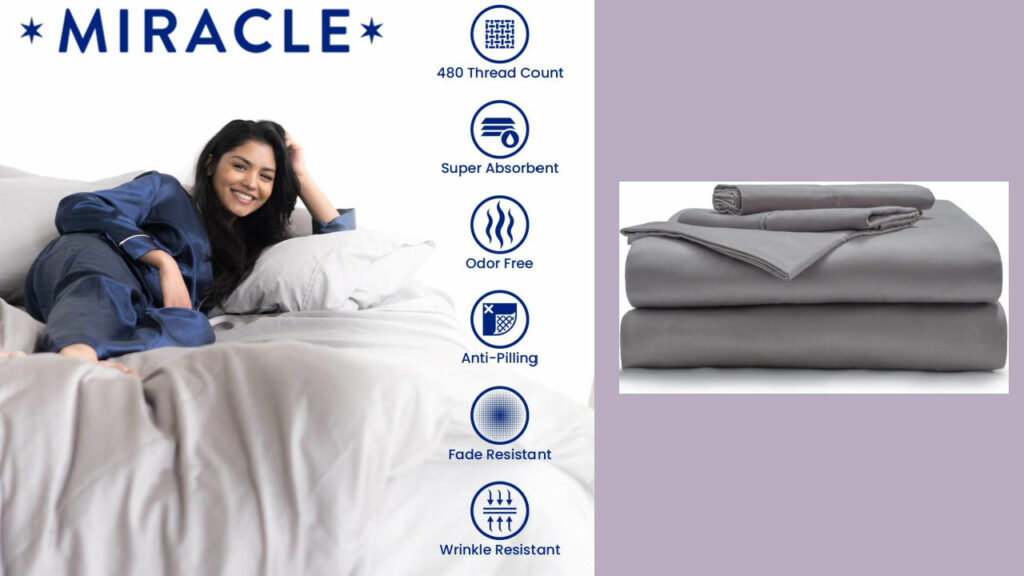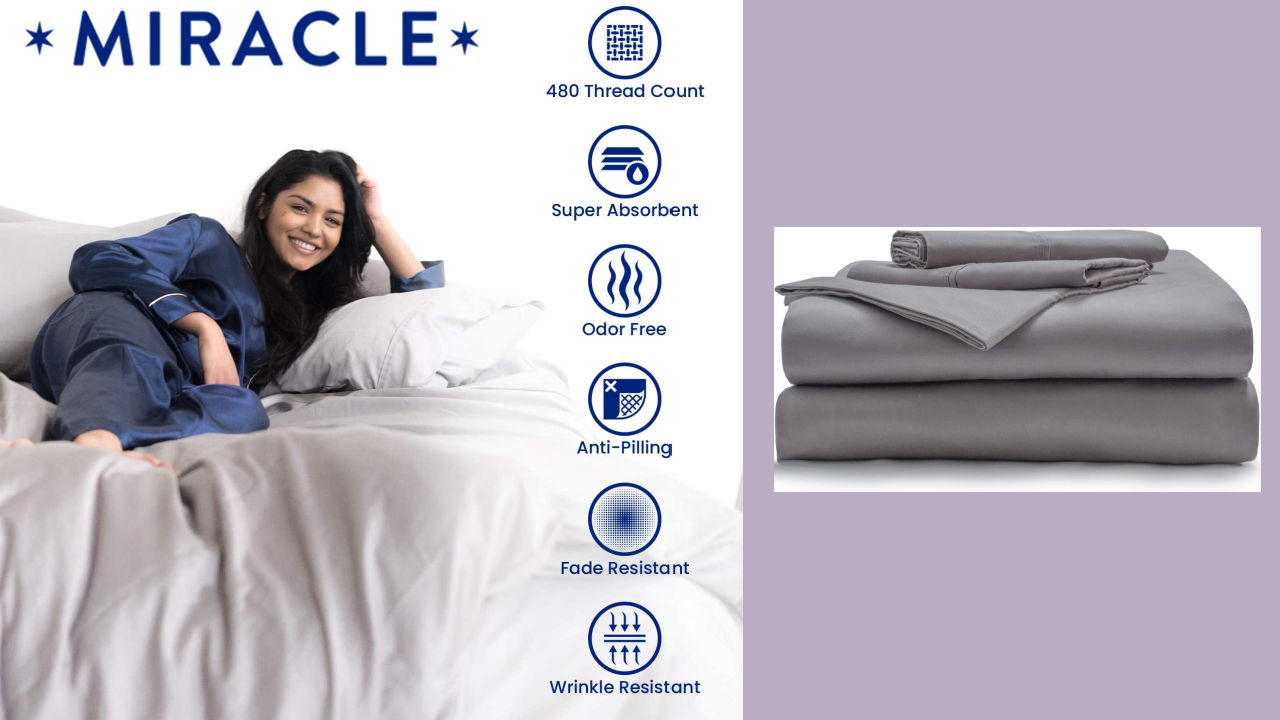 Miracle products come with a 30-day sleep trial, free shipping, and returns. They have a 5-year warranty (do your sheets have that?).
Miracle Sheets
Miracle sheets use antimicrobial silver to kill germs. It may sound strange to be sleeping on sheets made of silver threads, but comfort hasn't been sacrificed. These sheets are soft and luxurious. 
The signature sheets are made with a percale weave to keep you cool and crisp throughout the night (more of a cotton feel). Extra Luxe sheets are made with a sateen weave for an ultra-luxurious, silky feel.
Choose from Signature or Extra Luxe
Extra Luxe are bestsellers, but the difference between them is
Signature is made from Premium 350-thread-count cotton. These have a more traditional cotton feel.
Extra Luxe is made from USA-grown Supima cotton, one of the highest quality cotton in the world

, and are 500-thread count sateen weave set is designed for an

ultra-luxurious, smooth, and silky feel.
Both have natural silver.
Miracle Brand Sheet Set Extra Luxe is made with all-natural silver that kills 99.9% of bacteria
What Sheet Sets Include
2 pillowcases, 1 fitted sheet, and 1 flat sheet (twin size comes with one pillowcase).
Sizes
Full, Queen, King, Cal King
Antibacterial Miracle Sheets and Towels eliminate bacteria growth in your beds and bathrooms. Wash after wash, Miracle Sheets and Towels stay soft, and durable, and protect your skin from odor-causing bacteria.
Colors:
They come in white, Stone, and Sky Blue. The biggest complaint others have had is that they wished there were more colors to choose from.
How Do They Work?
A process called ionization. Silver ions in the fabric naturally maintain a positive charge that attaches to bacteria like a magnet before it has a chance to reproduce, leaving you with cleaner skin. They claim it prevents 99.9% of bacteria growth from the inside out before it has a chance to reproduce.
While they say it's a miracle, even if silver helps cut down on bacteria and hopefully allergens, these sheets are breathable, soft, and highly rated by customers.
Is There Science Behind it?
We checked to see what research or tests backed up their claims. These were done on towels:
They hired an independent agency in Maryland whose mission is to reduce the transmission of infections in the communities they serve. The doctors in this agency have over 20 years of academic research experience and have worked on numerous research initiatives,

including the use of antimicrobial surfaces in healthcare environments. The lab tests products that reduce pathogens on environmental surfaces,

including soft linen goods. Towels were tested with and without silver woven technology. All towels without silver technology reduced bacteria by 0%. All towels with Miracle silver reduced bacteria by 99.998%.
Doesn't the Silver Wash Out?
They also ran multiple independent tests where towels were repeatedly washed. Miracle towels were removed at 25, 50, 75,

and 100 wash intervals to see if the antibacterial system was washed away in any of these instances. The results revealed that the towels remained 99.9% effective even after 100 washes. So your towel will always be as effective for the product's lifetime

.
How Are They Different?
Unlike conventional sheets, these help with the smell, are more sanitary, wash less frequently, and improve your skin.  
What Are They Made Of?
Miracle Sheets are made of 95% high-quality USA-made Supima cotton and 5% natural silver for the Luxe and cotton for the Signature (type of cotton not stated). Silver prevents the growth of bacteria. By twisting these fibers with 100% long-staple cotton, you get softness and absorbency. 
This fabric is amazing!

My husband sweats a lot in his sleep and I was having to change his pillowcase every second day. At least twice a year I've had to throw his pillow away and replace it because of the staining and smell from so much sweat. These new pillow cases last the entire week between washes and they don't smell! I got the pillow cases to try before getting the sheets but I'll definitely be getting the sheets next! What an awesome product!
Who Are They Best For?
Everyone! They protect your family from harmful bacteria and save you time in the laundry room. But, while they may resist germs and bacteria, they won't perform the miracle of not having to wash your sheets. You still need to (sorry), just maybe less often.
Because we're not looking under a microscope (yet), it's tough to know for sure about the antibacterial claim. However, most customers talk about how soft and comfortable the sheets are and how they don't smell. So if you sleep sweaty or your bedding gets stinky, this may be what you need.
Besides sheets, Miracle Sheets features antibacterial sheets and towels.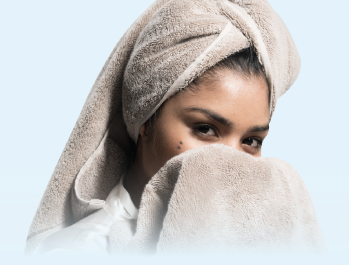 3 Benefits Of Miracle Sheets And Towels:
An average towel comprises bacteria and molds even after its first use.
1) Miracle products can be washed up to 3X less frequently than traditional linens.
2) It is a self-cleaning product. When there are no bacteria, there is no odor!
3) Miracle products eliminate acne-causing bacteria, which means healthier skin for you.
Miracle Towels
These deluxe cotton and silver bathroom hand towels are made of ultra-durable and fade-resistant fabric, feature maximum absorbency, and dry quickly. They prevent up to 99.9% of odor-causing bacterial growth.
Dimensions (L x W): 18 x 28 inches; Weight: 0.5 pounds
Miracle Towels are manufactured from the world's most famous long staple Indian cotton, grown in the central part of India since the middle ages. Their manufacturing partner, located in India, has over 50 years of experience in the textile industry.
The natural silver fiber is made in North Carolina and air shipped to India to be spun and blended with long staple Indian cotton.
How Do You Wash Miracle Sheets And Towels?
Bedding and towels can be cleaned in a washing machine. No trips to the dry cleaners are needed. Any sweat marks or stains can be removed at home by following the instructions in the care guide here. If you follow the care guide, your bedding and towels will remain in great condition.
Unsure If This Product Is Right For You?
You get 30 days risk-free to try them. If you're not satisfied, return them for a full refund. You have nothing to lose except lots of yucky bugs crawling in your bed!