Nolah Nurture Mattress 10″ Flippable Kids Hybrid Mattress Review
Let's talk about Nolah's new organic hybrid kids' mattress! Nolah has sold direct-to-consumer foam, foam hybrid, and latex hybrid mattresses since 2015. They have the Nolah Natural 11″ mattress for adults, and now they have the newest mattress, called the Nolah Nurture mattress.
It's 10″ tall and made especially for kids, so it comes in smaller sizes only. Besides that, it's flippable, so you can sleep on the medium or medium firm side to get the perfect feel. It's a hybrid to add extra support and longevity. And if you have any doubt about that, it comes with a LIFETIME WARRANTY.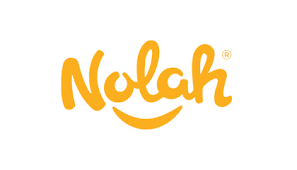 Nolah has graciously sent us a Twin XL to review for you. Is this the best mattress choice for your child or even you? In this article, I'll go over the construction, firmness, feel, the difference between the Natural mattress and the Nurture mattress, and more.
Nolah Nurture Mattress Review
The Nolah Nurture 10″ mattress features natural Talalay latex and comes wrapped in a GOTS-certified organic cotton cover. It's two-sided; therefore, you can choose to sleep on the soft side or flip the mattress and sleep on the firm side.  And it's a hybrid, so it has coils inside for more support.
Unboxing the Nolah Nurture Mattress
The Nurture comes in a box and weighs 72 lbs., which is heavier than other similar mattresses. Plus, there's no need to wait 24 hours for it to come into its full shape.
The box itself is made for kids with almost a storybook look. We loved the original artwork and messages on the box. It's a favorite. They really could make a book out of the concepts on this box. It's gorgeous!
Was there a smell or off-gassing?
This mattress has no harmful substances, just pure latex, organic cotton, wool, and steel. Parents can sleep soundly, knowing their child has a safe place to lay their head every night. No, it smells like wool or nothing.
Mattress Layers
The Nolah Nurture is 10" tall and has no memory foam. Here are the layers:
GOTS (Global Organic Textile Standard) certified organic cotton cover for a soft and breathable feel
Wool layer that acts as a natural fire barrier
2″ firm pressure-relieving Talalay Latex Comfort Layer that offers better pressure relief than synthetic Dunlop latex
2″ soft pressure-relieving Talalay Latex Comfort Layer ensures optimal comfort for pain points and joints
6″ patented HDMax™️ Tri-Zone™️ Support Coil System that gives structure and strength
With the construction and quality that we found, this mattress should last a long time.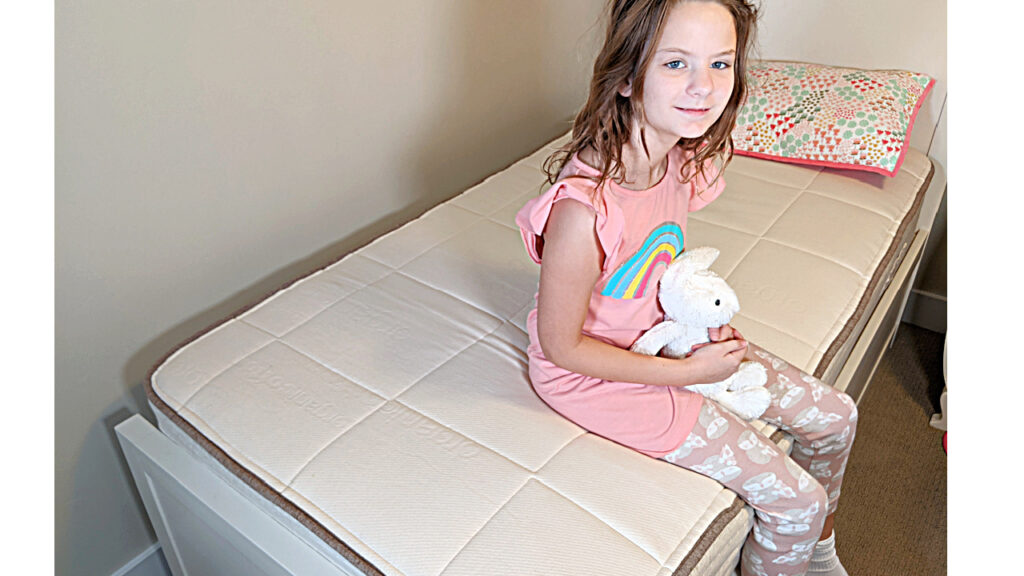 Hand Test
It has a bouncy and responsive feel when you push down the mattress using your weight. There's no hand indention which is a quality of natural Latex. We found the firm and soft side to be more medium and firm feeling.
Hypoallergenic and Safe
The Talalay latex used in the Nurture 10″ mattress is naturally hypoallergenic and ideal for children with allergies and asthma. In addition, it's inherently antibacterial and antifungal, which means it naturally resists mold, mildew, dust mites, and more.
Eco-Friendly Materials and Production
The natural Talalay latex is natural, biodegradable, and comes from renewable resources and water-based raw materials. Nurture also optimize energy usage and water consumption during the manufacturing process to reduce environmental impact.
Nurture 10″ Kids Mattress Cost
At the time of the review, a Nurture Twin XL costs $999, but this is a premium mattress that should last even through several kids. It's not a throw-away bed, and it will support them as they grow up.
The price can be subject to change. You can check out this link for current prices and sales.
Size Options/Dimensions
They have 3 sizes for the Nurture:
Twin – 38″ x 75″
Twin XL – 38″ x 80″
Full – 54″ x 75″
Shipping
It has free shipping and real-time estimated delivery date updates. There's also an option for Mattress Removal and Setup for an extra fee.
Almost FREE 10-Year Mattress Protection Plan
The Nurture is Nolah's ONLY mattress that comes with a 10-year protection plan. It's not free but costs just 1 cent (because they can't legally give it to you for free).  It's provided by Mullberry and is a $139 value. The plan is like an extended warranty and covers everything from scratches to stains. Get comprehensive coverage that protects your mattress for the long haul. We do, however, still recommend that you get a mattress protector (Nolah sells organic cotton and a bamboo mattress protector).
Trial Period/Return Policy
Nolah offers 120 night risk-free trial in the comfort of your own home. After a break-in period of 30 days, if you decide that it is not suitable for you, a driver will pick up the mattress at no cost and donate it to charity or recycle it. And within 1 week, you'll get your full refund of the purchase price.
And here's a tip: you can save $100 if you remove the sleep trial period. I would recommend this if you're already familiar with the feel of latex and are pretty confident you'll keep this. Or maybe your child isn't very picky, and you just like knowing that they're sleeping on a more natural mattress.
Warranty
The Nolah Nurture comes with a limited lifetime warranty.
Difference between the Nolah Natural 11" and the Nolah Nurture 10" Mattress
Both mattresses are made with latex and are about the same price. They're both a hybrid, so they have springs. However, the Nolah Natural 11″ is not flippable like the Nurture 10″, only comes in kid sizes, and is 10″ deep.
Another option not available on the Nolah Natural is that the Nurture comes with a Mulberry 10-year protection plan for only a penny. Basically, it's free and covers rips, burns, punctures, common accidents from children and pets, and much more.
We think the Nolah Evolution mattress is a great mattress for couples, and it's Nolah's bestselling mattress. Read our Nolah Evolution Mattress review here.
So, if you're a parent who wants a more natural, organic, flippable, and durable mattress for your child, the Nolah Nurture 10″ is definitely a solid choice.
Do you have any questions I can answer? Leave them in the comment section below.