Avocado Eco Organic Mattress Review – New Budget Organic Latex Hybrid
Avocado is one of the top-rated mattress brands on Consumer Reports and U.S. News & World Report 360 Reviews, with more than 16K 5-star reviews. These best-selling organic certified mattresses are manufactured in California, USA.
In this Avocado Eco Organic Mattress Review, we'll let you know what to expect, including the budget-friendly price. This is Avocado's newest mattress – which came out in Spring 2022.

Avocado sells mid to high-end mattresses. In terms of price but the Avocado Eco Organic Mattress is their budget mattress, but it still carries Avocado's commitment to organic and eco-friendly mattresses.
The Avocado Eco will cost more than a foam mattress because it's made of natural latex. However, compared to the Avocado Green Mattress, the original, it's much less expensive (by over $500).
Avocado Mattress Unboxing
I previously unboxed the mattress, and there wasn't any off-gassing at all. No smell. And it was ready to sleep on immediately.
In the Avocado Eco Organic Mattress Review video below, I'll go over what the mattress is made of, how the Eco Organic Mattress is the same, and how it's different from other Avocado mattresses. Then how it feels and the price.
The Avocado Eco Organic Mattress is shown in the photos and videos are this platform bed (no box springs needed). You can also purchase an eco-friendly bed frame made with nontoxic wood from Avocado.
Avocado Eco Organic Mattress Review
Want to know more about the budget Eco Organic Mattress? Watch our review.
Regarding the construction of the layers, one of the key features is how they affect the feel. In a cheaper mattress, there's a 2″ or even lower thickness of foam before the coils or springs. That's not enough cushioning before the springs for some people.
Another way to cut costs is to use a cheaper quality foam or latex. Avocado never does that because they manufacture their products in the USA. Many mattress companies buy a mattress from China, add marketing and markup and spend a lot of money advertising it. Avocado manufacturers their products ethically and sources the materials from ethical sources around the world.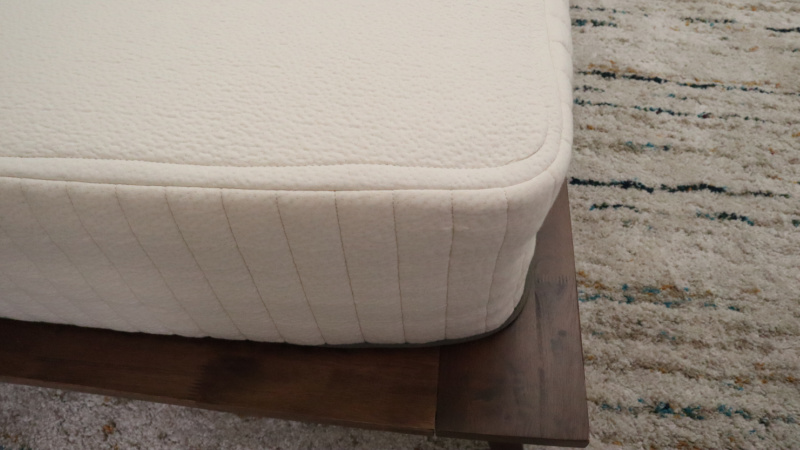 Avocado Eco Organic Mattress Layers
How a mattress is constructed and how thick each layer is will help you know more about the feel and qualities. The Avocado Eco Organic Mattress consists of Latex Foam Rubber Pad (91%) and Wool Fiber (9%), plus a 100% Organic Cotton Cover (as stated on the mattress tag). Here are more details about each layer:
GOTS Certified organic cotton and wool quilted cover and a lightweight GOTS organic canvas bottom.
2″ of GOLS Certified Organic Latex. Blockchain-verified chain of custody from their farms to your mattress ensures you get organic latex.
8" pocketed coils with 789 recycled steel coils in a queen size. The border coils are 14.5 gauge (thicker for better support along the edge), and the interior zone coils are 12 gauge.
While most Avocado mattresses have green piping on top and bottom, this is only on the bottom.
Heavier sleeper? Be aware that you may need more than 2″ of latex before the springs for longevity and to avoid feeling the coils over time as the latex compresses. Someone heavier may need a thicker layer of latex as it will be under more pressure.
Mattress Height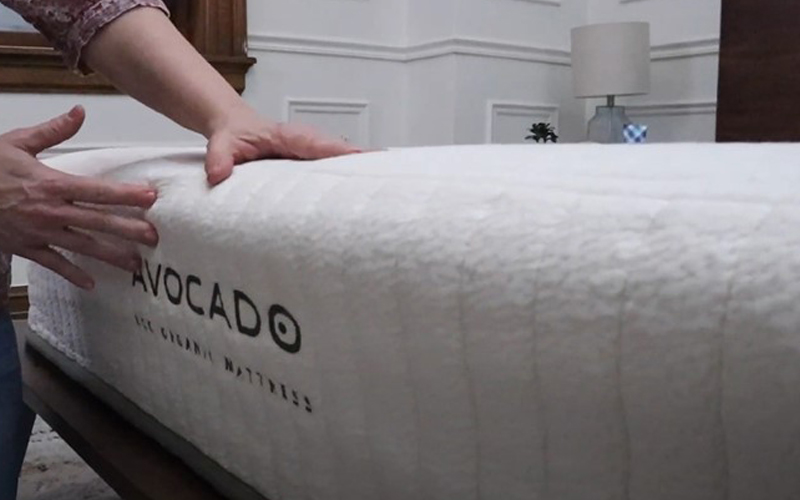 The mattress height is 10″ deep. As a comparison, the Avocado Green Mattress is 11″ deep and has 3″ of latex before the coil layer.
Need or want more height or softness? There's an option to add an affordable 2″ natural latex mattress topper for the Eco Organic Mattress. It's a GOLS-certified organic latex topper with a GOLS-certified cotton cover in plush. However, it's not attached, as is the Original Avocado Green Mattress.
There is no wool in the topper.
Firmness
This mattress's firmness is stated as 5/10 (Avocado's softest option).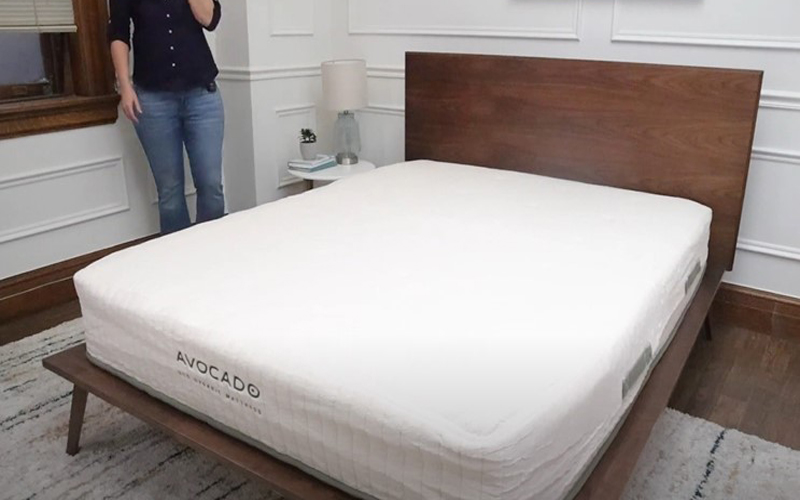 Sizes/Dimensions/Weights
Twin 75″ L x 38″ W x 10″ H – 62 lbs
Twin XL 80″ L x 38″ W x 10″ H – 67 lbs
Full 75″ L x 54″ W x 10″ H – 78 lbs
Queen 80″ L x 60″ W x 10″ H – 94 lbs
King 80″ L x 76″ W x 10″ H – 110 lbs
California King 84″ L x 72″ W x 10″ H – 110 lbs
Eco Organic Mattress Price
Avocado wanted to make a Certified Organic Hybrid Mattress more affordable than a Polyurethane hybrid mattress. This product was made so people don't have to sacrifice health, sustainability, and social responsibility for what they can afford.
So it's affordable for everyone — at prices that compete with even polyurethane foam mattresses. Usually, you're looking at $1200 to $1700 for this type of mattress. It is priced right below $1,000.
Gamechanger: $999 for a Queen!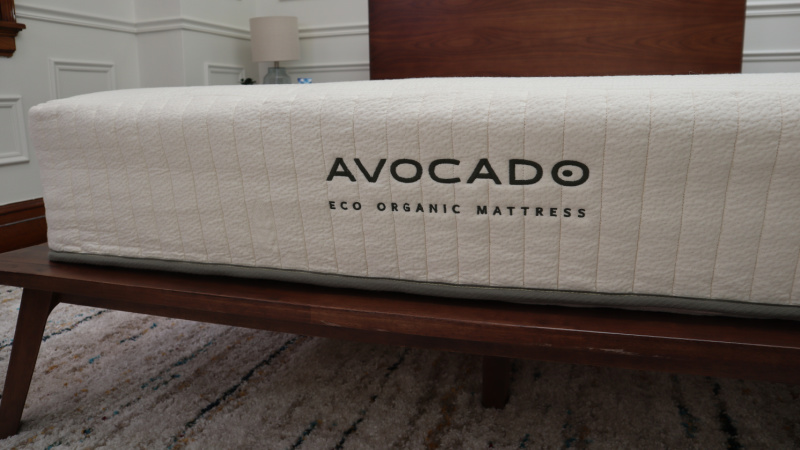 Shipping
Shipping is free on all standard orders.
Sleep Trial / Warranty
Avocado will give you a refund and donate your mattress to verified charities, nonprofits, and people at risk or in need. A 10-year limited warranty covers it for defects in material and workmanship. It also has a 100-night sleep trial night to decide where the mattress is not the right fit for you.
The original gives a full-year warranty and a 100-night trial. They save you money by shortening these windows.
Financing
They offer easy financing through Affirm or Shopify (0% interest fee in 4 installments).
How it's the same as other Avocado Mattresses
Made by Avocado in Los Angeles, using recycled steel.
Uses latex and wool from their farms and processing, with blockchain chain-of-custody verification.
Ethical sourcing, fair wages, and overseeing the entire manufacturing process.
NO polyurethane foams, NO memory foams, NO synthetic foams, NO latex blends, NO chemical adhesives between the comfort layers, and NO chemical flame retardants are used! Also, no fiberglass or off-gassing.
How it's different
10″ deep.
Not hand-tufted.
Unattached pillow-top option.
Vacuum packed in a plastic bag, but not rolled wrapped in plastic. It's the first brand to be wrapped in paper in the US! Please note that ours did seem to have less plastic but no paper. However, we may have gotten a promo version.
Avocado Mattress Certifications
Certifications: GOTS materials (latex, wool, and cotton) and GOTS finished mattress, GOLS (coming soon), Greenguard Gold, Formaldehyde Free, Climate Neutral, OEKO on latex, cotton, and wool. and FSC®  Rainforest Alliance and eco-INSTITUT® on latex.
Overall, here's what I like about the Avocado Eco Organic Mattress
Non-toxic mattress that's ethically sourced and made in the USA of certified organic materials
Affordability
Convenience
Ships in a box with less plastic
No wait to air out
Softer feel (the original is a bit too firm for me)
What I don't like
Latex foam is not cut straight in the mattress I got. I only notice at the base and sides of the bed (shouldn't affect the quality of sleep).
I prefer at least 3″ of latex before the coils. However, latex is more durable than foam or memory foam.
Still, Avocado Eco Organic Mattress has great quality without compromising your health, social responsibility, and what you can afford.
Click this link if you want to see if it's for you.