Avocado Organic Crib Mattress Review – Nontoxic Sleep for Baby

Avocado Green Mattress has a new addition to its nontoxic mattresses and accessories – a baby mattress! And they may be the only online mattress company with a children's book.
All profits from the Avocado children's book, which has an environmental theme, are donated to 1% for the Planet. And it comes with your purchase.
As with all Avocado mattresses, the Avocado Crib Mattress is handmade in Los Angeles. There are now three options to choose from. This review is of the Avocado Organic Crib Mattress.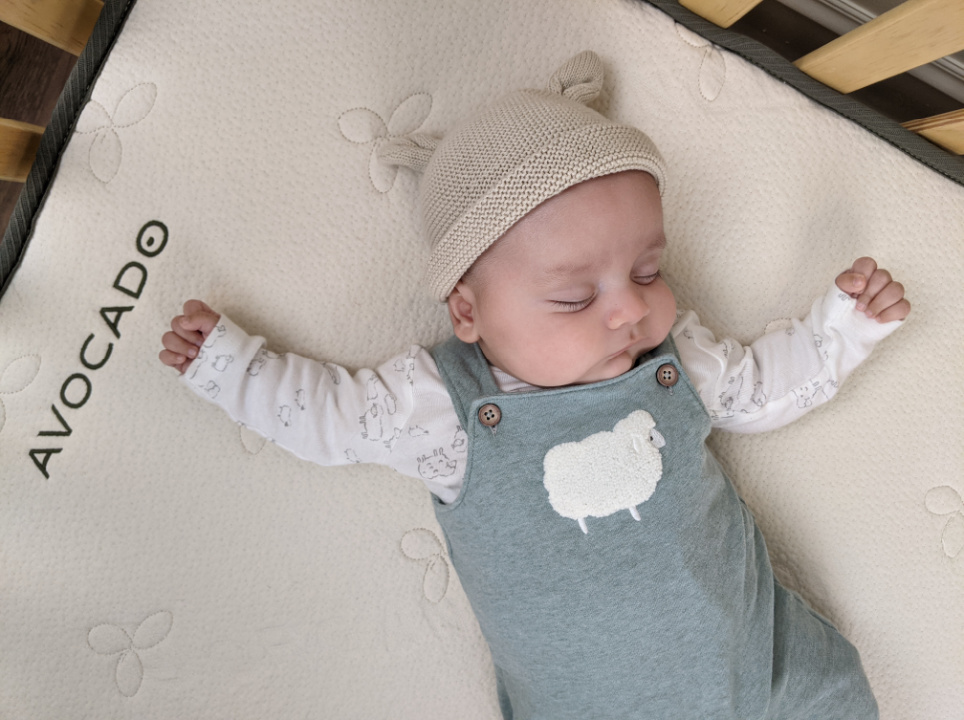 Avocado Organic Crib Mattress
Like the rest of Avocado's mattresses, the Avocado organic crib mattress is gorgeous. The crib mattress is also long-lasting because it's 2-stage. That means it can go from a baby to a toddler bed. One side is more firm for infants who need that extra support. Flip it to the other side for a tad softer feel – ideal for toddlers who can move their heads and bodies around more.
Crib Mattress Size
Fits standard cribs and is 6 inches deep and 28 inches across. The bundle of joy is 52 inches long and weighs 36 lbs. Mom and baby are doing great!
Avocado Crib Mattress Review
Check out our full review of the Avocado Crib Mattress. The photo below shows the infant side-up with an infant sleeping. The baby fell asleep during the photo shoot!
The Avocado Green Crib Mattress Layers
In addition to 170 cotton-wrapped pocketed innerspring encased in unbleached cotton, there are certified organic wool, organic certified flax pads; organic certified coco-fiber perimeters infused with organic latex for strong edge support; resilient organic certified natural Dunlop latex foam, and certified organic cotton ticking. Cotton is GOTS organic certified.
How much is the Avocado Organic Baby Mattress?
The Avocado Organic Baby Mattress costs $1,249 and can finance with Affirm. If you qualify, you can get the mattress now and get 0% APR and payments as low as $76/month.
A Farm to Bedroom Mattress
Avocado has taken the concept of farm-to-table that's popular in the food niche and applied it to making mattresses. Most mattress brands don't manufacture their products but are made by a different manufacturer (or several). Avocado made their own, from farm to bed, in their GOTS organic certified factories in Los Angeles. Avocado Green co-owns the factory in India where the GOLS Dunlop latex is processed and control more than 4,000 acres of family-run latex plantations. In addition, they ethically raise more than 150,000 native Gaddi sheep on 40,000+ hectares of organic certified pastures in the Himalayas.
No Polyurethane Foams, Glue, Flame-Retardant, or Chemicals
Avocado Organic Crib Mattress DOES NOT have:
✔️ Polyurethane or foams.
✔️ Chemical adhesives.
✔️ Chemical flame retardants.
✔️ Vinyl.
✔️ Heavy metal springs.
There are no petroleum-based polyurethane foams, chemical adhesives, vinyl waterproofing, polyurethane, polyethylene, or flame-retardant chemicals in the Avocado Organic Crib Mattress. Instead, they use 100% organic wool as a natural fire retardant and interior needle tufting. The Avocado mattress protector is made from certified organic cotton. That means it doesn't have plastic waterproofing. So expect to do more washing, and that's why the company recommends you buy three so you can change them out as needed.
If unsure about the protector, you may want a washable waterproof incontinence pad to put under where the baby is sleeping.
GREENGUARD GOLD CERTIFIED
Babies sleep more than adults, which means that they spend more time near mattresses that can emit Volatile Organic Compounds (VOCs) and EDCs (Endocrine Disrupting Chemicals). Studies show these emissions are linked to neurodevelopmental issues, childhood obesity, asthma, and other conditions. That's why our organic crib mattress is GREENGUARD Gold Certified for low emissions. It's been tested in environmental chambers to meet the world's most rigorous emissions standards for chemical exposure and pollutants. Few crib mattresses qualify for this gold standard.
100% GOTS Organic Certified Wool
Carbon Neutral Production & Shipping
25-YEAR LIMITED WARRANTY
100-DAY SLEEP TRIAL – but the company states that the crib mattress must be sanitary and undamaged to be eligible.