Sweetnight Mattress Review 12 inch – Best Value Memory Foam Bed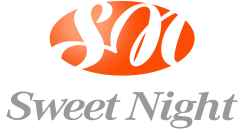 Are you looking for a value-priced mattress that has a higher profile? Today at Unbox Mattress, we're reviewing the Sweetnight mattress. We were sent a mattress to try out, and we purchased two Sweetnight Pillows to go with it.
Sweet Night Mattress Review 12 Inch
Gel Memory Foam Mattress Review
Sweetnight is a value mattress that offers many different mattresses – some with gel memory foam and others with springs. We reviewed a queen-size Sweetnight Breeze 12" Gel Memory Foam Mattress.
If, after reading our review, you want to buy a Sweet Night Mattress, be sure to use our link and code to save 20% on any Sweetnight mattress, pillow, bed base, or anything on their website.
Click the button and use code UNBOX to save 20% off your order.
Sweetnight Mattress Video Review on YouTube
If you want to see the mattress details, such as how the cover is unzipped or how soft it is, see our full review here:
When I took it out of the box, I was surprised it didn't reach its full height quickly. It takes longer to expand – they say to give it 72 hours.
Nice presentation. Came in this colorful box. I liked the inner bag that adds protection when shipping. I like that the box has handles to make it easier to move and the small touches like the felt pouch with material about the mattress.
Sweetnight Mattress Layers
The Sweetnight Breeze mattress is 12 inches deep and weighs 81 lbs. For a queen, this is a great weight and indicates that they're not using cheap, lightweight foam.
Here are the layers:
3 inches memory foam
3.5" regular foam
5.5" high-density foam
Sweet Night Sizes
Besides the 12-inch mattress that I got, you can pick the thickness. They have an 8-inch up to a 12-inch version. There is no twin XL, California king, or split king option. This helps keep prices down. Notice that the sizes offered depends on the thickness. Only the 8-inch comes in twin size.
8″-TWIN (39*74 INCH)
8″-FULL (54*74 INCH)
8″-QUEEN (60*80 INCH)
10″-FULL (54*74 INCH)
10″-QUEEN (60*80 INCH)
10″-KING (76*80 INCH)
12″-FULL (54*74 INCH)
12″-QUEEN (60*80 INCH)
12″-KING (76*80 INCH)
Sweetnight Firmness
The firmness is so subjective that it's helpful to refer to the layers. Sweetnight has a full 3 inches of memory foam on top, which means you'll get some sink. It's not the plushest mattress we've reviewed, but it's definitely towards the softer spectrum.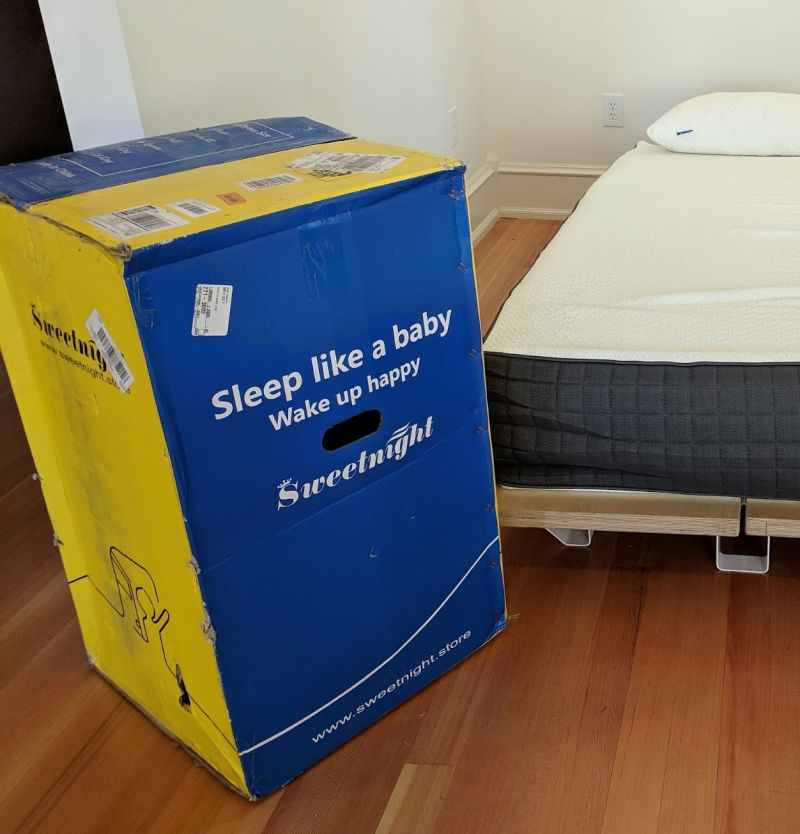 Sweetnight Sleep Trial
The Sweetnight gives you 100 days which is standard for mattresses sold on Amazon but not as long as other brands in the niche.
Warranty
Sweetnight has a 10-year warranty. The pillows have a 3-year warranty.
Sweet Night Price
This queen is listed at $568 on the website. To be honest is a bit more expensive than I expected but still cheaper than many other 12″ thick beds. I also have a coupon code for you – UNBOX. In addition, Sweet Night offers regular discounts. This code will always reflect the highest discount available, so apply it at checkout to ensure you get the best deal. For example, at the time of this update, it takes 20% or $113.60 OFF the list price, bringing it down to $454.40. 
Regarding quality, it's what you would expect for the price. I've seen much more expensive beds that were very cheaply made.
Sweetnight Unboxing
Want to see what the Sweetnight mattress looks like as it comes out of the box? We liked how it has an inner bag to protect the bed from shipping. It's unusual because it takes longer to expand – 2 or 3 days.
Watch the unboxing video here:
Sweetnight Pillows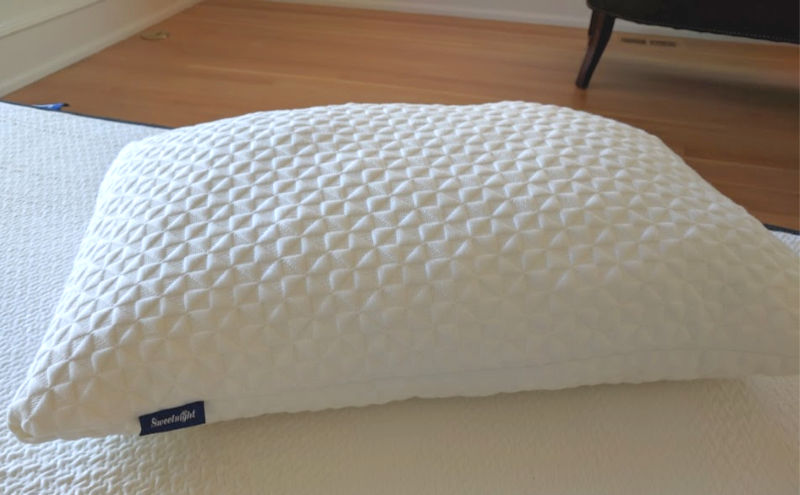 We purchased the Sweetnight pillows to go with the mattress, which are standard queen-size shredded memory foam pillows. The thing that I was impressed about with them is that they have a double zipper.
This means that you can unzip the outer pillow cover and wash it. You can unzip the inner pillow cover and adjust the amount of memory foam inside to get the thickness you want. It's unusual to find this level of detail on a pillow at this price. Normally they'll have no zipper or one, and you're looking at spending $80 or more.
The Sweet Night pillows have a plush feel and are a reasonable $46. And the discount code UNBOX will also work to save you 20% on the pillows. That makes them very affordable and a great value.
Sweetnight Pros
No noticeable offgassing. That was unexpected. This is a made in China memory foam bed, so I almost expect it to have a strong smell, but it doesn't. The pillows did have some smell, but the bed didn't.
The mattress cover zips off, which makes it easier to clean and is a feature we love to see on a mattress. Most people need a minimum of 10 inches of foam because it does compress with weight. The Sweetnight is 12″ thick which gives it a higher-end feel and look.
Sweetnight Cons
Each product is shipped in separate packaging, so if you order a mattress and two pillows, they will come in three different packages.
Thanks for reading our Sweetnight mattress review 12 inch. Please leave a comment if you have any questions we can answer. Check the website for the latest prices or sales, as they may change.