Is the Newton Crib Mattress Worth It? Breathable Baby Mattress Reviewed
Newton Baby Mattress Review
Are you looking for a safe, breathable, cleanable, nontoxic baby mattress? The Newton Baby Mattress is so unique, and we had a lot to say about it. Keep reading our Newton Baby Mattress Review to discover what we mean…
We reviewed the Newton Original Crib Mattress with a white cover. The cover on the Original is water-resistant but not waterproof. Newton also sells a waterproof Newton Baby Mattress. Or, you can buy a waterproof mattress pad.

Newton Baby Mattress Review Video
Here's our Newton Baby Mattress review video. In it, I perform a series of tests to show you how Newton is different from other baby mattresses. I  tested the breathability and other claims of the mattress. I think it's pretty informative to see how it did. I had an old vinyl crib mattress to compare it to, so you could see the differences.
Unbox Mattress was not paid to review the Newton Baby Mattresses but got one for the purpose of doing a review. However, we may earn a commission when you shop through our links.
Newton Baby Crib Mattress Sleep Trial and Warranty
You have 100 nights to test out the Newton Baby mattress at home. If you decide it's not for you, you're out nothing. They'll give you a full refund.
Newton also offers a limited lifetime warranty. You must register your mattress on their website and purchase it directly to get that warranty.
Not sure if it's right for you? Start your 100-night trial. Use code UNBOX to save $50.
Now let's go over the layers. There are 3. The mattress cover. An all-natural fire barrier and the inner core. They're different than you might expect…
Your Newton Baby Mattress Arrives in a Box
Here's what it looked like on my porch: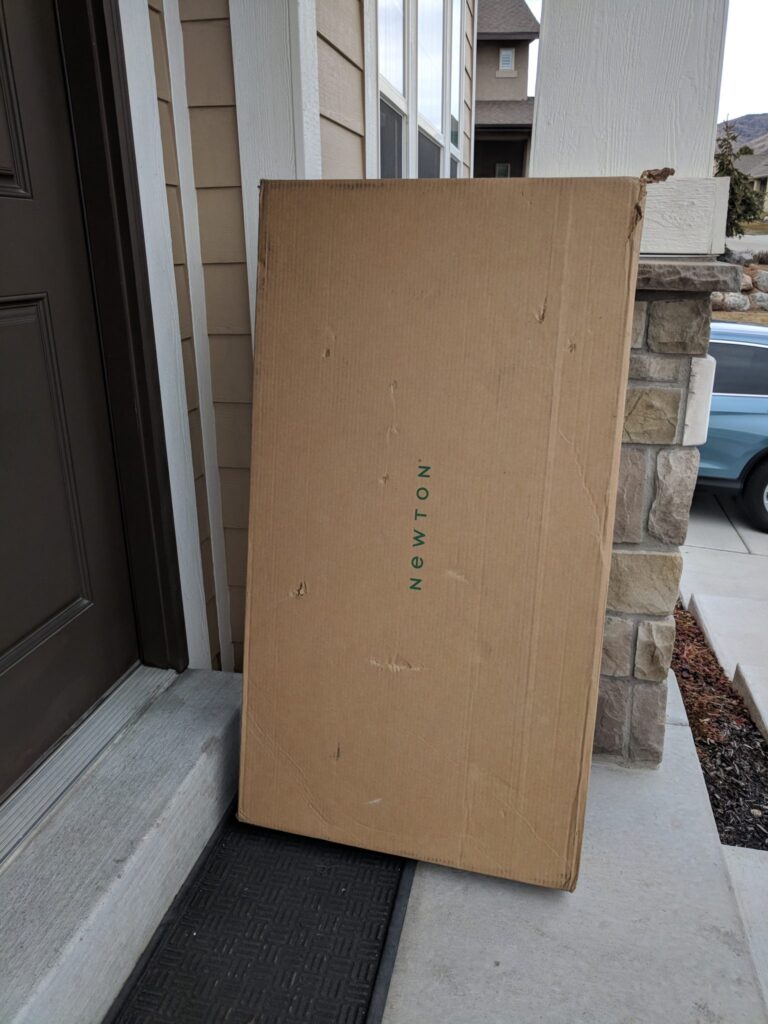 Newton Breathable Baby Mattress Cover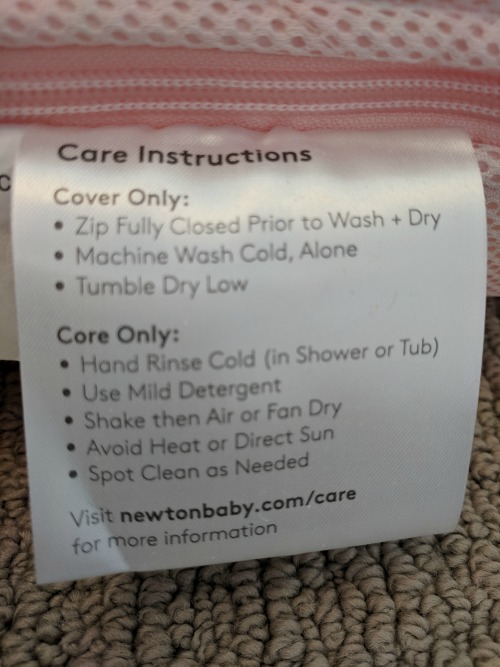 Newton mattress has a zip-on/off cover that you can wash in a washing machine. They suggest that you buy an extra cover so you can wash one and have a fresh one to use. You don't need a crib sheet or anything on this cover. It's breathable. I tested that in the video.
In fact, when I put the Newton mattress cover on another mattress that wasn't breathable, it became breathable! I couldn't believe it. There are just enough spaces in the fabric to breathe through it. It's a three-dimensional spacer material. I've never tested anything like it before.
The 3D cloud cover is made of 100% polyester, which is how it can be water-resistant and breathable. But even the waterproof covers are breathable. And they're all quiet and have no vinyl.
You can find crib mattresses with an organic cotton cover, but the problem is you can't usually remove and wash the cover. And if it's not waterproof, those messes seep inside the mattress (you can't clean it inside or put the entire mattress in the washing machine).
Natural Fire Barrier
Under the cover is a removable fire barrier (instead of using chemical barriers) made of all-natural wood pulp. The first version I got didn't have this cover, and the company told me that older mattress versions had the fire barrier included in the core.
Mattress Cover Colors
The cover comes in really sweet colors: white, moonlight grey, sunrise pink, and sky blue. I previously got a pink one and now a white cover. I like the moonlight grey because it's gender-neutral, and it won't show dirt. When I moved my mattress with a white cover, after it was unpacked, I got some dirt on it. So that's why I know.

You can buy extra covers in case one is in the wash – you know, to avoid having to wash one in the middle of the night for a diaper change or a nap.
While we haven't tested them yet, Newton sells breathable baby mattress sheets too.
What's a Newton Baby Mattress Made Of?
Mostly air! 90% air in fact. Because none of the mattress core is solid, please think of the texture of ramen noodles, similar to the texture of the mattress itself. There's no cotton, foam, or latex inside. No springs either.
It's almost made exclusively of what Newton calls WovenAire®. It looks like this: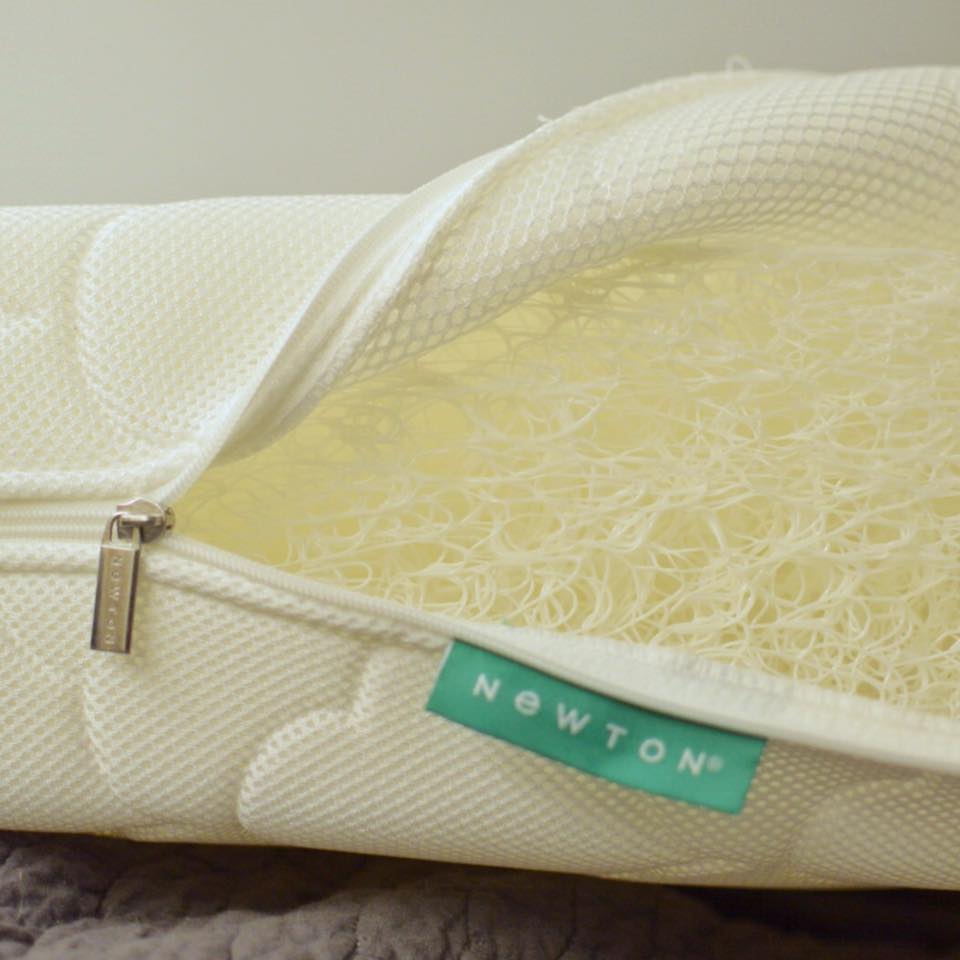 From their website:
This is a patented cushioning material that replaces foam, latex, and springs and is the core of all our mattresses. It's made of 100% recyclable food-grade polymer, an LDPE grade 4 plastic. It's the same material as a yogurt container!
Wovenaire is 90% air by volume – which makes it incredibly light and, well, airy. It's Greenguard Gold Certified, which means it is tested and certified to have the lowest chemical emissions possible.
In addition, Wovenaire is hypoallergenic and doesn't off-gas or leach toxic chemicals in the way foam and latex can. All this makes Wovenaire a perfect choice for your baby.
Firmness
While there is some slight give, Newton is firmer, as recommended. Infants need a firm, flat, even surface to sleep and move on. It provides the resistance needed as they push up, turn and eventually stand in the crib.
Also, a soft mattress can sink in. Young children and babies can get trapped in the mattress and unable to breathe. Also, with less give, the mattress will not collapse around the edges and corners where little heads, fingers, legs, and arms can get stuck.
Washable Baby Mattress
We know the cover is washable, but what about the mattress itself? Yes!
Most baby mattresses don't have a removable cover, so you can't get to the inside of the mattress. And there's no way to put it in the washing machine if there's a mess to clean up. But Newton Baby has a cover that zips on and off for easy cleaning, and you can take it completely off. It's washable.
But you can also literally wash the mattress!
Simply remove the cover and spray the mattress core in the shower, bathtub, or outside with a hose. Then you'll know it's totally clean. I put some grape juice, ketchup, and mustard onto the mattress in the video and then just sprayed it off.
Clean off the dust, dead skin cells, or whatever else might be inside that mattress. You may even want to wash the bed before your baby sleeps on it.
We've never seen anything like it!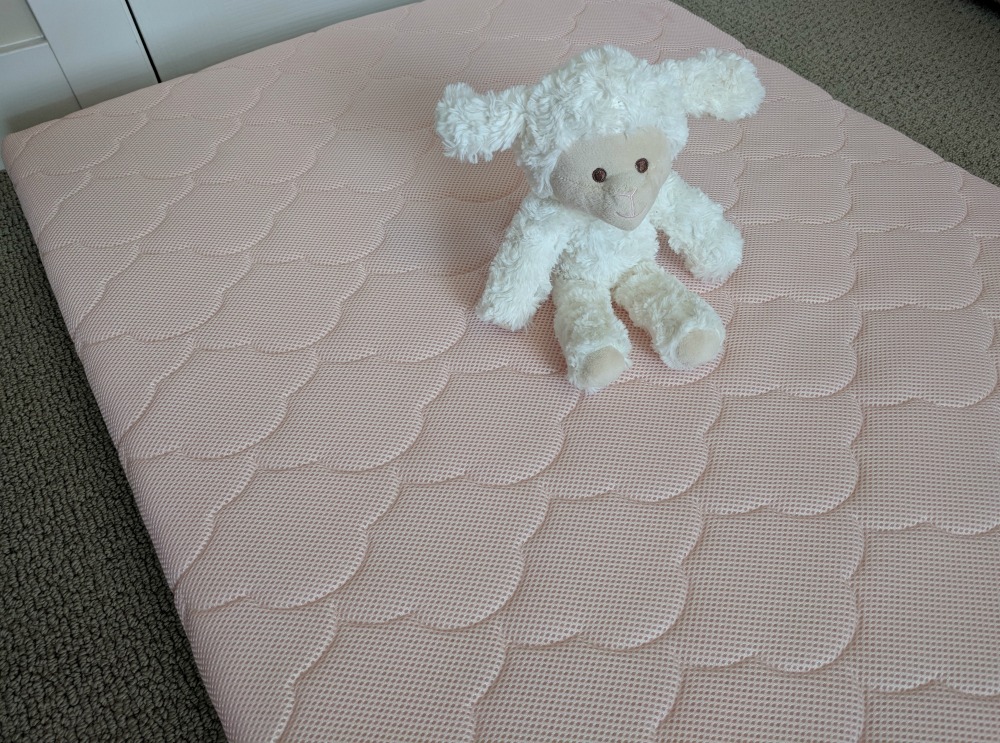 Is the Newton Baby Mattress Worth it?
The biggest claim that Newton Baby Mattress makes is that it's safe. Is the Newton baby mattress safe? While that may mean different things to different people, to me, it is the safest baby mattress. Why?
Because its breathability reduces the risk of suffocation even if the baby sleeps face down. See in the video where I put my face against the mattress and try to breathe through it. Then I try on a vinyl mattress. I also tried it on an organic mattress. None were breathable like Newton is. But even the cover is breathable (the earlier version of Newton Baby mattresses didn't have a fire barrier and was completely breathable through the whole thing.
Airflow stops babies from sweating and getting overheated from the mattress. Memory foam or other foams get softer and warmer with heat from your body or the air temperature. Newton stays the same firmness (baby can't sink in and get stuck) and doesn't make baby hotter. Overheating may be a contributing factor to SIDS.
Nontoxic. While not organic, like much higher-end organic crib mattresses, Newton is Greenguard Gold certified. Many mattresses are Greenguard certified, but only the best have the gold behind the label.
The GREENGUARD Gold Certification Standard includes health-based criteria for additional chemicals and also requires lower total volatile organic compound (VOC) emissions levels to ensure that products are acceptable for use in environments such as schools and health care facilities. In addition to limiting emissions of more than 360 VOCs and total chemical emissions, GREENGUARD Gold Certified products must also comply with requirements of the state of California Department of Public Health (CDPH) Standard Method for the Testing and Evaluation of Volatile Organic Chemical Emissions from Indoor Sources Using Environmental Chambers,(also known as California Section 01350). Office furniture products that are GREENGUARD Gold Certified are also compliant with the BIFMA X7.1 standard.
Unbox Mattress is a big fan of nontoxic mattresses in general, especially those with polymer inside (like the Purple mattress) and now the Newton Baby Mattress.
This baby mattress is remarkably supportive, though, and won't collapse. It compresses a little and comes back up again.
So is it worth it? Yes!
Reusable and Recyclable
The Newton baby mattress is made to last through the toddler years and can be handed down to the next child or to a friend. That makes it reusable, unlike some baby mattresses, which are totally destroyed after one kid.
The reason I got two Newton Baby Mattresses is that I gave the last one to a friend. And she didn't want to give it back for me to review it on a video. She LOVES her Newton so much I couldn't pry it from her. So I requested another one.
This mattress is made to be durable with a lifetime warranty. Plus, it's recyclable, so you won't need to toss it after one or two babies' use.
To recycle your Newton Baby Mattress, you can either find a recycling facility near you, or they will send you to return packaging and arrange recycling for you.
Newton Baby Mattress Sizes and Prices
The Newton Baby Mattress comes in standard or mini (for a bassinet). You can get a 4 or 5.5-inch deep mattress. I was sent the Essential. The standard fit in my crib perfectly without gaping around the edges or corners.
Here are the differences in dimensions and prices:
ESSENTIAL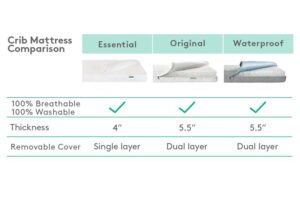 4″ deep. 52″ x 28″ x 4″. Weighs 11 lbs. $249.
Original
52″ x 28″ x 5.5″
Weighs 14 lbs. $349.99
MINI
38″ x 24″ x 5.5″
Mini Weight: 9 lbs. $249
ORIGINAL
MINI – 5.5 inches thick.
WATERPROOF
5.5 inches thick. $349.99
I HIGHLY recommend you either get the waterproof or buy the waterproof pad. It's so amazing. I tested the waterproofness in a video and poured water onto it. No leaking. I was amazed that the water just pooled at the bottom. I could dump it out. However, that's more water than a baby would pee.
Plus, the fabric is soft, not plastic like most waterproof covers are. I only wish they made it a twin size for bigger kids.
Newton Baby Mattress Coupon
You can use Newton Baby Mattress Coupon Code UNBOX to save $50 on your mattress. We highly recommend that you get the Waterproof version. It's still breathable, but it will survive blowouts, spills, and more. The fabric is felt underneath and doesn't make noise like old-style crib mattresses. It will protect your mattress.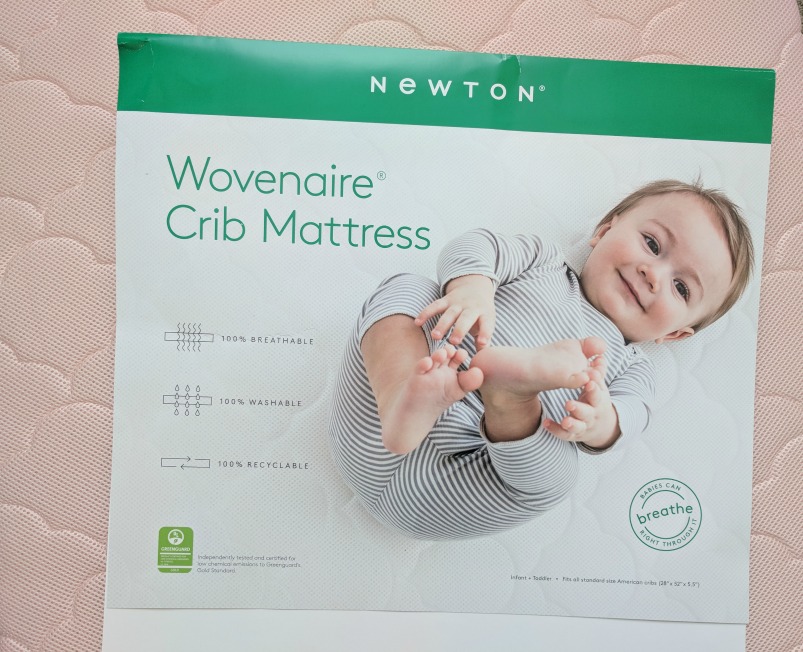 Is Newton Baby Mattress Organic?
Here's the point where some parents wonder if this is a good fit for them. Newton Baby isn't organic. It's made of food-grade plastic. That isn't very natural, but the air is. And it's 10% plastic and 90% air. Newton mattresses are made of WovenAir and provide a safer, firm sleeping surface (baby can't sink in and get stuck in the mattress). There is airflow through it.
If you insist on an organic and/or cotton and latex mattress, this may not be the mattress for you. It has synthetic materials, but the safety tradeoff is worth it. I like that it's recyclable and can last through several babies and toddlers. But most of all I want a breathable baby mattress. And so far, no other baby mattress I've reviewed is breathable like Newton.
Sure, I can breathe through other breathable baby mattresses if I try, but I probably wouldn't get enough air if I were face-down on it. Babies can't freely move their faces and bodies, so breathability is important. It's what a lot of doctors and parents want when they buy a Newton.
As a new mom, I couldn't afford this kind of crib for my first baby. Then I bought an Intellibed crib mattress that was breathable (but not the cover, that I remember). It was super heavy but amazing. It was also washable inside. They're no longer making and selling it. I'm so happy Newton made this mattress, which I'd buy for my baby.
Q&A
What sheets go best with my Newton Baby Mattress? Are the sheets breathable too?
Newton sells aden + anais 100% cotton sheets. They are 100% breathable. They come in 3 patterns to fit a standard-size crib. For the mini baby mattress, they recommend Babyletto mini crib sheets because they are breathable.
Is the Newton baby mattress cover waterproof?
This is an important question. The cover is not waterproof, but it is water-resistant! Why? If you want a waterproof mattress cover or even a mattress protector, it will have synthetic backing. Adding this eliminates breathability and increases overheating. That creates a breeding ground for bacteria.
What is the size and weight of the Newton Baby Mattress?
Essential
52″ x 28″ x 4″
Standard Weight: 11 lbs.
Original
52″ x 28″ x 5.5″
Standard Weight: 14 lbs.
Mini Dimensions: 38″ x 24″ x 5.5″
Mini Weight: 9 lbs.
How much does a Newton Crib Mattress cost, and do they offer financing?
The standard-size Newton baby mattress is $299. Yes, Newton offers financing. You can buy now and pay later with Affirm. If you qualify, you don't pay interest for the first 6 months. Payment starts at $27/month.
Is the Newton Baby Mattress flame-resistant?
Newton doesn't use toxic chemical fire retardants. Instead, they say their Wovenaire® technology contains natural phosphates (salt). Interestingly, salt is a  safe way to meet fire safety requirements and doesn't contain halogen or heavy metals like other flame-resistant materials.
How much does the Newton Baby Mattress Weigh?
Newton is lightweight and easy to move. It weighs 11 lbs., for the Essential. Not much more than a newborn baby. The original weighs just 14 lbs.
What firmness is the Newton Baby Mattress?
The Newton is a medium firm, though it does not have a solid surface area. It's enough to be supportive without being hard. There's no foam in this mattress, so it won't sink in, but it has some give.