Purple Mattress Pillows Compared: Purple Pillow, Purple Harmony or Purple Plush?
Still sleeping hot on a foam pillow? Purple pillows stay cool throughout the night, which makes it, so you aren't waking up constantly to readjust. Add that they're hypoallergenic, washable, and long-lasting, and you're going to sleep better. Purple has 5 pillows to choose from, and they all sleep cooler, but they're very different from each other.
UPDATE September 2021: Purple has discontinued the Purple Fluff pillow, I mean Purple Plush. And now they have 2 new down alternative pillows: Purple TwinCloud and Purple Cloud (does Purple Rain link not working come out of it?? 🤣).
Which Purple Pillow Should you Get?
We stacked up all the Purple mattress pillows to help you choose the best one. Two have the hyper-elastic polymer or comfort grid inside, like the mattress. Just one pillow doesn't. If you're planning to purchase a Purple mattress, you get the best deal by buying a set that includes pillows, or what Purple calls a bundle.
Please read our Purple hybrid review for more about the Purple bed. The pillow and the bed are similar and unlike any other mattress because of the airflow and comfort of the grid. This is MY FAVORITE mattress in all the years I've reviewed mattresses.
Purple Mattress Pillows Compared
Purple mattress has 5 pillows you can buy right now. They're very different from each other, so keep reading to learn which one is best for you. We purchased each of these pillows, and this post is not sponsored.
I'm going over the 3 Purple Pillows and will update this post after I try the new Purple pillows.
The Original Purple Mattress Pillow
Each one is very different and unique not only from the other but from other mattress brand pillows. Before we get into the details, there are a few things you need to know about Purple as a brand.
Here's how they look stacked up: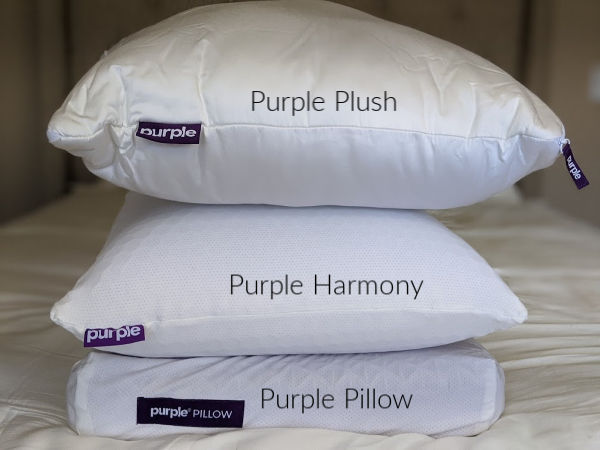 3 Facts about Purple Mattress Products
1 – Purple doesn't like memory foam so you won't see any in their products.
2 – The Hyper-Elastic Polymer or "comfort grid" takes different forms and formats, but it will be the material closest to your head or body. They don't add a layer between you, the cover, and the mattress or pillow. That's how you get the full effect of the flexible properties of the comfort grid.
3 – Purple sheets and covers for the mattresses and all but the Purple Plush pillow are stretchy so that it can move with the comfort grid. This allows you to get the full effect and feel of Purple's unique comfort grid. The Purple Plush makes absolutely no sense for this brand because it breaks all of the rules.
Each pillow has a 100-night trial and a 1-year warranty. You can return your pillow for a full refund if you're unsatisfied.
I have done this once, and it worked well. Purple is US based and handles returns efficiently. I got my money back pretty quickly. I GUARANTEE this isn't often how things go with mattress companies, and it can be so frustrating.

Purple Pillow
This is Purple's original pillow, the first one they came out with. It's famous for its weight. In the world of pillows, it's a heavyweight. Weighing in at almost 10 lbs, it can double as a personal security device in case of break-ins at your house! Just hit the thief over the head and knock them out!
It's made of a triangle grid that is indeed purple color underneath the cover (actually lavender color). This is similar to the comfort grid that is the top layer of every Purple mattress. The Purple Pillow is a slab of stuff with a thin backing. And that's it. There isn't anything to give it structure, so it is floppy. It's very similar to the Purple seat cushion.

Materials: Moisture-wicking breathable cover, Purple grid (the same flexible polymer featured inside a Purple mattress) with backing, plus 2 boosters to add an inch or a half inch to the height.
Pillow dimensions: 24″ x 16″ x 3″
Sizes: Comes in regular/standard size only. There is now a smaller kid's version, but weirdly enough, it's a little thicker – 3.25″ thick.
Thickness: 3″ thick
Weight: almost 10 lbs.
Cost: $89 and sometimes offered free with mattress purchase (check website)
Pros: won't go flat or change shape over time, doesn't sleep hot
Cons: thinner and heavy than most pillows – you'll either love it or hate it. Luckily, if you think it's for you but aren't sure, Purple offers a 100-sleep trial on all their pillows. If you don't like it within that timeframe, return it for a full refund.
Get this pillow if you like a lower profile pillow and aren't someone who wants to hug your pillow. This pillow won't mold to you and isn't super huggable!
Purple Harmony Pillow
This is an award-winning pillow and, like most things Purple, truly one of a kind. It's the Winner of the 2021 Good Housekeeping Best Bedding Awards.
The Harmony is an odd name for a pillow. We have the Purple Pillow and the Purple Plush, and then they get all weird and decide to name this one the Harmony. It doesn't make sense! Harmony is the newest pillow, and it has the benefit of polymer. It also has latex to add structure and support.
However, it's VERY different from the Purple Pillow because the polymer layer is in hexagons, and instead of being several inches thick, it's barely the thickness of a quarter. And it's just in the cover. Most of the pillow is made of hypoallergenic Talalay latex, which means it's a bit bouncy. That also means it retains its shape well.
Which Purple Harmony Should you Get? How They're Different
Purple Harmony has two height options. It comes in 3 lofts: low, medium, and tall. Which one should you get?
Low 5.5″: You like a thinner or lower-height pillow. Usually, that's stomach and back sleepers. Or if you have narrow shoulders.
Medium 6.5″: You like a medium-height pillow. More often for back or side sleepers. Most people should pick this one.
Tall 7.5″: Side Sleepers with average to larger frames. Anyone who generally prefers a taller pillow.
Unlike the original Purple Pillow, The Purple Harmony is lightweight and has a thin layer of comfort grid built into the cover.
This is the most expensive of Purple's pillows by quite a bit. However, it's also the nicest one.
Materials:
Cover: 92% Nylon Fiber, 8% Spandex Fiber, with moisture-wicking treatment. Inside the cover is a thinner hexagon pattern of Purple Grid.
Core: Ventilated Talalay Latex
Pillow dimensions: 26″ x 17″ x 6.5″ and comes shipped flat in a box (not rolled).
Sizes: Comes in standard or king size.
Weighs about 4.2 lbs
Cost: $159 and is sometimes offered free with mattress purchase (check website)
Pros: most substantial pillow in the lineup and won't sleep hot.
Cons: pricey but worth it if you like latex and the flexibility of the construction to move with you.
This pillow is for you if you love latex and want more loft and bounce. It's huggable and keeps its shape.
PLEASE NOTE – the cover is where the magic is. It's most of the weight and has the comfort grid embedded into it.
Purple Plush Pillow
THIS PILLOW HAS BEEN DISCONTINUED.
The Plush is Purple's lighter, fluffy pillow. What's weird about it? It zips and unzips on the sides (not the ends) – but not like other pillows where you can remove some of the insides to change up the height. No, this one compresses or relaxes to add more or less of a fluffy feel. It's the highest loft of all the Purple pillows.
You control how fluffy it feels by zipping or unzipping the panels on each side of the pillow. It's made of 100% polyester. We can't figure out what makes it special, and it's our least favorite of the three pillows Purple sells.
It came to us a little lumpy, and surprisingly, reviews from their customers (or people who were given a free pillow to review) weren't always stellar.
For some reason, Purple doesn't like king or queen sizes of pillows. In fact, they skip right from the queen to the king. But only the Purple Plush even comes in king (as of this writing).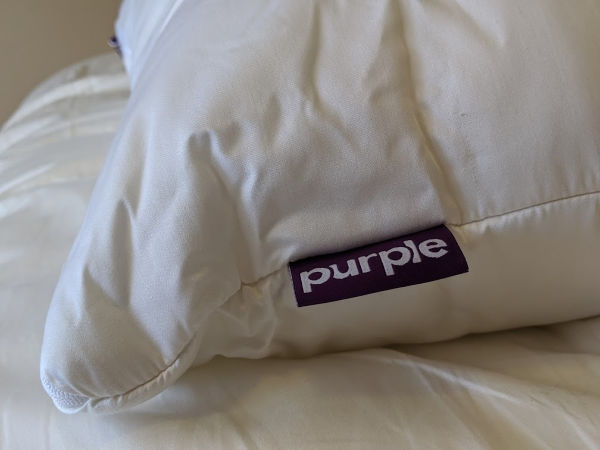 Materials: Smart Fluff
Cover: 60% Lyocell, 40% Nylon, moisture-wicking treatment
Interlocking denier poly fiber puff balls
Pillow Dimensions: 26″ x 18″ with adjustable height
Sizes: standard or king
Thickness: variable depending on how you zip it, but about 5.5″ at its tallest
Weighs about 3.5 lbs for a standard size and 4.4 for a king
Cost $44 for a standard and $57 for a king
Pros: light and airy, comes in a king size
Cons: not sure about durability and how it will hold up – concerned it will go flat over time
Buy the Plush if you like traditional feel-type pillows and want to control the loft or if you want/need a king-size pillow.
If I gave my opinion, I'd do away with the Purple Plush pillow (I call it the Purple Fluff pillow) because I think there are much better options for the price. Also, it's totally off-brand because it doesn't have any of Purple's signature comfort grid or features. The good news is, it shouldn't sleep hot, like the other Purple pillows for sure don't.
But as always, you decide what works for you, and there's a trial period so you can return it. I returned my Purple Plush pillow, and the process was very easy. I planned on keeping it but didn't like it, and I'm glad I got to go through the process to see how it worked. Your experience may differ, but overall I found customer service quite good.
Have any questions about the Purple pillows? Leave them in the comments, and we'll try to help you pick the best one for you.
Purple Pillows Cost and Sizes Compared
We stacked up the Purple mattress brand pillows so you could see the sizes and prices side by side (sizes and prices are current as of this blog post, prices may change). Your best bet is to buy a Purple mattress (read our Purple hybrid review) in a bundle. Purple calls them gifts, but you save by buying Purple bundles – so purchase the pillows, sheets, and mattress together rather than separately.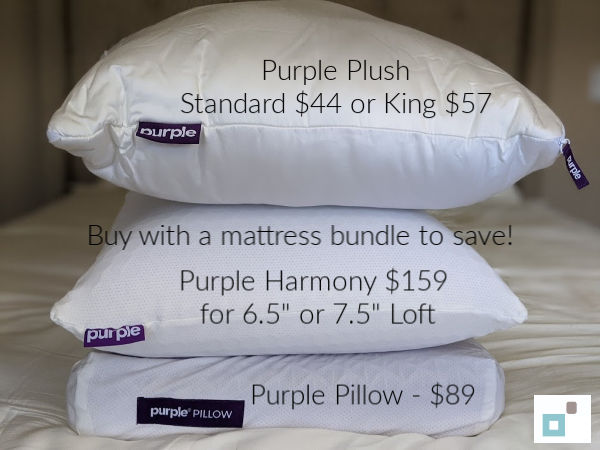 Have you purchased a Purple brand pillow? What did you think? Let us know in the comments.