Cal King Mattress Size in Inches – How People Get Confused and Order the Wrong One
A lot of people don't understand what a cal king bed is. They mistakenly think that a cal king mattress is higher off the ground when in reality a cal king is longer and more narrow than a regular king-size mattress. As a result, many mattress companies end up with far more returned cal king-size mattresses. Customers are ordering and then returning them and costing a lot of extra money in returns and for lost customer satisfaction.
Box bed websites should clearly state the dimensions of a cal king bed at the time of order to make sure people don't accidentally order the wrong one.
Cal King Mattress Size in Inches
A cal or California king-size mattress in inches (the dimensions) are 72 inches x 84 inches. They're 72 inches wide and 84 inches in length. That's 4 inches longer than a regular king. If you're a tall person that extra length is very important! It's more rectangular in shape.
A regular king is 76 inches wide by 80 inches in length. Both add up to 156 inches (the same amount of material) which is why they're usually priced the same. It's almost a square. Two twins make up a king, and two twin XLs make up a cal king. An Eastern king is the same as a regular king.

Who Should Order a Cal King Bed?
Usually, only people over 6 foot 3 inches need a Cal king. Someone who is 6′ 3″ is 75 inches tall. A king mattress is 80 inches tall, and a Cal king is 84 inches (7 feet!) tall. If you're a tall person sleeping on a regular king, your head may bump against the headboard, and your feet may bump against the footboard. When you sleep on your back, you're stretched out more and may touch the head and foot of the bed! You'll feel very cramped. So it would be best if you got a cal king-size bed.
The other perfect customer for a king-size bed is someone whose bedroom is not wide enough to fit a regular king, or the space is too tight. Cal kings were named after the state of California. This mattress size was created because, in California, they built houses with smaller rooms to save space. So people in California are often familiar with what a cal king is. But outside of California, a lot of people don't know.
In-person you can easily tell the difference between a king and a cal king. Online you can't. You might accidentally order a cal king and return it when it doesn't fit your bed frame. We think by putting the dimensions right on order and making it clear during the ordering process, there will be fewer mistakes made.
Tip for Bed in a Box Mattress Companies
Include the dimensions of the mattress in the checkout process.
Like this: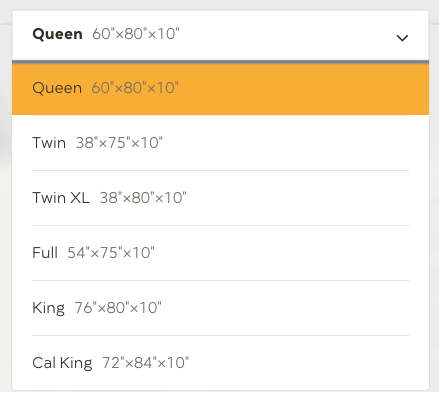 See how the cal king is obviously 10 inches thick, and the only thing that changes is the length and width? This company gives the prices, but we recommend adding the dimensions too.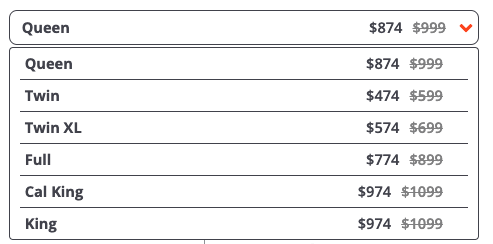 This mattress company doesn't have the dimensions and likely has a higher return rate on California king-size beds.
Split California King Adjustable Bed with Mattress
Cal kings do come in split cal kings too. They are two twins that are 84″ long, but no one sells them separately. You have to buy them as a set, and people usually get them with an adjustable base. As far as we know, there's no such thing as a California queen-size mattress.
Here are some split cal kings adjustable beds.
All boxed brands we've seen offer a cal king but not a split cal king. For those, check the Amazon links above.