Why Choose a Low Profile Mattress? Best Thin Mattresses For Bunk Beds, Camping and More
Low Profile Mattress
Right now, thicker mattresses are in style, but there's still high demand for lower-profile beds. The industry standard height for a bed is 7 inches, but today, that would be considered a thin mattress. Mattresses have gotten a lot deeper in the last decade or so. Some mattresses are 24 inches deep, not including the box spring!
And, instead of a box spring that adds height, mattress retailers are selling things like a Bunkie Board, which are very thin. It's only 1.5 inches thick. You can use them in place of a box spring.
One reason mattresses are so much higher than they were 20 years ago is people are more selective, and things like a pillow top or extra foam layers add to the height. Also, the style is a larger, thicker mattress. For some, that extra height spells luxury.
Another reason is the rise in popularity of platform beds, which have a strong enough foundation to support a mattress without box springs. So you need a thicker mattress if you want a taller bed. If you have a box spring and mattress together, they're much higher than a standard bed.
Typically a low-profile mattress is under 6 inches deep.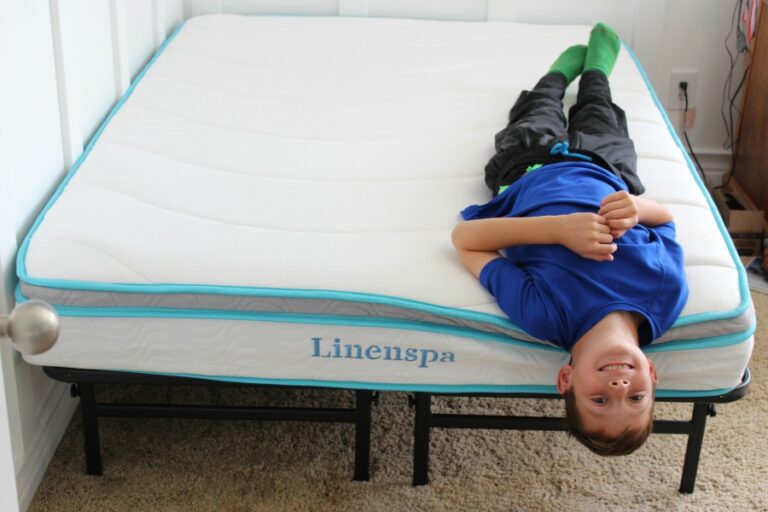 Best CHEAP Thin Mattress Brands
Our favorite brands for reasonably priced, thinner mattresses are Linenspa, Zinus, and Tochta. These are all highly rated and not expensive for the quality. Each is ideal for anyone who wants a lower-profile mattress.
Custom Mattress – Starting at 4″ Deep
We prefer Tochta for the quality – they have several models to choose from and are reasonably priced. But the best part is, you can get a custom build starting at just 4″ deep!! Use their online price quote to see the cost depending on what features and thickness you want. Check out our Tochta RV mattress review on YouTube.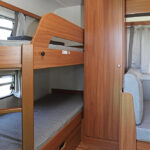 Top 10 Reasons to Buy a Low-Height Mattress
Here's why you might want a lower-height mattress:
It costs less to ship a thinner mattress because they're not as heavy.
A thinner mattress is easier to pack and move. You can fold them up and transport them easier. See this video on how we move a mattress. With a lighter bed, you could move a bed by yourself and fit it into the back of your car!

You're short and don't want to have to use a ladder to get into your bed. A thick mattress can be challenging to get onto or get off of. Even taller people may have problems getting onto or off a mattress that's too high off the ground.

Your health makes it difficult to get up onto a thick mattress. Lower profile mattresses can be ideal for the elderly or those who cannot get in/out of bed easily when it's too high off the ground.

For safety reasons. A child can't easily get on/off the bed and may fall if they roll off the bed in their sleep on a mattress and frame near the ground. 

Ideal for an RV or similar tight space.

Budget – thinner mattresses are usually less expensive.

To use on bunk beds and get more clearance space (and don't hit your head on the bed above you or the ceiling).

For adjustable beds. If your mattress is too thick,

it won't move with the head of the bed and looks

funny sticking up straight above the top of the frame.

For sofa sleeper beds – a thicker mattress won't fit back into a couch when you want to fold it.

For camping, in a tent or the back of a truck (you need to pack something lightweight). Sometimes you need a thinner air mattress that's easier to pack in and out.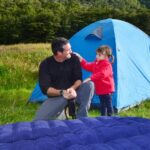 Shop Low Profile Mattresses
Want a thin mattress for the floor? Here are some great options. Click on the images below.
Scroll down if you need to find sheets for your low-profile bed (or box springs).
LINENSPA 6 Inch Innerspring Mattress – Queen
Signature Sleep Memoir 6-Inch Memory Foam Mattress, Twin Size
Signature Sleep 6″ Mattress
Cozzzi Twin Folding Mattress – 4 inches deep
If you're looking for a camping or RV mattress that can be custom built for your exact space/size or shape, check out Totcha ** here's our Tochta RV mattress review ** They give you instant price quotes online and come in a variety of thicknesses. Despite being made for RVs, they are very reasonably priced and can be used anywhere, like the back of your truck, or SUV, or even just for your everyday mattress.
Low Profile Box Springs
Looking for a box spring & mattress for a very low bed? You can also lower a mattress profile by adding a low-profile box spring, base, or platform.
Zinus Jayanna 4 Inch Low Profile BiFold Box Spring / Folding Mattress Foundation / Strong Steel Structure / No Assembly Required
Zinus Victor 7.5 Inch Quick Lock Smart Box Spring / Mattress Foundation / Strong Steel Structure / Easy Assembly
Zinus Deepak Easy Assembly Wood Slat 1.6 Inch Bunkie Board / Bed Slat Replacement
NOAH MEGATRON Easy Assembly Box Spring, Heavy Duty Steel Mattress Foundation Base, 7" high
Mayton Split Box Spring Low Profile Mattress Foundation/Strong Structure, 59×79
Low Profile Bed Sheets
Standard sheets will be too deep for a thinner mattress, so you'll need low-profile sheets and a low-profile mattress protector. This one from Amazon Basics is a great price that can't be beaten. Now your sheets and protector won't be loose and come off the bed. Who wants to wake up to a wad of sheets?
The Furniture Shack 310TC Super Low Profile Queen Size Sheet Set for 6″ mattress
Rolux linen Queen Sleeper Sofa Bed Sheet Set – White Solid 100% Cotton 800 Thread Count Fit Up to 6″
SafeRest Premium LOW PROFILE Waterproof Mattress Protector
Did you buy a low-profile mattress? Let us know which one and how it's going, or ask any questions in the comments!