Eco Terra Hybrid Mattress Review

Eco Terra hybrid mattress is made from natural Talalay latex.
Constructed with organic wool & cotton and economically priced
No polyurethane or toxins
26% more durable than all-foam beds with 1,057 fabric-encased responsive coils (queen size)
11 inches deep
Hello Unboxers,
I've unboxed the Eco Terra mattress and given it a full review below. We were sent a queen-size medium firmness Eco Terra natural hybrid mattress. It's a more economical hybrid mattress that is made with organic materials and that uses fewer chemicals in its construction.
We may earn a commission when you shop through our links.
Unboxing the Eco Terra Mattress
This bed was made in the USA, and I noticed NO smell right out of the box. When a mattress or pillow is made with chemicals, you get offgassing that is immediate and that you can smell for days and sometimes weeks. As someone sensitive to this, I notice the lack of it! No headache and watering eyes that give me a feeling that I haven't slept in a few days.
Eco Terra comes in an undecorated (plain) box. Once taken out of the box, you'll see an off-white top cover with gray lines. There are small circles stitched into the cover. That stitching has a specific purple that we'll explore further in the review.
It has tan sides and, once again, the stitching. These details are more expensive to make and distinguish the Eco Terra from other brands. One noticeable difference is that it doesn't have a logo stitched into the mattress.
Watch the video and see how fast this mattress opens!
In the unboxing video, you can see how it popped right out of the box and was fast to unroll. And it gets right to its full height – no wait time before you can sleep on it.
Eco Terra Mattress Review
As of now, Eco Terra has one mattress, their natural hybrid. It's advertised to be: 
ECO-FRIENDLY: NATURAL MATERIALS, NON-TOXIC
NO SYNTHETICS: POLYURETHANE-FREE
MADE IN THE USA: HANDCRAFTED IN CALIFORNIA
RISK-FREE: 90-NIGHT TRIAL, FREE SHIPPING & RETURNS
Eco Terra uses certified organic wool and organic cotton. You'll see from the tag that besides the pocketed coils, it's made of latex foam, rubber, and wool.  Natural latex is made from sap from the rubber tree, not petroleum. They whip the sap into a froth, then bake it into a foam. There are usually drilled holes through the latex, which comes from the mold.
Here's the product tag: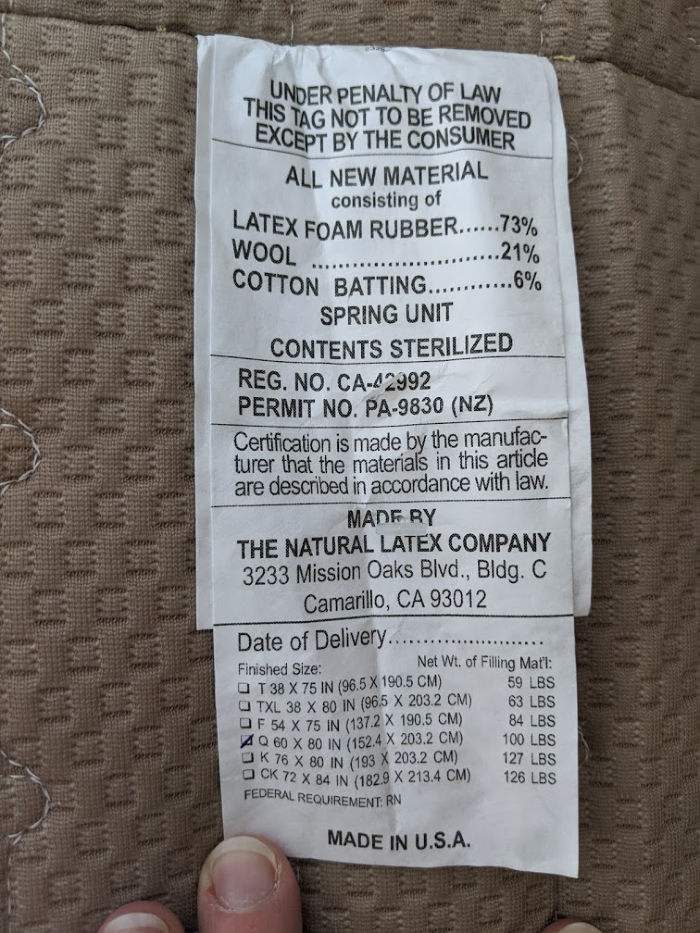 Eco Terra Mattress Review Video
Here's our video review; check it out, and be sure to subscribe to Unbox Mattress on YouTube so we can do more mattress reviews like this one!
No Memory Foam in this Mattress
Now latex has some bounce to it, and this mattress is no different. Combined with the springs, you're not going to sink into this bed much. But you can move around easier without that feeling of getting stuck. This mattress doesn't have memory foam in it. This helps it sleep cooler than foam beds typically sleep.
Generally speaking, latex sleeps cooler than memory foam mattresses because you don't sink inside of it and form a crevice where your body heat can build up over time and get too warm.
Construction of the Eco Terra Mattress
COVER
Made with a top layer organic cotton cover. Since this is sewn on with these little circles, it can't be removed and washed. So, as always, we recommend getting a waterproof mattress protector before you sleep on it. The idea behind the sewing on the cover is that instead of using toxic glues to hold the materials together (like wool and cotton), they are sewn into the mattress.
As of when this article was written in May 2020, the Eco Terra mattress website doesn't have anything other than the mattress (no sheets, pillows, protectors, etc.). It's important always to use a waterproof mattress protector. We recommend the Coop waterproof mattress protector. It helps keep dust mites, bacteria, and mold from getting inside your mattress and breaking down the materials. Plus, it's just more hygienic. 
TOP AND SIDES
There is organic wool stitched into the middle and on the sides.
Then there are 3 inches of Talalay latex.
COILS
The last layer is supportive Fabric-Encased Coils that reduce motion transfer. There's a 1,057 coil count on the queen size. They use 16 gauge (medium) metal on the coils. The outer perimeter is stiffer – 15 gauge coils (medium-firm) for added edge support. 
Just remember, the lower the number, the firmer the coils. This combination offers a very comfortable mattress with edge support they say is 26% more durable than a foam mattress.
What to Put your Eco Terra Mattress On
No box springs are needed for your Eco Terra mattress.
The Eco Terra natural latex mattress can also be put on foundations, platform beds, and slatted bases. You need a frame that can handle the weight of the bed and anyone sleeping on it.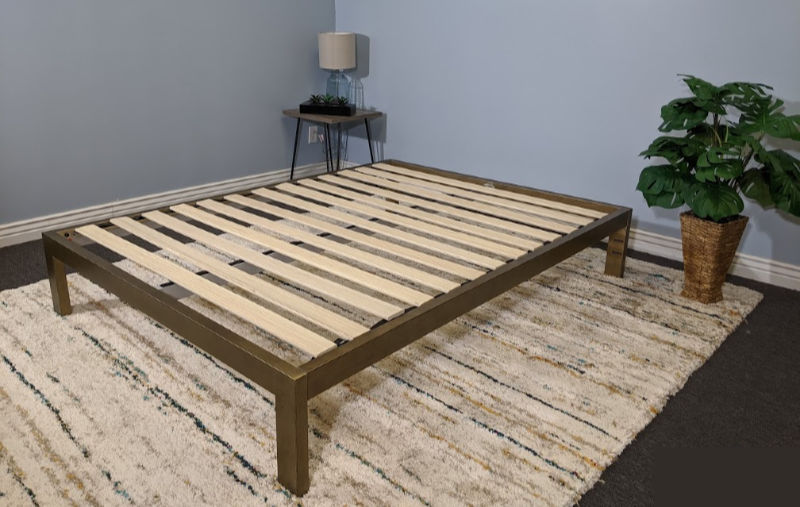 In the video, we have the Eco Terra bed on a Keetsa gold brushed steel frame. It can support up to 2,000 lbs. It's minimalist and stylish and not too low to the ground. It has an 11.5" clearance under the bed, and you can add a headboard.
–> See the Keetsa Gold Brushed Steel Bed Frame and Get 5% off The Frame by Keetsa plus FREE Shipping Use code "KEETSA5POFFTHEFRAME" at checkout.
Weight
The Eco Terra weighs Queen – 100 lbs.
Sleep Trial
90-Night Sleep Trial
That means you have a full 2 months to try out the mattress, and if you return it after 30 days and within 90, you'll be refunded the purchase price. 
Free Shipping and Returns
Warranty
15-year warranty.
Price
Price for a queen is $1,049
You can get 0% APR Financing, if you qualify, with Klarna. Starting at $83 a month. We've tested financing and found it an easy option for anyone who wants to pay a lower monthly fee but get their mattress (and better sleep) now. 
Who Should Buy the Eco Terra Mattress?
Someone who wants a cooler sleeping mattress

You want fewer chemicals and more natural materials because of ethics, sensitivity, or a more green lifestyle.
You like a medium or firm feel and a faster response when you or someone you sleep with moves around on the bed.

Likes the idea of a mattress with fewer

chemicals, not made in China with cheaper materials. Eco Terra is made in the USA and in California they manufacture and

sell the bed.
So do you have questions for me about the Eco Terra mattress? I'd love to answer them. Drop them in the comments. I learn a lot from your comments and always want to help.