Sweet Night Twilight Mattress Review | Hybrid Pillow Top Under $500
Sweet Night Mattress, frequently written as Sweetnight, is a direct-to-consumer mattress company founded in 2008. The company sells mattresses and other bedding items at affordable prices. Products include pillows, toppers, a mattress protector, and 5 mattress models.

The Sweet Night Twilight Mattress is a hybrid memory foam mattress with a micro-coil design. It features a European pillow top that's 2″ thick and has a 5-layer design with a gel-infused memory foam layer on top. It includes 775 micro coils to help reduce motion transfer, provide support and structure, and, as well as airflow, so you don't sleep too hot.
Sweetnight Twilight Mattress Review
I can't believe how fast the Sweet Night Twilight Mattress popped open when I unboxed it. There was no waiting time to sleep on it. It was like an instant bed and ready immediately. It was so fast that it didn't need a whole video, but my initial impressions are below, along with the review.
Sweet Night Twilight Mattress Coupon
Before we get into the full review, the biggest selling point is the incredibly high-value Sweet Night Mattresses. The Sweet Night Twilight mattress is very budget friendly at $450 for a queen. And guess what? I've got a coupon code to save you even more. Here you go!
TAKE AN EXTRA 5% OFF A SWEET NIGHT TWILIGHT MATTRESS WITH THE CODE UNBOX
Best Budget Hybrid Mattress?
If you're looking for a great price with lots of higher-end features, Twilight has it. This is a value hybrid pillow top mattress priced under $500 for a queen size. You can't have super high expectations at that cost, but it's great for people who want a hybrid with coils, something that doesn't sleep too hot and is easy on the pocket.
You're not paying for high-quality foam or materials. If you want a higher-quality mattress, I would say the Breeze all-foam mattress is a better pick. They have an even more affordable mattress option too, the 8″ hybrid that's even less ultra-budget mattress called Ocean Blue. This is a low-profile mattress and would be ideal for an RV mattress.
The Twilight Hybrid Memory Foam Mattress by Sweet Night
The Sweet Night Twilight is a bed-in-a-box design that offers excellent value. Its hybrid design offers the benefit of a micro coil's breathability and memory foam's contouring support. The topmost layer of this mattress is a quilted memory foam.
The Sweet Night Twilight mattress is a budget buy, but they have some extra details, so it's not entirely no-frills. We'll review the firmness and features so you can know if it's for you. But here are the things you need to know:
Two thickness options: 10″ and 12″. I have the 10″.
Comes in Full, Queen, and King. No twin sizes. Right now, the Ocean Blue and the Breeze offer twin sizes which makes an affordable kid mattress. 
They sometimes sell out though, so use our link to be sure it's in stock.
Affordably priced.
Good body pressure and back pain relief.
Motion isolation is decent, so you don't wake up your sleeping partner.
Coil design and firmer memory foam help keep it from sleeping too warm.
Works for all sleeping positions because the 10″ or 12″ can support someone heavier, although I wouldn't recommend it because you're going to feel the coils more.
Free, contactless delivery across the U.S.
Air-flow high-density foam, which is fairly bouncy and responsive.
Gel memory foam that offers pressure relief.
Wrapped pocketed steel coils for added support and a responsive feel.
What it's Made Of
Cover
Does it zip off? No. The cover cannot be removed to clean. Instead, get a Sweet Night waterproof mattress protector instead. Sweet Night sells one that isn't waterproof on just the top, but the sides are waterproof too. So it covers everything except the bottom and gets great reviews.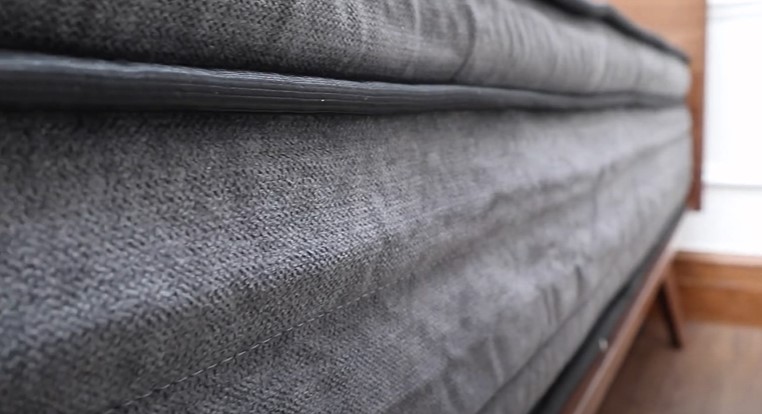 Memory Foam Layers
The company doesn't give the exact layers of foam or dimensions of the coils, but there are 3 layers before the coil layer.
2″ Pillow Top Comfort Foam in a European style pillow top
Gel Memory Foam
Airflow High-density Foam
Pocketed Steel Coils
Edge Support
When you sit or sleep near the edge of the Sweet Night Twilight mattress, that area compresses down, making it feel unstable. It may limit how much room you have to sleep on the bed. Edge support can make it easier to get in and out of bed or sit on the edge to tie your shoe.
Firmness
The Twilight is designed to provide a "luxury firm" feel that Sweet Night rates as a 6.5/10 firmness, with 10 being the firmest.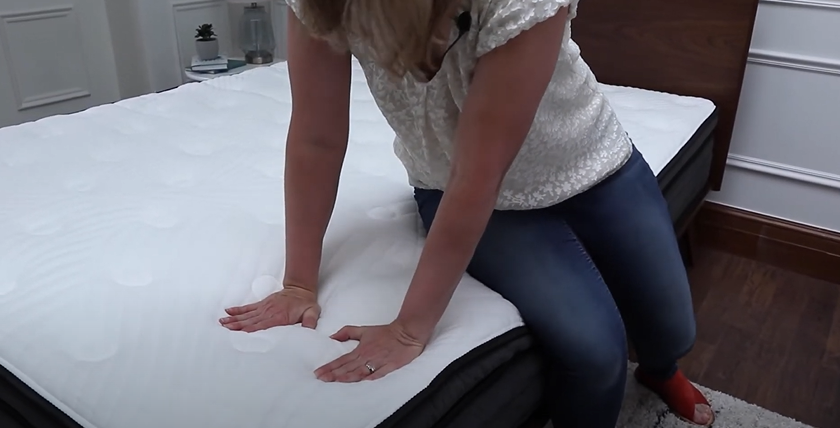 Ease of Movement
Many hybrid models are easy to move around on because of their springy coil cores. Unlike all foam mattresses, it's more responsive.

Memory foam can sink in and gets softer as body heat or the room temperature gets warmer. This can create an indention where your body is and make it more difficult to change positions during the night.
Off Gassing?
Off-gassing odors are common in mattresses with synthetic foam, and they can linger in the bed when it ships compressed.
There was an initial off-gassing when unboxing this mattress. Sweet Night recommends you give your new mattress 72 hours to air out and expand. Most smells should dissipate during this time. I gave it 7 days, and I don't smell anything.
Sleeping Style
All sleeping positions will work with the Twilight Mattress. However, lighter people won't compress the foam as much, making it feel more firm than someone heavier. Sweet Night has other models if you want or need a softer bed.
Side Sleepers
The hips and shoulders of side sleepers press into the bed as all your weight is more concentrated on one side or the other. It may be a bit firm for a side sleeper who needs more cushioning. If too firm, you may get shoulder or hip pain. 
Back Sleepers
Sleeping on your back typically keeps the spine close to its natural alignment, so back sleepers usually need an even surface that lets the hips sink in some but not too much. If your hips are lower than your upper body, it can lead to back pain. This mattress will be supportive enough for most back sleepers.
Stomach Sleepers
Sleeping on your stomach puts more of a strain on the lower back. It is most common when the midsection sinks more deeply into the mattress than the rest of the body. As a result, stomach sleepers usually need a firmer mattress than those who prefer other sleep positions. Since Twilight is on the firmer side, it could be just right.
Body Weight
This mattress is best for anyone with a lighter or medium build. It may not have enough comfort or softer layers for heavier people. They'll compress the foam more, and that can shorten the life of your mattress.
Sleep Trial and Warranty
100-days sleep trial
10-year warranty
BUY NOW and TAKE AN EXTRA 5% OFF A SWEET NIGHT TWILIGHT MATTRESS WITH CODE UNBOX
Overall Impression
Overall, the Twilight Mattress is an incredible buy. You get the euro pillow top, a slightly firmer mattress that will support even heavier sleepers. It's hard to beat all you get for the price. The quality of materials is decent for this price point too.
Any questions? Leave them in the comment section below.