Helix Mattress Financing | Buy a Helix for as Low as $25 Month
Helix Mattress Financing
Buy now pay later mattress.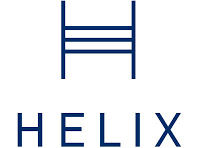 Looking to buy a Helix mattress but not sure how you can afford it? Or maybe you're just smart and want to conserve cash. Why not let Helix finance it and get your mattress (and better sleep) now? Our Helix mattress financing guide answers all your questions.
Helix Sleep is a leading mattress manufacturer that offers a wide range of high-quality mattresses and bedding accessories. Their American-made mattresses are available in many configurations and come with a generous 10-year warranty.
Helix Sleep has teamed up with Klarna and Katapult to offer customers easy access to mattress financing. Their financing program lets customers order one of their high-quality mattresses today and pay it off in monthly installments. Repayments are as little as $25 per month, which makes it a very affordable way to obtain a brand-new Helix mattress.
In this guide, I'll explain exactly how you can take advantage of Helix Sleep's mattress financing and order your new mattress today. We may earn a commission when you shop through our links. The information in this article was current at the time written but may change.
We may earn a commission when you shop through our links.
How to Finance a Helix Sleep Mattress
Helix has made it very easy to purchase a mattress with finance. They don't try to make money on Helix mattress financing – it simply helps their customers make a purchase who may not otherwise be able to get a new mattress.
1. Choose the Helix mattress you want to buy
Visit the Helix website and browse the mattresses that are available, or take their handy mattress quiz to decide. They have a fantastic selection of mattresses available, which vary in price from $500 to $2,400. Also, check the Helix Mattress Sale page for current deals to save money.
Their mattresses can be divided into 3 categories:
Standard Helix Mattresses
There are nine different Standard Helix Mattresses available, including the following:
Helix sunset (Soft feel mattress designed for side sleepers)
Helix Moonlight (Soft feel mattress with additional back and stomach support)
Helix Midnight (Medium feel mattress for side sleepers)
Helix Twilight (Firm mattress designed for side sleepers)
Helix Nightfall (Speciality medium mattress designed for plus size and tall people)
Helix Dual Balanced (Speciality mattress with one side firm and one side soft)
These mattresses are made of all foam and feature a basic cover.
Helix LUXE Mattresses
Helix LUXE mattresses are upgraded to include body zoning and a premium quilted pillow top with Ultra Breathable Cover. They are also 2" taller than Standard mattresses. Of course, these models will be priced higher. There are six different Helix LUXE mattresses available:
Helix Subset LUXE (Soft feel mattress for side sleepers)
Helix Moonlight LUXE (Soft feel mattress for back sleepers)
Helix Midnight LUXE (Medium feel mattress for side sleepers) BESTSELLING MATTRESS
Helix Dusk LUXE (Medium feel mattress for back sleepers)
Helix Twilight LUXE (Firm feel mattress for side sleepers)
Helix Dawn LUXE (Firm feel mattress for back sleepers)
LUXE versions are hybrids, which means they have springs and hold up to heavier-weight sleepers better.
Birch by Helix Organic Mattress
Birch mattresses are made from all-natural and organic materials, including the proprietary Birch wool, which is sourced from New Zealand. It has a hybrid design with a combination of latex and body-contouring springs.
If you are unsure about which mattress to purchase, use the mattress quiz tool provided by Helix. You can enter your attributes and sleeping preferences to see which mattress is right for you.
After selecting and configuring your mattress, consider adding some accessories, including sheets, pillows, and a bed base. You should also add a mattress protector to your purchase. It will help you ensure that your mattress remains in excellent condition. After spending so much on a mattress, it only makes sense to protect it from contaminants!
To give you an example of total repayments, let's say you are ordering:
Helix Sunset LUXE — Queen size ($1,595)
2 x Pillows (FREE)
Mattress protector ($90)
Foundation ($275)
Frame ($175)
This comes to a grand total of $2,285 to buy it outright.
2. Checkout
Click on the Checkout button and fill in your personal details. If you intend to use finance, select either Klarna or Katapult on the payment page. The difference between these two options are as follows:
Klarna offers short-term loans that are no-interest if paid in full within 6-12 months on $499-$2499 orders. If you have not paid the loan off within the no-interest period, you will be charged 19.99% APR. A minimum monthly payment is also required each month. A credit check is required to receive a loan from Klarna. Or you can pay with Klarna in 4 Installments on your credit or debit card for orders between $35-$1000.** This is great for someone who wants to use a new credit card to build their credit history.
For people with low or no FICO scores offers alternative financing with Katapult. Formerly called Zibby, Katapult offers alternative financing for people with low or no FICO scores. The catch is that there is a small fee – there's a non-refundable $45 initial payment required. You will also be subject to credit approval. This is slightly more expensive than Katapult but useful if you have poor credit.
Both Klarna and Katapult offer instant approval so that you can purchase your mattress immediately. Applying takes less than a minute, and it won't affect your credit score.
To checkout using Klarna
Select "Slice it. Pay over time" with Klarna as a payment method and click "Complete Order."
Review eligible plan details and click "Place Order."
Complete your application by adding your date of birth, last 4 of SSN, mobile (pre-filled), and clicking "Continue."
Check the box to agree to the terms and submit the application.
Receive instant decision and be redirected to the order confirmation page if approved.
To checkout using Katapult
Select "Katapult Lease-to-own" with Katapult as the payment method and click "Complete Order."
Enter your mobile phone number. This will act as your login for your Katapult account.
Enter the code you receive via SMS to verify your phone number.
Enter your credit card payment information.
Katapult will provide the result of your approval results instantly after submitting your information.
Review your order details and submit your order, and Helix will start processing your order.
You can set up auto-pay so you never forget when your payment is due.
Helix mattress financing FAQ
Is it safe to use Helix Sleep Mattress Financing?
Yes, it is perfectly safe. Both companies have been operating in the United States for several years and are regulated lenders.
Do you need to put down a deposit?
Klarna does not require a deposit, but Katapult will require a $45 payment at checkout.
How much interest will you pay?
Klarna charges 19.9% interest APR after any interest-free period has ended. Katapult does not charge any interest, but the lease payments you pay will be higher than the total price of your purchase. Katapult considers the product's price, the state where you live, the lease duration, and taxes when calculating total lease payments.
How long do you have to pay back the loan or pay off the lease?
Katapult provides loans that can be paid off in 3, 6, 12, or 24 months with 6-12 months interest-free on $499 – $1499 orders. Katapult leases vary in duration, mostly based on how large your purchase is and how high your repayments are.
How can you pay the bill?
Klarna and Katapult offer several repayment methods, including debit cards, bank accounts, and check payments.
Do you need to have an existing credit score to get finance?
A credit score is needed to obtain finance through Klarna. However, Katapult will often provide leases to customers who don't have a credit history or a poor credit history.
Will their credit score check affect my credit rating?
When assessing your eligibility, both Klarna and Katapult will perform a "soft" credit check. This kind of check does not show up on your credit report and does not affect your credit score.
How soon will my new mattress ship?
Helix will send your new mattress as soon as you have been approved for finance. It takes between 3-7 business days for your Helix Mattress or 6-10 business days for your Helix Luxe Mattress to arrive at your home.
Thanks for reading Helix Mattress Financing. For more information on mattress financing, please browse our other guides.