How Many Months Can you Make Monthly Installments for Nectar Sleep Mattress and Base?
Nectar is one of Unbox Mattresses top rated memory foam beds. They recently came out with a base (adjustable bed frame). What will your monthly payment be if you want both?
Depending on your credit, it will cost you the same as paying the whole amount up front, but you can get it spaced out over up to 24 months to keep your payment down.
It's fast and easy to get financing for your mattress purchase online, which is why so many online mattress brands use a finance company called Affirm. Nectar doesn't make a profit from financing. They sell more beds because people don't have to save up to purchase them.
We break it down below…
How Many Months can you Make Monthly Installments for Nectar Mattress and Base?
In this example, we will assume you are buying the Nectar king mattress with a king-size adjustable base. You'll also 2 free pillows. Be sure to add sheets if you need them.
If you want a king adjustable bed with two separate mattresses so you can operate each side together or independently, then order 2 twin XL mattresses (they will be 80 inches long, the same length as the adjustable base) with a SPLIT king adjustable base. Otherwise, order a king mattress and base.
Buy a Nectar Mattress and Base
Cost
$924 for a king-size Nectar adjustable base
$1,199 for a king-size Nectar mattress
Sales tax – depends on the state you live in. My state charged 0
Discount $125 (taken off automatically)
Total cost: $1,998
Note: you can pay an additional $149 for them to deliver, set up your new mattress and remove your old mattress.
Nectar uses Affirm, which most boxed companies use to finance purchases.  They allow you to break everything down to an affordable monthly payment. It's also instant approval if you qualify, so you know immediately what the terms on. You don't have to wait until you finish payments either – you get your mattress and base right away.
Affirm Mattress Financing
In my hypothetical example, here's the step-by-step of how Affirm mattress financing works.
Step 1: Choose the products you want to buy, and at checkout, choose PAY WITH AFFIRM.
It's highlighted below.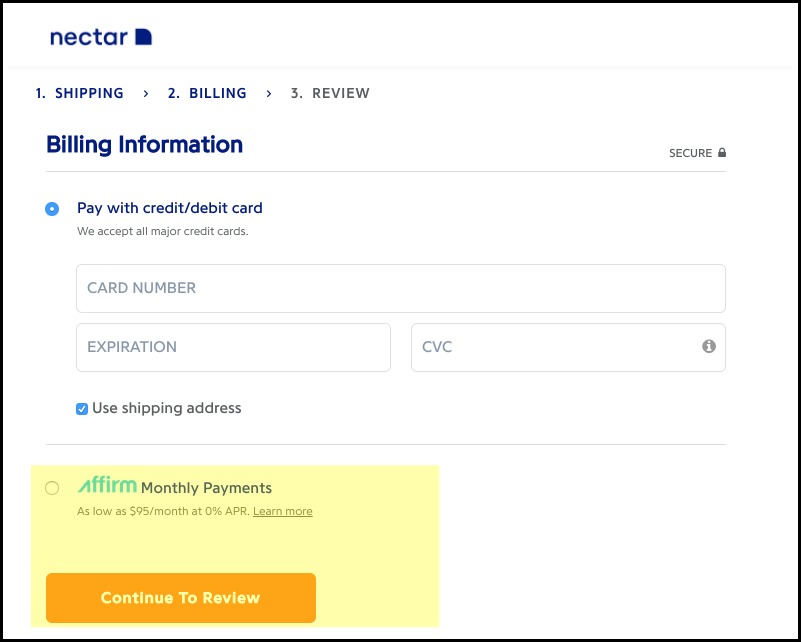 The next screen will ask you to confirm your shipping and billing address. Click the button "continue with Affirm" at the end of the page.
Step 1: Enter the 5 pieces of information requested
Name
Email
Mobile phone number
Date of birth
Last four digits of your social security number. Be sure this information is your own and is consistent; otherwise, you may experience difficulty with your checkout.
You will get a text message to your cell phone with a unique authorization code to confirm your identity. Enter the authorization code into the application form.
Within a few seconds, you'll see the loan amount you're approved for, the interest rate, and the number of months you will have to pay off your loan.
At this point, you will see the monthly payment and how long you will pay it.
Here's how mine broke down: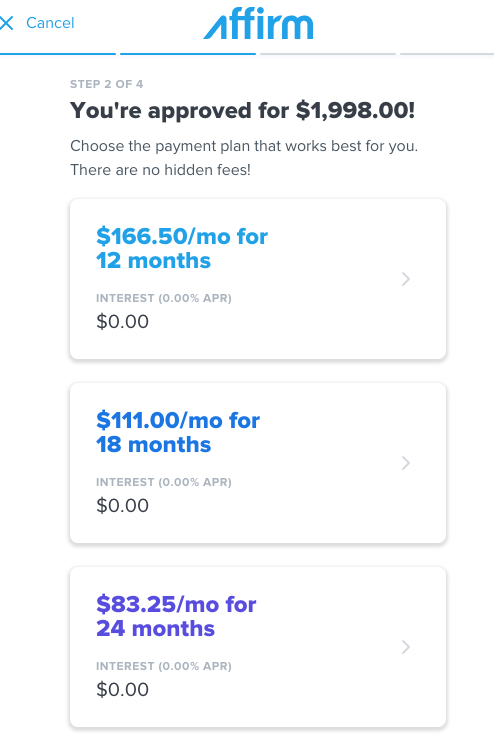 Step 2: Select the best option for you.
I picked the $111 payment for 18 months. I have no interest in paying and don't have my first payment due until next month.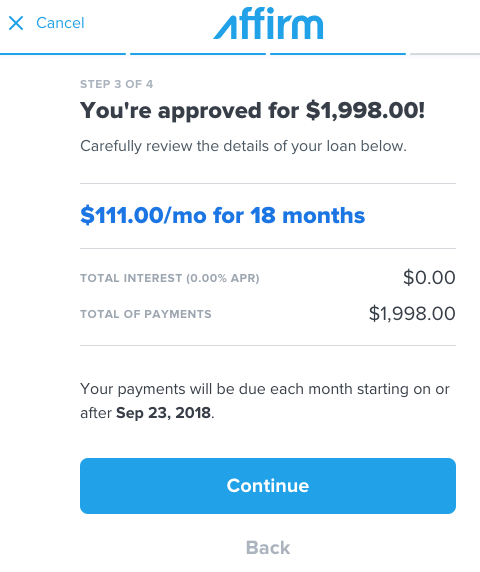 Step 4: Enable autopay (or not).
Note: you won't get charged or complete the sale yet.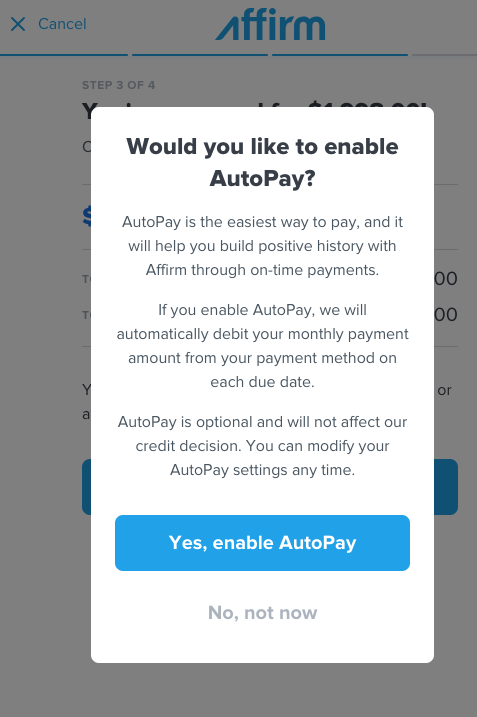 Step 5: Confirm your purchase.
You are now ready to buy. Click "confirm loan" to buy.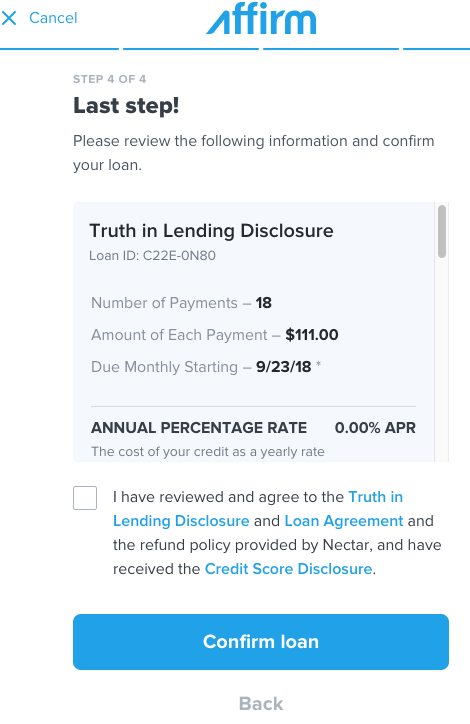 Want to try it yourself?
How Affirm Works
You can pay the amount over as little as 3 months up to 24 months. Some purchases may require a downpayment.
• If approved, you will see the loan terms before you make your purchase. You'll know exactly how much you'll owe each month, the number of payments, and the total amount of interest you'll pay over the course of the loan. There are zero hidden fees.
• Even if you don't have an extensive credit history, you might still qualify for Affirm financing. Affirm does not affect your credit score.
• Opt-in to get an email and text reminders of when your payment is due. Turn on "Autopay" to schedule automatic monthly payments. Pay with a debit card, bank transfer, or check.
Want to buy another mattress? See Leesa mattress financing or other brands in our big list of brands that use Affirm.