Purple Mattress Sheets | Which One is Best Original or Softstretch?

If you have or are buying a Purple mattress, you should look at Purple mattress sheets to go with it. In most cases, the sheets don't matter very much, but when it comes to Purple brand products, they're so unique that it's best to buy the brand name sheets.
Purple Mattress Sheets
Purple mattresses are unique, and so should the bedding that goes with it. Regular sheets will restrict the movement of the Purple mattress. That's why you should consider buying Purple mattress sheets. Every Purple mattress has a Purple grid on the top layer. It's flexible in all directions and moves with you. It also sleeps cooler than almost any mattress you can buy.
Purple sheets are stretchy and soft. Both of them. The sheets are also moisture-wicking, so they don't sleep too warm.
If you use regular cotton sheets, they'll fit more tightly and restrict movement – a key selling point of owning a Purple mattress. This movement is great for bad backs, sore hips, and more. You really can't beat it. There's nothing like it. You won't get stuck in it (like memory foam), and it feels like you're floating on the mattress.
So for that reason, you should consider Purple brand sheets. However, there are reasons you may not want to. But in this article, the focus is on two types of sheets: Purple Sheets (the original sheets) and Purple SoftStretch Sheets. They're both made mostly of bamboo.
Purple brand sheets work with any mattress but are ideal with a Purple mattress.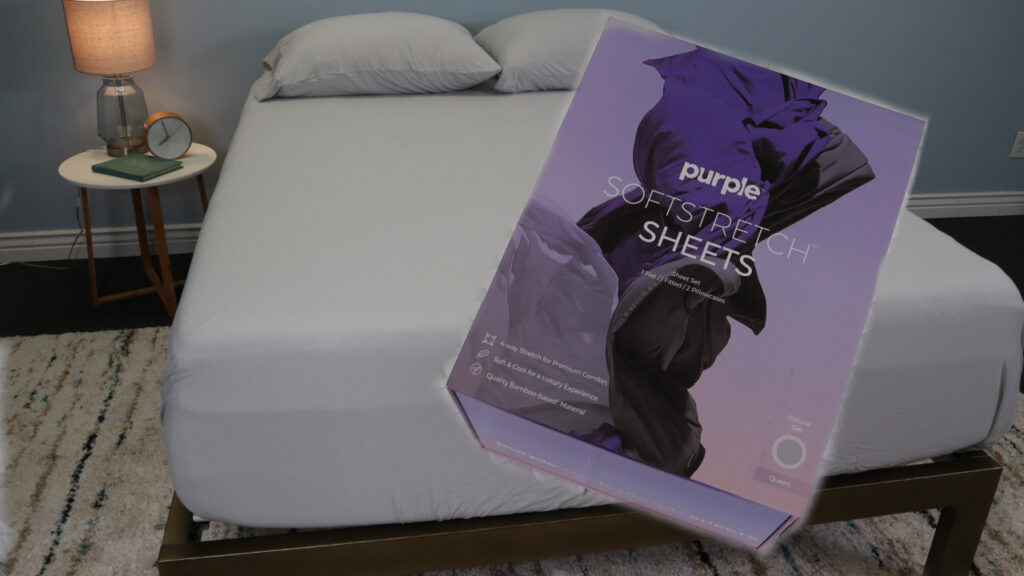 Sleep Trial / Return Policy
Both sheets offer a 100-day trial in which you can see how you like them, and then you have 100 days. And if you decide to return them, you can get a full refund. They also each have a 1-year warranty.
Each sheet set comes with
A flat or top sheet
Gathered fitted sheet
2 pillowcases (the twin comes with 1 pillowcase).
You can buy a set of 2 SoftStretch pillowcases separately, but the Purple sheets don't have that option – they're only available as a set.
Purple has 2 sheet styles to choose from, and I think one is superior to the other. I'll tell you why below.
Original Purple Mattress Sheets
These are the original sheets from Purple mattress. They're a mix of bamboo and spandex and are very stretchy. They're also breathable and sleep cooler.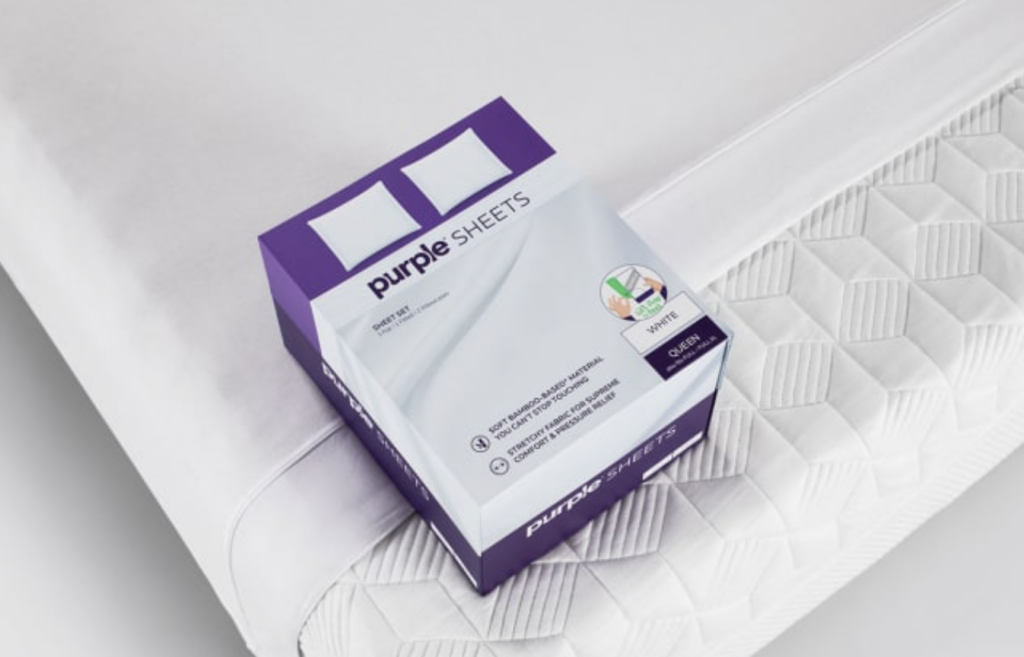 Colors: White, Slate, Sand, Purple (these are a deeper, true Purple)
Material: 10% Spandex*, 90% Bamboo-derived Viscose
Sizes: Twin/Twin XL, Full/Full XL/Queen, King/Cal King, Split King
Price for a Queen: $99
Check the website for bundles or current sales to save more.
The original Purple mattress sheets come in 4 colors and are unique in that it has a tannish color called sand and a true deep Purple color. Both have white but no creme option.
They're quite stretchy, maybe too stretchy, akin to the stretch of a pair of nylons. We found them bunching up at the foot of the bed.
Verdict: We found the Purple sheets to be a bit too stretchy, and the durability isn't as good as expected for the price. And they only come in 4 colors. They're thinner, so if you like that, go with the Purple sheets. Just be sure to wash on cold and dry on cool to prolong the life of your sheets as long as possible.
Purple SoftStretch Sheets
The SoftStretch Sheets are still stretchy but not as stretchy as the original Purple sheets are. They're also breathable, but they have added polyester to make them more durable. They're also thicker than the Purple sheets.
Materials: 67% Rayon from Bamboo Viscose, 23% Polyester, and 10% Spandex. So SoftStretch has the addition of polyester. They have the same amount of spandex. Polyester was added to help them hold their shape better.
Sizes: Twin/Twin XL, Full/Full XL/Queen, King/Cal King, Split King
Colors: True White, Stormy Grey, Soft Lilac, Natural Oat, Morning Mist, Deep Purple
They have a lavender shade (Soft Lilac) instead of a true Purple. The Natural Oat is more like a light gray than a tan shade, as you'd expect. These are more subdued. Also, as of writing, the Kids' sheets are the SoftStretch sheets with different packaging. They come in pink, a more royal blue, and gray (the gray looks the same as the adult SoftStretch sheets).
Price for a Queen: $149
There are 6 colors to choose from, which are a little less stretchy and thicker than the Purple sheets. They're very soft too. However, they're almost $50 more than the Purple sheets. Is it worth it? We expect them to last longer with proper care and be more durable.
Verdict:  The SoftStretch sheets are thicker, more durable, softer, and less stretchy than the Purple sheets. However, you get the same temperature – on the neutral to cool side.
They do cost more, but we think it's worth it. There is financing if you want to divide your purchase into payments – ideal, especially if you buy a Purple mattress, pillows, or other accessories. Check the website for bundle deals.
Which Purple Mattress Sheets Should You Buy?
Everyone is different in their preferences, so we're just giving you our take. Both are stretchier, so they won't have the crisp edges of cotton. If you fold down your sheets to make the bed, you may want to get crisper cotton sheets. These are more like microfiber sheets.
Be aware that Purple pillows may not fit exactly in these pillowcases. They're each different in dimension and sizes offered. Read our article about Purple pillows compared to learn more.
The kid's sheets set doesn't have a kid's Purple pillow size pillowcase and is too large. We hope Purple will eventually create kid-sized pillowcases to go along with kid-sized pillows. The kid's SoftStretch sheets are only available in Purple. Given that the kid's mattress is only 7 inches deep, the top sheet was too large.
If you sleep cool or want warmer sheets for the winter, we recommend looking for a jersey or flannel instead. We use a heated mattress pad. It's a good idea to use a Purple mattress protector, too, as it's also stretchy (although not as stretchy as the sheets) and protects your mattress.
Overall, we prefer the SoftStretch sheets for the reasons we outlined above.
How about you? Let us know in the comments.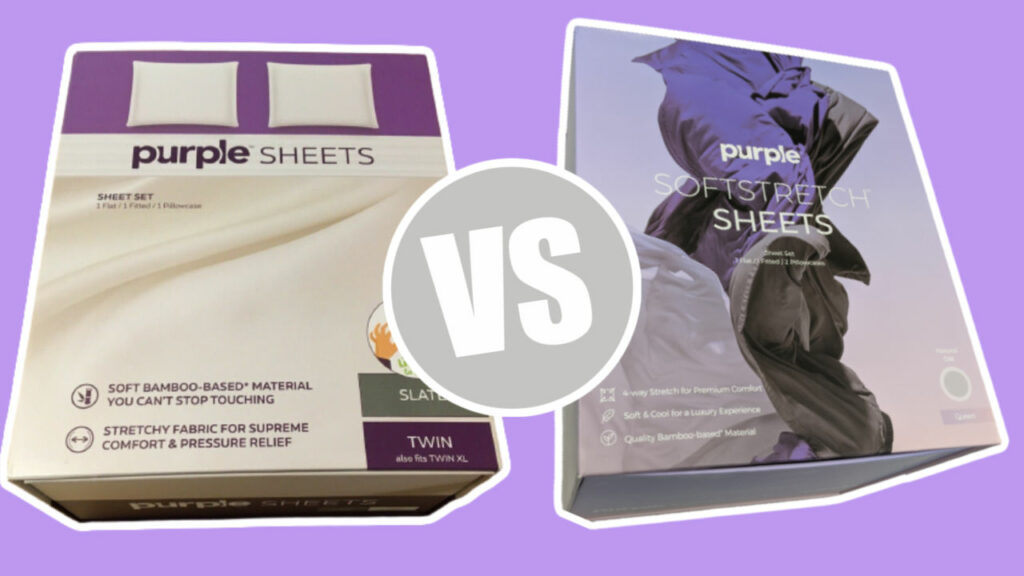 Pin for Later