Bed in a Box Mattress Financing With Affirm Credit
Affirm mattress financing is a way to buy a mattress online and pay in monthly installments. It's a great choice when financing a mattress purchase so you don't have to pay the full cost up front but can get your bed right away.
Keep reading for a list of online mattresses that use financing online.
Affirm minimum credit score
When applying for Affirm credit, they will perform a soft credit check to check your identity and determine if you are eligible. Affirm does not specify the minimum credit score they require, and checking WILL NOT affect your credit score. They assess your risk as a buyer and set your interest rate based on the check.
If you use Affirm to pay, you will get the product from the bed in a box mattress company just like if you paid with any other method. Affirm will pay the company and then bill you monthly.
List of Bed in a Box Mattress Brands that Accept Affirm
The mattress companies that let you buy now and pay later with Affirm include:
Amore Beds (use other financing with 0% interest)
Avocado Green Mattress
Bear Mattress
Brooklyn Bedding link not working
Casper (use code UNBOX50 to save $50).
DreamCloud (they break it down by monthly payment/bed size)
Eight Sleep
Happsy organic mattresses
Keetsa
Kutson – uses Klarna link not working
Layla copper-infused mattress
Luma Sleep – latex mattresses. No Payments + No Interest if paid in full in 6 months on purchases of $99 or more.
Nature's Sleep
Nectar
Nest Bedding – uses both Affirm and Zibby (Zibby offers alternative financing for people with low or no FICO scores).
Newton Baby – Baby mattress
Nolah – they also use Klarna
Novosbed
PlushBeds natural latex and other beds
Puffy  – they use Klarna, who has even better terms than Affirm
Purple
Saatva – Klarna
Sweetzzz Mattress – they use Klarna and offer the longest no-interest financing we've seen, based on the total amount spent. Offers several firmness levels.
The Futon Shop
Yogabed
Zinus – economy mattresses and bed frames
The popularity of bed in a box mattresses has skyrocketed in the past few years! It's easy to see why — they are very comfortable, affordable, and durable mattresses that are delivered directly to your door. Plus, you get to actually sleep on the mattress you buy for at least 3 months and get a full refund if you decide a mattress isn't for you.
However, even with the great prices, it can be a lot of money upfront. That's why many boxed mattresses offer easy financing. You pay for your cell phone, your car, and other important purchases you depend on every day with financing. Why not your mattress that you'll sleep on every night (which will affect the quality of your life and health)?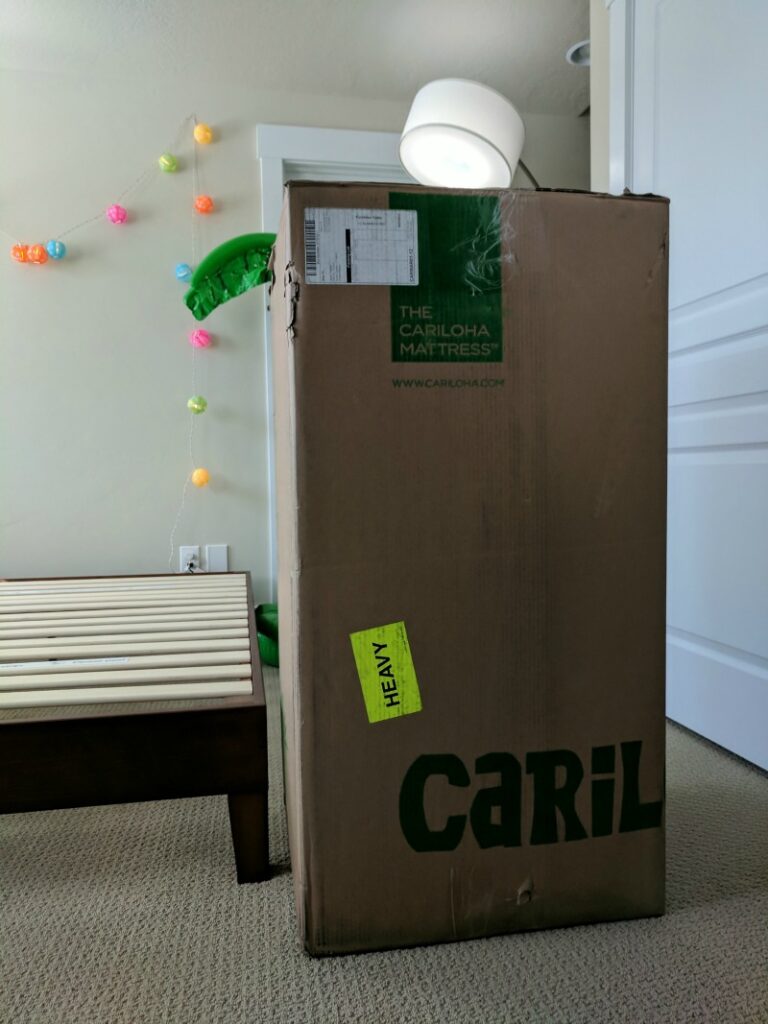 Bed in a Box Mattress Financing With Affirm Credit
What about paying for that mattress, the sheets, the pillows, the bed frame, the mattress protector, the headboard, etc? It can add up but protecting and getting the most from your mattress could add up to a big amount. We pay for our phones and cars monthly, so why not our beds which we spend so many hours on each day?
However, mattresses and bedding are a large payment to pay all at once. You need a new mattress right away – you're not sleeping well on that mattress you bought years ago that has big divots now. Your back is hurting. Or maybe you moved into a new house or have a child moving from a crib to a big kid's bed. You know you need a mattress, but you don't need the big hit on your budget or credit card bill. That's why you may be thinking about bed in a box mattress financing with Affirm credit.
One of the most popular bed in a box products is the Purple mattress. Unfortunately, bed in a box products like the Purple mattress can be quite expensive. That is why many bed in a box companies offer financing with Affirm — a leading provider of small loans for consumer purchases.
Most companies use Affirm, so we want to let you know what to expect when you do Bed in a Box Mattress Financing With Affirm Credit. 
Get your Mattress Now, Pay Later
A mattress is a big purchase, and many people don't have the money upfront to buy one.
No Interest Plus Skip the First Month's Payment
Affirm gives you a low monthly payment and often without interest, and you don't need to take out another credit card.
Applying is easy, and you get an answer within seconds.

Get your mattress now but pay later.
Let's take a closer look at Affirm and how you can obtain your bed in a box mattress on credit.
What is Affirm?
Affirm offers consumers financing for small to medium purchases from selected merchants. The finance is offered at the point of sale, so you can apply for Affirm credit on the website when you buy a mattress.
Obtaining credit from Affirm is very simple, an easy option, and many bed in a box manufacturers offer Affirm.
Affirm is an alternative to credit cards and personal loans. However, unlike many personal loans, Affirm has no prepayment penalty. That means you can pay the loan back as quickly as you want.
How Affirm Works
Once you purchase your mattress online, you can select Affirm as your payment method. Then provide a few personal details so they can perform a soft check on your credit score. This type of credit check will not affect your credit score. They will determine your risk as a borrower before approving you. Your credit score helps determine the interest rate that you'll get. Rates can range from 10% to 30%, but many offer 0% interest for a set number of months.
We tried to buy a Purple mattress…we wanted to get it now but pay as we go. So we selected Affirm at checkout. The total was $2,347.44 for a queen-size Purple 3 mattress.  It took 4 easy steps and went fast: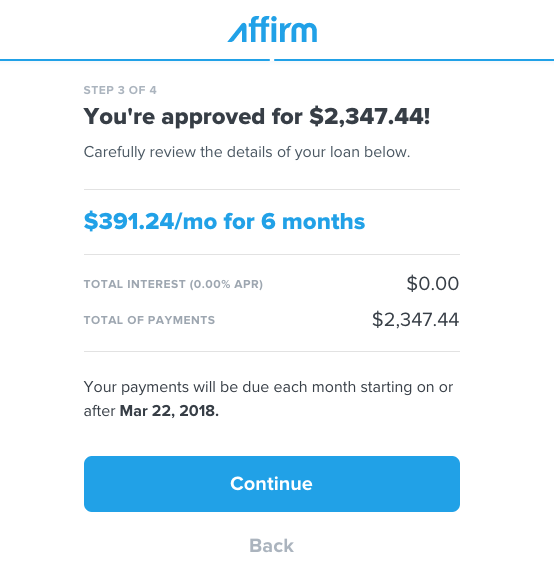 After you have been approved, you select a repayment schedule which will be 3, 6, or 12 months. Affirm will show you exactly how much you will need to repay each month, including interest, so there are no surprises.
Save on interest by paying faster (6 months interest-free, then it jumps to over 15% for a year, etc.). You don't pay that much more in interest for a lower payment stretched out over 18 months.

Once you complete the purchase, the merchant will send you the product, and Affirm will send the merchant the money so you can get your mattress right away. Then you repay Affirm monthly.
The good news, you don't start paying until the month after you place your order.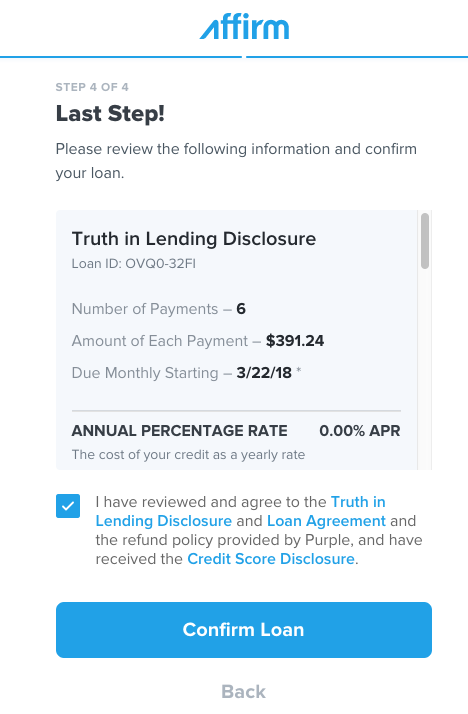 You can enable autopay so you don't have to remember to pay.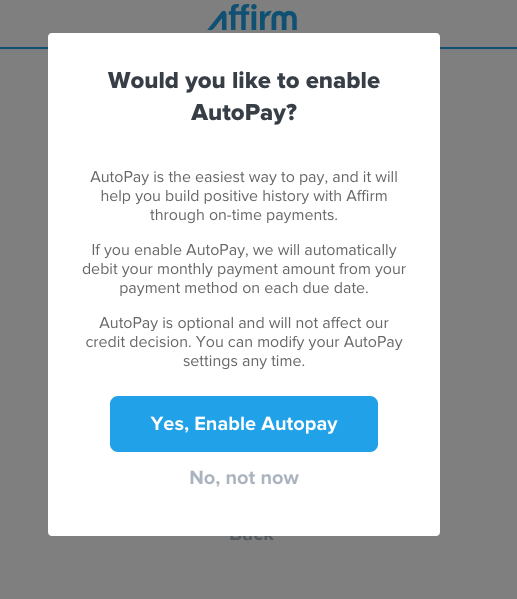 Affirm Reviews
Users at CreditKarma gave Affirm a rating of 3.8 out of 5. Reviewers used Affirm to purchase mattresses, car tires, shoes, computers, and white goods. The lowest reviews were mostly from users who had trouble with the merchant. In some cases, they had to return goods and were charged an unexpected restocking fee by the merchant. Other complaints were related to late payments affecting their credit score. Compared to other finance providers, Affirm has a very high rating and customer satisfaction. Remember- you need to pay your monthly payment on time, and Affirm isn't responsible for the return process or fees from the brands you buy from.
Affirm Q&A
Why use Affirm?
Purchasing a mattress can be a large upfront payment. For example, Purple, one of the most popular mattress brands, sells mattresses ranging in price from $1,299 to $3,499. But it's not just the mattress. These mattresses are usually only the top part. You may need a bed base (or even an adjustable base), new sheets, a mattress protector, and pillows. Affirm makes it easier to afford your mattress and everything you need to go with it.
Affirm is easy to apply for, and you will be approved quickly. Managing repayments is simple, and their interest rates are quite competitive. You will know exactly how much the repayments are, which makes managing your finances simple.
Is Affirm safe?
Affirm is a leading company in this space (almost everyone uses them). They're a reputable company offering consumer finance for many years. They provide you with a clear repayment schedule, and there are no hidden fees (no late repayment fees or prepayment fees).
However, like all credit products, there is some risk involved. If you stop making payments, the amount you owe will continue to increase due to the interest being charged. It will also affect your credit score. You should only enter this agreement if you can afford the monthly repayments.
Does Affirm report to credit bureaus?
For loans requested on or after August 3, 2016, Affirm reports information about your credit activity to Experian. They intend to report to more credit bureaus in the future.
Does Affirm build credit?
Yes! Paying back an Affirm loan on time will improve your credit score. It's a great way to improve your credit. Be sure to set up automatic payments through your online bank if you're forgetful. The first thing you need to do to build your credit with your mattress purchase is to pay each month on time.
We hope you enjoyed reading Bed in a Box Mattress Financing With Affirm Credit. If you have questions about Affirm or buying a bed in a box mattress, post a comment below!