Layla Pillow Review – Soft and Comfortable Copper Infused Pillow
Layla Pillow Review
Layla has a copper-infused memory foam pillow that's super soft and features some unusual fill material you probably haven't heard of.
Layla Sleep is dedicated to bringing the health and cooling benefits of copper to all of its products. They also try to find sustainable materials at the same price as most boxed pillow brands.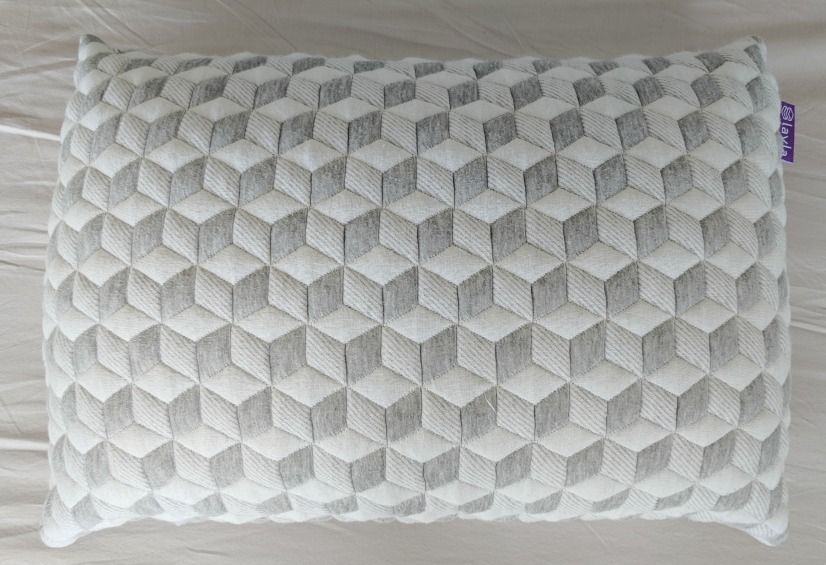 First, the pillow specs
Sizes: standard and king
Thickness: 4 inches
Material: 70% responsive memory foam and 30% Kapok fibers, which comes from the seed pod fluff of the Kapok tree. This is a sustainable option that is natural and free from pesticides and chemicals. Feels like down.
Cover: geometric pattern with polyester, rayon viscose, and Lycra. This is also where you'll find the copper for cooling, to provide antibacterial properties and health benefits. Is not removable or adjustable (no zipper).
Best for: Back and side sleepers. Too thick for stomach sleepers.
Trial Period: 120 days
Warranty: 5 years
Price: Check current price – payment plan is available
Note: there are affiliate links in this post, and we may earn a small commission on purchases. 
Our Impressions
The Layla pillow can be machine washed and dried, although they've updated their site not to recommend it. They even now suggest it will void the warranty. We did wash it, and it held up very well, with some fuzziness to the fibers. If you do wash it, be sure to wash it on gentle and air dry.
As far as the cover, it's very attractive with small pillows or tufts in it. The pattern is nice, and we like that it's not the same look you always see. We recommend getting a pillow protector (a copper-infused pillow protector) to keep bacteria, sweat, drool, and everything else from destroying your pillow. Though the copper might help, it's best not to let those substances get in and start to break down the fill.
This pillow has a memory foam feel but not a SHREDDED memory foam fill. Rather it's cut in larger pieces. That means it keeps its shape and doesn't clump up like some pillows in this category.
You can adapt the pillow to fit your preference by bunching up the fill to your preference.
Layla Pillow Pros/Cons
Our customers were fascinated with this pillow. Almost everyone who saw it asked about it. Some thought it was pricey, but it's in line with most boxed brand pillows. We've found that they last for longer and are often worth the price.
We loved how soft and moldable Layla's pillow is. It's so comfortable and has a different feel than any other pillow we've reviewed (besides the Purple pillow).
Regarding cooling properties, we didn't notice it was particularly cooling, yet it didn't sleep warm either.
Overall we would recommend Layla Sleep copper-infused memory foam pillow if you're a side or back sleeper who wants something soft and moldable (even huggable) but that keeps its shape. Bonus: you may get recovery and health benefits from it too!