How to Wash Pillows in Washing Machine
Are your pillows discolored and lumpy? Can you save your pillows and make them look new again? Try our machine washing machine and dryer method.
Using this method, you can wash your pillows and make them fluffy again using minimal products. Clean your pillows on the outside and inside, right down to the fluff. Remove years of stains and discoloration in one wash!
There are so many different types of pillows. Before you begin, please read the label on your pillow and ensure it is machine washable and dryer safe. 
And if you wonder why someone doesn't just get a new pillow instead of washing it, consider how emotionally attached people get to their pillows. It's the one bedding item that's usually not shared. It's the right height and feel, and has years of memories. 
Why mess with just right?
We may earn a commission when you shop through our links.
How To Wash Pillows
To wash your pillow, you will need OxiClean stain remover, an Arm and Hammer Pod, and wool dryer balls. You can also use tennis balls, but they have material like plastic instead of natural wool.
How To Prep A Pillow For The Washing Machine
Take your old pillow and evenly spray it with OxiClean. You can add extra to specific spots as well. Put the pillow in the washing machine and add the Arm and Hammer pod.
Note: we have an LG washing machine without an agitator in the middle (love it). It automatically adjusts for the size of the load you're washing, so you don't waste water, and it adjusts the time. It's much faster than our older LG. 
The pillow was very dirty, and it looked like it had sweat stains and pee stains. You'll see this method got it so clean, even though the pillow is quite old.
Most people wonder why wash a pillow this old and stained. It's probably time for a new pillow. And yet people get VERY attached to their pillows. It's one of the few bedding items that people don't typically share with someone else. Pillows can be nostalgic and hold memories. They may be just the way you want, and you don't want to change.
Here's the full video on how to wash pillows so you can see the process. Or continue reading below.
Washing Machine Settings:
Heavy Duty
Extra High Spin
Warm Water
Heavy Soil
Extra Rinse
This will wash for about two hours, so you may want to time this accordingly with the rest of your day. If you plan to wash multiple pillows, start early. You can also utilize a laundromat where they have a higher capacity washer and dryer to fit multiple pillows at one time. 
How often should you wash your pillows? Usually, once or twice a year. Ideally, you have a waterproof pillow protector and wash it. This is my favorite one: Coop pillow protector. It's such high quality, thicker, and noiseless (waterproof too). It will help your pillows last much longer.
How To Dry Pillows
The best way to get the fluff back into your pillow is by using a dryer. It allows for thorough, even drying and even fluffing. You will need to add two dryer balls along with the pillow.
Dryer Settings:
Delicates
Low Temp
More Dry
If you do not have access to a dryer, you can hang dry your pillow. If you choose to hang it dry, make sure you fluff the pillow several times while drying. 
How To Keep Your Pillow Clean
Once your pillow is clean and rejuvenated, we highly suggest purchasing a pillow protector like this one. The Coop pillow protector is waterproof and unzips, so you can throw it in the washing machine. It is much easier to clean a protector than a pillow. These protectors are also noise free, unlike other nylon covers. Clean and maintain your pillow every couple of months. 
We saw significant results using this method. Our pillows look new again, and the amount of restored fluff was very impressive. 
When To Replace Your Pillow
If you try this method with one of your pillows and find that it is beyond saving, it may be time to purchase a new pillow. We highly recommend the Coop Original or Eden Pillow.
Why The Coop Pillow?
The Coop Pillow has a zipper on the inside and outside cover, so removing the cover and washing it is easy. You can also add or remove foam based on your comfort and preference. This pillow even comes with an extra half pound of foam. There's the Coop Eden or Coop Original Pillow. They both come in queen and king size, but only the Eden comes in standard.
Not sure which pillow to get? This chart can help you choose: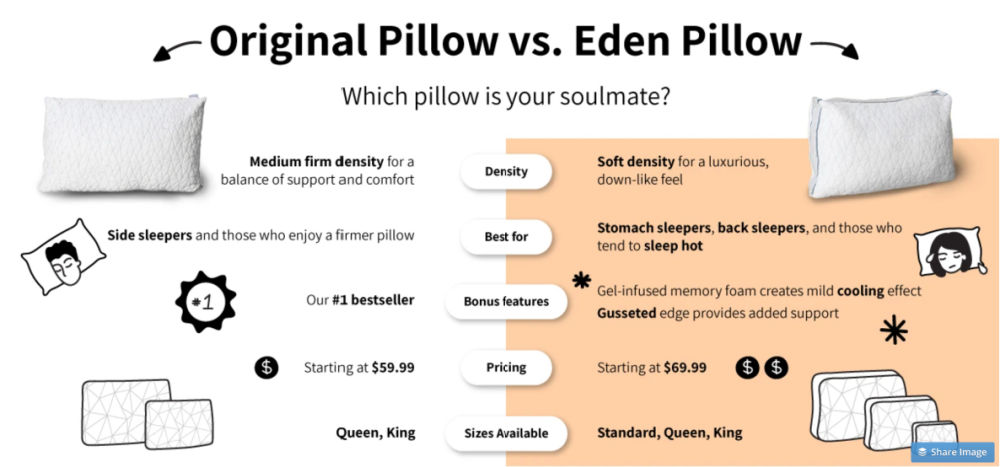 Both have a 100-night sleep trial and a 5-year warranty. Does your pillow have a 5-year warranty? I didn't think so. It's great that you have 100 nights to try out the pillows in your bed and can return them for a full refund within 100 days if you don't want to keep them. But we're not sure why you wouldn't. 
We want to hear your thoughts! Did you try our method? How did your pillows turn out? Comment below!