Evolution Mattress Review | Nolah's New No Memory Foam Hybrid Mattress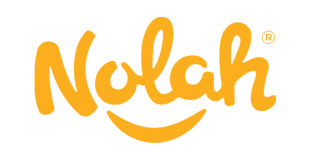 Nolah recently came out with a new mattress called Evolution. Until now, Nolah only had foam mattresses. Today they have a hybrid. They've evolved. It's now Nolah's bestselling mattress – and their most luxurious. The Nolah Evolution Mattress is a hybrid, which means it has foam and coils.
Quick Facts about Nolah Evolution Hybrid Mattress:
Medium firm feel.
Euro top with cooling tech fabric and materials (read: how Nolah's foam is cooler than memory foam)
Features 8" of patented tri-zoned support coils.
Zoned support provides more support near your back where you need it.
Comes with 2 FREE pillows.
Is a full 15 inches deep!
Lifetime warranty.
120 Night Trial.
Free Shipping & Returns.
Made in the USA
We may earn a commission when you shop through our links, and you may get better sleep.
Evolution Mattress Review
The Evolution comes shipped to your house in a box. As mentioned, it's a 15-inch thick mattress, which I'm still amazed can be rolled up and fit in a box. It was a bit heavy compared to other mattresses. Luckily they offer a setup and removal service for $125, and in this case, I would take it, unless you have a few strong people to help you lift it.
After unrolling, it went to full size pretty quickly – within a few hours for the last of the pillow top to expand. You could sleep on this mattress the same day you unbox it.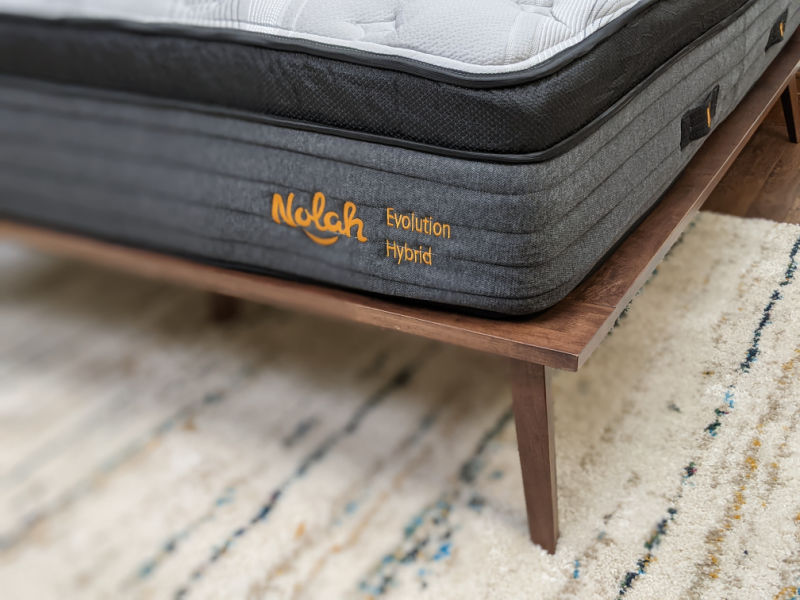 Where are Nolah Mattresses made?
Nolah is 100% Made in the USA and is based in Colorado.
Unboxing the Nolah Evolution Mattress
Here's the video of unboxing the Evolution mattress:
Firmness
The first thing I want to know about a mattress is its firmness. Since this mattress comes in one firmness, and this is one of the most important details determining if someone keeps a mattress, we'll get to that detail first.
It's a medium-firm mattress. They say it's a 5 to 6 out of 10 on the scale. This is what most people like. Not too soft or hard.
However, feel is also subjective and depends on how much you or anyone sleeping on the bed weigh. Also, the way you sleep.
Layers
Layers are what help determine firmness. Especially the top layers, what they're made of, and how thick they are before the layer with the coils. The fabric and technical details tell you what's important, and with the Evolution, you can tell they want to help prevent overheating.
Hybrids are more breathable than all foam, but I have to be honest that one of the warmest mattresses I've ever reviewed was a hybrid. So that's not a guarantee. I found the sleeping temperature to be what you'd expect from foam. Not overly warm.
Layer 1 – 2" High-Performance Cooling Quilted Euro Top
This is the first detail to distinguish this mattress from others. It has 2″ of foam with what they call ArcticTex™, which has high thermal conductivity to draw excess heat from the body to create comfortable sleep. And without harsh chemicals.
2" graphite-infused AirFoamICE™ accelerates the cooling qualities of AirFoam™ by further drawing away excess heat from the surface and body while giving pressure relief and comfort. As with hybrids and especially pillow top mattresses, the cover does not have a zipper and isn't removable.
I like that the Evolution has 4 sturdy handles (2 on each side) to help rotate or move the mattress.
Layer 2 – 2" Cooling Nolah AirFoamICE™
2" layer of high-resilience foam that is stronger and more durable than latex adds a supportive and responsive transition layer.
Layer 3 – 2″ Deep Supportive High-Resilience Foam
2" layer of high-resilience foam that is stronger and more durable than latex adds a supportive and responsive transition layer.
So there are 6 inches of foam above the coil layer. This is important because it means even if you're heavier, you will not hit the coil level as the foam compresses. There's plenty of contouring/cushioning.
Layer 4 – 8″ Patented HDMax™ Eco Support Coils

This layer has 8" of Nolah's patented tri-zoned support coils. They say they give 25% more support than traditional spring systems. It works together, giving you pressure relief and comfort from the AirFoamICE™. The coils are wrapped in our proprietary Edge-Tech™ support foam, strengthening the edge around the mattress.
I appreciated that the sides have foam so you cannot feel the coils through the cover, as you can in cheaply made hybrids.
Layer 5 – 1" Foam Support Core
1" high-density core support foam stabilizes the tri-zoned support coils and makes the mattress last for years.
Evolution Mattress Review Video
Watch the video for more details and close-up shots of me lying on my side, back, and stomach. In the video, I'm using one of the free pillows that come with a Nolah mattress. These aren't the same pillows that they sell on their website. It's a shredded memory foam pillow that unzips so you can adjust the height. Nolah sells a down alternative (very soft/airy) pillow and a more molded-style pillow.
Who is the Nolah Hybrid Best For?
Side sleepers, especially if you don't weigh over 230 pounds.
Anyone looking for pressure relief aches and pains from pressure points.
Anyone who wants the softer feel of foam but is worried about sleeping too hot.
Price
As far as price:
Reasonably priced with finance options.
Our coupon code takes off $75.
Unexpected way to save $169 on a queen.
But is the Evolution a good fit for you? In this Evolution mattress review, we'll cover the pros and cons to help you find out.
Use code UNBOX to save an additional $75 on your Nolah Mattress above $800!
Right now, the Evolution is $1499 for a queen size.
How to save an extra $150 on an Evolution Mattress
You can save $169 if you opt out of the sleep trial. So normally, you have 120 days to test a Nolah mattress and see what you think. If you don't like it you can return it for a refund. But you can waive your ability to do that. If you're confident this is a good fit for you, you can skip the sleep trial, which means you can't return it.
That helps reduce waste and expense for the company, plus saves you money.
Plus, to save more, use the code in the description and my link to take an additional 10% off.
The Evolution is priced just where it should be for a mattress this height and construction, and it's especially reasonable when you use my coupon. It has a lifetime warranty. Because it's made in the USA, they haven't had shortages and shipping delays like some companies that have their mattresses made overseas.
You can order it and get it pretty quickly. Within about 5-10 days.
Sizes
As for sizes, The Evolution comes in twin, twin xl, full, queen, king, and cal king.
What about Sleeping Positions?
Overall, the Evolution is the most firm mattress from Nolah, although it's still medium. We recommend it for back sleepers and heavier (people who weigh more) sleepers.
Side Sleepers:
Given its medium feel, the Nolah Evolution Hybrid is likely to be especially comfortable for side sleepers who weigh between 130 and 230 pounds, gently shaping to your hips and shoulders without sagging. This is my weight range.
If you weigh under 130 pounds, you won't sink in as deeply, and so it will feel more firm to you. You'll get pressure relief and support. If you weigh over 230 pounds, your hips and shoulders may sink in more, but it's unlikely to cause discomfort.
Back Sleepers:
Back sleeping keeps the spine close to its natural alignment, so if you're a back sleeper, you need a mattress with enough give for your hips to sink in without making a big dip in the mattress. The Nolah Evolution Hybrid's Euro-top cover and two layers of polyfoam contour and cushion the hips. The coil layer with the zoned support limits sinkage.
If you weigh under 130 pounds, you'll likely get excellent support when lying on your back. Your hips should sink in just enough to keep your spines relatively straight and supported. If you weigh over 130 pounds, it may be more difficult to maintain spinal alignment.
Stomach Sleepers:
If the weight around your midsection pulls you too deeply into the mattress, it can pull your back out of alignment and strain your lower back. Stomach sleepers often need a more firm mattress.
Individuals who weigh under 230 pounds should be a great fit, but if you weigh more than 230 pounds, you may notice sagging near your midsection. While the zoning of the coil core helps, the middle of the bed still may not be sturdy enough for those who carry more weight on their hips.
The cons
Overall, the Evolution had more offgassing than the original Nolah, but it aired out for a day and was good to go. As I mentioned, it's heavy to set up. Also, the edge support wasn't as strong as expected. While it's not bad, it doesn't seem better than other mattresses we've tested.
Q&A
Is there memory foam in Nolah mattresses? If you want to know how Nolah's proprietary foam compares to memory foam, I'll tell you that it doesn't sink in and stay down as long as memory foam. Yet it's still softer. And it doesn't sleep hot like memory foam.
Here's more about the science and technology behind Nolah's foam.