Is it Normal For Mattress Sizes To Be Off By a Few Inches?
Over the past year, we've seen a few instances of discrepancies in mattress sizes. There are published sizes that the industry goes by. However, the mattresses don't always fit industry standards. Some brands are notoriously smaller than advertised. However, what I've learned is this isn't abnormal. It's quite common for your mattress to be off by some. Sometimes it's several inches too short or wide.
This isn't only for boxed or newer brands either. Traditional brands can vary by several inches too. It's considered normal if it's under 2 inches. If it's more than that, you can request a discount or return the mattress. However, it seems normal for mattresses to be smaller than advertised.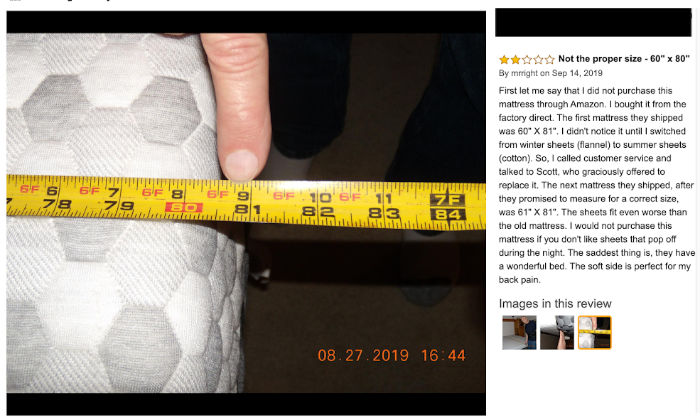 Note: there is also some variation in brands and how/where to measure from.
Here's another example of a mattress that's not as advertised. It's about 4 inches too narrow. So there's a gap between the sides of the mattress and the bed frame. I blacked out the name because it's a very well-respected brand and the point isn't to name names. I'm positive that there are many mattresses sold by this brand and others that either are correct or people just didn't notice. I want to show that it's not rare for this to happen.
If your mattress was purchased online, you could try returning it as long as it's within the trial period. Or see if the warranty covers your mattress. Contact the company. It's unlikely they'll do anything if it's only 1-2 inches. But to me, 3-4 inches can make a big difference, and a company should work with you to replace it.

Examples of mattresses that were short
60"x80" is the normal size for a queen mattress. Here's what we found in real life after measuring the actual size of different brands of bed in a box mattresses.
Queen bed in a box mattress. Off by 3 inches in length.
60″ x 77 "
This one was 2 inches off on the width and 3 inches off on the length.
58″ x 77″
Often customers will say the mattress doesn't fit their bed frame, which is essentially the same thing as saying it's not the correct size. Some will measure the bed and find it comes up short.
Also, most frames are made to account for variations. I know this because we have a twin xl mattress on a twin bed frame. The twin xl is 2 inches longer than a standard twin. However, it fits just fine, and we can't tell.
If you buy a Platform Bed they're more forgiving (the link is to the platform bed that I have at my mattress studio and love). You can more easily switch between king/cal king, twin/twin xl, etc., and with the dimensions are somewhat off.
What we've learned is even the same brand could have different manufacturers of the bed and its components (like the mattress cover). There is sometimes a wide variation!
Why Are Mattresses Off by Several Inches?
We reached out to an industry expert to ask why there's so much variation in mattress sizes. Here are reasons mattress dimensions might not quite match up to company specs. It can be the result of a number of causes, including…
The size originally planned for and listed wasn't feasible once the prototype was finished. As in they wanted it smaller but found it couldn't
be compressed that much.

Manufacturers

must stay with restrictions imposed by Fed-Ex and or UPS,

and some try to squeak by but get caught shipping larger.

The box manufacturer doesn't hit the size exactly, but the specs aren't changed on the sites.

Manufacturers want to make their boxes seem smaller, so they incorrectly list the sizes.
From our perspective, it's usually not intentional, nor is it consistent. Mattresses from the same brand undergo manufacturing changes (not large enough to tell you). We often notice variations – it's not a standard across-the-board shorting of the width or length of a bed.
When we reached out to a specific brand, and they said:
Some fluctuation on the measurements is pretty normal. Depending on how much exactly, and which dimensions are affected it could be considered a warranty issue.
Have you noticed a size discrepancy with your new bed? If so, what did you do about it? Let us know in the comments.