Our Top Picks: Heavy Duty Mattress Bag for Moving
Mattress Protector Bag
Moving a mattress? One thing you have to have is a heavy-duty mattress bag.  You don't want one that will tear if you drop the mattress coming down the stairs or accidentally dragging it on the sidewalk on your way out the door. You also need one that will keep dust, bugs, and moisture away from your bed.
At Unbox Mattress, we've tried several moving bags for mattresses. We use them to store or move mattresses we've reviewed or purchased.
After a lot of experiments, both out of necessity and from trying to find the best heavy-duty mattress bag, here are our picks…you can read more detail below to find out why.
Top 2 Mattress Bags
We've tried a lot, and these brands perform the best of any we've tried. Please note that the commercial-grade moving bag is sometimes out of stock. It was our #1 pick until they ran out for a month, and we tried IBBM which costs less and is just as good. IBBM is our #1 choice because they have more options, and this brand goes out of stock less often. From now on, that's what we plan to use.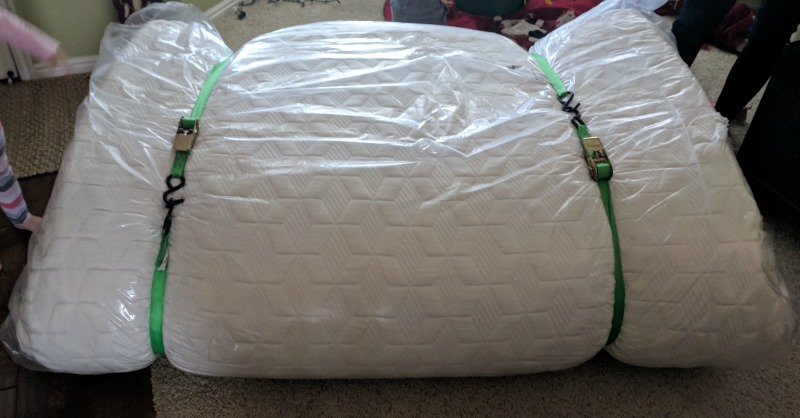 IBBM Heavy Duty Mattress Bag – 5-Mil Thick – 94 Inch x 104 Inch
Twin Mattress Bag For Moving – Heavy Duty Cover Protector 5 Mil Thick – Reusable
For every mattress bag you should be able to get a minimum of three uses out of it. You want to keep costs down but most important you need a mattress bag that will protect your mattress (do its job well).
Mattress Bag for Moving
A mattress bag helps keep your mattress clean and dry (aka, protect your investment) while you move it.

Most mattresses are white on the top side and maybe even on the sides. If you have a rip or tear in your bag, it's easy to get a stain on it. If you drop the bed while trying to move it and it touches the pavement, your driveway or dirt, it'll get it dirty. And it's a big job to clean a mattress. It's harder to get off than you think.
I've tried things like Clorox Wipes, and they smear the dirt. I've tried steam cleaners, and they don't work, surprisingly. The best thing I've found is spray OxyClean and rubbing the fabric together or removing the entire cover and washing it in a washer (but skip the dryer and let it air dry). Maybe you're moving your mattress in the rain, and you don't want it to get wet.
Also, if you ruin your mattress, you can sometimes purchase a new cover from the manufacturer. We've called boxed brands to get a replacement cover, which can cost $200 and up to replace for a king. So it's better to plan ahead and protect your bed when moving. Moving trucks aren't always clean. Mattresses are heavy, and it's easy to drop them. Even storing them in your garage is a recipe for dust, dirt, and stains.
Things to consider when you buy a mattress bag:
Will it fit my mattress?
King-size mattress bags are made to fit California kings, thinner kings, and thicker king-size mattresses. So if you have any kind of king-size mattress, get a king-size mattress bag. Just remember the sizing is inconsistent, and the bag might be shorter or not wide enough to fit your pillow top mattress. Note the dimensions of the mattress bag and see if it will match the dimensions of your mattress. You need a large plastic bag for a mattress.
This is a 13″ hybrid mattress (it's actually a Purple 3 bed) that we've successfully moved with a mattress bag. We've moved up to 14 inches thick so far, and our top picks have all worked well.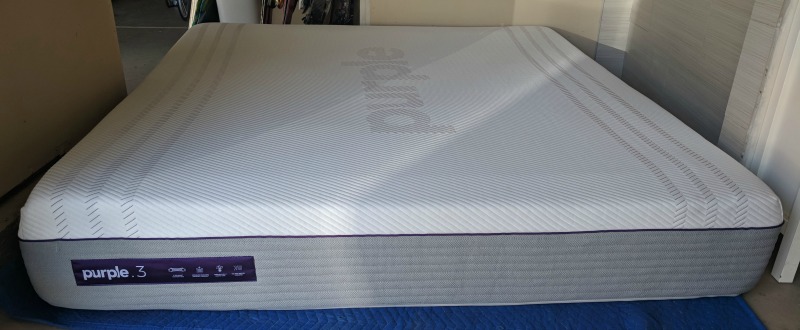 WARNING: DO NOT use a moving blanket on your mattress! The colors will bleed if damp or wet, leaving stains on your mattress. Always use a plastic bag, plastic sheeting, or a tarp directly touching your mattress, not a colored blanket.
Is it heavy-duty enough to handle my mattress?
You can buy mattress bags at Home Depot or Lowe's in the moving section, but they are cheap and will rip/tear. Plus, they cost more than buying them online. Only use them if you have no other option, but even then, we'd recommend wrapping your mattress in painter's plastic or a tarp instead.
Tarps are great because you can twist the ends to make them like handles – it's a lot easier to move your mattress that way. Your mattress folded, bagged and strapped – all ready to move! Just don't store mattresses folded if they have springs. Just fold for moving (make the straps looser for transporting) and then when you're done, remove the straps, so it's flat. We like the clear plastic because if you resell your mattress, you can see how it looks. It just looks nicer than it does when covered with a tarp. However, if using a truck and if your mattress will be exposed to the weather while moving it, use a mattress bag AND a tarp to make sure it doesn't blow open and to protect it from the elements.
Does it seal at the ends?
Since we reuse our bags, we don't need to find one with tape on the top. You can use packing tape to secure them, but we fold our mattresses in half and secure them with tie-down straps. Overlap the ends of the bag, and they'll stay when you secure them with the straps. Watch for our mattress moving tutorial soon to see how to best move a mattress so it won't break your back.
How many mil is your mattress bag?
You never want to go below a 3 mil mattress bag because it will fall apart (or only for short distances). The mil stands for one-thousandth of an inch (.001). It indicates how thick the plastic is. Cheap bags will barely protect your bed – they will tear easily. Only use one as a last resort. Sometimes a mattress bag is advertised as thicker (6 mil, for example), and it's not. The novice won't know the difference, but we do!
Note: mattress bag sizes aren't standard. We like to buy the largest (king) size and use it for whatever size mattress we need to move and fold it. However, if all you're moving is a twin or full (and you are not going to need it to move a larger size), get a smaller bag.
Where to Buy Mattress Bags
We buy our mattress bags from Amazon. They're tough to find in the store, and they often sell out, especially during busy times like the spring or summer. We've gone looking for them by appliances (not easy to locate) only to find when we got there, and they were out of stock.
I removed the 3rd choice because it was much thinner than the others (more like a 2 or 3mil).
BEST CHOICE FOR THICKER BEDS: Not sure what the brand name is, but it's a commercial grade bag. $14.99. 5 mil. 78″ x 14″ (width) x 104″. Might be worth the extra $3 if moving a thicker mattress. Unfortunately, they go out of stock every few months.
BEST VALUE IBBM (stands for: I Will Be your Best Memory)
This brand is the thickest and cheapest for the price, but it's smaller. This mattress bag is 5 mil. 94″ x 104″ and very thick too. I buy these because they're not out of stock as often and cost less. Unfortunately, it seems to go out of stock and only has thinner plastic options available or limited sizes.
Another option is this mattress bag with handles for moving. It's more expensive, but it's thick and reusable. It's called Britwrap. We have 3 of them and love them but found they're not quite as thick for mattresses that are more than 13″ deep (like the DreamCloud). It still fits but barely.
Bulk Mattress Bags
If you move a lot of beds, you may want something even more affordable. In that case, you may want to buy mattress bags by the roll. They come in a tall box and are perforated, so you tear off the one you need.
Elkay mattress bags come in a roll of 25 up to a roll of 100.  Choose from clear or light blue tinted bags in different thicknesses. For example, each 4 mil king-size bag costs $7.67, which is quite a bit less than the other options.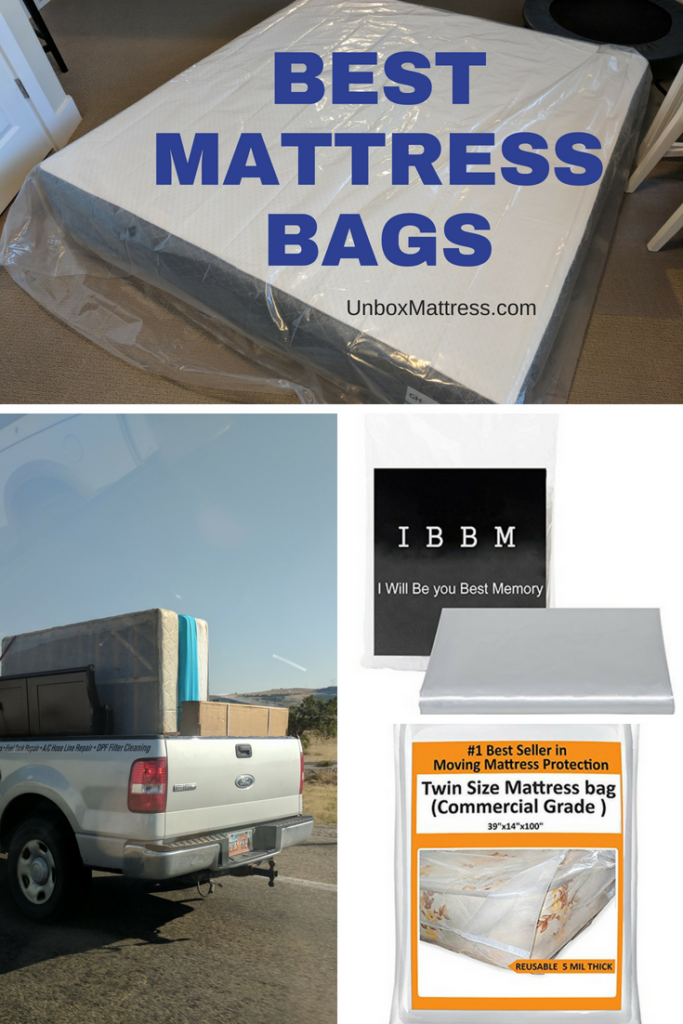 MOST EXPENSIVE, LEAST DURABLE: The worst-performing mattress bag we found was Lucid. Despite it saying it's 6 mil, it ripped and isn't as thick as the other two. Plus, it costs $17.99 (the most expensive option). I won't buy them again and am perplexed by the high reviews. It has adhesive at the end, but it's wimpy compared to the others.
We're still testing the THETIS Homes mattress bag, but at first glance, they seem to be heavy-duty. We will update this post after trying them. UPDATE: they don't measure up to the other 2, removed them. They seem more like 2 or 3 mil thick.
There's nothing worse than getting your mattress dirty or wet when you're moving it or ruining it in storage. So make sure you choose a top-rated mattress bag like the ones we've tested! You can expect to spend between $11-15 a bag for king-size mattress bags. We also gave you some other options, like tarps and rolled plastic.
Will a moving bag keep a mattress dry if it rains? Yes, as long as you seal it tightly at the top. If your bag gets wet from the rain, wipe it down because it's really easy to transfer dirt onto the mattress cover.
Any questions about mattress bags or moving a mattress? Please comment below, and we'll try to help!