Pillow Shopping 101: Everything You Need To Know To Buy The Perfect Pillow
Did you know that nearly a third of all Americans are sleep deprived? That means 40.6 million people in America aren't getting enough sleep every night.
Sleep deprivation can lead to impaired motor vehicle skills, relationship stress, and a poor quality of life across the board. Not getting enough sleep can also impact your appearance and accelerate the aging process.
But the good news is, there has never been a better time to get help with a good night's sleep. Pillow shopping for the best pillow may change your sleep habits entirely.
Before you invest in strange gimmicks to get better rest, it's important to start with a great pillow. Read on to learn how to find the perfect pillow for you.
1. Consider Your Sleep Habits
Your sleep habits are the biggest factor in picking the right pillow for your needs. You may be tempted by a thick, plush pillow or the newest memory foam.
But these pillow types aren't for everyone. People who sleep on their side generally need a thicker pillow for the support required for a good night's sleep.
People who sleep on their stomach or put a pillow between their knees will want to buy pillows that are a bit thinner. And if you sleep on your back, something in-between is the best bet.
Your health or body changes may necessitate a different pillow. Women who are pregnant can get the extra support of a pregnancy pillow.
If you're like me, I have a pillow collection and have different preferences depending on my mood or how I'm sleeping.
2. Read The Reviews
Thank goodness for the internet. We have so many options today that we don't have to settle for a pillow that isn't perfect.
Pillow shopping is much easier because of the easy availability of online reviews. You can do a lot of homework on what people think before entering a store.
In the past, people were confronted with pushy salespeople in bedding stores. They were left to trust the word of these sales associates and still might not get a good night's sleep.
But make sure you look for reviews from other customers. And don't stop at the reviews on a company's website.
3. Test Them Out
Don't hesitate to grab a pillow in the store and give it a test drive. if you have learned about your sleeping habits and researched the reviews, your field should be narrowed down by now.
The best part about buying a pillow online is that you can sleep on it and still return it for a refund if you're not a fan. Find out about the terms ahead of time and keep the pillow in a plastic bag. Most boxed pillow brands give you a 100-day trial and a generous warranty.
4. Consider The Materials
Did you know that you should likely be replacing your pillow every 6 months? Even if the pillow is durable and retains its shape, you could be providing a home for dangerous dust mites.
This means you should consider the materials that fill your pillow based more on comfort and preference than durability.
Any pillow you buy with solid reviews should be able to provide solid support and comfort for 6 months at the very least.
Down, Feather & Synthetic
You can choose from down, feather, and synthetic materials. If you opt for a feather pillow, ensure no feathers stick out.
If they do, it could be a sign the stitching is not tight enough on your pillow. Without solid stitching and a tight cover, you can be uncomfortable and more prone to capturing dust and mites in your pillow. You'll find our top pick for a down pillow at the end of this article, where we list the favorites that we've had for 6 months or longer that have held up and that we keep reaching for.
5. Allergy Concerns
Did you know that your allergies could be greatly aggravated just from your pillow? More than 50 billion Americans suffer from allergies each year.
If you are having trouble with your allergies, you should pay special care when selecting the right pillow. People with allergies should know how to buy a pillow that protects them during sleep times.
Shredded memory foam pillows are popular with boxed mattress brands. Just like a mattress, your pillow can have many chemicals on it, which some people are allergic to (off-gassing or chemical smell). We see this most often when the pillows are made in China.
There are hypoallergenic fills and materials to ease your discomfort. Also, change your pillow regularly and wash the cover often.
Just washing the pillowcase isn't enough, though. A pillow protector is easy to remove and wash. It'll make your pillows last longer.
Like with mattresses, sweat, droll, and other substances get into your pillow, attract bacteria and immediately start breaking down the materials. Wash them with your pillowcases and make sure to get one that's waterproof (follow the manufacturer's directions to avoid removing the waterproof qualities after washing).
Everlasting Comfort 100% Waterproof Pillow Protector, Hypoallergenic Pillow Covers, Breathable Membrane, Lifetime Replacement Guarantee (Standard, 2-Pack)
6. Thread Count
The higher the thread count on your pillow cover, the softer the pillow will feel. Even if you invest in luxury pillowcases, the pillow can still feel rough without proper thread count.
Anything over 300 is generally soft. But many people will find that 6-700 thread counts are much more comfortable.
7. Care Instructions
You want a pillow that will be easy to care for. Make sure you look at the care instructions before you buy. Generally speaking, we recommend you air dry pillows even if it says you can put them in the dryer.
8. Your Needs Can Change
Many people put off replacing their pillows for way too long. They have gone to the trouble of breaking in their pillow, and at this point, it is almost like an old friend.
But putting off changing your pillow can be a health hazard. It can keep dust and allergens no matter how much you try and care for it.
Changing your pillow infrequently can also impact you getting a good night's sleep. The truth is that people's needs change.
You may have different aches and pains. Or maybe you have gained or lost weight.
If you are sleeping in different ways, your pillow should reflect these shifts. Make sure you are open-minded to change if need be.
Pillow Shopping And More
Of all the pillows Unbox Mattress has tested so far, these are our 3 favorites:
Layla Sleep Pillow – this is a truly unique pillow, and everyone who saw it on one of our mattresses was interested and wanted to try it. It's so comfortable!! The cover is copper infused (just like the mattress). Inside is a blend of kapok fiber and memory foam. It's squishy and wonderful. Our only wish is that they came in king-size!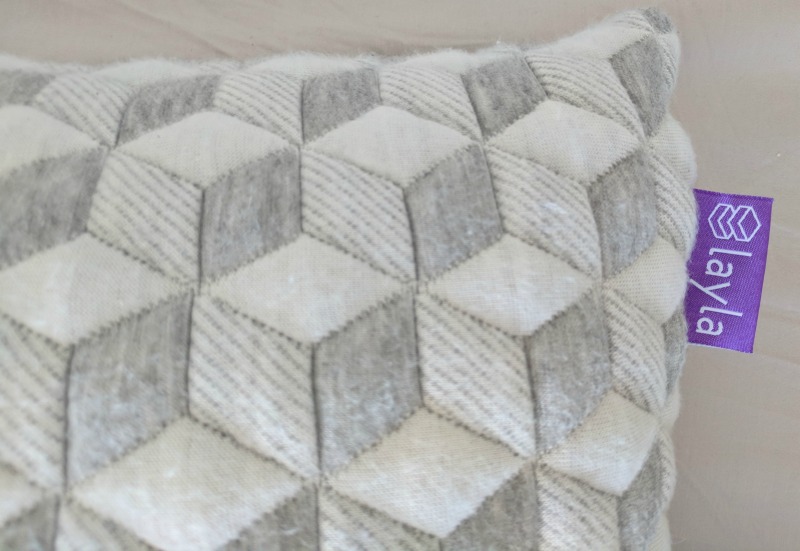 Brooklyn Bedding Shredded Memory Foam Pillow link not working– you may be familiar with My Pillow. Brooklyn Bedding is similar but better because it holds its shape better than My Pillow. We didn't get the crevice in the middle, and it didn't get lumpy or flat. You can also add/remove the foam for a customized pillow feel. Comes in standard sizes.
Pacific Coast Down Pillow – if you want a classic down pillow, this is the one we recommend. It's of higher quality, and many hotels use this pillow. When life is hard, get a soft pillow. This brand is time-tested (making pillows for decades) and preferred by many.
Pacific Coast Double Down Around Pillow
For many people buying a pillow is only the first step. They want to pair their pillow shopping with the perfect mattress for their sleep needs.
The good news is that Unbox Mattress can help. We offer reviews and advice on buying the best products to get you a great night's sleep.
We are dedicated to helping people get better sleep for a better life. Our company started after meeting with several mattress CEOs and seeing that most mattress reviewers were male and never included kids in their approach. We hope to help the whole family get good sleep.
We wanted to represent a more holistic view for the whole family. We can help you too!
Learn more about buying the right mattress to match that new pillow!