Buffy's Soft Eucalyptus Comforter Is Made From Recycled Plastic Water Bottles
Buffy is a eco-friendly, cruelty-free, lightweight, breathable and antimicrobial eucalyptus comforter. There are two comforters to choose from. One sleeps warm and one is cool for summer months.
The Cloud or Breeze comforters come in white only. If you want color, Buffy has eucalyptus duvet covers in solid dark blue, light blue, gray, and beautiful blush colors. The colors are made from the plant-based, all-natural dye. The duvet cover also comes in white.
If you're someone who wants to cut down on how much plastic is in the oceans or filling our landfills, you'll be interested in the Buffy Comforter. From the outer shell to the fluffy interior, Buffy is unique and doesn't harm our planet to make.
Please note that we were sent The Breeze Comforter and purchased a Cloud comforter to compare them and make the best recommendation for you.
Buffy's Cloud comforter has close to 500 reviews, and they are almost 5 stars (check Amazon here). We ran the listing through a review analyzer, and the reviews are legit.
Eucalyptus Comforter
On the outside
Buffy's cover is made with 100% eucalyptus fiber, also called lyocell. Eucalyptus uses 10x less water than cotton, making this eucalyptus comforter a more environmentally conscious choice than cotton or even bamboo. The wood pulp is taken from renewable eucalyptus trees. They use a closed-loop system that reuses 99% of solvents and creates little-to-no waste.
Best of all, Buffy comforters are cloud soft and hypoallergenic (unlike down), and it spares the geese. Eucalyptus is also naturally resistant to dust, mites, and mold.
Made from Recycled Water Bottles
On the inside
The inside of The Cloud, Buffy's original comforter, fill is made from 100% recycled polyester spun from BPA-free PET water bottles. So if you feel guilty about all those water bottles you've bought and thrown out, this will make you feel better. According to Buffy, they've already recycled 6 million bottles!
Last of all, the Buffy is made without harmful bleaches and dyes.
The Breeze Comforter by Buffy. This is a queen-size comforter on a king-size bed, so the size is generous.
The Cloud or The Breeze?
Buffy has two comforters to choose from
The Buffy Cloud Comforter
The original cloud-like comforter is covered in super-soft eucalyptus fabric and filled with layers of 100% recycled fiber for that snuggled-up feeling.
Recommended for all-season use
Shell is woven from Oeko-Tex-certified, earth-friendly eucalyptus fiber.
Each comforter recycles approximately 50 plastic bottles
Ultra-smooth fiber is naturally resistant to dust, mites, and mold
Triangle stitching pattern keeps fill in place
Fabric
100% eucalyptus fiber shell
100% recycled PET, BPA-free fill
Super-soft, 300 single-ply thread count
Eucalyptus fiber contains no essential oils and is safe for pets and kids
Loops in every corner to accommodate cover ties
Dimensions
Twin/Twin XL: 90″ x 70″
Full/Queen: 90″ x 90″
King/Cal King: 90″ x 105″
The Buffy Breeze Comforter
100% eucalyptus, temperature-regulating comforter designed to keep you cool and comfortable all night.
Recommended for warmer sleepers and climates
Made entirely of Oeko-Tex-certified, earth-friendly eucalyptus fiber
Wave stitching pattern keeps fill in place
Ultra-smooth fiber is naturally resistant to dust, mites, and mold
Fabric
100% eucalyptus fiber shell
100% eucalyptus fiber fill
Eucalyptus fiber contains no essential oils and is safe for pets and kids
Super-soft, 300 single-ply thread count
Loops in every corner to accommodate cover ties
Dimensions
Twin/Twin XL: 90″ x 70″
Full/Queen: 90″ x 90″
King/Cal King: 90″ x 105″
Which Buffy Comforter is Best for you – Cloud or Breeze?
If you sleep cold and want something more warm and cozy, choose the Cloud comforter. The Cloud is perfect for warmer months. Originally sold as a cooler comforter, many found it too warm for their preference, so Buffy introduced the Breeze.
For warmer months or if you sleep too hot, get The Breeze. This is a cooler, lighter-weight option. While the two look almost the same, they are different in this aspect: The Breeze is made only from eucalyptus (no water bottles).
Both are about 1 inch in thickness and come in white only. They look similar except for the stitching, and the Cloud is a little more silky feeling. On the Breeze, the stitching is in a wave pattern, and it's slightly thinner.
Not sure which one you need? Each comes with a free trial, so you can know for sure.
Buffy Comforter Reviews
You'll not sacrifice feel or style when you buy a Buffy. We requested and were sent The Breeze to try out. We previously purchased The Cloud. Our first impression? It's huggable. Yes, even in the package, you can squeeze Buffy, which feels amazing! It's so soft and slowly comes back to its original form.
We tested each comforter, and here's what we think:
The Buffy Comforter is much more lightweight than any other comforter we've tried. It gives you just enough coverage so you have something over you and can fall asleep. But there's very little weight added. It's easy to move and not bulky.
Some mistake the airy feel for cool, but the Cloud is warm. So if you want to feel warm but don't like a feeling of weight, the Cloud is perfect for you.
If you like a light feel and can't sleep without a cover, yet you sleep warm, the Breeze is for you.
Also, don't confuse thin with cheap. This is not made in China. It manages to be substantial without adding weight. The Cloud is just over 10 1/2 lbs. Our comforter is light, but it doesn't have the airy feel of the Buffy. It's like sleeping in the buff but having clothes on! You have a comforter, but it's barely there.
Note that each one is white and so buy if you're clean and like that minimalist, clean vibe. This isn't going to work for you if you eat in bed (or your kids do) and are prone to spilling.
One fan said:
We love it so far! It's very thin, but it has weight to it (and yet somehow is still not too hot) so you really feel secure and cozy. If you're like me and you need to have a blanket over you to sleep but still get hot, this is the perfect solution! I will still kick it off my legs from time to time but I have not woken up sweating once as I did most nights with my regular comforter.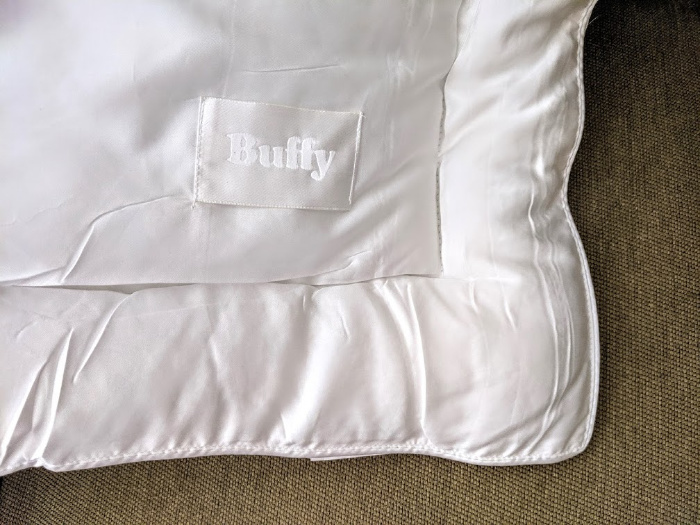 How Much Does the Buffy Cost?
The Cloud
Twin/Twin XL or couch $120
Full/Queen $150
King/Cal King $190
The Breeze
Twin/Twin XL or couch $170
Full/Queen $210
King/Cal King $250

Wash Instructions
Buffy doesn't recommend that you machine wash your comforter. Instead, they say to dry clean it. However, many people said dry cleaning changed their Buffy. If you want to protect Buffy, get a duvet cover (also made with 100% eucalyptus). It slips off and is easy to wash.
This is what Google captured about Buffy, so it looks like the company did say that Buffy is machine washable at one point.


Overall, we recommend that you get the duvet cover and avoid washing Buffy at all. Just spot-clean it. We know what the company says but washing it doesn't seem to have gone well for enough people that we can't say it's a good idea. So sleep with a sheet between you and your Buffy. If you must wash it, gentle cycle and air drying is our recommendation.
To complete the set, Buffy also recently came out with white eucalyptus sheets (which come with 2 pillowcases).
Sleep Trial
Buffy offers a 7-day free trial. It's important to know that Buffy is different in that the free trial starts when the order is placed (not when the comforter arrives)."We offer a 7-night trial period to let you sleep with our products before you commit to buying. Your Buffy will ship within 1 business day via UPS ground (3-5 business days for most customers, next day for NYC customers). After you place your order, a temporary hold will be applied to the card you use at checkout, which may appear as "pending" or "processing" on your account."
Warranty
Buffy is a newer company that has grown quickly, and its products have been very popular. We hope that they improve the warranty though. As it stands, the warranty covers manufacturing defects on a case-to-case basis.
Eucalyptus Smell?
Some people have asked if Buffy has a eucalyptus smell to it. We noticed no smell at all when opening or using Buffy comforters.
Color
Right now, all Buffy products are white, but the company says they will come out with colors.