My Very Favorite Down Pillow I Found at a Hotel in Oregon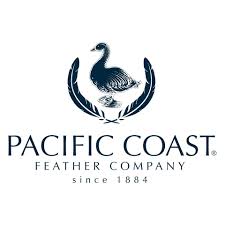 Pacific Coast is a classic feature pillow company that supplies pillows to hotels like Hilton. That's where I first discovered it. This is my very favorite down pillow.
After sleeping on this feather pillow in a Hilton hotel in Oregon, I was amazed by how soft and comfortable it was. The next morning, I tore off the pillow case (see video below) to see what brand it was. Then I emailed the company to find out the closest pillow to the one I slept on (they don't sell the same pillows to the public that they sell to hotels). I got one as soon as possible and loved it that much!
It's so heavenly – a piece of heaven for sure. I normally sleep on a heavier pillow, but this one is a light, fluffy and divine pillow that I just had to have. Yes, I collect pillow types.
It's been over 2 years since I bought that Pacific Coast Pillow, and it's still going strong. If you wonder if it's worth it, I HIGHLY recommend this pillow.
This is the pillow I got: The Pacific Coast Standard Double DownAround Pillow (in soft).
This pillow comes in medium and firm, but I prefer the soft.

Pacific Coast Pillow Review
This pillow is made of actual down and feathers. But they have a pillow within a pillow design, so you'll never feel anything but the fluffiness. Plus, this pillow lasts. As I said, I'm going on two years with mine, and of all the pillows I tested, it's what's on my bed. To me, there's a different pillow for different purposes. This one is huggable and perfect when you need something soft and cushy.
As I say, life can be hard. Your pillow shouldn't be!
Here are some details about the Pacific Coast Double DownAround Pillow:
Pillow Sizes
The Pacific Coast pillow comes in three sizes: standard, queen, or king. I got a king.
Pillow Firmness
Besides soft, you can get the Downaround Pillow in a medium or medium firm.
Real Down and Feathers
Hyperclean® down, which means they clean the down, and it's and hypoallergenic. It's called Hyper clean, and it's made in the USA.  Basically, they wash their down and feathers up to eight times in an environmentally friendly way. That's how they remove dust, dirt, and allergens.
Hyperclean® Resilia™ feathers.
Since some people are allergic to down Pacific Coast assures you with an allergy-free warranty.
30-Day Sleep Trial
I always look for pillows with a sleep trial because pillows are so individual. And sometimes inconsistent. I've ordered the same pillow from another brand, and each one is different from the others. So it's good that you get a 30 Night Comfort Guarantee.
20% off Select Down Bedding at Pacific Coast.
Machine Washable
Machine wash and dry. This is great – you can wash your pillow. But we do always recommend a waterproof pillow protector to extend the life of and protect your pillow from spills, liquids, and stains. Pacific Coast sells 4 models of pillow protectors at a very reasonable price. So it looks like they know the value of keeping your pillow clean!
Hotel Pillow Match
And if you stay in a hotel or experience a pillow Pacific Coast and want to get one for your home, they will help you pinpoint exactly what pillow you slept on, too. If you're like us, you check the brand names of your favorite bedding at hotels when you're traveling!
Feather and Down Pillow
Here's a little more about this wonderful pillow. To recap:
525 fill Hyperclean® down.
The Resilia® feather-filled inner pillow delivers firm cushioning that keeps your head from sinking to the mattress while the exterior is made of fluffy down to cushion your tired head.
Pillow can be machine washed and dried for easy care.
300 Thread count, 100% cotton Barrier Weave® down and feather proof fabric
30-Night Comfort Guarantee
Allergy-Free Limited Warranty
3-Year Limited Warranty
Preferred in over 2 million hotel rooms
What Pillows Does Hilton Use?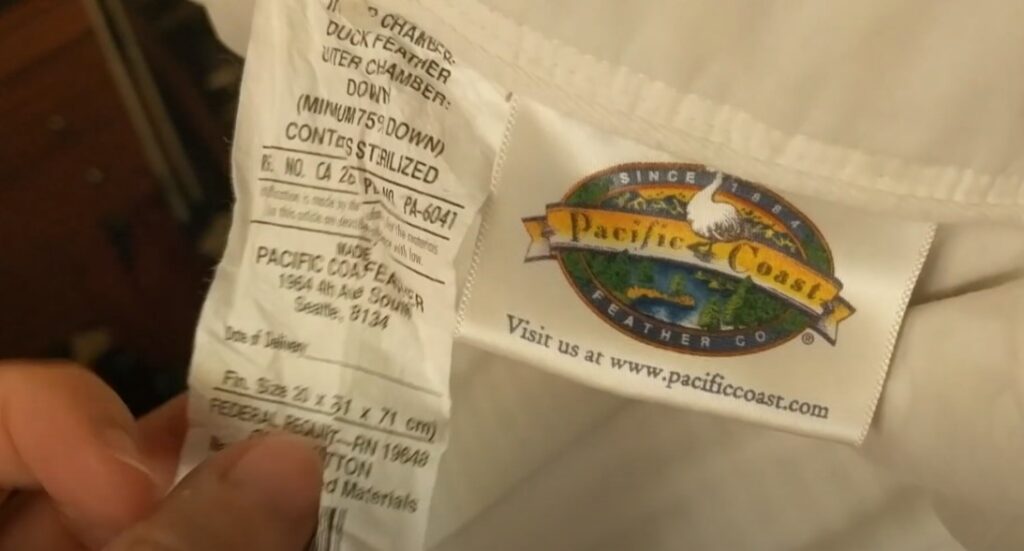 Pacific Coast is the brand I discovered when I stayed at a Hilton hotel for a conference. The pillow was so soft and dreamy that I checked to see what it was. I normally don't sleep on a feather and down pillow, but this one was so soft and comfy that I loved it!
This company has been making feather and down pillows since 1884! This is a classic feather pillow, and they make everything from affordable pillows to higher-priced luxury pillows and bedding.
The Double DownAround Pillow I got was 75% down. If you want one that's 100% down – check out their down hotel pillow.
Whatever you get, protect it with a pillow protector, and it will stay cleaner and last much longer!
4 Reasons Hotel Pillows are Different From the Ones you Buy at Home
Have you ever bought a hotel pillow only to come home and find it's not the same? Here are some reasons why…
Hotels may use a smaller pillow case (2″ shorter) to plump up the pillows and make them appear fluffier.
Hotels sometimes use 2 pillow protectors on each pillow to reduce airflow to the pillow to keep it fluffier throughout the night.
Hotel pillows are slept on and washed regularly, making them softer faster. You may need to wash and dry your pillow a few times to get the same effect.
Pillows from hotels may be made especially for that hotel. You can look at the label and get as close as possible. They have to last as long as possible so that the price may be higher.
If you're still curious and want to know more about what makes hotel pillows comfortable, check this guide by Pillow Insider where they dig down deeper into the anatomy of the hotel pillows.
Hotels know that when you have guests asking all the time if they can buy your pillows (or are stealing them), then you know you have selected the right pillow. Now you can buy a hotel pillow and get that hotel stay feel with a Pacific Coast pillow. It's one of our top picks and what we sleep on at home!