New Purple Mattress Review 2021 – What Makes Purple Mattress so Unique?
Update: Purple has changed the names of their mattresses. In this Purple mattress review, I'll compare all the Purple mattresses.
The original is called The Purple Mattress
The Purple 2 is now the Purple Hybrid
The Purple 3 and 4 are both the Purple Hybrid Premier – choose between the 3 or 4″ (refers to the inches of Hyper-elastic polymer (Purple grid) that make up the top layer).
In my house, 3/4 of mattresses are Purple. I've slept on one for over 5 years now. It's the mattress I know the best. Some people compare Purple against memory foam mattresses like Casper, Ghostbed, and many other mattresses that come in a box. But Purple is very different from all of them. Keep reading to learn how Purple is unique.
Purple Hybrid Mattress Review (2021)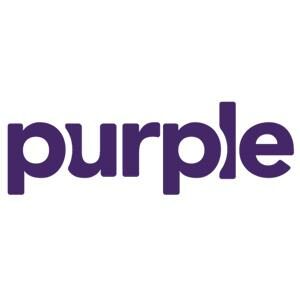 Purple mattress has come a long way in 2 years! In 2016, Purple launched its premiere bed in a box mattress. Then in 2018, they released three new Purple mattresses that are higher-end mattresses with more support.
The new models are completely different from the original Purple, they are deeper, have more advanced features, and have coils. However, the only difference between the Purple 2, Purple 3, and Purple 4 are that they have different amounts of Hyper-Elastic Polymer and the mattress height. The number on each indicates the number of inches of polymer tops the mattress. With each inch of polymer added, there's an additional inch in mattress height.
Getting a good night's sleep isn't always easy! Many people struggle to get to sleep or they find themselves waking up during the night. This is often caused by a poor-quality mattress which can cause stress to the body's pressure points or change the natural alignment of the spine. Or your mattress can make you too warm at night, keeping you awake.
A bed in a box mattress like Purple can help in your search for a good night's sleep. They are technologically advanced mattresses that are delivered directly to your front door.  Purple is a leading manufacturer of bed in a box mattresses. They have developed a cult following with many thousands of happy customers around the world.
In fact, one commenter on our "new Purple mattress review" YouTube video said this about his Purple mattress:
"I hope they stay in business forever. Because my life has been changed by sleeping on this mattress. I've thought about buying 1-2 spare mattresses & storing them just in case they do go out of business."
The Original Purple Mattress
Compared to the new Purple mattresses, the original seems pretty basic now! They changed the cover, and now instead of all white, it has a ribbon of purple that divides between the white and the gray sides. It's thinner and not as high quality as the first Purple mattress. This is still a great mattress and value, but it doesn't compare to the new Purple mattresses, as you'll soon see.
The original Purple mattress has changed from when it first came out. It's only 9.25″ thick instead of 10. And the cover material is thinner and not as high quality. Still, a decent mattress, but the hybrids (with springs) are so much better, from the cover to the foam and materials inside…
Here's The Original Purple mattress

Purple Hybrid Mattresses
What Purple hybrid mattresses have in common and what's one of Purple's keys to success is their comfort grid technology (called Hyper-Elastic Polymer™) or Purple grid. This makes Purple unlike almost anything on the market. In a world full of all-the-same foam block mattresses, Purple is truly unique.
The top layer of every mattress is made with mineral oil-based, food-contact grade materials with no known toxins (nontoxic). There is no memory foam in it at all. The cushiony grid transfers your body weight (especially around your pressure points) to other areas on its surface. All Purple mattresses feature this polymer as the top layer.
The grid is famous for the raw egg test, which shows how it collapses around your pressure points but stays supportive everywhere else.
You will see how much heavier and deeper the new Purple mattresses are in the charts below (including prices). The idea is that the firmest is the Purple Hybrid, the medium is the Purple Premier 3″, and the softest is the 4″.
The new Purple mattresses come rolled up (compressed) and in a purple duffle bag.
All of the Purple brand sheets, protectors, and bases will fit the Purple hybrid mattresses as well as the original Purple. The Purple sheets are stretchy, and so is the protector, so they can flex with the mattress. 
You will need a base as it does not come with a box spring, nor are they recommended. We recommend the Purple Powerbase adjustable frame, a foundation or frame with slats 2 inches apart or less. 
Purple 2 Mattress or Purple Hybrid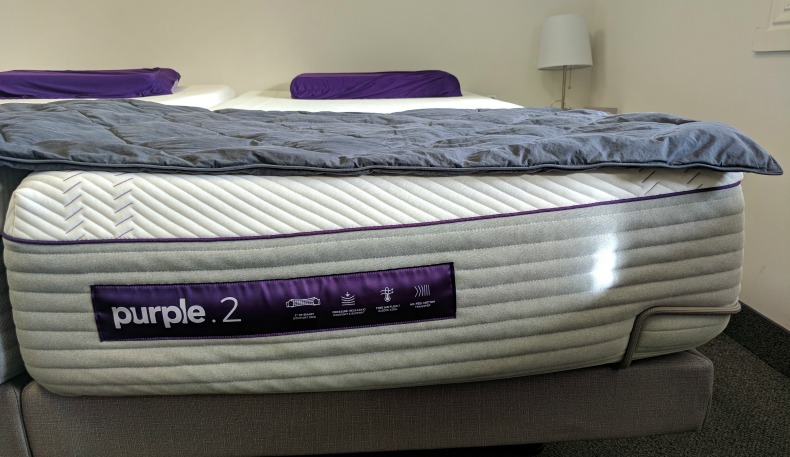 11 inches tall and medium.
Purple 3 Mattress or Purple Hybrid Premier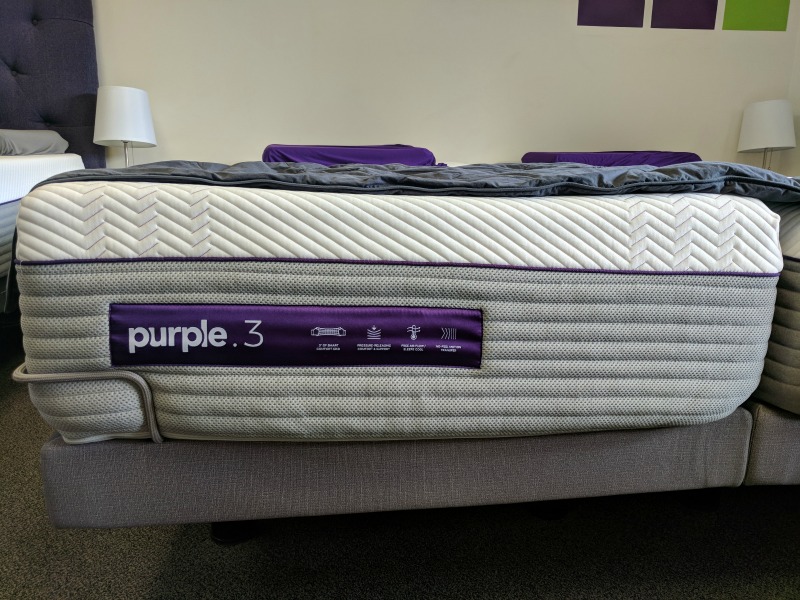 12 inches tall and medium (softer than the 2″).
Purple 4 Mattress or Purple Hybrid Premier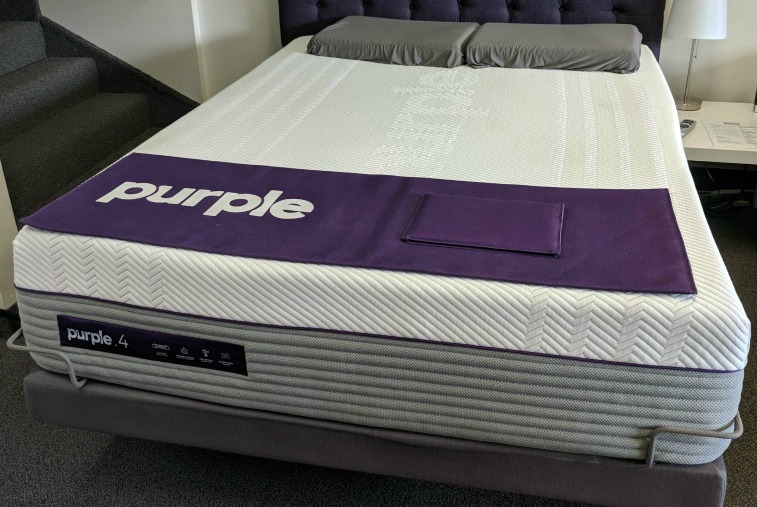 13 inches tall and medium soft. Is it really soft? No, not in the sense you're probably used to. You won't sink in and be cradled by your mattress. It's more like floating on it. However, this model is the softest of all the Purple mattresses.
We HIGHLY recommend you get a Purple brand mattress protector to go with your bed and put it on before you sleep on it for the first time. This greatly enhances the life of your mattress and keeps it clean. The covers on the new Purple have zippers and can be removed, but they recommend spot cleaning (we've washed ours and let it air dry with no problem).
Regardless you'll want an easy-to-remove barrier to prevent sweat and liquids from getting into the interior of the mattress. The Purple mattress protector (which we have) is made of stretchy material and is specially made to flex with your bed and provide the most comfort.
Can you finance a Purple Mattress? 
Yes, you can get a payment plan for all the new Purple mattresses in lower monthly payments through Purple's website. You can get approved within seconds, see the terms, and schedule automatic payments before you agree. You may also qualify for interest-free payments- as an example, a queen Purple 3 starts at around $100 a month.
Layers of a Purple Mattress
Each of the new Purple mattresses is the same except for how much comfort grid they have. They're constructed from 5 components (from top to bottom):
Comfort stretch cover
We find the Purple cover to be not only stylish, but it's thicker and higher quality than any other online brand we've tested. The synthetic cover is 98% polyester / 2% spandex and is stretchy, breathable, and comfortable. This is thicker than the original cover and is made to stretch and move with the comfort grid system. It also has the word PURPLE embroidered on it in purple thread and purple thread throughout, with purple piping along the sides. The purple label, which gives the bed name and some facts about your mattress, is on several sides.
Purple® Smart Comfort Grid™
All Purple beds have Purple's® Hyper-Elastic Polymer™ technology. This section is designed to transfer weight from your pressure points (shoulders and hips) and support the rest of your body. It is soft to touch but firm enough to support your entire weight.
Specialized Comfort Foam
This is a layer of ultra-durable polyurethane foam that acts as a transition layer between the Smart Comfort Grid™ and the supporting layers. It is certified by CertiPUR-US.
Responsive Support Coils
The next layer is Purple® Smart Comfort Grid™, a layer of individual cells that provide pressure relief and support. They are individually fabric-encased steel coils (which the original Purple mattress did not include). This adds structure to the mattress. These are also designed to be quiet (not make noise).
This is an inside look at a Purple 2 with 2 inches of flexible comfort grid: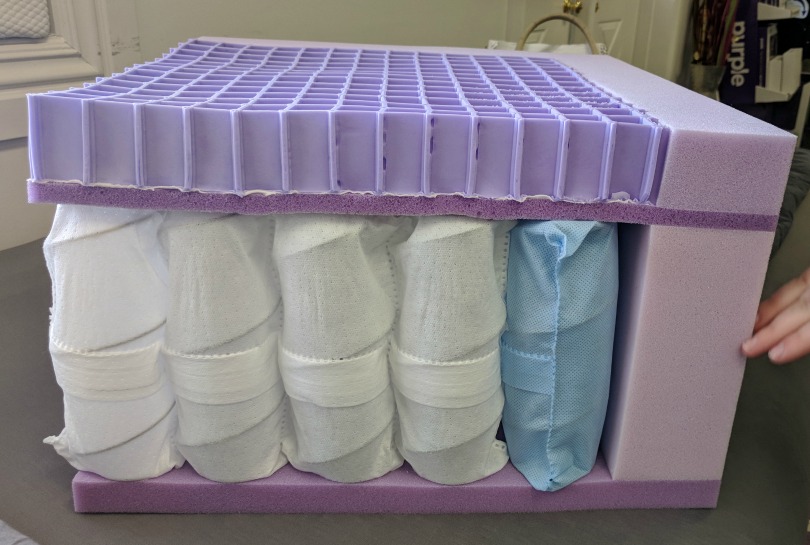 Edge Support
The new Purple mattresses have better edge support. Plexus side panels wrap around the perimeter of the bed. In the original Purple the comfort grid extends to the edges and collapses more when you sit or lay on the edge. Now there's a layer that provides more support so you can sit or sleep on the edge of your bed without feeling like you might roll off.
Sleep Cooler
They are made from a strong, breathable material that helps to keep your mattress cool. If you're one of 51% of people who sleep warm, you'll love this bed. While no mattress truly cools, you're not going to get sweaty as you do with most foam beds. The grid system, as well as the breathable cover, lets air flow between the layers as well as between you and the bed.
Please don't take our word for it, though. Purple was rated one of the coolest mattresses to sleep on by Consumer Reports.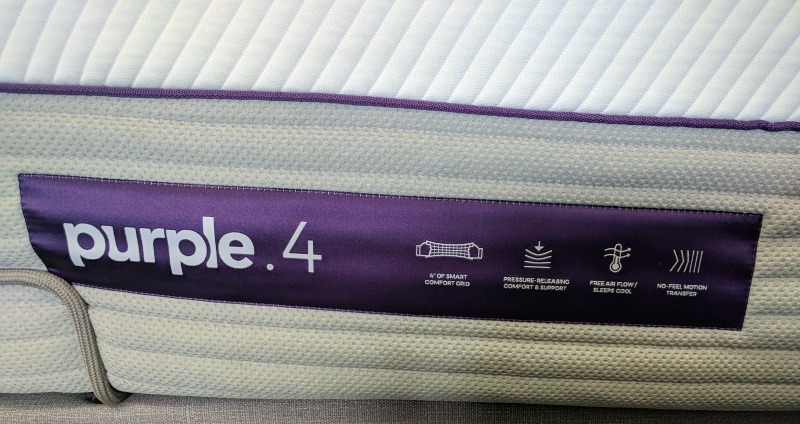 New Purple mattress Sizes and Dimensions
All new Purple mattresses are available in these sizes. See the dimensions in the tables above.
The only difference between the three new models is how thick the purple stuff is (the super stretchy polymer, as they call it). The Purple2 has a 2-inch thick layer, the Purple3 has a 3-inch top layer, and (you guessed it) the Purple4 has a 4-inch top layer.
The new Purple beds are also much thicker than the original, which is a shortie at 9.5″ deep. Purple 2 is 11 inches tall, Purple 3 is 12 inches, and Purple 4 is 13 inches.
What Makes Purple So Different?
The main feature that sets Purple mattresses apart from products made by other manufacturers is the Purple Smart Comfort Grid. This is a patented material that does a wonderful job of transferring weight from pressure points on the mattress.
The Specialized Comfort Foam is superior to the foam used by most bed in a box manufacturers. The breathable Plexus Side Panels and hypoallergenic cover help to keep you cool while you sleep.
What's the Softest Purple Mattress?
The answer here may surprise you. Read our article about the new models and how firm or soft they are: is the Purple 4 really soft?
What is Sleeping on Purple Really Like?
Sleeping on a Purple mattress differs from sleeping on a traditional spring coil mattress. It will take time for your body to adapt to changes, so patience is required when trying one for the first time. Most people are used to the mattress after a couple of weeks. The most noticeable benefits obtained from using a Purple mattress include the following:
Better spine alignment
The softness and support provided by the Purple mattress help to keep your spine naturally curved as you sleep. It works well for both back sleepers and side sleepers.
Extremely comfortable
The breathable top layer, Purple Smart Comfort Grid™, and supporting layers make it very soft and comfortable to sleep on. The unique thing about Purple mattresses is that they are both soft and firm simultaneously, thanks to how the smart comfort grid distributes weight.
Motion isolation
This is another feature that many people love. The Smart Comfort Grid helps to isolate you from other people who are moving in the bed. You are less likely to wake up if your partner gets out of bed or your dog jumps onto the bed. It has very low motion transfer – the flexible comfort grid seems to absorb movement.
Won't sleep hot
The breathable materials, including the Purple grid used in the Purple mattress, make it easier for heat to dissipate. Some people even think it sleeps cold. However, you have much more control over your temperature as you add or remove blankets to get the temperature "just right." I sleep with a heated mattress pad under mine during the winter.
Memory foam is known to get soft as it warms with your body heat. Purple has no memory foam in it – ZERO, so it's not going to heat up or change temperature in any noticeable way. In addition, the grid is not a solid surface and is covered by a breathable cover. That means there is air flow next to your body.
Purple is temperature neutral, and you'll never feel that stuck feeling like you can get with other mattresses.
Sleep Trial of the New Purple Mattress
Purple mattresses all come with a 100-night trial (you can return the mattress in the first 100 nights and get a refund, so you're out nothing, not even shipping) – this is the same as the original Purple mattress.
Warranty
Just like the original Purple, the Purple2, Purple3, and Purple4 all come with a 10-year warranty.
How To Return a Purple Mattress
What happens if you want to return your Purple mattress within the 100 sleep trial? It's easy and quick. Call customer service, and they'll ask you how you want to return it. Since it's impossible to get it back into the bag, you won't be asked to ship it. Options include donating it to charity or scheduling an in-home pick-up.
The Downside of Buying the New Purple Mattress
The downsides include:
Cost
The new Purple® mattress is more expensive than many other bed in a box mattress, but it's a steal when compared to other showroom mattresses. Of course, you get what you pay for! Cheaper mattresses use low-quality materials and do not have the same technologically advanced features as a Purple® mattress.
Heavier people may need a thicker mattress
People who weigh more than 280 pounds may need to purchase the more expensive Purple2, Purple3 or Purple4 to obtain the same level of comfort.
Base selection
Purple says that you should not use this mattress on a box spring base. They recommend using the floor, a platform bed, an adjustable or foundation base.  Purple sells a foundation, a basic metal frame, and an adjustable base. Whatever base you get, it must be able to support a lot of weight – you, your mattress, and anyone sleeping on your bed. This mattress base supports up to 1,600 lbs or you can get the one from Purple. Purple also has an adjustable bed called the Purple Powerbase.
Our verdict
The new Purple mattress is a remarkable mattress. The incredible technology used by this bed makes it one of the best beds on the market. And it's one of the few truly unique beds because of the comfort grid. Of course, the cost is higher than some other bed in a box mattress, but you get what you pay for with this bed.
This is the bed we sleep on (a king Purple4), and it's our top pick. We give it our highest recommendation. We've had one since Purple was founded, and it's held up perfectly with no indentations or issues. We continue to get a great night's sleep on a Purple mattress!
Q&A
Who sells Purple mattresses?
Most people buy their Purple mattress from their website. However, you can also purchase an original Purple mattress from selected retailers like Amazon. The new Purple mattresses are also at select Mattress Firm locations.
What is the new Purple mattress made of?
Stretchy, Breathable Cover: Top: 98% polyester / 2% spandex
Plexus Side Panels: 99% polyester / 1% spandex
Smart Comfort Grid™ is Hyper-Elastic Polymer™ with non-toxic polyethylene copolymer non-stick coating.
Responsive Support Coils: Individually fabric-encased steel coils.
Transition layer: Polyurethane Foam
How much do Purple mattresses weigh?
The new Purple mattress is heavier than the original, with the Purple3 King size mattresses weighing over 200 lbs.
How long is the warranty on Purple mattresses?
The warranty is 10 years and
How long is the Purple Sleep Trial?
You have a 100-night trial period. That means you can sleep on it for 100 nights, and if not a good fit for you, return it for a full refund. Most often, they will send a company to come to your home to pick it up. It will then be donated if it's in good condition.
Can you sleep on a Purple mattress right away?
Yes, the Purple mattress opens and inflates fully quite quickly and will be ready to sleep on immediately. It only takes a few minutes for a Purple mattress to expand fully.
How to move a Purple mattress
Check out the video to learn how to move a Purple mattress.
Do I need a box spring with a purple mattress?
Purple says it voids the warranty to use a box spring for your mattress. However, we do it on all but our kid's mattress. She has a platform bed that doesn't need a box spring. Instead, they offer bed frames, or you can use any foundation, the floor, or the frame to get it off the ground as long as it can support you and the weight of the bed. Slats should be 2 inches or less apart. 
THIS IS IMPORTANT. You have to have a frame that can support the weight of the mattress and the people and/or animals that sleep on it. This isn't a cheap flimsy bed. It weighs a lot. So be sure to get a frame with close-together slats or even a board on the frame.
Has the Purple mattress cover changed?
The new cover is slightly thicker than the last one, and instead of being quilted like the original, it's one-piece and stretchy. You can pull up on it and lift the whole top of the mattress cover-up, and it will bounce back into shape. That allows for the flexibility that's key to this mattress, so it can shift and move with your body weight while not waking up the person next to you. It's truly unique in that way!
The new mattress cover is removable. It unzips at the bottom, and it's one piece (not two like the original). Purple says not to wash the cover but to spot-clean it.  We always recommend using a mattress protector that you can remove and wash. The Purple mattress protector is stretchy, so it will flex with you and the mattress.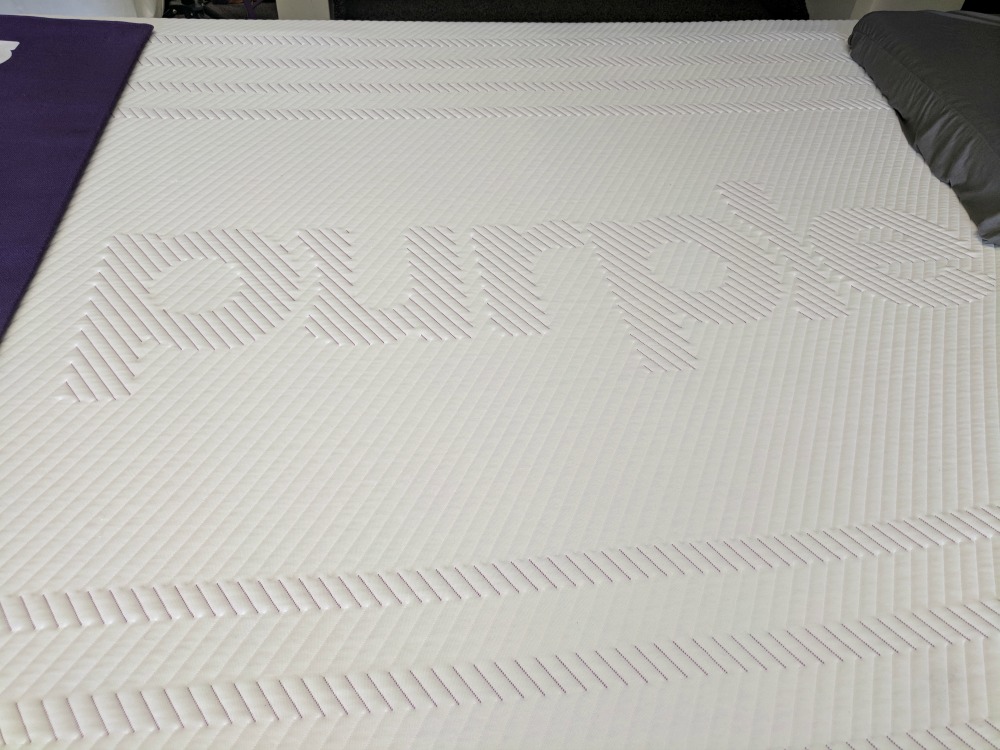 How much do the new Purple mattresses cost?
Prices start at $1,299 for the Twin XL Purple2 and go up to $3,499 for the Purple4 Cal King.
Can you get a Purple mattress discount code?
Check their website for free upgrades, such as a free Purple pillow or sheets with a mattress purchase. They're called bundles. No code is needed; it will automatically be added to your order.
What did Consumer Reports say about Purple mattress?
Consumer Reports hasn't yet reviewed the new Purple mattresses, but they're ranked in the top 10. Read Consumer Reports Purple Mattress.
Which new Purple mattress should I get?
The choice is individual, but the more grid, the more bounce, and submersive experience. We think the Purple 3 is a good selection for most people because we found the original didn't have enough of the purple grid thickness as we'd like.
The Purple 4 is ideal if you want to sink in more and/or are heaviest. This one is best for those who are very heavy and would otherwise hit the foam layer and not get as many benefits of the grid for cushioning your pressure points.
Do any of the new Purple mattresses come in full size?
Yes, they all come in a full.
We hope you enjoyed reading New Purple Mattress Review (2021)! Do you have any questions about any of the new mattresses? Post a comment, and we'll help you out.