Mend Mattress Review – 14″ Hybrid with a Surprising Feature
Mend Adapt Mattress is a hybrid mattress with foam and pocketed coils. It's thicker than average at 14" high, which gives it a luxurious look and feel. And it has a unique top layer that can be switched and gives it longevity that you don't usually get with other hybrid mattresses.
And you get 2 FREE pillows too.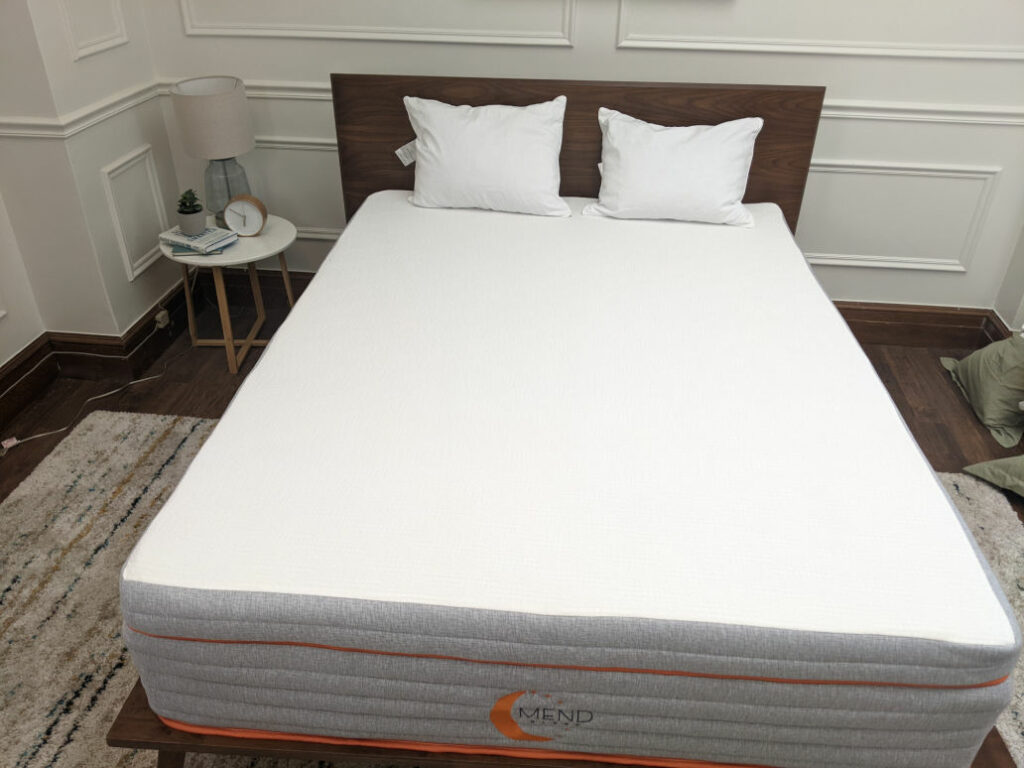 Mend sent us a mattress to review. Here's what we thought…
Mend sent me a queen-size Mend Mattress Adapt to review, and we may earn a commission when you shop through our links (you may get better sleep). At the time of this review, they have 2 models. The Adapt is the only one with a flippable and fully removable top of 4″ inches. In all, you have 5 inches before the springs.
Their other mattress is called the Mend Renew, and it's not the same. It's 11" or 12" deep. The website lists it as both. But it's not as thick and doesn't have the flippable top layer. And the top layer before the springs is just 2". That's not a lot of cushioning, so it's mostly good for someone who is very lightweight. If you're heavy, you'll compress through the 2 inches and likely feel the spring layer.
Until I got the Mend Mattress, I'd never heard of it, so I didn't know what to expect…
Unboxing the Mend Mattress
I have a video showing me unboxing the Mend Mattress. It's heavier than average to lift. However, the mattress was ready to sleep on immediately.
It comes with 2 pillows. They're ok, a little smaller than average but they were right at the top of the box and not compressed, so also ready to sleep on.
Mend Mattress Layers
Zippered Cooling Cover
The cover is awesome. It has a zipper at the top, so you can easily remove it. I've taken off so many covers, and it's a lot of work, but this makes it easier. It's all one piece too. Plus, it allows you to open the mattress and flip the comfort layer to obtain the desired firmness. The cover is also washable. It's stretchy and breathable. 
You should still get a waterproof mattress protector – Mend's is a cooling protector.
4″ Flippable Comfort Layer
2" of cooling gel-infused super-bouncy air-cell foam on the soft layer, and that's glued to an additional 2" of fast-responding support foam that delivers comfort and support through a firmer feel. 
By flipping this layer, you can adjust the firmness level of your mattress from medium-soft to medium-firm or the other way around.
1″ Support Layer
This firmer foam layer provides additional support for the back and lumbar area, helping with back pain relief and reducing motion transfer.
So you have 5 inches before you reach the spring layer.
8" Quantum Coils Support System
This layer consists of hundreds (over one thousand in the larger sizes) 8″ individually wrapped coils. This adds support and structure to the mattress and gives it airflow to keep it from sleeping too warm.
1″ Base Support Layer
This supports and adds stability to the layers on top of it.
Mend Mattress Review
Here's my full review on YouTube…and those are 2 FREE pillows you get with your Mend Mattress. This is an amazing mattress. I liked it and think is so comfortable.
Mend Mattress Cost
At the time of this review, the Mend Adapt comes in at about $1200, which includes free shipping. If you choose financing, it's about $100 a month.
Flexible Financing
Coming up with the cash to buy a mattress can be a challenge. Or maybe you want to pay as you go because you qualify for free interest anyway. Regardless, you can choose from several convenient financing options.
Mend Mattress Warranty
You get a lifetime warranty – Mend mattresses are built and guaranteed to last a lifetime!
Return Policy / Sleep Trial
You get a 180 Day Trial which means you can try Mend mattresses in your home for 180 days, risk-free! Because if it's not for you, they'll send someone to pick it up and give you a refund.
Made in the U.S
We like that all Mend products are manufactured in the United States!
Any questions? Leave them in the comments below, and I hope this helps you make the best decision on a new mattress.
Who would like Mend Mattress?
You like a thicker profile mattress – most mattresses in a box are just 12" max, and here you have a 14" mattress. It still amazes me that these can be compressed and fit in a box like this (POINT TO BOX)
You want a mattress that has a softer to medium feel. The unique part is you get both with the Mend. I'll show you the layers, but the top 4 inches can be turned, so you sleep on the softer or the medium side of the foam.
You're willing to spend on a moderately priced mattress – it's not a budget brand. However, it's a good value and comparable to similar mattresses that don't have the flippable top layer.
You want a mattress that will last longer. The average is 5-7 years, and I've seen these DIY mattress fixing videos where you have to remove the top foam and replace it painstakingly. Sort of like if you reupholster a couch and have to take it apart. The Mend makes it easy to replace the foam and get a longer life out of it. 
Someone who's light, average or heavier. Since you have a full 4 inches of foam before the springs, even a heavier person has enough cushioning. It's good for back, side, and stomach sleepers, but I'd say esp great for anyone who sleeps on their side.
You like getting 2 free pillows with your mattress.
Who won't like it
You want a firm mattress. This isn't a firm mattress, you'll sink into it.
If you're a shorter person, you may not need or want the height. You will need sheets that fit a deeper mattress. I noticed that Mend doesn't sell sheets or pillows at this time, although they may in the future.
If you want a mattress made overseas – the Mend is made in the USA.
You're looking to spend under $1000 on a budget mattress that may need to be replaced in a few years.
How did I like the Mend Mattress? I LOVED IT. It's so comfortable, and I love that you can replace all the foam to extend the life of the mattress or even change up the feel. I wish the pillows were larger, but they were also very comfortable and included, so…The only thing that could be better is if they sold the top layer at Mend!