airweave mattress review – for people who love sleep, not memory foam
Did you know airweave is the only mattress-in-a-box company to supply mattresses for athletes at the 2020 Japan Olympics? We recently got to test one out in person and let you know what we think. airweave has a beautiful story of being inspired by fishing line cast from fishing boats in Japan.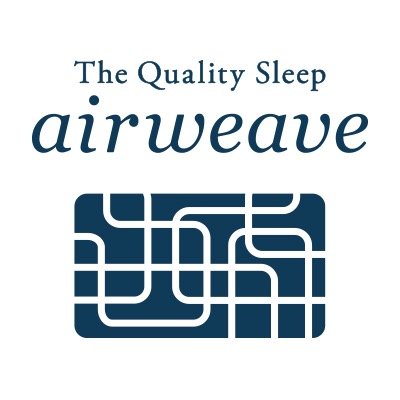 This review is of the new airweave mattress, and I reviewed a queen size. You may get better sleep, and we may earn a commission when you shop through our links. Thanks to airweave for sending this mattress to review.
airweave mattress review
In a sea of mattresses that all seem about the same, it can be tough to tell them apart. They all seem like a big block of foam in some configuration or another. Not the airweave mattress.
The airweave mattress is not like any other mattress we've reviewed so far. There's no foam. No springs inside, and it didn't come rolled up in a box. Instead, it's a minimalist futon-style mattress that's made in Japan. 
There are many features of the airweave mattress you need to know so you can decide if the airweave mattress is for you.
I appreciate the insight that airweave openly provides on their customers overall, and this can help you know if an airweave mattress is worth it for you.
40% of customers between the ages of 55-65+ and weight range of 180-219 lbs choose airweave because their current mattress was too soft.

Another 40% of customers in the same age and weight group chose airweave to help with their back and joint pain.

13% of our customers between the same age and weight range chose airweave because sleeping on their current mattress was too hot

and the last 7% chose airweave because our products are eco-friendly.

33% of these customers said their sleep significantly improved.
Here's our airweave mattress review video on YouTube:
Don't Like Memory Foam?
airweave is ideal for someone looking for a firm, supportive mattress but who DOES NOT LIKE the feel of memory foam.
Whether you're allergic to foam or want something more natural, airweave is an alternative to memory foam or any type of foam.
Foam can be like a giant sponge that absorbs liquids and allergens. airweave is the cleanest mattress we've reviewed.
Another property of memory foam – it can sleep hot. When you lie down and your body weight presses into the mattress, it forms a dip where body heat can build up. The foam is responsive and gets warmer over the night. airfiber doesn't do this. If you sleep hot or sweat a lot, the airweave mattress is a good pick over memory foam.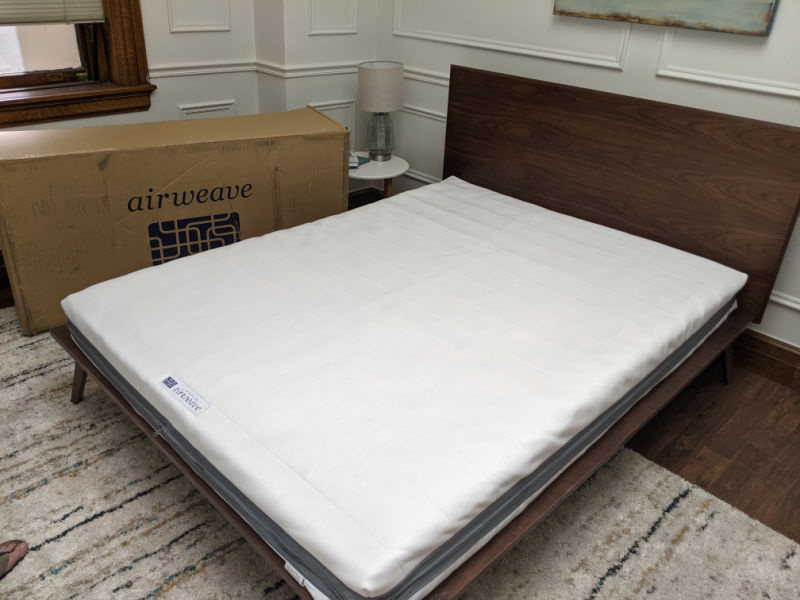 airweave mattress unboxing
airweave mattresses come in two large boxes (one shown in the photo above) and are in pieces that you assemble. The bed itself comes in 3 rectangles that can be stacked and stored. There's no smell or off-gassing. And it's not rolled up, so you can sleep on it right away.
Here's our airweave unboxing video so you can see how it goes together:
Sleep Trial
You get a 100-day sleep trial or period to sleep on your Airweave to make sure it's right for you. Give it at least 30 days to adjust to it because there's a fee if you return it before then. I find that most people are used to the mattress they have and need several weeks to adjust to a new one, even if their old mattress is awful.
10-Year warranty
There are several studies about the performance of airweave for athletes and how there aren't any hot spots like memory foam can have. It's breathable and sleeps cool.
What it's made of
airweave mattresses are very well made. From the cover to the pad and airfiber sections – even the fire sock – are higher quality fabric and material.
Here are the layers of an airweave mattress:
1. A breathable mesh cover with a zipper that encases the mattress pieces.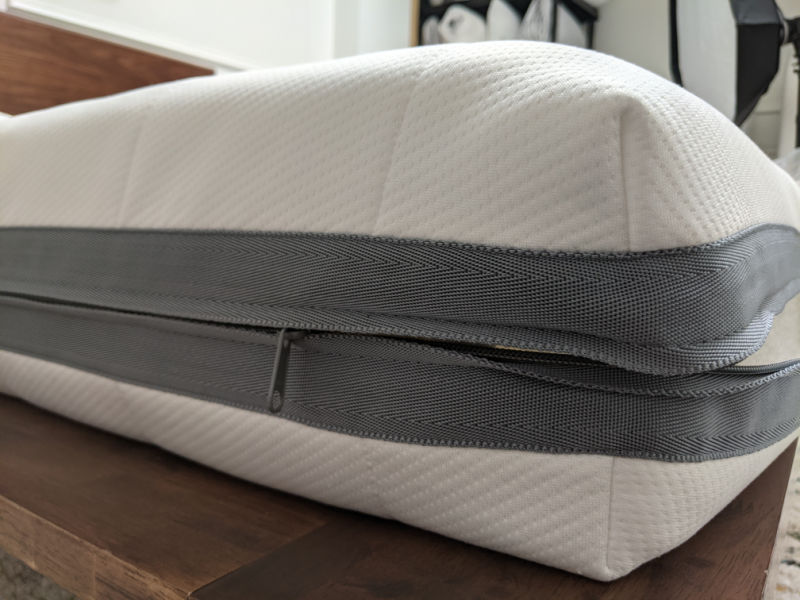 2. A stretchy fire sock that can be easily removed to disassemble or move the mattress. It's open at the top and ends. You wrap it around the pieces and secure it with velcro.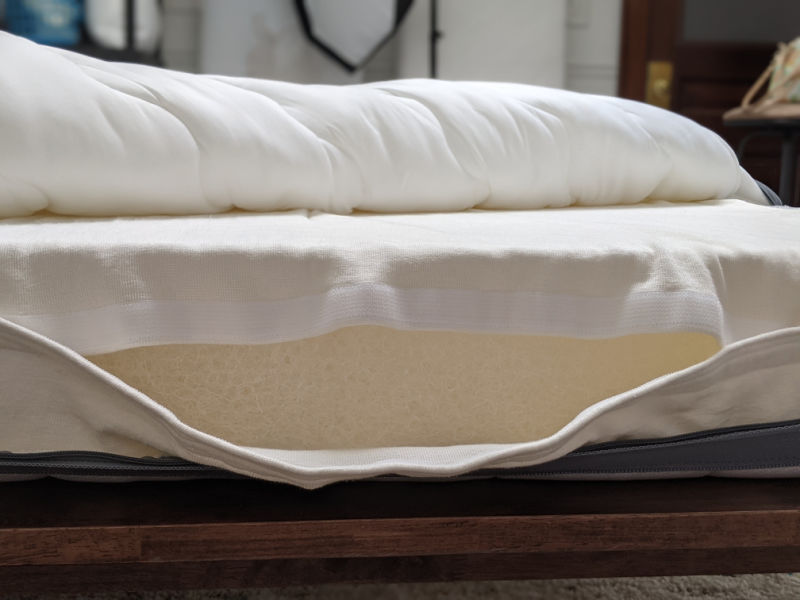 3. Three rectangle blocks made of airfiber® core, which is woven Polyethylene. It's entirely washable. You can put it in the bathtub or shower. Hose it off outside. But it's so sanitary, way more than foam which is like a giant sponge. This isn't going to soak up sweat, dust, allergens, or anything else. You can just clean it. Tell me, can you clean the inside of your mattress? I didn't think so!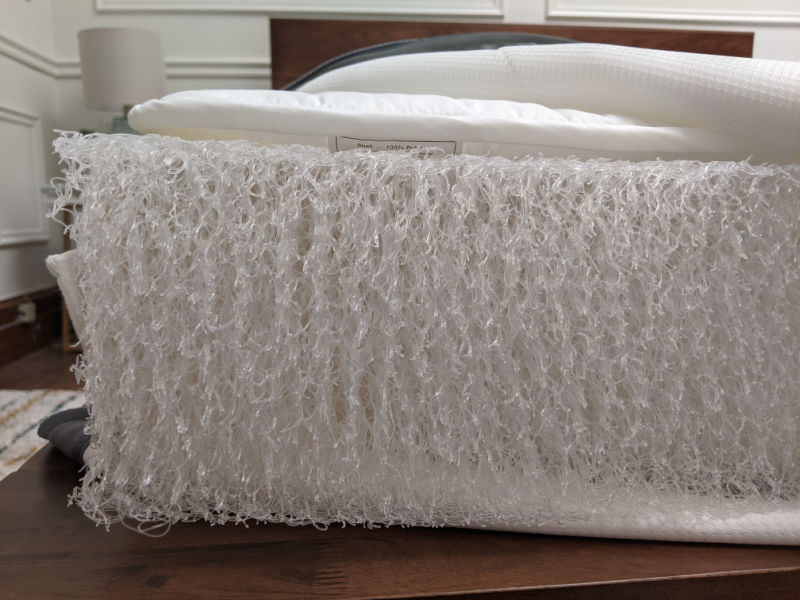 4. A pad or soft layer that goes over the airfiber core to add softness. Here's what it looks like and the thickness: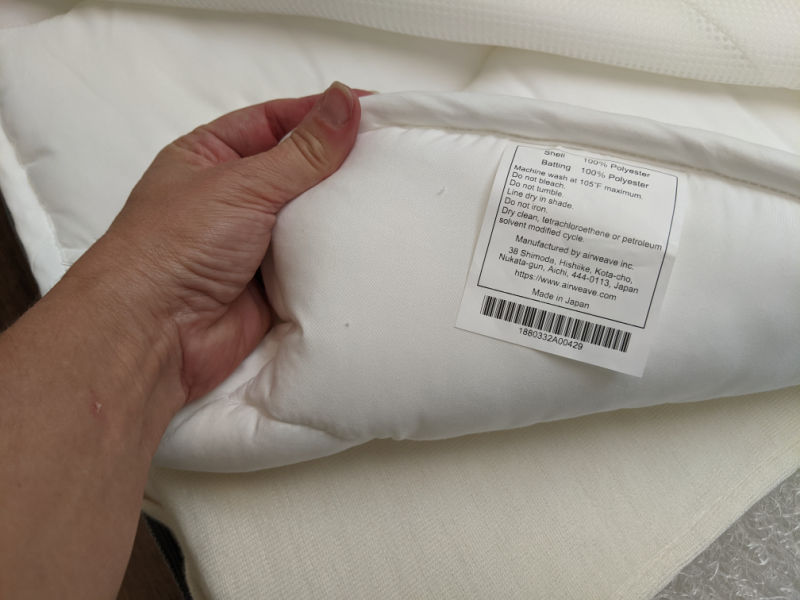 This is a lower-profile mattress – meaning that it's thinner. It's not heavy and because it comes in pieces, you could stack the pieces and store them when not in use. It's just 7.9 inches thick. Ideal for bunk beds, too – and easier to get onto and off the top bunk.
All this airflow and no foam or memory foam means you're not going to sleep hot, even if you're a heavier person. You won't get that stuck feeling where you sink in, and it's tough to move around in your sleep.
If you want the same features in a pillow, check out our airweave pillow review.
Weight
The queen-size airweave mattress weighs 71.5 lbs.
Firmness/Hand test
While not as hard as sleeping on the floor, the airweave is pretty firm. There's not a lot of give but there's a little. The pad adds a little softness, but it's still quite firm overall. 
If you want a softer feel, there are options. Although you're not going to get that soft, sink into your mattress feel. Not sure which one to get? Compare airweave mattresses here.
Motion Transfer
If you sleep with someone else and they move, you won't feel it. There was no motion transfer at all that I could tell. The material barely indents at all when you sit or sleep on it.
Edge Support
If you sleep or sit on the edge of the bed, will it collapse or indent too far so that you roll or almost fall off? The airweave provides good edge support.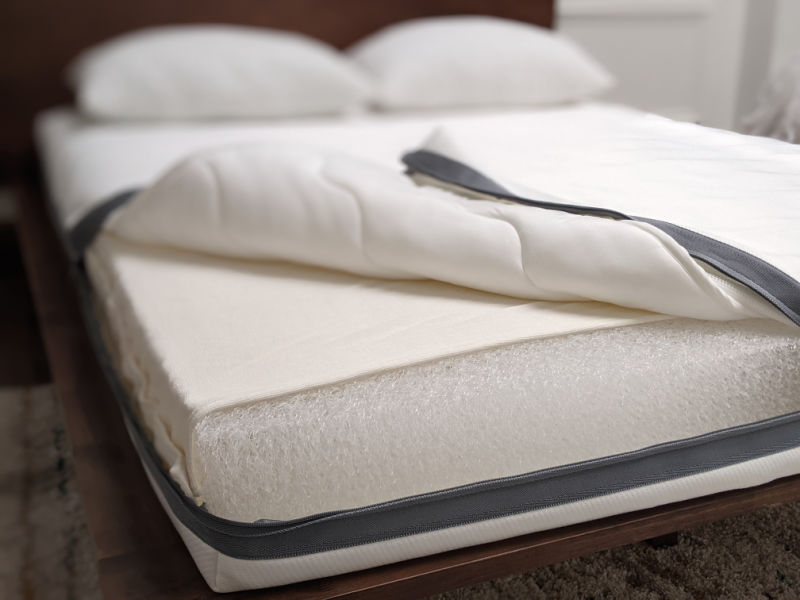 Price
At the time of this review, it's $1800 for the queen-size new airweave mattress (check website for current prices and sizes). For an additional $125, they'll haul away your old mattress for you. That's not the cheapest mattress, but it's pretty reasonable. Because the material inside is likely more durable than foam, you can expect a good value because it will last a long time and not develop dips or indents as fast as other materials. 
There is financing including deferred Interest: No interest if paid in full** Pay 0% interest on your purchase if the full amount is paid in 6-12 months. Minimum monthly payments are required.  
What to Put your airweave mattress on
You can put the airweave mattress on a platform base with slats like the bed frame pictured. Or on the floor. No box spring is needed. airweave doesn't sell bed frames.
Who's the airweave mattress best for?
The Airweave is ideal for hot sleepers who like a firmer feel. It doesn't sleep hot at all. There's mostly air inside of it, and so it doesn't trap body heat.
You like a firmer feel (want to sleep on top of rather than sink into the mattress). While you may think most people like a soft mattress – but a recent survey said 51% of people like their mattress firm.
You don't need/want a thicker mattress. This is a more futon-style mattress, not a thicker one.
You need a firmer mattress to support your back due to back pain or personal preference. Many people say that the airweave did wonders for their back pain.
You have sensitivities to foam or allergies to the chemicals. Or you like the idea of a more green mattress option without any latex or wool (like almost all organic mattresses have).
You're a germaphobe or like the idea of a very clean, washable mattress – you can wash every part of the mattress, including the inside.
You move frequently and your back doesn't enjoy trying to haul a heavy mattress to your new place.
The minimalist look of an airweave mattress appeals to you.
You love good sleep.
If the airweave fits what you're looking for, start your 100-night trial now.