Why Purple Bed Sheets Go Best with Your Purple Mattress
UPDATE: Purple has come out with new SoftStretch sheets, which cost a bit more, but we've tested them and prefer them. They're not as stretchy as the original sheets but still have stretch and come in more colors.
Purple is known first and foremost for its mattresses, but it also has bedding products like seat cushions, mattress protectors, pillows, and sheets.
Purple bed sheets are incredibly soft and made with breathable fabric to keep you cool. They're also moisture-wicking.
There are no seams at all in Purple sheets.
The stretchiness allows the mattress (including the polymer layer) to move with you as you sleep.
When we say these are stretchy sheets, we mean it.  Stretchier than a yoga instructor! Could outstretch Stretch Armstrong! Yes, Purple sheets could win a world record for being the stretchiest sheets. And that means they fit so many mattresses, short/tall, flexible/inflexible top…AND they hold mannequins!
If they're a bit too stretchy (think nylons), check out our Purple SoftStretch Sheets review here.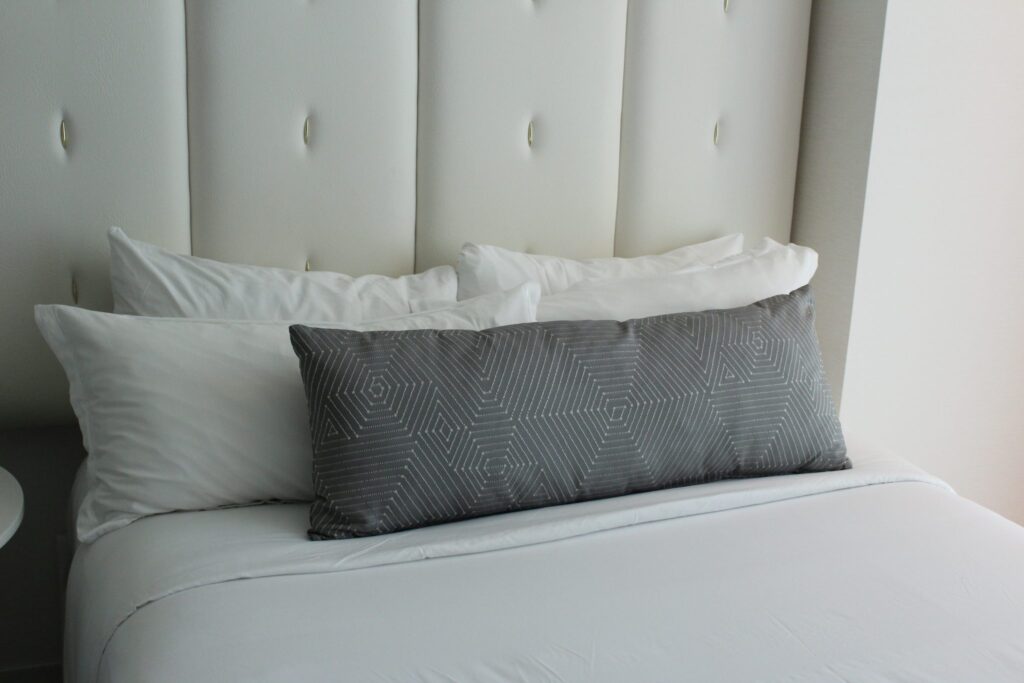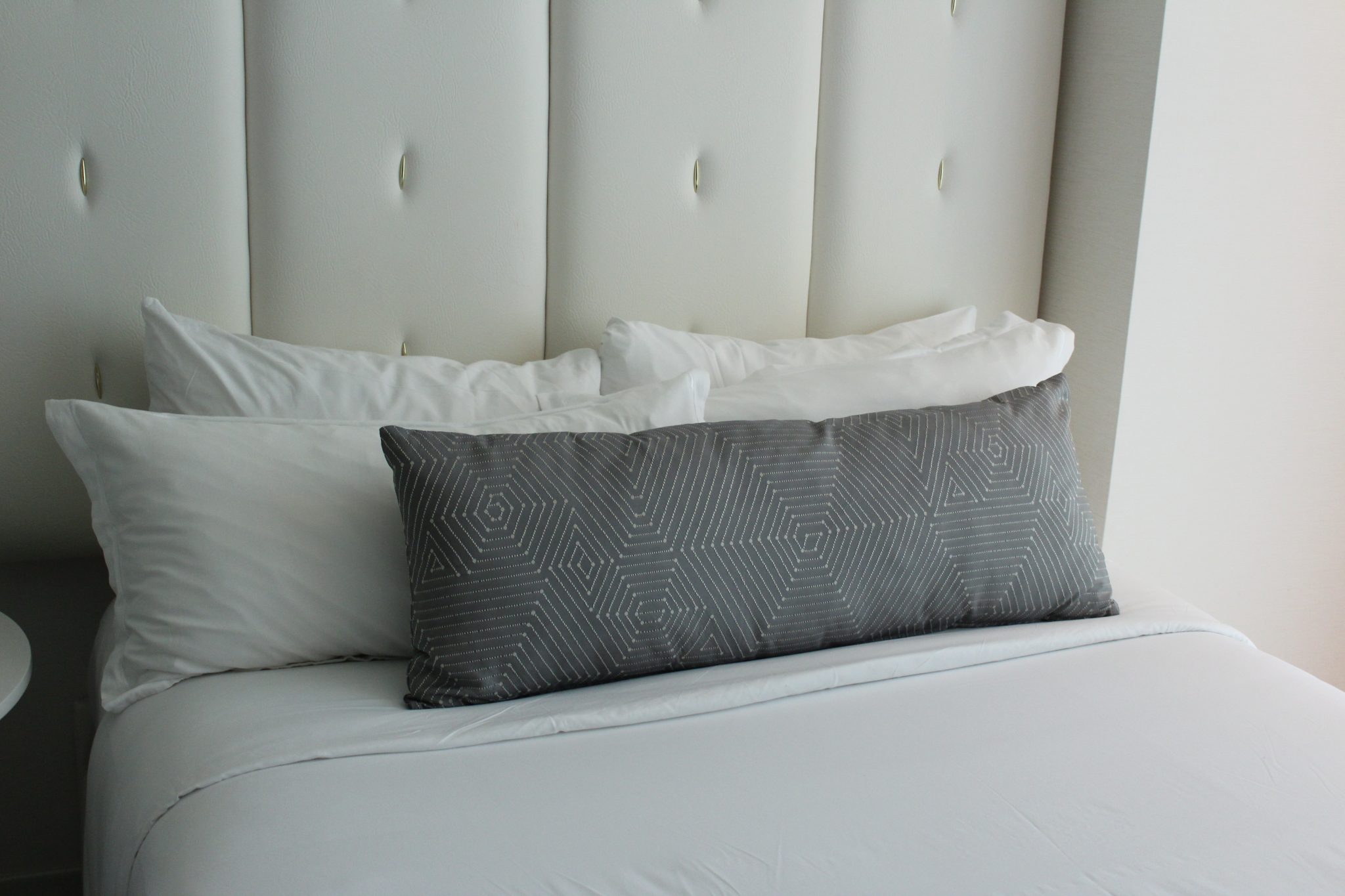 Normally we'd say that your sheets don't need to be the same brand as your mattress. I mean, who buys or raves about Serta sheets? We haven't heard anyone. However, Purple is different. It's a unique mattress with a flexible polymer layer right below the cover, and in this case, you should consider the brand name.
Buying non-stretchy and/or tight sheets will create a drum effect and negate much of the benefit of The Purple Bed. With the new beds (Purple2, Purple3, and Purple4), Purple even made their mattress cover stretchy. We predict that any future change to the original Purple mattress will include a stretchier cover.
At $114 for their queen-sized sheet set, you're getting a pretty good deal. Before Purple came out with its own sheets, they recommended the Sheex brand, which is much higher at over $160.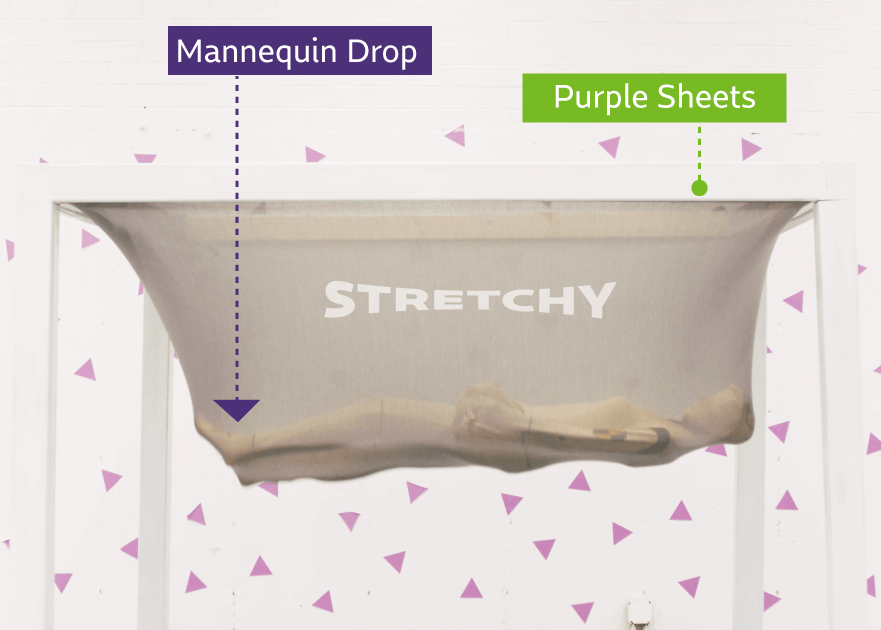 I tried Purple's sheets and can see why they recommend them – especially for the thicker new Purple mattresses. By the way, the Purple sheets are made to fit all of their beds with room to spare – they're made to fit beds up to 16 inches high.
Purple Mattress Sheets
The Purple sheets come with one flat sheet, one fitted sheet, and two standard-size pillowcases (one pillowcase for twin XL sizes). It's available in 4 colors – primarily white and beige except for one exception – the color purple. We tested the white, but we wish we'd tried the purple ones.
What makes these sheets so stretchy? They're not cotton. Instead, they're made with 10% Spandex and 90% Bamboo-derived Viscose (which is like a rayon). It gives them a delicate feel as they will easily tear or pile, yet they are strong.
The sheets are easy to put on. thick stretchy elastic on the inside of the fitted sheet is rubberized, letting it grip onto the mattress and leaving little room for the sheets to move around.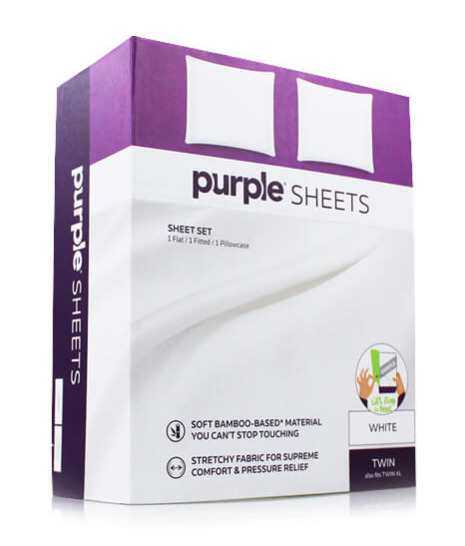 Purple Bed Sheets: Care
If you'd like, you can wash the sheets before your first use, but it's unnecessary. They are made to be stain resistant, but they're not stain-proof.  Just follow the instructions to machine wash in cold water, and DO NOT PUT IN THE DRYER. If you dry these in the dryer, you'll ruin them. Instead, hang to dry or tumble dry NO HEAT. For this reason, you may want a backup set.
Bamboo fiber is naturally breathable and wicks moisture away from the skin. Unlike cotton, the bamboo fabric allows moisture to evaporate into the air quickly. Combined with the grid of the polymer, you get maximum airflow for a mattress. Since the top of the Purple mattress isn't a solid surface like most mattresses, it allows more airflow through your bedding.
Cons of Purple Sheets
If there was anything we didn't like about purple bed sheets it's that some may find them overly stretchy. They can ball up towards the base of your bed, or you can get wrapped up in them. Some people will love the feeling of being hugged by their sheets. Others may want to try something like jersey-knit sheets instead. These are sometimes called t-shirt knit. They're stretchy but less so.  They're also a little thicker. And although they're priced lower, they won't have the moisture wicking of the Purple sheets. You know how well tshirts hold up at the gym? If you sweat at night, you'll want to spring for the Purple sheets.
No More Sliding Off the Corners
Purple uses an industrial elastic, so your sheets stay on all night. That's a big deal if you've ever dealt with regular sheets that pop off the corners of your mattress. Along with the Purple mattress protector, they're easy to put on, and they stay on.
Purple Sheets Thread Count
Purple sheets don't have a thread count as there is no cotton in them. They're perfect sheets for summer and warmer climates or if you tend to sleep warm.
Return Period: No returns or trial period.
Warranty: 1 Year.
Shipping: Free in the lower 48 states.
If you own the Purple mattress, you need Purple stretchy sheets to go with it. You crave soft and stretchy. You get both with Purple brand sheets. Best of all, they can even be purple.