Amazon No Credit Check Mattress | Starting at $9 a Month
Need or want a new mattress but have bad credit or don't want it to affect your credit? In this article, we'll give you 2 of the best options for buying a no-credit-check mattress. We may earn a commission when you shop through our links and you may get better sleep.
No Credit Check Mattress

Amazon is truly the best place to get a mattress and they won't check your credit. The good news is there are no fees or interest charges either. Other mattresses do offer amazing financing, and most will check your credit, but it won't affect your credit.
Amazon offers a huge variety of name-brand mattresses like Sealy, Stearns and Foster, Tempur-Pedic, Serta, and more. 
Plus, they carry brands like Tuft & Needle, Casper, and Linenspa. In fact, these budget-friendly brands are the Amazon bestselling mattresses.
However, not every mattress is an Amazon monthly payments mattress (although this value mattress brand often does). Don't worry. I'll show you how to find the ones with financing!
You can find the mattresses that qualify when you click the link and go to the mattress on Amazon. If financing is offered, it will clearly state the monthly payment amount and duration under the price. That means it's a no-credit-check mattress. Otherwise, it will just list the price only.
TIP: check all variations of the mattress. Sometimes only certain models will offer no monthly payments. This #1 bestselling Linenspa mattress doesn't have it for the 10-inch but it does for the 12-inch version.
See this example and how it says 5 monthly payments of $44? It is a no-credit-check mattress option. These mattresses let you make monthly payments.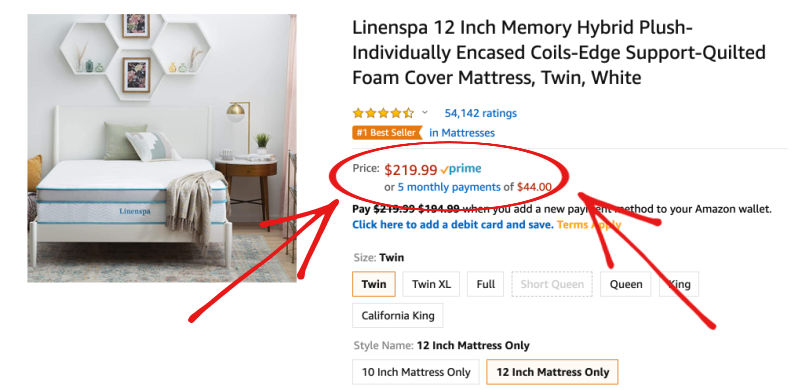 There's a catch, though. Not everyone will get this option. Here's how to know who qualifies. Make sure to keep reading if you don't qualify for this one because I have another selection for you.
Who Qualifies for Amazon Mattress Financing
Here's the catch. Not everyone qualifies for an Amazon no-credit monthly payment mattress with a payment plan. According to Amazon, here are the terms and conditions for monthly payments:
1 – You must be a resident of the United States.
2 – Your Amazon.com account must have been active for at least one year.
3 – You must have a valid credit or debit card associated with your Amazon.com account.
4 – You must have a good payment history on Amazon.com.
Most U.S. residents or Amazon shoppers can easily qualify.
To take advantage of Amazon's monthly payment offer shop as you normally do by checking out the mattress and bedding categories. Then, look for items with the Monthly Payments purchasing option. It will break down what your exact payment will be.
Amazon financing is available for many items like sheets, pillows, and blankets too. And we ALWAYS suggest getting a mattress protector with your new mattress.
Bottom line: If you're in the market for a new mattress or bedding, you can now purchase what you need and pay for it monthly. And you won't even have to pay any interest or submit a credit check!
Just make sure that you know the return policy. Some on Amazon only offer you 30 days. If you want a long time to decide, you'll love our next choice.
These are the best no-credit mattress choices I've found.