Purple Plus Mattress vs Purple Original
Since Purple Mattress came out with the Purple Plus mattress, it's a little confusing what the difference is between it and the original Purple mattress. In this post, I'll explain the difference and help you decide which is best for you.
Purple Plus vs Purple – What's the Same?
The Purple Mattress is the very first mattress Purple came out with. It was all foam and the famous stretchy, pressure-relieving comfort grid. One thing that hasn't changed with any new mattresses from Purple – NO MEMORY FOAM AT ALL. Only foam and grid or foam, grid and springs.
Today the Purple Mattress has a stretchy cover and foam perimeter around the comfort grid. So all that's between you and the grid is the cover. The cover on the Purple Plus and the Original are thinner than the thicker, more durable covers on the Purple Premier mattresses (Purple Hybrid Mattresses).
Starting out, you can't look and tell the difference between the two mattresses. So let's examine the difference between these mattresses that you can't see.
Purple Plus vs Purple – What's Different?
Now for the important information to help you know what you're specifically getting with each mattress.
Here are 3 things that differ between the Purple Plus and Purple Mattress.
The Purple Plus has an additional 2″ of foam. Below the comfort grid layer is an additional 2″ of foam.
The Purple Plus Mattress is thicker. The original is 9.25 inches deep, and the Plus is 11″, so technically a little less than 2″ shorter.
The Purple Plus Mattress is softer. The extra foam adds softness. The Purple Plus Mattress is 5/10 in terms of firmness (compared to the original, that's 6/10). If you're a side sleeper, you will appreciate the extra softness on your shoulders, where you concentrate most of your upper body weight. The Plus is a medium soft, and the original is a medium feel.
Check the current price or BUY THE PURPLE PLUS MATTRESS HERE –> Purple Plus Mattress
Check the current price or BUY THE PURPLE MATTRESS HERE –> The Purple Mattress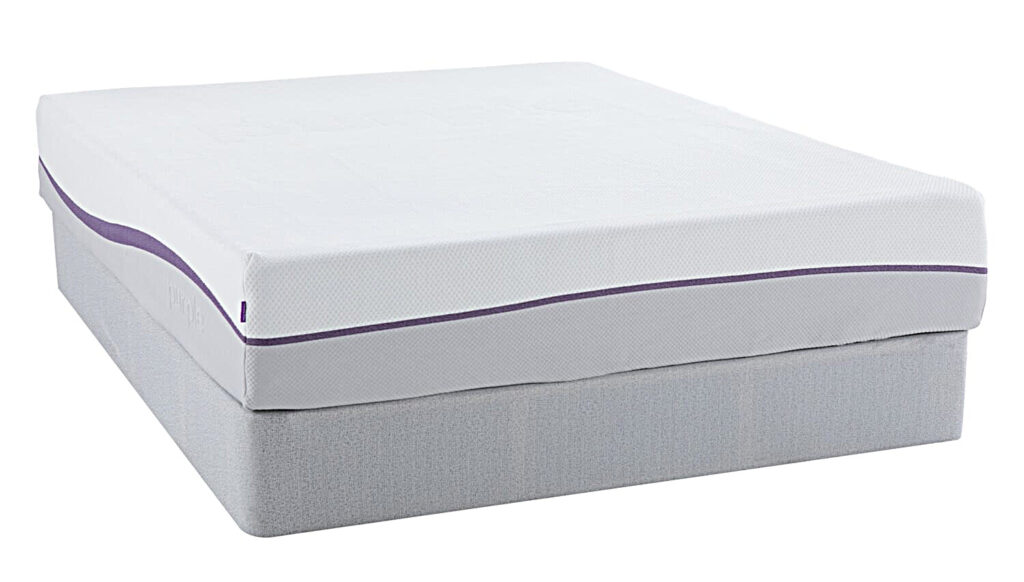 Purple Plus is a softer, upgraded version of the original Purple mattress or Purple bed.
What Hasn't Changed with Purple Mattresses
Like all Purple brand mattresses, the Purple Plus and The Purple Mattress are:
Hypoallergenic
Nontoxic
Durable
Made in the USA
100-night sleep trial (return window)
10-year warranty
FREE returns
Purple mattress shares these features across all of their mattresses
Sleeps cool due to enhanced airflow between the grid and the absence of memory foam which gets softer and warmer as you sleep (from body heat).
No memory foam, only regular foam (less sinking in and trapping air or leaving body imprints).
Cushions pressure points. Think of sleeping on top of a stretchy, moveable egg crate that's not made of foam but a material that suspends and holds your body as you sleep.
So far, Purple doesn't sell a crib mattress or mattress topper (they do sell a pet bed).
Just be sure to give yourself some extra time to adjust. Purple mattresses are unique, and they take some adjustment time. They have more of a floating-on-the-mattress (without being firm) feel than a sinking-into feel you may be used to.
So which should you get, the Purple Plus or the Purple Original?
If you like a softer feel or are a lighter person, get the Purple Plus. A heavier person will sink through the layers faster, and foam will compress more, making it feel softer.
If you like a taller bed, get the Purple Plus. I find the original too short on the bed. Purple recommends a foundation, platform bed, or an adjustable base (not a box spring). We found the original a bit hard to get used to (we started with the original when it was 10″ deep) because it looks smaller on our bed frame.
If you're on a budget and don't have a strong preference, get the original. It's cheaper. Check prices. We don't publish prices because they often change, but for a queen, the PLUS is about $500 more than The Purple Mattress.
Check prices here for the PLUS and here for the original. Also, check for a Purple mattress coupon or deal, as sometimes, if you buy a bundle with sheets, pillows, and/or a mattress protector, you can save.
Which Purple Mattress I Sleep on and Recommend
Purple is the mattress we have slept on for the past 5 years (the Purple Premier 4), despite having many chances to switch to another brand. It took me a good month or longer to adjust, but since then, I've loved mine. I don't think there's another mattress better for back pain, either.
READ MY PURPLE HYBRID MATTRESS REVIEW HERE
If you're a heavier person and want a hybrid, get the Purple Hybrid Premier 3 Mattress or Purple Hybrid Premier 4 Mattress. The 3″ is their bestseller, but we wanted a little softer, so we got the 4″. The number refers to the inches of comfort grid on top of the mattress.
Want to learn more?
It's worth the investment for a mattress that provides excellent support and comfort for years.
However, Purple is either loved or hated, is what I've learned from selling them for years. Remember, you can return your Purple for a refund if it's not a fit within 100 days. They have no catches that I know of. However, if you use a Purple mattress coupon or deal that comes with your mattress purchase, be sure to check the terms.
The only way to know for sure is to start a free trial. This isn't the type of mattress you could lie down on for 10 minutes or even an hour and know if it's for you.
And just to rest your mind, I've also been a customer of Purple Mattress and had to return items (not a fan of the original pillow). They've been easy and fast to work with for that too.