Purple Mattress Changes Explained New Names, Cover and Prices

Today Purple Mattress announced changes to their mattresses. Don't be alarmed, though. The patented Hyper-Elastic Polymer™ (aka, stretchy polymer grid or comfort grid) still makes up the top layer of every mattress. This is what makes a Purple a Purple and what supports your body and is flexible in all directions.
Like this: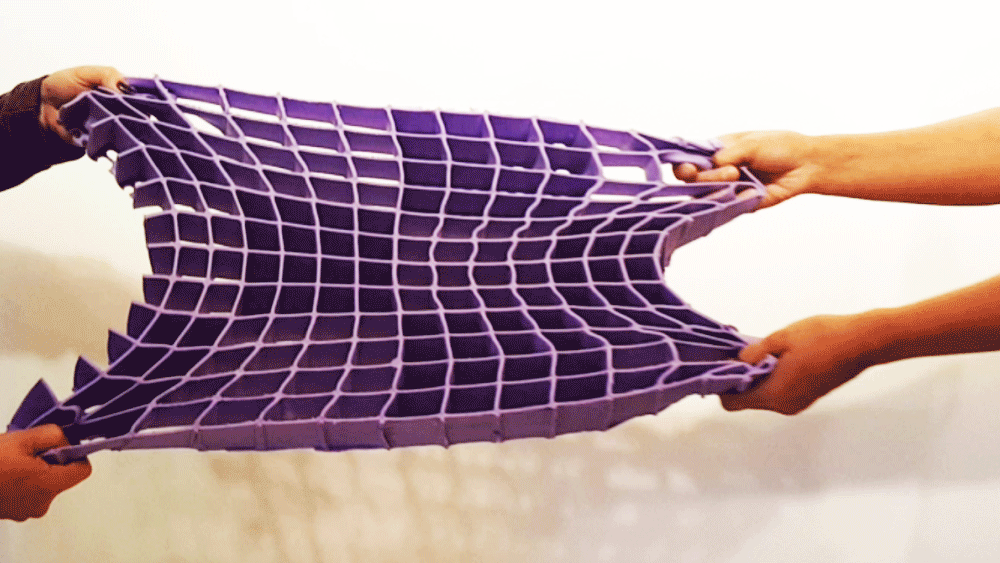 Sometimes it isn't easy to decipher marketing emails to see what changed. So let us help! Below we tell you what to expect. There are affiliate links in this post that may benefit this site if you shop through them.
The Purple Mattress Changes
There are 4 things that have changed about the Purple mattress: the name, cover, price, and improved edge support.
Name Change
The Original Purple Mattress is now known simply as the Purple Mattress. We guess it's been out long enough that it doesn't need to be described as original anymore! The Purple Mattress has the same 2 inches of purple polymer, and the rest of the bed is made of foam.
Cover Design and Fabric
The cover is a different color and made of new fabric. It went from the geometric all-white design to white with purple dots and swish along the side, like this:
It also has a new, durable SoftFlex cover that moves when you do. So it's more stretchy. This is the least expensive mattress Purple carries. Purple mattress review.
Foam Border
Like the hybrid models, the Purple Mattress now has foam borders to reinforce edge support for better sleeping and sitting on the edges. Previously the edges collapsed in, and though not awful, now they will be more supportive. Like you wish your spouse would sometimes be. We like this change! The Purple Mattress has no springs or coils. It's all foam and 2″ of polymer.
Price
The price for the Purple Mattress is $100 more for most sizes. You can buy a split king, which is cheaper than buying two twin xl mattresses to make your own. You get a price break by buying them as a set.
A Purple mattress is perfect to pair with an adjustable bed (like the Purple Powerbase – but it works with any brand adjustable bed). Purple is one of the best mattresses to use on an adjustable base because they're floppy means they conform to the shape of the bed better when you're sitting up. Other beds are flatter and often leave a gap by not lying flat on the base.
With each mattress purchase, you get to pick a FREE Purple product to go with it – such as sheets, a pillow, a mattress protector, etc.
Purple 2 is Now Called the Purple Hybrid
What used to be called the Purple 2 (it has 2″ of purple polymer like The Purple Mattress) is now the Purple Hybrid. That means it has responsive support coils and foam (no memory foam). Other than that, the price, cover, and layers are the same.
Purple 3 or Purple 4 are Now Called the Purple Hybrid Premier 3 and Purple Hybrid Premier 4
The Purple3 and Purple4 are grouped with a new name – the Purple Hybrid Premier. This is a bit of a tongue twister, but as before. Choose from either a 3-inch or 4-inch option (the softest model). The inches tell you how much hyper-elastic polymer is on the top layer.
The mattresses are the same thickness – that didn't change.
We think these changes make sense in that it's less confusing overall but still not easy to keep straight. The new Purple mattress came out a few years ago, so it's no longer new. The name didn't reflect that the numbered models were all hybrids. It just told you the number of inches of the flexible grid on top.
Still not sure which Purple mattress to choose?