Need a Pregnancy Pillow? Here Are the Best Maternity Pillows
Many women say pregnancy is/was one of the best times of their life. It's a time to prepare for parenthood by watching the miracle of life happen before your eyes. This comes with many joyous moments – like watching your belly bump grow and feeling your baby kick for the first time.
But pregnancy has challenges, too. One of the most noteworthy difficulties is how much harder it is to fall asleep and stay asleep through the night. As your baby grows, so does the strain on your body, including that baby bump that makes getting into the right sleeping position challenging.
Thankfully, a pregnancy pillow can help with that! Here are a few reasons to buy a pregnancy pillow and some of the best options.
The Benefits of Using a Pregnancy Pillow
If you haven't experienced the pains of pregnancy yet, you will.  Such pain will get in the way of everything you do, from how well you sleep at night to how active you are during the day. Just leaning down to pick something up or tie your shoes can be difficult.
Keep reading to discover how pregnancy pillows can combat this discomfort.
First, we warn you NOT to sleep on your stomach without support. It's not safe because it will decrease blood flow. It can cause dizziness, shortness of breath, or a fast heart rate. Most pregnant women sleep on their side, but there is a way to sleep on your stomach. Simply use a donut-shaped pregnancy pillow to support your growing belly.
Less Pain
When you're pregnant, your body has to support your baby. As the baby grows, more and more strain is put on your back. This is because there's an uneven distribution of weight, and the back is feeling the pressure of the baby inside the womb.
Your feet and ankles, hips, knees, neck, and shoulders will hurt toward the final weeks of pregnancy. But, the less pain you have from now until then, the better. Plus you need good sleep to support all the extra work your body is doing. When the baby comes, it'll be even harder to sleep!
Sleeping with a pregnancy pillow gives you extra support. A pillow is a great place to rest your tired back or to prop up your feet at the end of the day (because they'll probably be swollen).
Better Sleep
The feeling of "sleeping on a cloud" may sound impossible, but deep rest is possible. It's just a matter of finding the right position to sleep in with the support of a pregnancy pillow.
When you learn how to support your back and adjust your whole body on your mattress, sleep becomes much easier to achieve. Who knows, you may even sleep better than before you were pregnant! You may even keep it.
Best Pregnancy Pillows
It's one thing to read about what a maternity pillow can do for you and another to realize it yourself. You can't buy any pregnancy pillows, though. For the best results, you have to buy the best pillow for your body's needs.
You can choose from a full-body pillow or other configurations. Here are some of the top options to choose from.
This post contains affiliate links which means we may earn a small commission when you shop through our links.
Abco Tech Pregnancy Pillow Wedge for Maternity- Support Belly, Back, Leg, Hip, Body & Knees

Highly rated Abco pregnancy pillow provides much-needed support throughout the night. Put it under your belly, back, leg, pelvis, or hips. Made of memory foam to mold around the shape of your baby bump. It reduces the stress on your lower back and helps with sciatica pain relief. 
Phthalates, PVC, and BPA free. Also, it is hypoallergenic and breathable for a happy expectant mommy. This little wedge is so versatile and travels easy too. 
Queen Rose Full Pregnancy Body Pillow
The Queen Rose Body Pillow is the ultimate maternity tool for comfort while sleeping. This pillow is 100% hypoallergenic that is soft to the touch. The interior, though, is filled well enough to support your growing belly. You can lie on your side, use it to help you sit up, or configure it in many different ways.
This pillow is like an extra-large standard-shaped pillow at the top. Then, it divides in the middle to create a slit where you can wrap your legs around one side while resting your upper body on the top part of the pillow.
I'm 28 weeks pregnant and my hips, ribs and back are constantly in pain.. but after a few nights sleep with my new pillow I get a full 9-10 hours of sleep (not counting the times to go potty), and I could also sit on my couch pain free with it too! My husband wants me to get him one too after taking a nap with it. I didn't even sleep this well when I wasn't pregnant! I'm also 5'8 and the height is a perfect fit for my body! Very, very happy customer and more than satisfied!
Size: 55.1″x31.5″x7.8″
Comes with a washable cover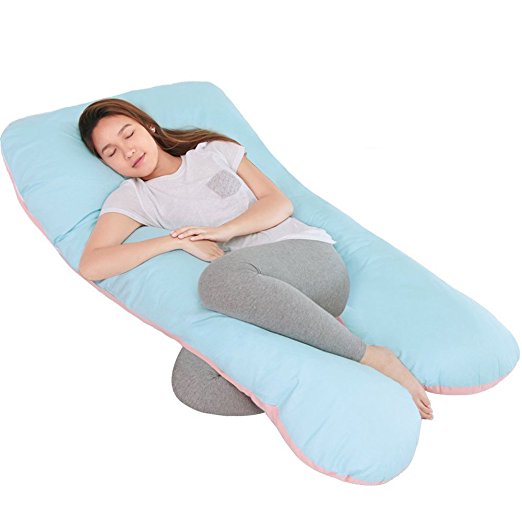 Moonlight Slumber Comfort
Up next is the Moonlight Slumber Comfort. It's filled with down for even more support while also getting that nice plush feeling of curling up in bed.
Oh, and it's huge. The shape is like the Queen Rose pillow mentioned above – but it's more of a complete U shape. It has a single top part with two divided ends you can wrap your body around. But it's a bit bigger overall, offering a little extra support in all the right places.
Size: 60 x 7 x 35 inches
Machine washable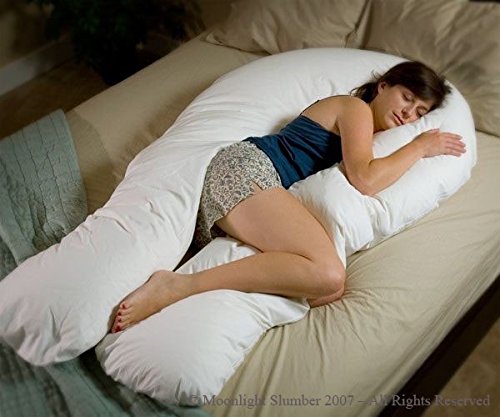 Leachco Back 'N Belly Contoured Body Pillow
Another pregnancy pillow with a wide top and divided bottom ends is the Leacho Snoogle Back 'N Belly Contoured Body Pillow. It's perfect for pregnancy and cuddling up post-partum, too. The edges are curved or contoured – otherwise, it's like the ones above in that it supports your whole body to support your back and belly.
No repositioning pillows during the night, turn from side to side

Can help elevate and align hips

Takes pressure off the knees
This pillow is latex free, lead-free, and BPA-free. Plus, the pillow cover can be removed for easy washing.
Size: 51 x 33.5 x 8.8 inches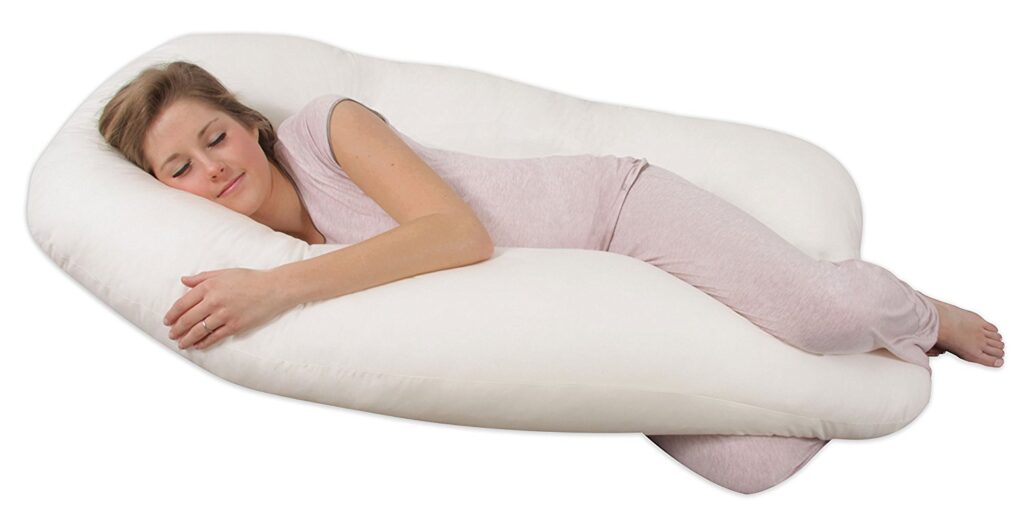 Boppy Side Sleeper Pillow
While there are benefits to getting a pregnancy body pillow, you may want to look into some smaller options, too. Check out the Boppy Side Sleeper Pillow.
Instead of wrapping your whole body around this pillow, the Boppy supports the front of the belly and the lower back. It targets these areas thanks to the two cushions on either side, which are connected by a panel of fabric for you to lay on top of.
This pregnancy pillow is ideal for side sleepers and will take up less space on the bed. It's uniquely shaped and travels well.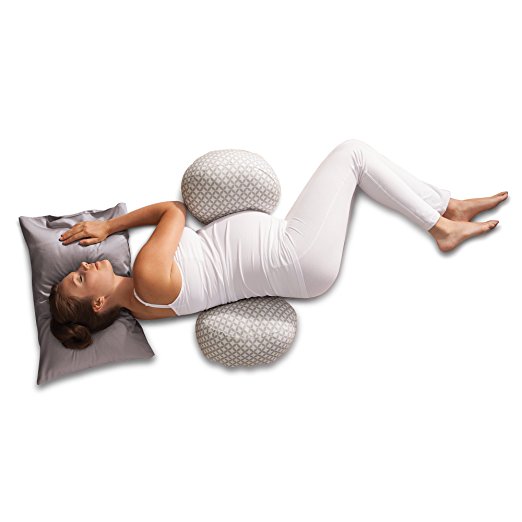 Hiccapop Memory Foam Pregnancy Pillow
Many women like the Boppy Side Sleeper Pillow because it's much easier to travel with than a full-sized maternity pillow. If you have a few travel plans coming up, you may want to look into the Hiccapop Pregnancy Pillow.
This is a small support pillow meant to go right under your baby bump. You lay it flat on the bed, then turn onto your side to rest the bump on the pillow. This little bit of support goes a long way. This is a soft wedge pillow.
Sleeping with such a pillow means you can move around if you're one to change positions throughout the night. More so, it ensures comfort wherever you go, thanks to how compact and lightweight it is.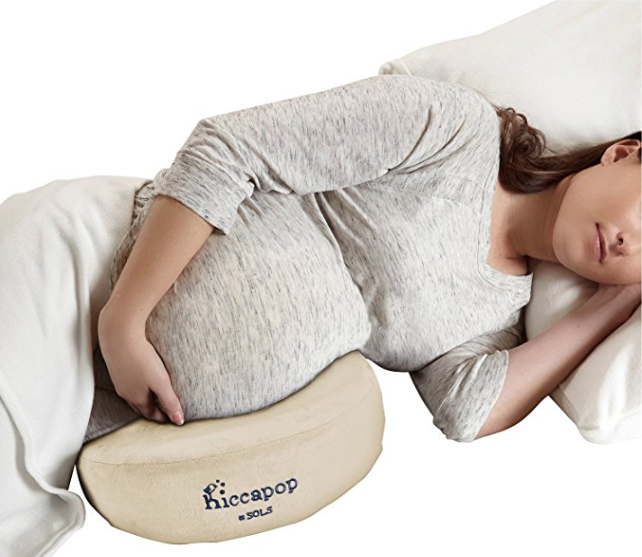 Find Your Perfect Pillow
Whether you just got the good news of being pregnant or are already a few weeks in, don't wait any longer to get your pregnancy pillow. The sooner you order this, the better.
While at it, you may want to consider getting a new mattress altogether if your current one is a little old. Or, at least look into other sleeping tools that help you fall asleep and keep your eyes closed all night long.