Avocado Pillow Review | Charcoal Infused Molded Latex Pillow
Looking for a certified all-natural green alternative pillow that holds its shape? Avocado Green is known for their green mattresses. They recently created a new pillow made of nontoxic and certified organic materials. Avocado is committed to creating earth-friendly products.

More about the Avocado Green molded latex pillow…
Ideal for back and side sleepers
Provides great neck support
Holds its shape evenly and regulates temperature while eliminating odors and excess moisture thanks to a charcoal-infused latex core
Removable, GOTS organic certified cotton cover is easy to clean/machine washable.
Avocado Green Molded Latex Pillow
The Avocado Green molded latex Pillow is made in the USA, in Los Angeles specifically, and features certified organic and GOTS materials. I was sent this pillow to review, and I requested it because I wanted to compare latex to their shredded memory foam pillow.
Avocado Pillow Materials
Let's start with what the pillow is made of. It has a 100% GOTS organic certified cotton cover sourced responsibly from India but stitched in its factory. The cover unzips, and you can remove it to clean and spot-clean the latex.
Then inside the cover is a molded charcoal-infused latex core that offers more support. The pillow itself is all one piece, not shredded foam or other material that can clump. That's why it's called a molded pillow. It's one shape.
To make the pillow, they pour latex into a mold that is the shape of the pillow and steam-bake it. This makes the core firm and supportive. The advantage of a molded pillow is that it keeps its shape and offers dependable support.
Charcoal is added to reduce odor while managing temperature and moisture.
Be aware that the organic cotton cover can get discolored with water or sweat marks. So we recommend getting the organic cotton pillow protector that Avocado sells. It's non-toxic and quilted, so it's thicker and quiet, but it's not waterproof.
However, if you sweat a lot or spill liquids on your pillow, I highly recommend a waterproof pillow protector. Avocado is a natural brand, and the waterproofing on the pillow protector I linked to isn't natural, but that's what I use. But I've seen their mattress cover, and their fabric is just gorgeous. And this is the same fabric. So you decide what works for you.
Avocado Pillow Review
Want to see what the pillow looks like when lying on the side or back? Check out our Avocado pillow review here:
Natural/Green Pillow
Avocado Molded Latex pillow is GREENGUARD Gold Certified by UL Environment. It's scientifically tested to meet the world's most rigorous emissions standards for chemical exposure and pollutants. Few pillows qualify for this gold standard, and Avocado is an honest brand focused on more natural, sustainably grown materials. 
The company itself is carbon negative — offsetting more carbon emissions than they generate.
Avocado Pillow Sizes
The Avocado molded latex pillow comes in standard, queen, and king. Many boxed brands don't carry king size, so we like that you have that options. We put 2 king-size pillows on our king-size bed.
The Avocado molded latex pillow is 5 inches in height and is machine washable.
Avocado Pillow Price
At the time of this writing, the queen size is $109, which is on par with other pillows of this quality, but it has the benefits of being more environmentally friendly and organic.
Warranty and Sleep Trial
You get a generous 1-year warranty with the Avocado pillow, and it has a 100-night sleep trial. We don't usually see pillows with this long of a warranty. In our experience, a quality pillow like this one will last far longer than a year, though.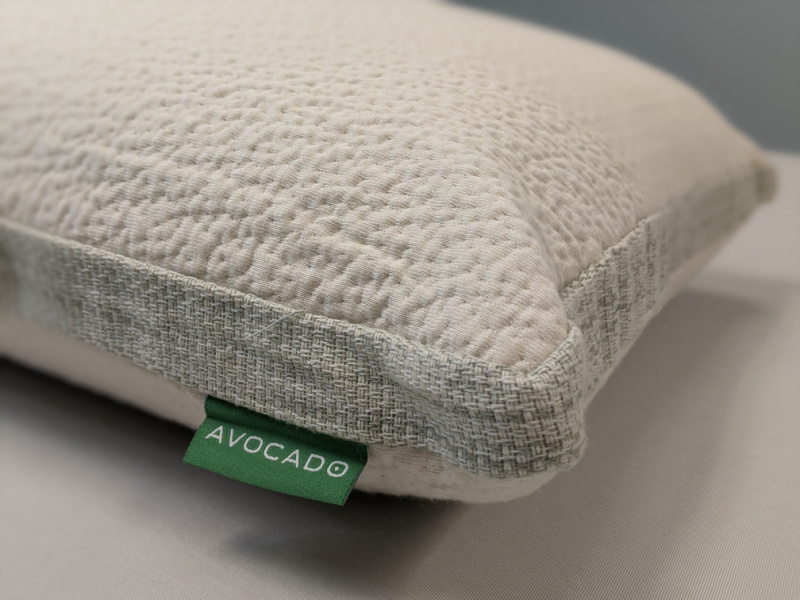 If you want a thicker, adjustable height, nontoxic pillow, check out our Avocado Green Pillow Review next. You can remove the fill or add it in to give your pillow the perfect loft and feel for you.