QuickZip Makes Washing Sheets so Much Easier

Bottom or fitted sheets are the biggest pain to launder because putting them back on is tough.
QuickZip has a 2-piece zipper design – you zip the top part of the fitted sheet on and off to make it easy to remove and put back on.
Besides sheets, they have a zipper system to make duvets easier – duvets are perhaps the most challenging bedding there is to make!
Most people don't wash their sheets often enough. QuickZip makes it easier.
Comes in 12 colors (solid colors).
We may earn a commission when you shop through our links.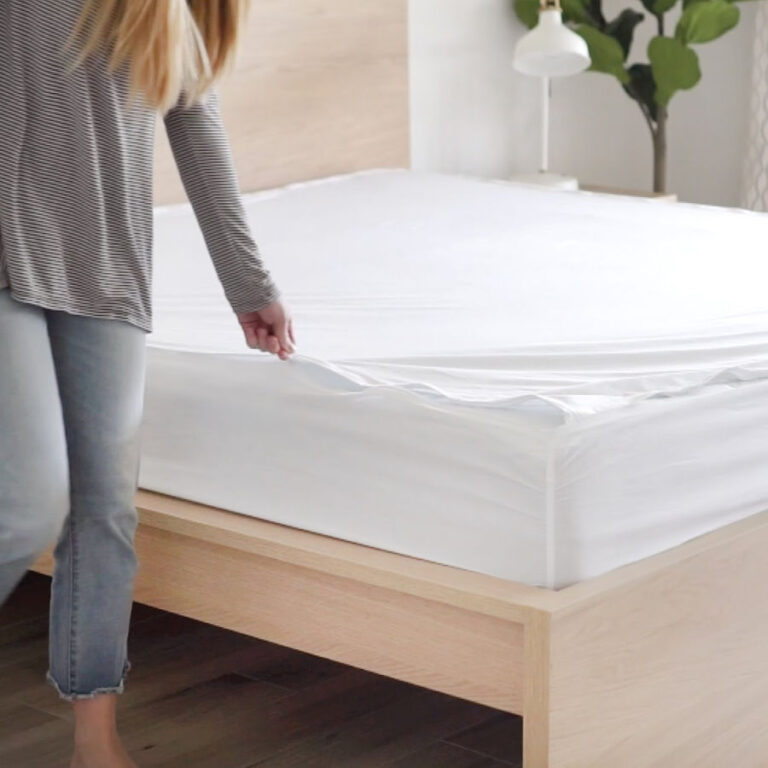 QuickZip Sheets Review
We had a chance to try out QuickZip sheets. What we found is that they're very durable feeling, thicker cotton. The zipper is well-built, and unzipping the top sheet is very easy to do. The biggest pain of washing and changing the sheets is putting them back on the fitted sheet.
It's much easier not to have to remove and put it on. Instead, you leave it on and change out the top. The sides and elastic part stay on the bed. That makes it more likely you'll change your sheets more often because it's so much faster. You can still wash the sides, but most people don't need to wash them as often.
This is especially handy if you have guests or another reason (like someone is sick) that you need to wash the bottom sheets more often. Taking off sheets isn't the hard part. Where you save time, and your back is putting them back on. You no longer need to lift the mattress and fight to get it back on.
As for the top sheet, it's simply there to match the bottom. There's nothing different about them.
One improvement is we wish they had a version that zips your top and bottom sheet together so that they didn't shift or fall off. This will help end the war with sheets if you sleep with someone who steals them. If we could try another product from QuickZip, it would be the duvet – one of the most difficult bedding to put on the bed! And the ties sometimes break or don't stay tied tight enough. Their system looks a lot more durable.
QuickZip Sheets Material, Colors, and Sizes
Choose from the more silky sateen or the cotton percale sheets. We have the cotton percale (requested and sent to us by the company), and they're a little thicker and feel so well made.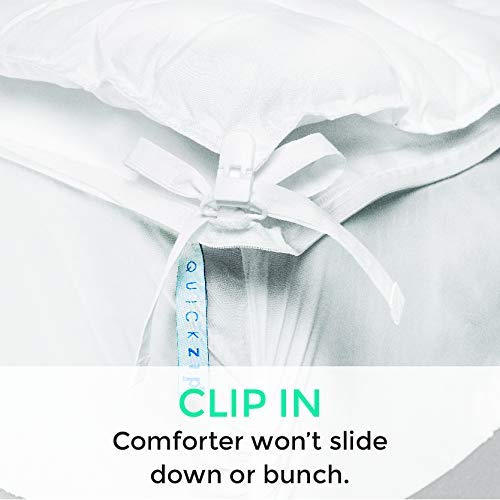 Luxurious 400 thread-count sateen 100% cotton that is soft and smooth- not slippery:) – with a subtle sheen. OEKO-TEX Certified.
Made in Israel

Comes in 5 colors,

including pinstripe, navy, white, slate gray, sand,

or navy. You can mix and match the colors (a pinstripe side and a navy top, for example). 

Sizes include: twin, twin xl, twin xl dorm, full, full deep, queen, king, cal king, split king, RV queen (short queen)
Comes in white, lavender, or navy.
Sizes include: twin, twin xl, full, full deep, queen, king
Crisp, cool, and light percale weave with a matte finish. 100% cotton, 200 thread count.
Made in Israel
We recommend the premium, which comes with the base and 2 sheets if you don't sleep with a top sheet. Otherwise, we recommend the euro set (if you have a duvet). You can order sheets, pillowcases, and duvets separately or together.
How Often Should you Wash your Sheets?
There's no definitive rule on how often to wash your sheets. However, think about this. You probably wear clothes once and wash them. It seems logical to wash the sheets at least every week. Exactly how often depends on your situation. However, unofficial studies have shown that college students NEVER wash their sheets. So they may go 4 years or so (unless a parent steps in). And if you eat in bed, drink in bed, or otherwise utilize your bed to its full capacity, you need to wash your sheets more often.
Those with skin issues or night sweats may have to change sheets every night. When someone in your family is sick or has the flu, it's important to wash and disinfect the sheets after they are well. Be sure to wash separately from another laundry.
Fitted Sheets can be a Nightmare to Change
Here's a fun, lighthearted look at how standard fitted sheets can make your life miserable…
The Problem with Washing your Sheets
The issue with washing your sheets isn't pulling off all the bedding. That part isn't difficult to do. It's making the bed again afterward. And possibly the worst part is getting all the corners on the bed when it comes to the fitted sheet. If you don't secure them, you have a problem with them popping off, and your sheets will get all bunched up. Sometimes you're in a tight room, and it isn't easy to get around on all sides of the bed.
QuickZip is a great concept because the fitted part of the sheets stays on the bed (you can wash them less frequently). The middle part zips off and on so that you don't need to fuss with the corners. Plus, if you get their starter pack, it has 2 fitted sheets, so you can remove one sheet and put the next one on. So you don't have to wait to remake the bed or sleep without sheets in case they're not dry in time.
Ideal for Daybeds
If you have a daybed with a high back and sides, you know how difficult it is to change the fitted sheets on this bed. QuickZip makes changing the bottom sheet surface so much easier.  You don't feel or see the heavy-duty plastic zipper since it's covered by a cotton flap. They have a neat and tidy look. They also make changing the sheets on bunk beds much easier.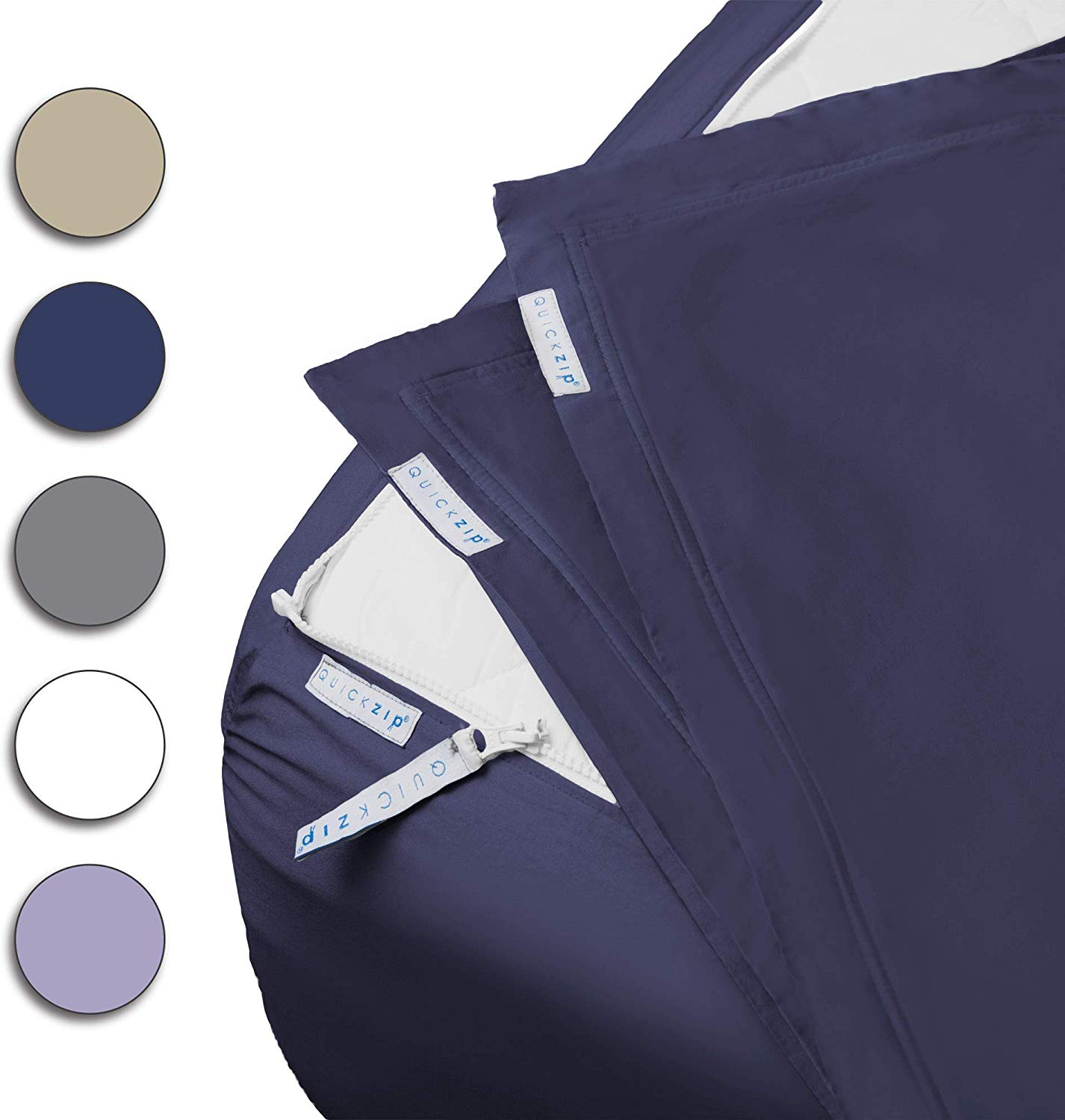 QuickZip bedding fits standard US mattress sizes crib through California King (plus special RV and dorm sizes). The fitted sheets have vertical elastic in the corners, so they'll flex to fit a wide range of mattress thicknesses (AKA "drop" or "pocket") and shapes (including many rounded corners).
Crib Sheets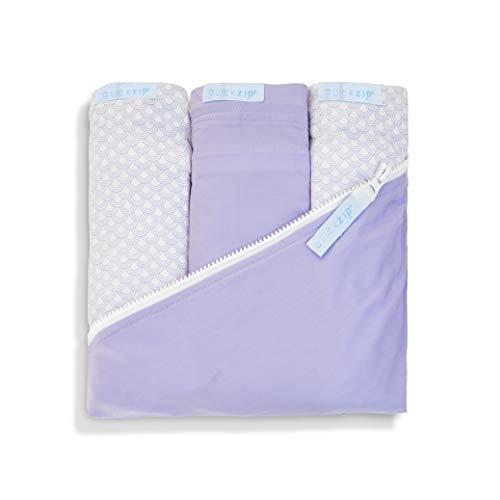 The same goes for crib sheets. You're more likely to have more frequent changes because of babies and diapers…and it usually involves removing the whole mattress. But again, with QuickZip you can unzip the top (babies don't use top sheets). This makes it much quicker and easier to change soiled sheets, especially in the middle of the night, by otherwise worn-out parents.
Crib sheets come in 15 designs that you can mix or match (and are so cute). Designed to fit all standard crib mattresses (52" x 27" wide, 5" to 7" thick); Compatible with all crib flat mattress pads; 100% Cotton. For kids who are potty training, have special needs, or otherwise need a faster way to change the sheets, get the QuickZip Fitted Sheet Set. It has a wrap-around base & 1 zip-on sheet.