Neck Pain? Why you'll Love the SleepOvation Pillow!
We've recently been testing a Sleep Ovation pillow. It's a truly unique pillow because it has springs. It's also a low-profile pillow that has held its shape for years (we've had ours for several now, and it's the same as when new). It isn't heavy like other pillows we've tested, yet it's not light and fluffy. Rather, it's supportive and high quality. Is it for you? Read on to find out more.
If you want to read our experience, check out our full Sleep Ovation pillow review here (includes video). In this article, we're going over the benefits most cited by Sleep Ovation pillow buyers – reasons that match our experience.
First, SleepOvation has specially designed fabric to sleep cool. It also features a sweat-resistant cover that's removable and washable. This pillow did not sleep hot. There's no memory foam inside, only foam and springs. Yes, it has springs.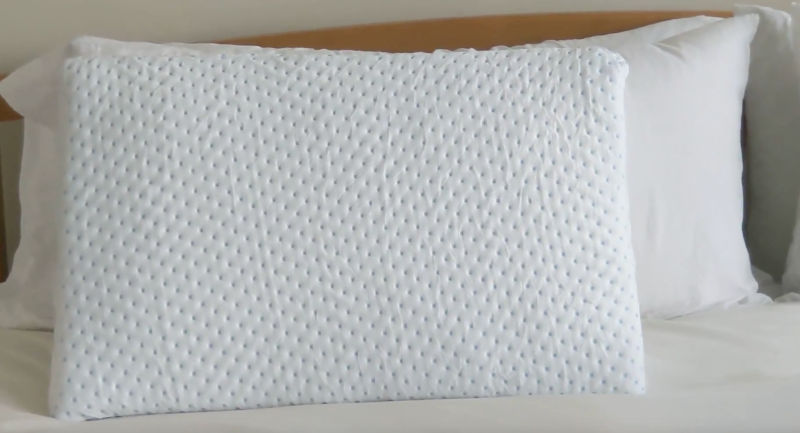 Why Buy a Sleep Ovation Pillow? Top 2 Reasons
Now to find out if the SleepOvation Pillow is for you. First, you should prefer a lower loft pillow. Next, you want a pillow that doesn't sleep hot. Beyond that, here are reasons that this unique pillow could help solve sleeping problems you may have with other pillows.
Reason #1: You have neck pain and need relief or to be careful not to aggravate it.
This pillow was studied and tested to find the height it needed to be throughout to best support your neck. If you have neck problems, a pillow can make it worse. This isn't a pillow that looks great on the bed. It's more of a therapeutic pillow. Pillows that are too thick don't hold your neck in a neutral, supported position.
The size and design of this pillow was based on the data from sleep testers and it was tested specifically for pain relief.

Thickness: most people think a pillow needs to be much thicker than you actually need. With other pillows you need to plump and adjust the pillow fill to get the right amount of support (fill) in different parts of the pillow to fit your head, face, and neck. A problem with this is that if you change your sleeping position during the night, your pillow no longer conforms to your features and has to be "re-plumped".

Plumping and moving your head during the night: The SleepOvation pillow, doesn't have to be "plumped". Instead, it adjusts to your sleep positions. It's thickness is the exact thickness (4+ inches) for the optimal neck and head alignment.
Reason #2: You're a side or stomach sleeper and need a flatter pillow. It doesn't fluff up and block or obstruct airflow through your mouth or nose.
When you put your head on that soft fluffy pillow, it sinks down where your head is, but the rest of the pillow puffs up. When you move your head, it does it in a different spot. The pillow can block part of your nose or mouth, making breathing harder. If you have sleep apnea or already struggle with breathing (stuffy nose, etc), this can make it worse.
Personal Experience with a Child and Senior
My 8-year-old daughter is very enthusiastic about these benefits. My 82-year-old father-in-law cited these as the biggest benefits of the pillow too. He loves it.
The Sleep Ovation pillow comes in one size and is $90.

Since we review a lot of mattresses and bedding (including pillows), my daughter gets to test out several. Because we talk so much about them, she also knows a lot about how to evaluate quality and fit. She wanted to try the Sleep Ovation pillow because, as a kid, she has very narrow shoulders and is a side sleeper. With regular pillows, she moved her head to the side of the pillow so she could breathe easier. With her Sleep Ovation pillow, she doesn't need to sleep on the edge of the pillow anymore.
While it's not a cheap pillow, the price is on par with other bed-in-a-box brands. Our experience with boxed brand pillows overall has been excellent. Just be aware that if you are getting the pillow free with your mattress, it may not be the same pillow (it's often lower quality than what they sell separately).
Who's the SleepOvation Pillow not a fit for? If you like a tall, fluffy kind of pillow. Or, if you're a side sleeper with broad shoulders, you'll need more loft. Therefore, stomach and back sleepers with neck pain will appreciate the support and structure the SleepOvation Pillow can provide.