Airweave and the Anti-Sex Olympic Mattress Myth
Japanese bedding company Airweave provided customizable mattresses to athletes at the Olympic village. However, there's more than just sleeping that goes on between athletes at night.
It's well known that athletes at the Olympics participate in more than just sports events and competitions.
There's also a lot of physical intimacy happening between the sheets during their off hours.
Note: we may earn a commission should you purchase through our links.
Airweave is the official bedding partner for the 2021 Tokyo 2021 Olympic & Paralympic Villages, providing mattresses and bed frames made of cardboard. It all began on Twitter when someone proposed that the bed frames were made especially to prevent the spread of Covid and can only handle the weight of one person. If two people were on the bed, the frame would collapse, therefore keeping people from the act (and from spreading Covid).
Suddenly news outlets like TMZ, Newsweek, MSN, and The New York Times were reporting about the secondary purpose of the beds. This rumor likely provided a huge public relations windfall for Airweave based on the news coverage this story is getting.
That is, until an athlete named Rhys Mcclenaghan, a gymnast from Ireland, called the myth fake news. In this video posted on Twitter, with over 1.6 million views, he jumps on the bed. And the bed didn't collapse.
This is the first time in the history of the Olympics and Paralympic games, there's a multifunctional, customizable and recyclable mattress in the Olympic village. The mattresses were designed exclusively for the Olympics. The photo below shows the original design in 2020, but Covid led to it being canceled.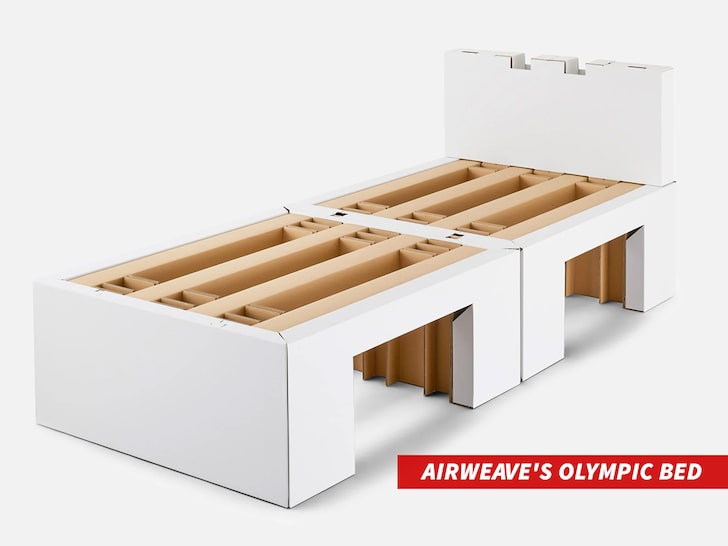 "Exclusive customizable mattress for all athletes to suit individual physical features
Athletes' bodies vary greatly depending on the sport they play, each having different weight, body
type and amount of muscle. Olympians and Paralympians will experience the newest innovations
in sleep surface technology in airweave's modular airfiber® mattresses to achieve proper support,
spine alignment and pressure relief for any body type."
The true purpose of the partnership is to improve athletes' sleep and to meet the goal of making the Olympics more sustainable.
3-piece design allows for firmness customization for the shoulders, back, and legs. Airweave mattresses are modular and are packed with 3 rectangular-shaped blocks that zip into a mattress cover. See our airweave mattress review on YouTube to see. Or read our airweave mattress review.
Each airfiber® block has a different firmness on each side (4 variations in total). Athletes can choose which side to sleep on.
Less waste and environmental impact as 18,000 beds will avoid landfill through airweave's recyclable airfiber® material and cardboard bed frames.
Airweave's proprietary airfiber® material is made from a thermoplastic material, which means it can be melted unlimited times to make new products. So it's not just recyclable. It's reusable.
Complete list of airweave-designed products for the Olympic Village
-Tokyo 2020 Olympic Village 18,000 beds
-Tokyo 2020 Paralympic Village 8,000 beds (re-purposed from Olympic athletes)
-Mattress (exclusively designed for Tokyo 2020 Athlete Villages)
In addition to a mattress, Airweave provided:
-Duvet (Olympic & Paralympic visual design provided to airweave), although it's unclear if this is the same duvet sold on the website but with a different cover.
-Pillow (provides neck support regardless of sleep position). The airweave pillow is like a miniature Airweave mattress.
-Bed Frame (made of recycled cardboard) – as far as I know, these aren't for sale.
We're happy to see a mattress play such a prominent role in the Olympics. Hopefully, there are other ways to prevent the spread of Covid than with a bed frame. Maybe this viral social media hit will lead to more focus on the importance of sleep (athlete or not) and be an example for mattress brands to use sustainable products beyond the Olympics.
Kudos to Airweave for their innovation, and we wish them and the athletes the best in Tokyo!